IPVanish is currently offering a 20% discount on all plans. You can get this discount via the link below:
IPVanish is a VPN service that is based in the United States and is known for providing excellent speeds, a very large server network and great applications. Additionally, they are one of the few VPNs that physically owns every server in their network, which provides you with better performance and a higher level of security.
This discount brings the price all the down to $5.19 per month. (Without the discount, the cheapest rate is $6.49 per month.)
The prices with the coupon are as follows: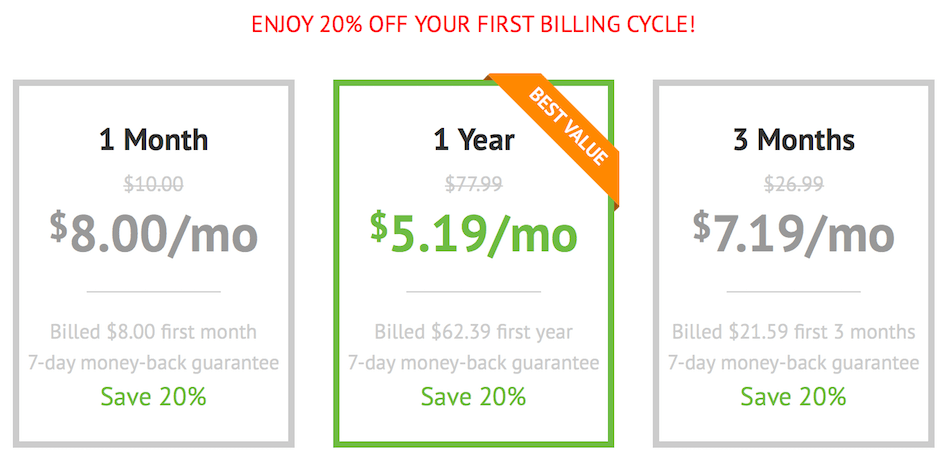 Refund policy – All plans come with a 7 day money-back guarantee. The refund policy is clear and does not include any hidden clauses or exceptions, which you can read on the website here.
When you compare IPVanish to other VPNs, it is about average when it comes to pricing. However, when you use the discount coupon above, it drops the price way below average.
IPVanish highlights
Overall, IPVanish performed quite well in testing and analysis for the IPVanish review.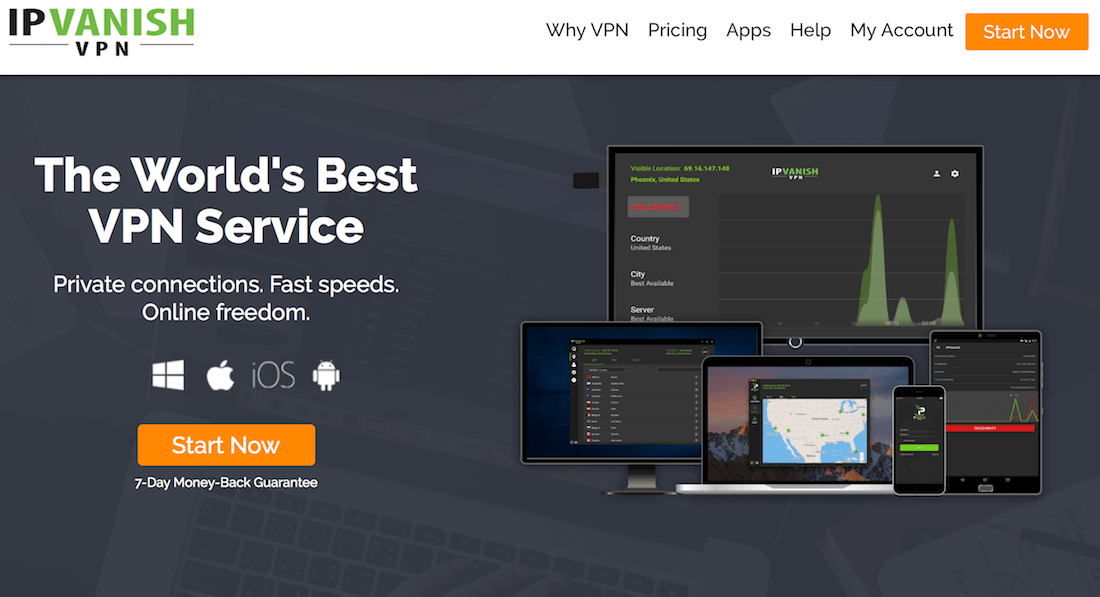 The main drawback with IPVanish is that it is based in the United States. This is simply a problem because the United States is a country known for mass surveillance. However, it may not be a concern for some people, especially since IPVanish has an excellent track record and is a trusted no logs provider.
I have been testing IPVanish for the past few years and can confirm that it is a solid VPN service. Granted, it's not perfect and indeed has some issues, but overall, it is a great choice.
IPVanish is also a good option if you enjoy streaming. It is recommended on the Kodi VPN page as one of the top VPNs for Kodi.
Here are the highlights:

Jurisdiction
United States

Logs
No logs

Price
$6.49
+ Pros
Good speeds
Large selection of apps for different devices
Useful privacy features
Entirely self-owned server network, including secure DNS (no third parties)
– Cons
Based in US under the parent company Stackpath
---
---
When testing out IPVanish, I did not find any leaks with their applications on Windows, Mac OS, and Android. In short, the applications appeared to be quite secure when testing for the review.
The one minor bug I did find, however, was that IPVanish would occasionally not connect with the Mac OS client. This issue is somewhat annoying for Mac OS users, and it is a problem I have noticed for a while. (If you are a Mac OS user, you may want to consider these VPNs for Mac OS instead.)
Overall, IPVanish earns a solid recommendation.
Conclusion – IPVanish coupon
I'm not sure how long IPVanish will be offering this coupon. At certain times of the year, they do offer small discounts, such as during the holidays. You can check out the current discounts by going to the main IPVanish page here >>
If you are on the fence, you can get more details about IPVanish by reading the IPVanish review, which includes a detailed testing report.
With all plans you get a no-questions-asked 7 day money-back guarantee.