IPVanish Rating Summary
Total (4.3 / 5.0)

Performance

Features

Privacy

User-friendliness

Support

Value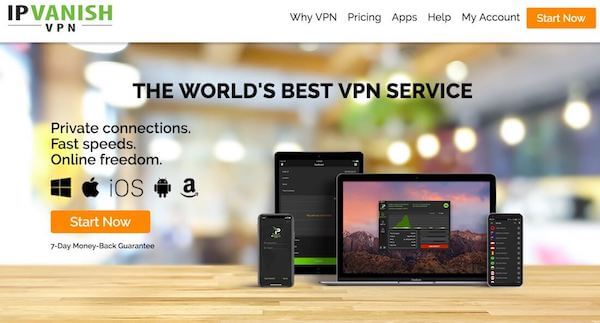 Good for
+ Speed and performance
+ Online privacy and security
Summary:
IPVanish is a large, US-based VPN provider that is well-known for excellent performance and great applications. IPVanish also boasts a huge tier-1 server network consisting entirely of dedicated, self-owned servers. This provides you with more security and excellent speeds – as confirmed with speed tests below. The one drawback to be aware of is the US jurisdiction (Five Eyes) – but since IPVanish is a 100% no logs provider, this is not too concerning.

Jurisdiction
USA

Connections
5

Protocols
OpenVPN
IPSec/L2TP
PPTP

Logs
Zero logs

Privacy Tests
Passed all tests

Price
$5.20*
(with coupon)

Refund
7 days

Support
Live chat
24/7 email
+ Pros
Excellent speeds
Zero logs
Large selection of apps for different devices
Useful privacy features
Entirely self-owned server network, including secure DNS (no third parties)
– Cons
Based in US (but 100% no logs)
Special Coupon
Get 20% off any IPVanish subscription plan
20% Off Coupon
IPVanish price
IPVanish offers competitive prices for a high-quality VPN service that uses only dedicated, self-owned servers. The standard prices for IPVanish (without the coupon) are as follows:
1 month = $10.00 / mo
3 months =  $8.99 / mo
1 year = $6.49 / mo
However, you can save 20% on every subscription plan with IPVanish Coupon.
When you use the IPVanish coupon the prices drop down to what you see below: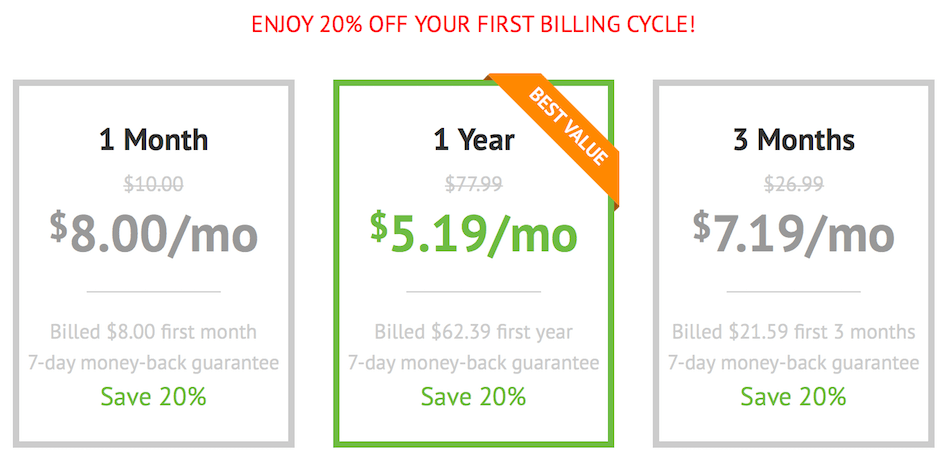 Note: This coupon only applies to the first billing cycle. Therefore to get the most savings you should apply the 20% coupon to the 1 year subscription, thereby giving you 20% off every month.
Get 20% off any IPVanish Subscription Plan >>
Payment methods – IPVanish accepts most major payment methods, including all large credit cards and also PayPal.
I am also maintaining an IPVanish coupon page to reflect the latest discounts and promotions. Occasionally IPVanish will offer discounted two-year subscriptions (usually during the winter holidays).
IPVanish refund policy
IPVanish offers a 7 day no-questions-asked money-back guarantee, which they clearly explain on their website:
If you are less than 100% satisfied with IPVanish VPN service, we will gladly refund your payment as long as the refund is requested within one week from the date of the purchase.
However, I also decided to carefully read through the Terms and Conditions and noticed that users who purchase IPVanish through the Apple Store (in-app purchases) are not eligible for a refund, since the payment, cancelation, and refund process is handled by Apple instead of IPVanish.
This again highlights why it's always best to purchase your subscription directly from the VPN website rather than going through a third party like Apple.
Company and jurisdiction
IPVanish is owned by a company called Mudhook Marketing based in Florida (USA). The business has been operating since 2012 and remains a widely-recognized and well-respected name in the VPN industry.
While the United States is not considered the best jurisdiction for privacy (Five Eyes), IPVanish goes to great lengths to protect customer data from surveillance and any other third parties. IPVanish's efforts to protect customer data include:
A strict no logs policy (no data being saved means no data can be handed over to any third party)
100% ownership of server network (this provides both a higher level of security and better performance)
Secure applications that keep your identity and data safe
Furthermore, as noted in the Five Eyes surveillance guide, surveillance agencies such as the NSA and GCHQ operate globally without respect to borders. Additionally, there are examples of offshore VPNs cooperating with surveillance agencies (see the PureVPN review).
Given IPVanish's track record, no log policies, and secure network infrastructure, it remains a solid choice for privacy-focused users.
IPVanish apps
IPVanish provides a wide selection of applications for many devices and platforms.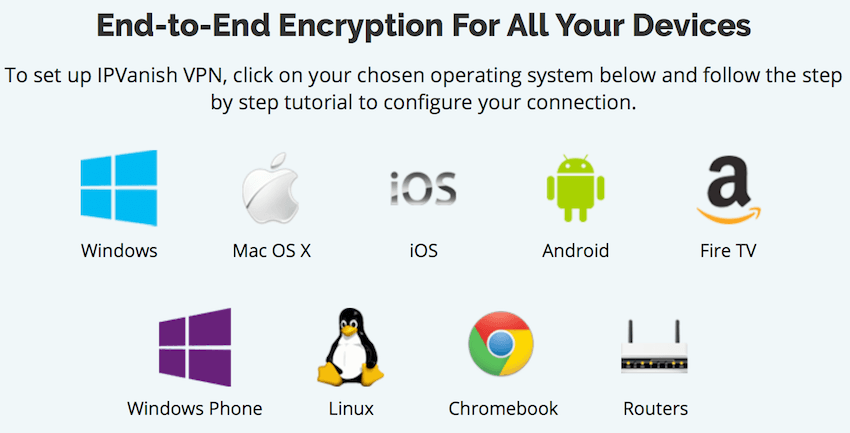 For this IPVanish review, I tested out their apps on Windows, Mac OS, and Android.
IPVanish Windows app – The IPVanish Windows app did very well in testing. It is user-friendly, stable, and never froze up or crashed.
IPVanish Mac OS – The IPVanish Mac OS app also did well in testing. The new IPVanish Mac OS app did not have any noticeable connection issues or bugs to be found.
IPVanish Android – The IPVanish Android app performed well in testing without any issues to report. It has a good design and works well.
Connections – IPVanish offers five connections that you can use on any supported device or platform.
See all available IPVanish apps here >>
IPVanish speed tests
I tested IPVanish speeds on numerous servers throughout the world. Overall, it performed very well in speed testing. I never had issues with slow speeds or dropped connections.
My baseline speed for testing was 100 Mbps and the physical testing location was Germany.
For servers in my general vicinity (Western Europe) I could typically get 75-100 Mbps download speeds throughout the day.
Germany – Here is one speed test with the IPVanish Windows app connected to a nearby server. I was able to get over 96 Mbps download speeds. This essentially maxed out my internet provider speed.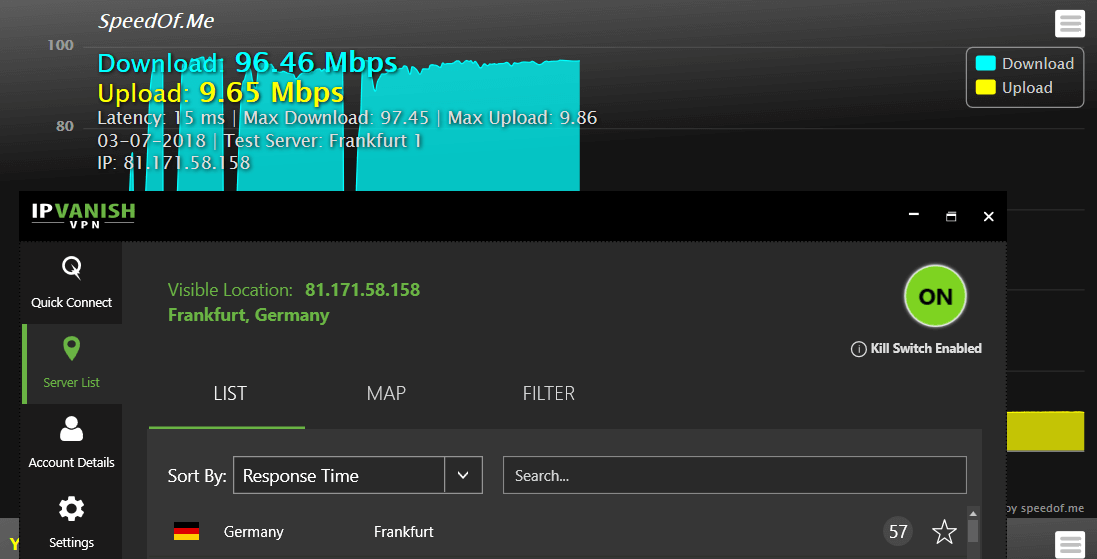 I also tested IPVanish servers that were further away from my location.
Amsterdam – Here I am testing an Amsterdam server with the IPVanish Windows client and getting over 90 Mbps.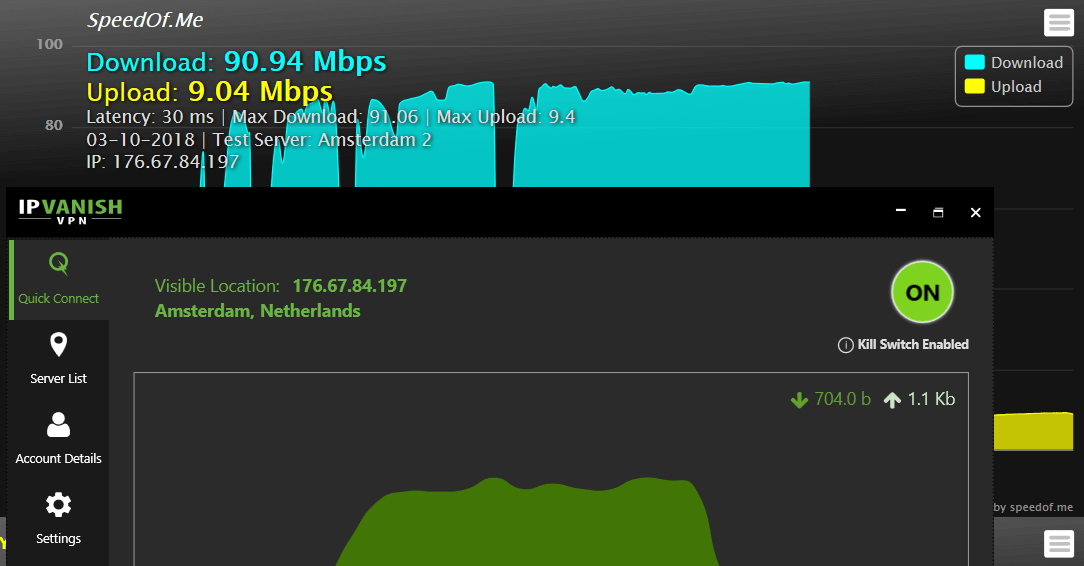 New York – Here I am testing an IPVanish server in New York. Again, the speed was great (77 Mbps), especially considering the greater distance between me and the server location.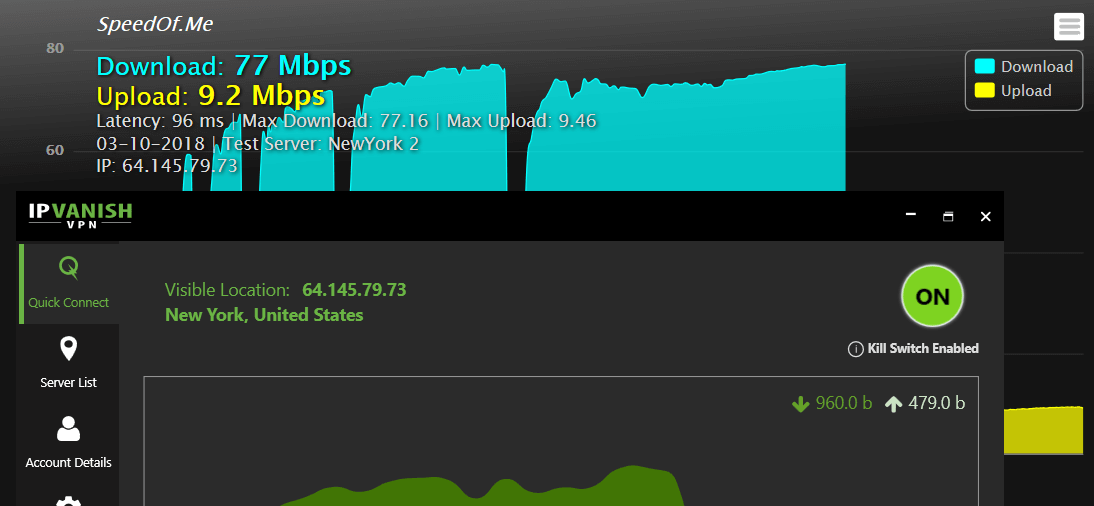 Canada – And finally, I tested a server in Canada, and again found the speed to be great at over 50 Mbps (considering my distance from Canada). This speed test was with the IPVanish Mac OS app: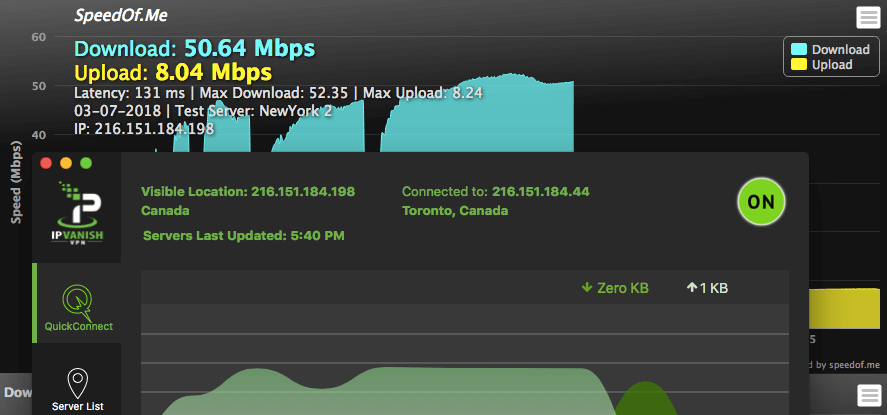 I did not have any issues with slow speeds or poor performance when testing out IPVanish for this review.
If you value performance with a VPN, IPVanish would be a solid choice based on these results. Not only were the speeds fast, but they were also consistent.
This makes IPVanish a good choice for people who need a fast VPN for torrenting or people who want a VPN for Kodi streaming.
Privacy and security test results
IPVanish performed well in all privacy and security tests for this review. I tested IPVanish for IP address leaks (both IPv4 and IPv6) and DNS leaks. IPVanish passed all tests.
Prior to running these tests, I verified the IPv6 leak protection, DNS leak protection, and kill switch features were activated when testing the Windows, Mac OS, and Android apps. (IPVanish offers a nice lineup of privacy features.)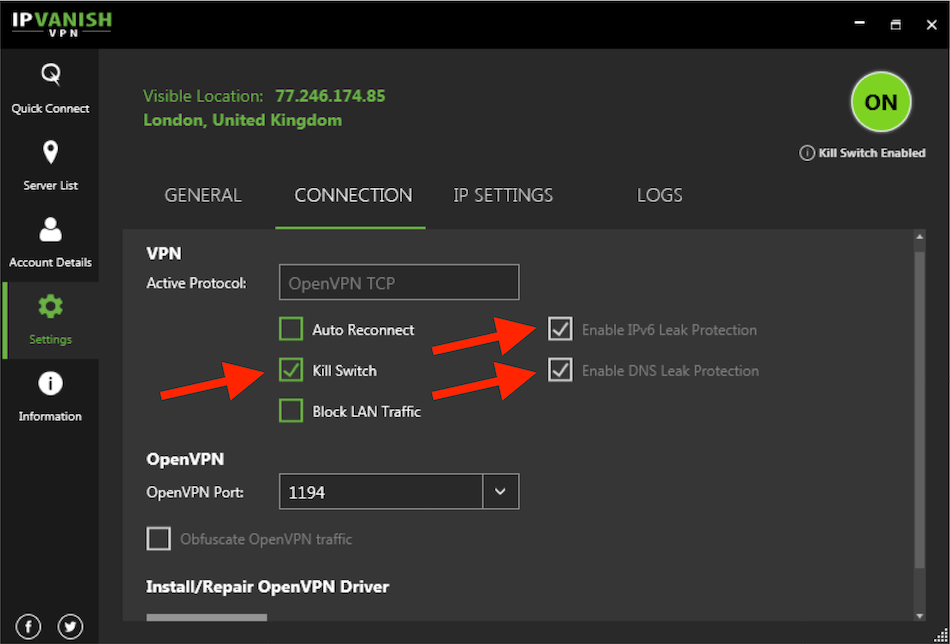 Here is a test using the Windows app with a London, UK server.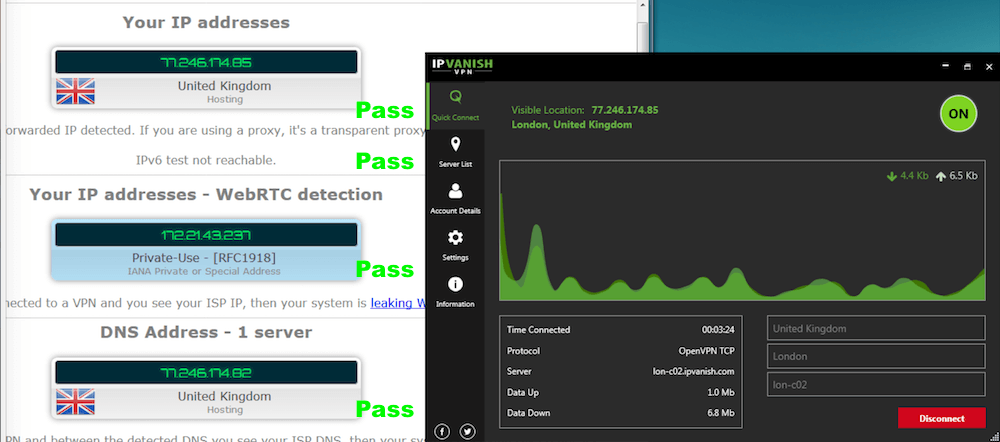 Another test using the Mac OS app with an IPVanish server in Amsterdam: no leaks.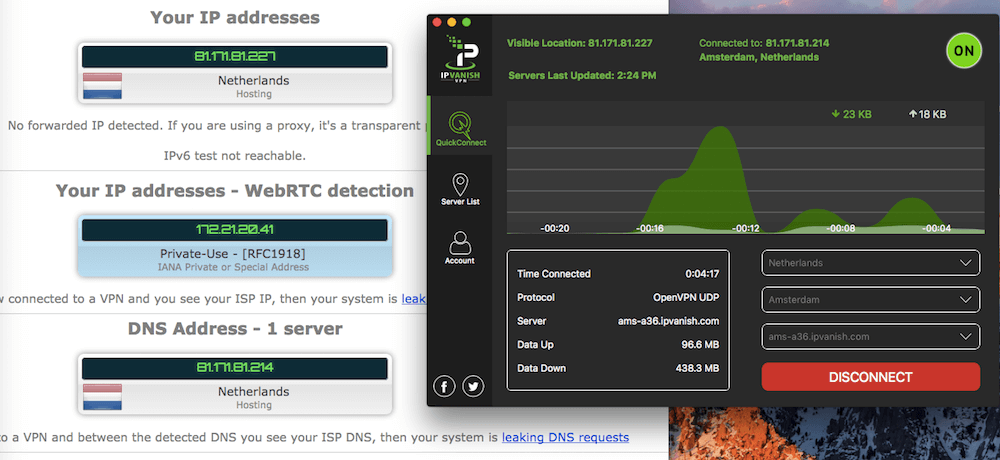 Everything checked out with the leak tests: no issues to report.
IPVanish's privacy and security will:
Protect you against IP address leaks
Protect you against DNS leaks
Protect your IP address if the VPN connection drops (kill switch)
As you can see in the results above, IPVanish passed all privacy and security tests without any leaks discovered.
IPVanish's server network
One unique benefit you get with IPVanish is access to a massive server network with locations spanning all around the world.

But in addition to quantity, IPVanish also excels in server quality.
Self-owned network tier-1 server network
Another benefit with IPVanish is that they own and manage their entire server network. This cuts out third parties and is a major distinguishing factor separating IPVanish from other VPN services.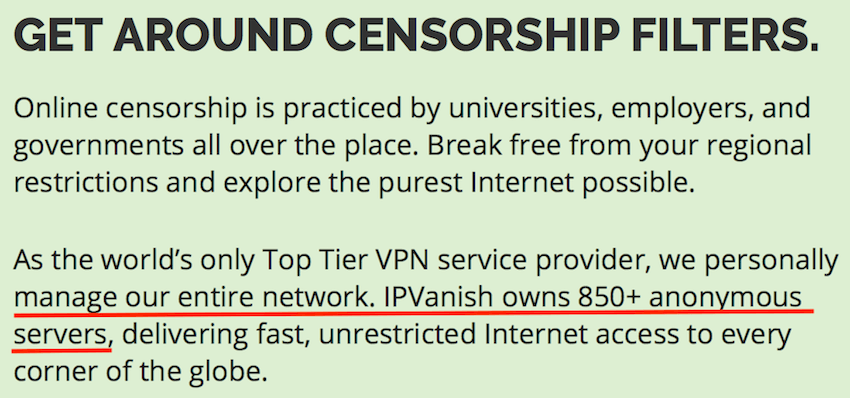 Owning their entire server network infrastructure provides two distinct benefits:
Excellent performance in terms of speed and reliability
Great data security, because third parties will not be handling your data
Many people look for a VPN that is in an "offshore" jurisdiction, but fail to consider whether the VPN is renting cheap servers in various countries. Maintaining cheap virtual servers that are shared with other parties is a major security risk, even though it is a common practice in the VPN industry (because virtual servers are cheap).
With IPVanish you get dedicated physical servers that are owned by the IPVanish. This puts IPVanish above most other providers on the market today.
IPVanish support
I tested out the IPVanish support by sending in various questions. My questions were handled on the same day in under two hours. I've seen some people complain about slow support, but I did not find this to be the case at all.
Support test – I sent in a question about paying with Bitcoin and the support member (Victor) answered my question in 18 minutes.
Live chat – IPVanish offers live chat available through their website. To access the live chat option, you need to navigate to the checkout page. I tested it out and was connected with a chat representative right away.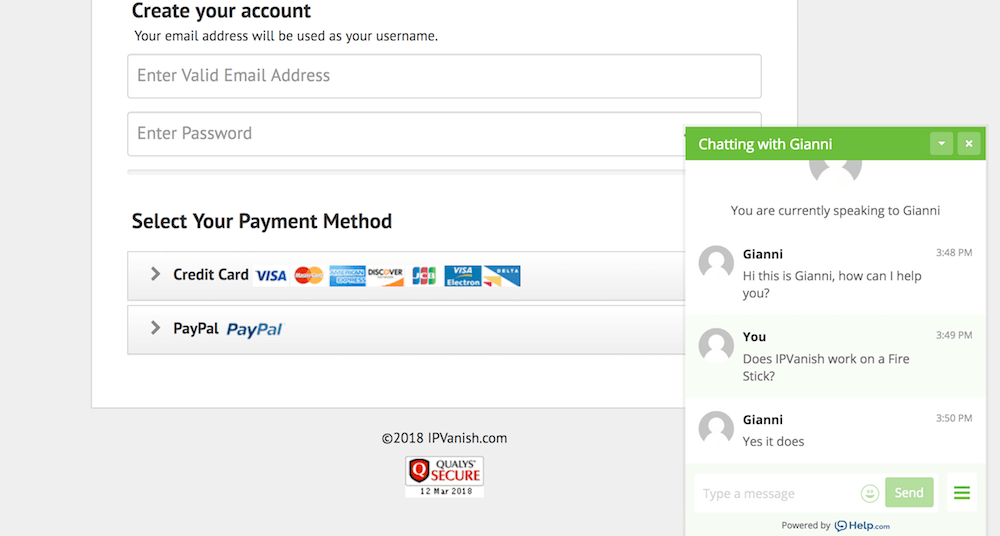 The IPVanish website also contains some great guides and informational articles on various topics.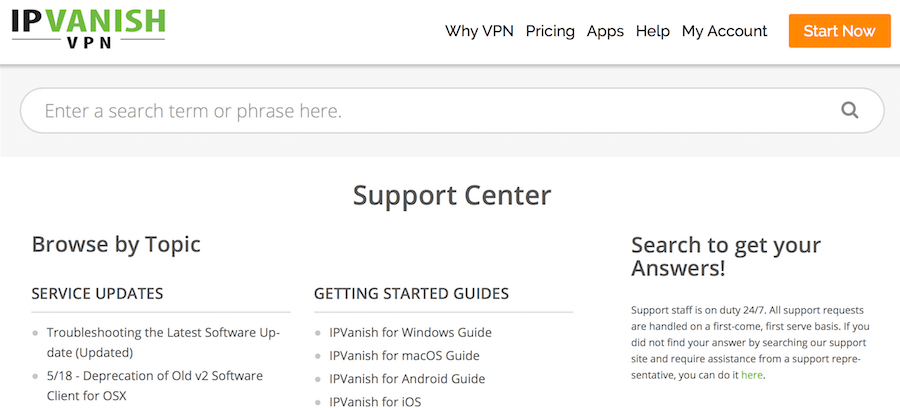 The IPVanish support center includes many guides to help you get IPVanish set up and working correctly on your devices.
IPVanish Android
I also downloaded and tested out the IPVanish Android app for this review.
Overall it performed well without any issues to report.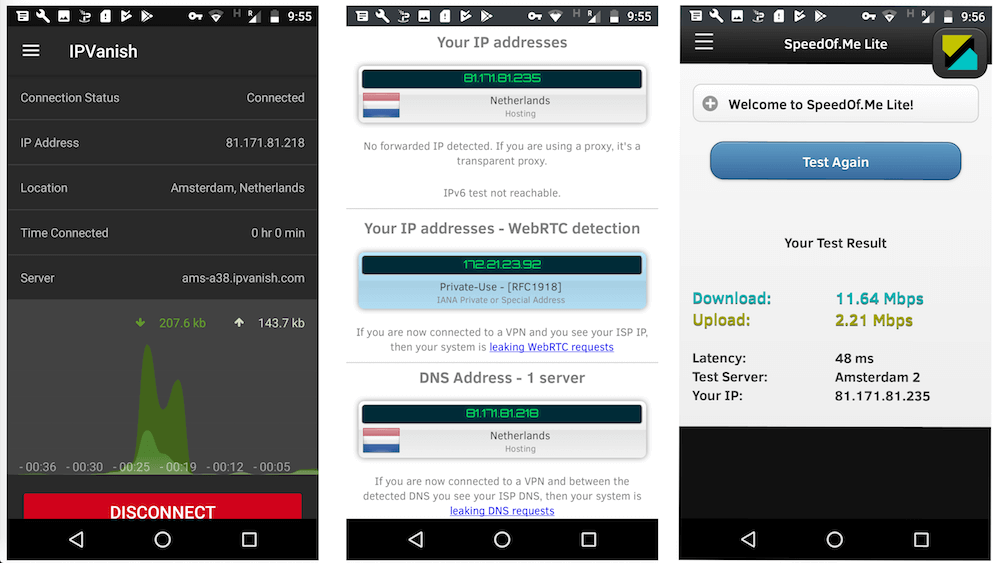 Overall the IPVanish Android app seems to work fine. Connecting and switching servers is easy and I didn't find any leaks or problems to report. (Note: slower speeds were due to a slower WiFi network I used for testing the Android device.)
IPVanish router
IPVanish is also a good choice if you want to use a VPN on a router. This will secure (encrypt) your entire home network and all devices that connect to your router. Even better, it will only count as one device when you use IPVanish on your router.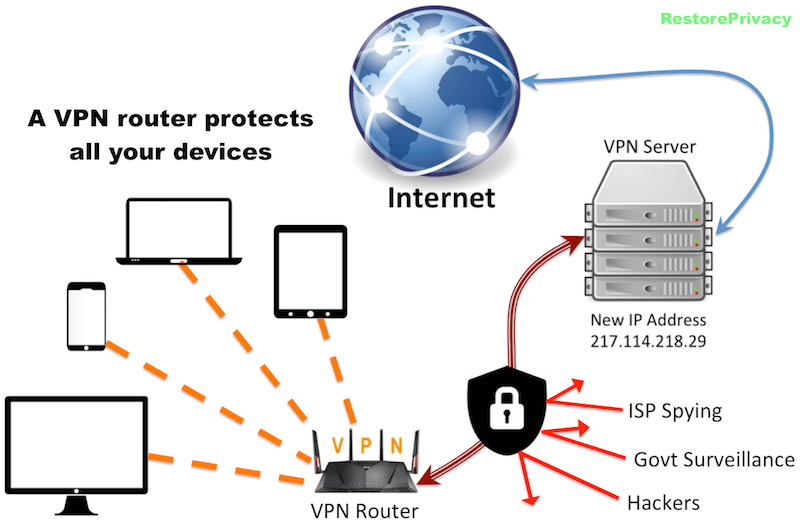 A VPN router is a smart idea simply because most internet providers are now monitoring and recording your online activities. This is official policy in the United States, the UK, and now also Australia. (Although this practice is probably unofficially happening throughout the world.)
You can see all the IPVanish router options that are supported here.
IPVanish review conclusion
As you can clearly see with the speed and privacy test results, IPVanish performed very well in all tests for this review.
It is a VPN service that is built for speed on top of a huge network of dedicated, self-owned servers. This makes IPVanish an ideal choice for many different use cases from streaming to torrenting or just normal web browsing.
IPVanish is also a solid choice for privacy with a no logs policy, secure applications, and great privacy features that passed all tests. You can take 20% off IPVanish with this coupon, or just visit the site to learn more.
---