NordVPN and VyprVPN are both well-respected VPN services that have a good track record going back many years. But in this VyprVPN vs NordVPN comparison, there's only room for one winner.
Here are the eight categories where we will compare the two contenders. Note that some of these categories have sub-categories (Streaming and Torrenting, for example) that we combine together to figure out the winner in each main category.
Background check and jurisdiction
Speed tests
Features
Streaming and Torrenting
Security and Encryption
Privacy
Prices & Refunds
Value
So let's kick off this NordVPN vs VyprVPN comparison with a background check of each VPN service.
Background check and jurisdiction comparison
Since we depend on our VPNs to protect our privacy, it is important to know something about the companies themselves. And remember that your VPN may keep anyone else from spying on your online activities, but they can do so if they really want to.
We've seen this happen in the past. For example, we now know that PureVPN, a service that billed itself as a no-logs VPN, shared data logs with the FBI during a 2017 investigation. Another example is HideMyAss VPN, which provided logs to US authorities for a criminal investigation.
With this reminder about the importance of trust, let's look at the companies behind NordVPN and VyprVPN.
NordVPN background and jurisdiction
NordVPN is based in Panama under the parent company Tefincom SA. Panama is one of the better jurisdictions for a VPN service. Why? Because Panama is not part of any of the big international intelligence alliances such as the 14 Eyes. In addition, the country imposes no mandatory data retention or logging requirements, making it possible for NordVPN to be a true no-logs VPN.
Aside from the VPN, the Nord team is busy with other cybersecurity products. First up is a secure password manager called NordPass. They have also released an encryption tool and secure cloud storage solution called NordLocker. Despite having a large team working on Nord products in offices around the world, the parent company is strategically based in Panama for the privacy benefits of this jurisdiction.
NordVPN has also undergone three independent audits by outside firms. Two of these were to verify the no-logs policy and privacy protection of Nord users, with the latest audit being completed in 2020. Additionally, NordVPN has undergone security audits and penetration testing conducted by Versprite.
NordVPN passes our background check with flying colors.
VyprVPN background and jurisdiction
VyprVPN is owned by Golden Frog GmbH, a Switzerland-based company. While Switzerland is physically located in the heart of Europe, it is not an EU nation. According to the Golden Frog website,
The right to privacy is guaranteed in Article 13 of the Swiss Federal Constitution. Privacy protections for online activities are provided for under Swiss Federal Data Protection Act (DPA) and the Swiss Federal Data Protection Ordinance (DPO). Unlike the data protection legislation of many other countries, the DPA protects both personal data pertaining to natural persons and legal entities.
Way back in 2010, the Federal Supreme Court of Switzerland ruled that IP addresses are personal information that can't be used to track users without the knowledge of those users.
In recent years Golden Frog has improved this VPN in numerous ways, including converting it into a no-logs VPN. And like NordVPN, VyprVPN has undergone an independent audit to confirm their no-logs claims.
Both of these VPNs check out. We'll call this category a tie.
Company background and jurisdiction winner: Tie
---
NordVPN vs VyprVPN speed tests
We tested both of these VPNs with a 500 Mbps connection in our US lab.
North American tests
For the first round of testing, we tried VPN servers located in North America. We took advantage of the fact that both these VPNs have WireGuard support. And this gives them an edge over other VPN services in the area of speed.
Here was a VyprVPN server in Seattle at 301 Mbps.

A download speed of over 300 Mbps is impressive, and this is a milestone that most other VPNs never reach. Can NordVPN do any better?
Here was the NordVPN server in Seattle at 445 Mbps.

At 445 Mbps, NordVPN is over 140 Mbps faster than VyprVPN for this server location. This was also the fastest VPN speed we've ever recorded here at Restore Privacy. (NordVPN's use of the WireGuard protocol, rather than OpenVPN, makes these fast speeds achievable.)
Next we tested servers in Los Angeles, California. Here was the VyprVPN server in Los Angeles at about 235 Mbps.

This is another great speed test result from VyprVPN, let's see how NordVPN compares.
Here was the NordVPN server in Los Angeles at over 304 Mbps.

Once again, our tests revealed that NordVPN is faster than VyprVPN in this server location as well, by about 69 Mbps. Now let's turn our attention to European servers.
European Speed Tests
Remembering that VyprVPN is based in Switzerland, we might find that their European speed test results are even better. We were particularly interested to see how the two VPNs did with UK based servers. With privacy rapidly eroding in this area, finding the best VPN for the UK is more important than ever.
Here was a VyprVPN server in the UK at 223 Mbps.

This is another solid speed test result from VyprVPN, especially when considering the longer distance and higher latency.
Finally, here was the NordVPN server in the UK at 295 Mbps.

With the UK server location, we see that NordVPN was again faster than VyprVPN by a wide margin. Despite the longer distances between me and the server location, resulting in higher ping, NordVPN was still able to deliver around 300 Mbps of bandwidth. Impressive.
In comparison to most other VPN services, VyprVPN would probably come out on top with server speeds. With NordVPN, however, they are going up against one of the fastest VPN services that has invested and fine-tuned its server network for performance.
To summarize all of these VPN speed test results, VyprVPN is fast, but NordVPN is faster.
Speed test winner: NordVPN
---
Features: Nord vs Vypr
If all you want is to protect your online activities from basic threats and unblock websites from abroad, both these VPNs should work just fine right out of the box. NordVPN and VyprVPN both offer a range of features that allow you to stream geo-blocked content, share P2P files, and bypass internet censorship.
VyprVPN features
One thing we really praised in the VyprVPN review was the apps, which are clean, minimal, and secure with built-in leak protection (kill switch). The design is similar to both Surfshark and ExpressVPN. Below we are testing out the VyprVPN Windows client (right) for any data leaks (no leaks were found).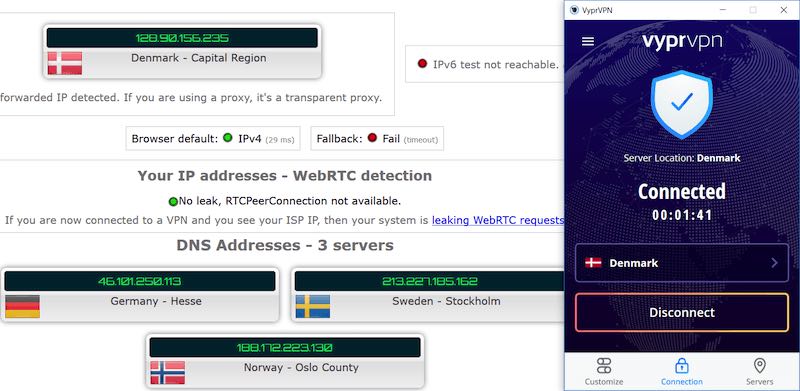 VyprVPN offers dedicated apps for Windows, Mac OS, Android, iOS, and even VPN routers with certain firmware. This is on par with NordVPN. WireGuard is available on the Windows, Mac, Android, and iOS apps – but not routers. In our tests we found all VyprVPN apps to be reliable, with full DNS protection, a functioning kill switch, and no leaks.
A VyprVPN subscription gives you 30 simultaneous connections. This is certainly above average for the industry, although there are VPNs with an unlimited number of connections (see our Surfshark review).
VyprVPN includes features designed to help you evade forms of internet censorship. They can mask your IP address and even offer a Chameleon protocol to conceal VPN traffic as regular HTTPS encryption. This can come in handy if you need a good VPN for China or any other location where VPNs are blocked.
Servers – VyprVPN makes a point of the fact that they own all the servers in their network. Most VPN services rent some of their servers from third-party data centers. By owning all their servers, the company can ensure security and performance across the entire network.
However, it's important to note that VyprVPN uses virtual server locations in some areas. What this means is that some VyprVPN servers will (virtually) appear to be in a specific location, such as Brazil, when the server will in fact be somewhere else, such as Miami. This is a real example we uncovered in our virtual server locations.
NordVPN features
NordVPN offers all the basic features that you find with VyprVPN, but goes further with advanced privacy and security features. But first, here's a screenshot of the NordVPN Windows client that we tested for this comparison guide. It's a great VPN for PC systems as well as mobile devices: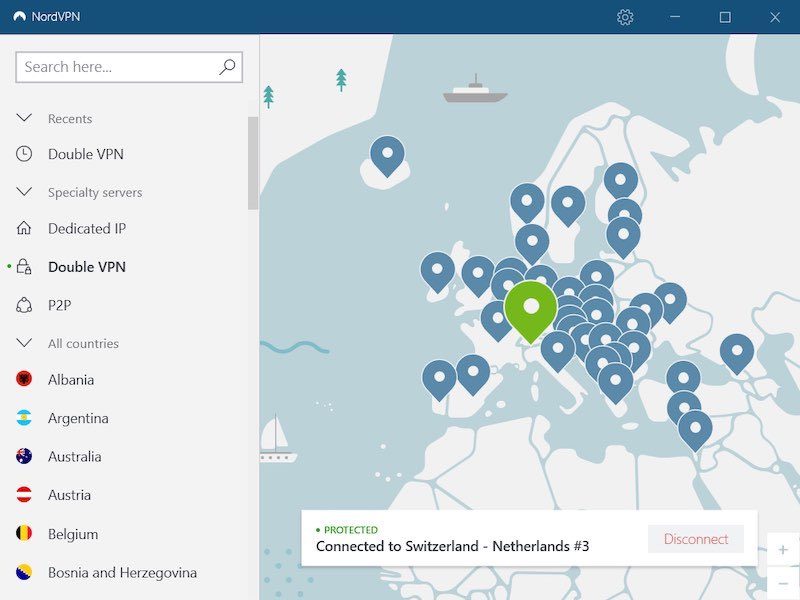 In comparison to VyprVPN, you can see that NordVPN has more features and preferences. For example, you can see that there are specialty servers available on the left-side of the NordVPN client. Here is an overview of the NordVPN specialty servers:
Double VPN servers that encrypt your traffic over two hops. Using a multi-hop VPN adds an extra layer of security for those who want it. And as we pointed out in the NordVPN vs ProtonVPN comparison, speeds with these Double VPN servers were still very good at around 200 Mbps.
P2P servers are optimized for torrenting traffic and will deliver excellent speeds when sharing large files.
Tor-over-VPN servers add an extra layer of encryption with the Tor network.
Obfuscated servers will conceal your VPN traffic while also allowing you to get around VPN blocks.
Dedicated IP servers are useful if you need a dedicated IP VPN with an IP address that only you are using. This is another feature that VyprVPN does not offer.
VyprVPN does not offer any of these specialty servers that you find with NordVPN. And while VyprVPN gives you five simultaneous connections, NordVPN offers six simultaneous connections with your VPN subscription – not a big difference, but worth noting. Some NordVPN apps also have the ability to do split tunneling, which allows you to route applications or websites outside the VPN tunnel. This is another feature we do not find with VyprVPN.
Another NordVPN feature worth noting is CyberSec. This is an impressive security feature that blocks trackers, ads, and malware domains on your entire operating system through the VPN application. In our testing we found CyberSec to convert NordVPN into one of the best VPNs with ad blocking.

Servers – In comparison to VyprVPN, NordVPN has a much larger server network with 5,100+ servers spread across 60 countries. That's almost 8 times the number of servers that VyprVPN offers. This geographic diversity helps ensure faster speeds and better network performance for NordVPN users throughout the world.
Unlike with VyprVPN, NordVPN does not use any virtual server locations. This is a big distinction, since VyprVPN does not actually have physical servers in all the locations they claim, while NordVPN does.
As we noted in our NordVPN review, NordVPN will also be rolling out self-owned (colocated) servers throughout their entire network. This has already been completed in a few locations, and over the next few months, NordVPN's network will be running on self-owned servers.
To summarize this category, VyprVPN has good features, but NordVPN offers better and more features, along with dedicated (non-virtual) servers in all locations.
Features winner: NordVPN
---
Streaming and torrenting
Streaming and torrenting are two of the most-cited uses people have for their VPN. That being the case, we make a point of investigating how suitable each VPN is for this kind of use. Let's continue this VyprVPN vs NordVPN shootout by looking at their suitability for streaming.
Streaming with NordVPN and VyprVPN
There are three main characteristics a VPN need to possess to be a great streaming VPN:
It needs to be able to consistently access geo-blocked content, such as various Netflix regional libraries. Many people use a VPN to watch Netflix, Hulu, Disney Plus, and other streaming sites – and this is a trend that's only growing.
The VPN needs to have a wide selection of servers in geographic regions to defeat geo-blocks.
Lastly, you need a VPN with a network that is fast enough to stream the content you want, at full HD quality, without buffering, stuttering, or otherwise messing up the images you see on the screen.
With all that out of the way, let's see how the contenders do on each of these characteristics.
NordVPN – After extensive testing, we rated NordVPN as the best VPN for streaming available today. It simply meets all of our criteria with fast speeds and a huge network of servers around the world that can unblock streaming content. Below I'm streaming Netflix with a NordVPN server in the US.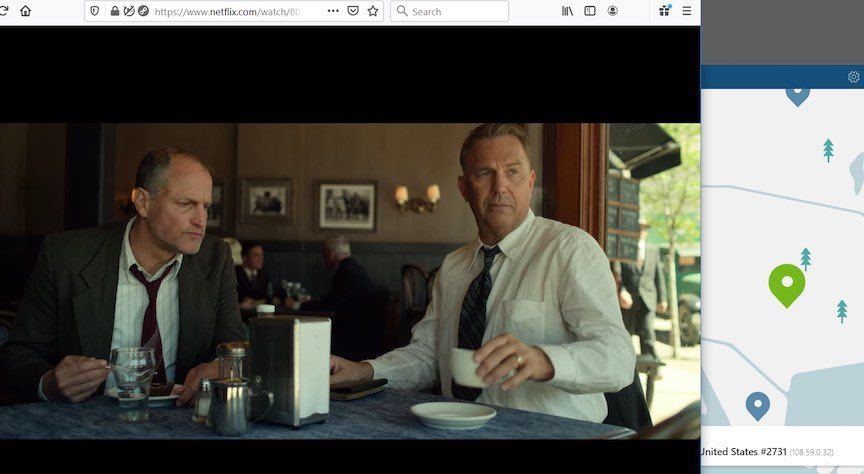 NordVPN also works for Hulu, Disney Plus, BBC iPlayer, and numerous different Netflix regions around the world. They even offer a dedicated app in the Amazon Prime Store, making it one of the best VPNs for Firestick.
VyprVPN – According to VyprVPN support, this service only works with four Netflix regions (US, UK, Germany, and Canada). Additionally, you will most likely need to check with their customer support team to see which specific servers you should use. This is not ideal if you want to easily change Netflix regions.
In comparison to VyprVPN, we see NordVPN officially supports 16 different Netflix regions, but also claims to work with some smaller regions as well.
VyprVPN is also a good choice to connect to other streaming services. They claim to be able to connect to nine top streaming services in the USA, along with a similar number of major European services from their London server location.
It's true that both VyprVPN and NordVPN both unblock streaming content. However, NordVPN offers access to more libraries, regions, and streaming websites than VyprVPN. We observed the same results in our IPVanish vs NordVPN comparison.
Streaming winner: NordVPN
Torrenting with VyprVPN and NordVPN
Torrenting, or P2P file transfer, is a common way to transfer large files, including copyrighted content like moves or music. Both of these services support torrenting. But which is better at torrenting?
NordVPN – NordVPN tops our list as the best VPN for torrenting. The reasons why include:
The fast, consistent network – This makes torrenting more efficient and reliable.
Strong leak protection – NordVPN apps have built-in leak protection, meaning you don't have to worry about your IP address being exposed while torrenting
Safe jurisdiction – Panama doesn't have the kind of punitive copyright laws that the USA and EU have. The company can simply ignore DMCA/copyright requests
An array of dedicated P2P servers – These servers are optimized for torrenting.
VyprVPN – It used to be that VyprVPN opposed copyright infringement through torrenting, and would even pass along DMCA notices to their users. Today, however, VyprVPN is a no-logs VPN and allows torrenting on all servers. VyprVPN has all the same characteristics listed above, except it is not as fast as NordVPN, and it doesn't have the array of dedicated P2P servers.
Torrenting winner: NordVPN
While VyprVPN put in strong showings in each of these categories, they are up against the best of the best in this battle.
Streaming and Torrenting winner: NordVPN
---
Encryption & Security: NordVPN vs VyprVPN
Encryption and security are key characteristics of VPNs. So does NordVPN or VyprVPN come out on top in this category?
VPN Encryption & protocols
VyprVPN: Their clients primarily use the OpenVPN and WireGuard protocols, while also supporting IKEv2/IPSec and L2TP/IPSec, and their proprietary Chameleon protocol. Their encryption algorithms include AES-256-GCM and SHA384 or ChaCha20 ciphers.
And as we already covered above, VyprVPN passed all of our VPN tests without any leaks, bugs, or failures.
NordVPN: The NordVPN clients primarily use the OpenVPN and NordLynx (WireGuard) protocols to secure traffic, but they also support IKEv2/IPSec. NordVPN uses the AES-256-GCM cipher with a 4096-bit DH key with the OpenVPN and IKEv2 protocols. The NordLynx / WireGuard protocol uses ChaCha20 ciphers. This is rock-solid encryption and on par with VyprVPN.
In testing out the NordVPN clients, we could not find any leaks, bugs or failures.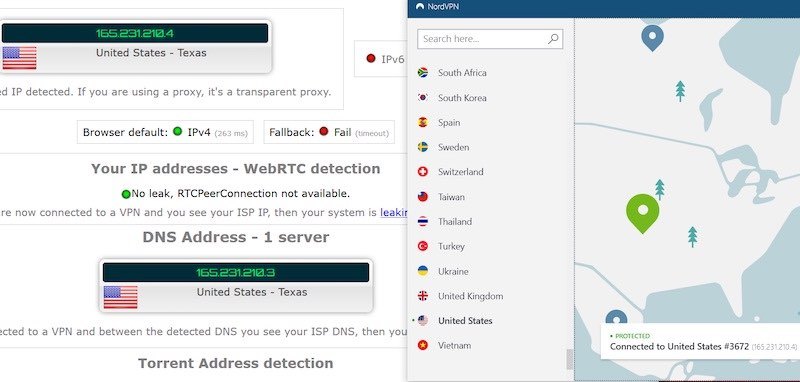 Looking at just the encryption and VPN protocols, NordVPN and VyprVPN are basically tied for this sub-category.
Security audits
NordVPN has undergone the following third-party audits:
PricewaterhouseCoopers AG Switzerland conducted a no-logs audit (2019).
VerSprite conducted a full security audit to include applications, server infrastructure, and penetration testing.
PricewaterhouseCoopers performed a second no-logs audit in 2020.
NordVPN is one of the most audited VPNs in the industry, along with ExpressVPN, which we discuss in the ExpressVPN vs NordVPN comparison.
VyprVPN had had a No Log Assessment conducted by Leviathan Security Group, Inc. This was completed in 2018. But there have been no other public audits since then (that we could find).
VPN server security
Protecting your VPN servers is important. When using a VPN, your data gets encrypted on your computer or other devices, before it passes out onto the internet. Assuming the encryption is strong (as it is for both of these services), even if someone were to intercept the messages, they wouldn't be able to decipher them.
Going beyond standard physical protection, NordVPN has converted all servers to run in RAM-disk mode (diskless operation). This milestone was completed in 2020 and ensures that no VPN server ever has data that could be seized or procured by third parties.
While VyprVPN owns all of their own servers, they also utilize a large number of virtual locations, which they do not fully disclose on their website. This undermines trust and transparency, with users wondering which locations are real and which are virtual.
Unlike NordVPN and Surfshark, VyprVPN does not run their servers in RAM-disk mode, which is another security drawback. Lastly, NordVPN runs only dedicated physical servers in all of the advertised locations, while VyprVPN uses numerous virtual server locations. NordVPN comes out on top in this category as well.
Encryption & security winner: NordVPN
---
Privacy: Is NordVPN or VyprVPN better?
Both VyprVPN and NordVPN run secure networks and have no-logs policies that have been audited by third parties. On most traditional VPN parameters they both provide top-notch privacy protection.
But both of these services also support WireGuard. While it has impressive speed and security benefits, WireGuard by itself has some privacy concerns.
NordVPN addressed this issue with their NordLynx protocol. NordLynx utilizes a Double NAT system to ensure full user privacy with their WireGuard deployment.
VyprVPN claims that their WireGuard implementation also protects your privacy. However, we haven't seen an explanation of how this VPN deals with the WireGuard privacy issues. VyprVPN has also not undergone any audits since 2018 that would verify it is still a no-logs VPN service.
We don't have any reason to doubt that VyprVPN's WireGuard implementation protects your privacy, but unless they can publish an explanation of how they do so, NordVPN wins this category as well.
Privacy winner: NordVPN
---
VyprVPN vs NordVPN prices and refunds
We're in the home stretch now. So let's talk about prices and refund policies.
VyprVPN offers three pricing options: a 1-month plan, 12-month plan, and 24-month plan.

As you can see, the longer the term you sign up for, the better the discount you receive. With the 24-month plan at only $1.67 per month, we'd consider VyprVPN to be a strong candidate in the cheap VPN category.
Once the initial term expires, your subscription will automatically renew for the same term and price.
When it comes to refunds, VyprVPN offers a 30 day money-back guarantee.
NordVPN offers three pricing options: a 1-month plan, a 1-year plan, and a 2-year plan.


Above we can see that the cheapest price for NordVPN is $3.30 per month with the two year plan. When comparing the two-year plans, NordVPN is about $19 more than VyprVPN.
Like VyprVPN, NordVPN also offers a 30 day money-back guarantee with all plans.
Note: Speaking of prices, we track the latest deals on our dedicated NordVPN coupon page. And there are also times of the year when NordVPN bundles cheap subscriptions with other NordSec products.
Both of these VPN services have affordable prices, but VyprVPN wins this category with cheaper rates. You can see other options on our VPN coupons page.
Prices and refunds winner: VyprVPN
---
Value: Is NordVPN or VyprVPN better?
As always, figuring out the value of a VPN really depends on what you plan to do with it. We don't know how you will use your VPN, but we can still help you think about the value delivered by these two competing services. When judging value, we'll look at four general areas:
Security: Both VPNs are secure, but NordVPN has a slight edge here with server security.
Privacy: Both VPNs are no-logs VPNs with third-party audits, so this one is close.
Speed: NordVPN delivers the best speeds in all locations tested, beating out VyprVPN with every server location tested.
Features: NordVPN really stands above VyprVPN in this category, offering a lot more privacy and security features. And if you want to lump streaming support in here, too, then NordVPN has a big advantage.
NordVPN has the edge in all of these areas and comes out ahead of VyprVPN. But here's the catch: NordVPN is also more expensive than VyprVPN.
So the question really is this: Are you willing to pay more for faster speeds, more features, and higher levels of privacy and security?
Considering everything, we still think NordVPN delivers the best value.
You can simply do more with NordVPN, and it remains a great bargain even while being a bit more expensive than VyprVPN. With that being said, this category really boils down to your own perception. If you ask us, we'll still give it to NordVPN.
Value winner: NordVPN
---
Conclusion: NordVPN wins
Let's wrap this up by looking at the results of our testing program. Here is an overview of our findings for each category of this VyprVPN vs NordVPN comparison:
Company background and jurisdiction: Tie
Speed tests: NordVPN
Features: NordVPN
Streaming and Torrenting: NordVPN
Security and Encryption: NordVPN
Privacy: NordVPN
Price and Refund: VyprVPN
Value: NordVPN
NordVPN won in six categories and is the overall winner. VyprVPN was the winner in one category, and one category was tied.
Under most circumstances, VyprVPN would do well in a comparison against other VPNs. And make no mistake, we like and recommend VyprVPN to our readers. However, in comparison to NordVPN, VyprVPN has a lot of work to do.
Whichever VPN you decide to go with, be sure to grab the best prices with the latest discounts. Here is the current best deal on NordVPN:
NordVPN Holiday Deal is Live:

Get 72% off your NordVPN subscription (reduces the price to $3.29 per month).
(Coupon is applied automatically.)
But you have options….
You can also check for the latest deals on VyprVPN's website here >>
This NordVPN vs VyprVPN comparison was last updated on November 4, 2021.