ExpressVPN and VyprVPN are two of the stronger VPN services on the market today. Either one of them would probably come out ahead of most other providers (but not all). So which of these comes out on top in this ExpressVPN vs VyprVPN comparison report? That's what we're here to answer.
Based on the latest test results and analysis, ExpressVPN is the winner in 2023. In comparison to VyprVPN, ExpressVPN has better apps, a larger server network, and more security features.
This table highlights the key facts about each VPN:
| | | |
| --- | --- | --- |
| | ExpressVPN | VyprVPN |
| Website | ExpressVPN.com | VyprVPN.com |
| Location | British Virgin Islands | Switzerland |
| Servers | 3,000+ | 750+ |
| Countries | 94 | 64 |
| Logs | No logs (audited) | No logs |
| Torrenting | All servers | All servers |
| Support | Knowledge Base; 24/7 live chat | Knowledge Base; chat |
| Apps for | Windows, macOS, Linux, Android, iOS | Windows, macOS, Android, iOS |
| Price | $6.67 | $5.00 |
| Best Deal | 49% Off + 3 Months Free > | N/A |
We examined each VPN in eight different categories. If you are wondering whether to go with VyprVPN or ExpressVPN, you will have an answer by the end of this guide. Here are the categories we will cover:
Background check and jurisdiction
Features
Speed tests
Streaming and torrenting
Security and encryption
Privacy
Price and refund policy
Value
Let's get right to it by reviewing the background and jurisdiction of each VPN.
Background and jurisdiction
If we are going to trust our online privacy and security to a VPN service, we need to have faith in the company behind the technology. After all, when you use a VPN service, you are trusting the VPN to handle all of your traffic. And that's a lot of trust.
PureVPN is just one "no logs" VPN that shared information with the FBI during a 2017 investigation. It appears that their no-logs claim wasn't exactly honest. Another example is the IPVanish logging case that we covered in the IPVanish review.
Clearly, having a VPN you can trust is important. A company's background is a good indication of how trustworthy they are. And with that in mind, let's put VyprVPN and ExpressVPN through a background check.
ExpressVPN background and jurisdiction
ExpressVPN is one of the most well-known VPNs in the industry and it has a good reputation. It has passed numerous audits and has not been in the news for any major scandals. However, there was one major news item concerning ExpressVPN's ownership…
ExpressVPN purchased by Kape Technologies – In September 2021, ExpressVPN announced plans to be acquired by Kape Technologies (formerly Crossrider). This consolidation is not ideal, given that Kape also owns Private Internet Access, CyberGhost, Zenmate, and a collection of VPN review websites.
On a positive note, ExpressVPN has been operating for many years and has a clean track record. They have promised to keep undergoing third-party audits and will continue to operate independently in the British Virgin Islands. After considering the circumstances and contacting Kape directly, we have concluded that we can continue to recommend ExpressVPN to our readers.
VyprVPN background and jurisdiction
Golden Frog GmbH, a Swiss company, owns VyprVPN. Fortunately, Switzerland is another good privacy jurisdiction. Swiss privacy laws are strong and may be better than those of the EU. It is a popular location for VPN servers as well, with both ProtonVPN and NordVPN utilizing Swiss data centers.
VyprVPN had some major logging and DMCA (Digital Millenium Copyright Act) problems in the past. Golden Frog has put a lot of effort into making their VPN competitive and overcoming its bad history. Among other things, VyprVPN is now officially a no-logs VPN. And like ExpressVPN, VyprVPN also has passed a third-party audit that verified their no-logs claims.
Given all of the above, we have to give the edge to ExpressVPN in this category.
Company background and jurisdiction winner: ExpressVPN
---
VyprVPN vs ExpressVPN speed tests
Any VPN will slow down your connection somewhat. The question is how much. Some VPNs have a minimal impact on your connection speed. Others are like a giant anchor tied to each and every message your device sends through the VPN tunnel.
We test every VPN we write about using the 500 Mbps connection in our US lab.
North American servers
First, we tested them with VPN servers located in North America. We took advantage of the fact that both these VPNs support advanced VPN protocols. ExpressVPN now offers the Lightway protocol, while VyprVPN supports the WireGuard VPN protocol. And because of the performance benefits, many VPNs are now incorporating WireGuard, including CyberGhost and NordVPN.
VyprVPN with a Seattle server: 301 Mbps

At over 300 Mbps, this is a very fast speed test result from VyprVPN.
ExpressVPN with a Seattle server: 196 Mbps.

We can see that VyprVPN is faster than ExpressVPN by about 100 Mbps with the Seattle server location.
Next, we tested servers in Los Angeles, California.
VyprVPN with a Los Angeles server: 235 Mbps.

Even though this is not as fast as the Seattle server, 235 Mbps is still a pretty good speed test result. Can ExpressVPN do better?
ExpressVPN with a Los Angeles server: 231 Mbps.

This speed test location was very close, with VyprVPN being slightly faster than ExpressVPN by only about 4 Mbps.
We saw similar speed differences in our NordVPN vs ExpressVPN comparison guide.
UK Speed Tests
We also tested UK servers, with VPNs being a popular tool in the United Kingdom.
VyprVPN with a UK server: 223 Mbps.

At over 200 Mbps for a long-distance server, this is another good speed test result from VyprVPN.
ExpressVPN with a UK server: 235 Mbps.

Here we see that ExpressVPN came out on top, beating VyprVPN by about 12 Mbps.
So to summarize our VPN speed tests, VyprVPN was the winner in two locations and ExpressVPN was the winner in one location. Ultimately both VPNs are fast, but VyprVPN had a slight edge in our speed test results.
Speed test winner: VyprVPN
Note: While VyprVPN is fast, we found that NordVPN is even faster. See the NordVPN vs VyprVPN comparison for more details.
---
Features: Is ExpressVPN or VyprVPN better?
From unblocking websites from anywhere in the world, to protecting you against snoops and spies of all sorts, both of these VPNs are good choices. Here are their key features (at least those that aren't covered elsewhere in this article).
VyprVPN features
When we ran updated tests for the full VyprVPN review, we were impressed by their new apps. They are good-looking without a lot of extraneous ornamentation. They also are nice and secure with a kill switch, DNS protection, and no leaks that we could find.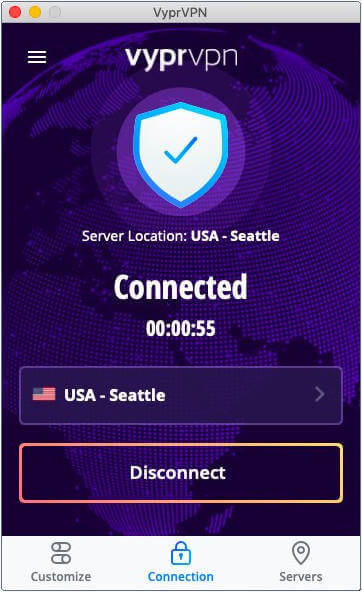 VyprVPN offers apps for Windows, Mac OS, Android, and iOS devices. They also support some routers. All their apps support OpenVPN, while WireGuard is available on desktop and mobile apps, but not on routers. (See our WireGuard vs OpenVPN report to see how these two protocols compare.)
Connections: VyprVPN gives users 30 simultaneous connections. This is way above average, but some VPNs offer an unlimited number of connections, as we covered in our Surfshark VPN review.
VyprVPN can of course hide your IP address. But if you need strong censorship resistance, you'll like their proprietary Chameleon protocol. It makes your VPN traffic look like standard HTTPS encryption. This allows you to easily get around VPN blocks, which makes VyprVPN a great choice if you need a VPN for China, or anywhere else that blocks VPN connections.
Lastly, VyprVPN offers a malicious site filter. This is similar to a VPN ad blocker, but only for known malicious sites. ExpressVPN does not have anything similar to this feature. We see other VPNs advertising a VPN ad blocker, such as PureVPN and NordVPN.
ExpressVPN features
ExpressVPN also has user-friendly apps for most operating systems and many additional hardware devices, including routers. Their clients now support the company's new Lightway protocol as well as OpenVPN. Their Network Lock (kill switch) is excellent, protecting against IPv4 leaks, IPv6 leaks, and also DNS leaks. Here is the ExpressVPN client we tested out for the ExpressVPN review: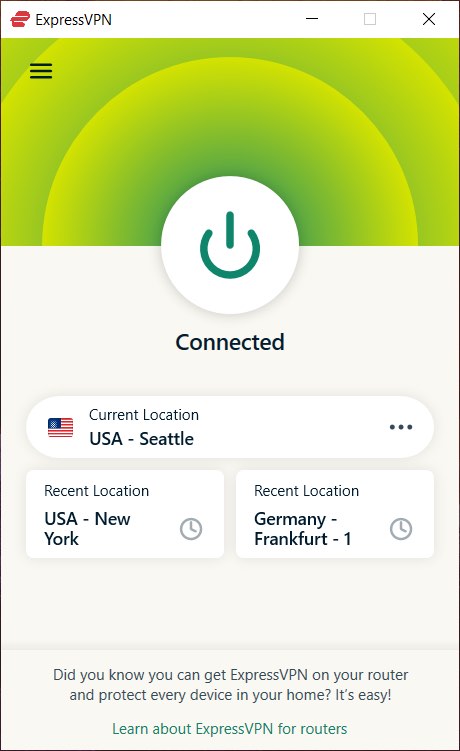 Our testing has shown that in ExpressVPN, Lightway is much faster than OpenVPN. You can activate Lightway in the Protocol section of Options.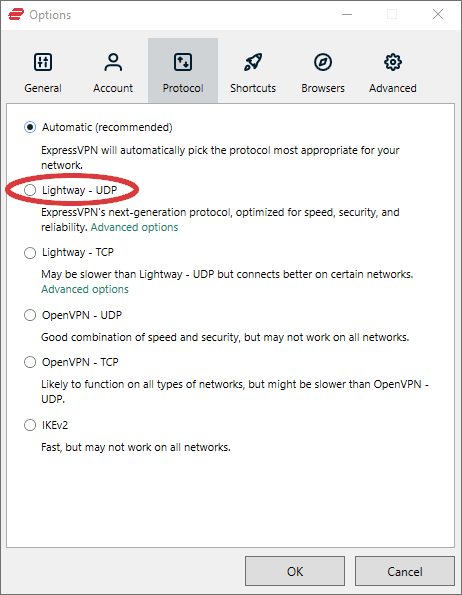 Just like VyprVPN, ExpressVPN also offers clean and minimal applications that secure traffic with a kill switch. Neither of these apps is cluttered with too many features or options, which makes them user-friendly and simple.
Threat Manager
One of the newest features of ExpressVPN is Threat Manager. This feature works to block the apps on this device from connecting to third-party trackers and malicious websites. You can activate Threat Manager in the Threat Manager section of Preferences.

Other ExpressVPN features
ExpressVPN also offers a split tunneling VPN feature. This lets you control which apps use the VPN tunnel and which go directly to the internet. This gives you great flexibility to protect most of your traffic, while still being able to go direct with other apps or websites as necessary.
The ExpressVPN obfuscation feature is like the Chameleon protocol in that it makes your VPN traffic look like plain old HTTPS helping you to avoid online censorship. And like VyprVPN, this also makes it a great VPN for UAE and other locations with restricted networks.
Static IP addresses – Neither ExpressVPN nor VyprVPN offer static or dedicated IP addresses. Using a VPN with a static IP address is useful in some cases, but it also comes with an added cost.
This was another close competition, but we are going to give it to ExpressVPN based on their wider range of high-quality apps and the extra features.
Features winner: ExpressVPN
---
Streaming and torrenting: Is ExpressVPN or VyprVPN best?
Streaming and torrenting may be the most-wanted VPN capabilities (after protecting your privacy, of course). Let's see how these two VPNs do in these areas, starting with streaming.
The streaming experience with ExpressVPN and VyprVPN
We look for three key characteristics any great streaming VPN needs:
Being able to unblock geo-blocked content. This is content such as the Netflix regional libraries and other streaming services. In fact, people specifically search for a VPN to watch Netflix, as well as services such as Hulu, Disney Plus, and others. With no end in sight for the global lockdowns, this can only become more important over time.
Access to many VPN servers in the geographic regions that contain streaming servers.
Sufficient speed to stream full HD content, without buffering, stuttering, or other problems.
Our testing has shown ExpressVPN to be one of the best VPNs for streaming. They consistently unblock numerous Netflix libraries, including Netflix US, UK, Canada, Australia, France, Italy, Japan, and Germany. Below I'm streaming US Netflix with an ExpressVPN server in Washington, DC.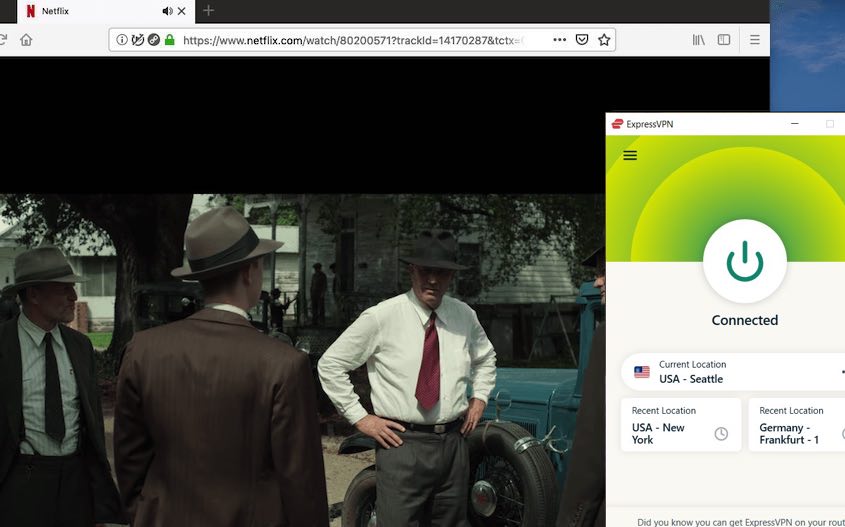 Now let's examine VyprVPN with streaming. In comparison to ExpressVPN, VyprVPN only unblocks four Netflix regions: US, UK, Germany, and Canada. Therefore ExpressVPN comes out on top with Netflix streaming.
Aside from Netflix, ExpressVPN also unblocks many other services. It is a good VPN for Disney Plus, Hulu, and also Amazon Prime.
VyprVPN also unblocks a range of other services – but again, not as many as ExpressVPN. With a larger global server network, ExpressVPN is able to offer access to more streaming content than VyprVPN.
Note: Right now VyprVPN is not working well for BBC iPlayer, but ExpressVPN still works. If you want to stream this service, see our guide on VPNs that work for BBC iPlayer.
Streaming winner: ExpressVPN
Torrenting with VyprVPN and ExpressVPN
Torrenting is a common way to transfer large files. There are many perfectly legal uses for torrenting. But torrenting can also be a grey area in terms of copyright issues, depending on where you live and the content you are torrenting.
Under these circumstances, the most important characteristic of a torrenting VPN is protecting your privacy. That means excellent security and no leaks. How do these services fare for torrenting?
ExpressVPN is fast, keeps no logs, and provides excellent leak protection. As a matter of fact, we rate it as one of the best VPNs for torrenting.
VyprVPN also keeps no logs, provides good leak protection and offers great performance. In the past, torrenting was not allowed with VyprVPN. Today, however, they allow torrenting on their network, while also keeping no logs. There are some privacy issues we noted with VyprVPN, however, such as requiring a full legal name for registration.
Streaming and Torrenting winner: ExpressVPN
---
Encryption and security comparison
Uncrackable encryption and bulletproof security are what we expect from our VPNs. That calls for strong encryption algorithms, and secure fast VPN protocols. Both of these products score high here, but there's also an overall winner.
VPN encryption and protocols
The encryption and protocols used by a VPN determine how secure it is. Happily, both VPNs in this review use strong encryption and modern protocols.
VyprVPN encryption and protocols
Their clients primarily use the OpenVPN and WireGuard protocols, along with the proprietary Chameleon protocol. VyprVPN encryption algorithms include AES-256-GCM and SHA384 and ChaCha20 ciphers for WireGuard.
And as we already covered above, VyprVPN passed all of our VPN tests without any leaks, bugs, or failures.
ExpressVPN encryption and protocols
The ExpressVPN clients primarily use the OpenVPN protocol as well as the company's new Lightway protocol. Their encryption algorithms include AES-256, SHA-512 HMAC authentication, and a 4096-bit RSA key.
Like VyprVPN, ExpressVPN passed all of our VPN tests without leaks, bugs, or problems.
Overall, both of these VPNs provide you with secure encryption together with reliable VPN protocols.
Security audits with ExpressVPN and VyprVPN
While all VPN services claim to be secure, that isn't always true. This is where third-party security audits come in. When an independent third party conducts the audit we have much higher confidence that the VPN really is secure.
ExpressVPN audits
ExpressVPN has undergone multiple third-party audits. One, by Cure53, audited their browser extensions. Another reviewed ExpressVPN's privacy protection systems and no-logs policies. This audit was done by PricewaterhouseCoopers. Since these, ExpressVPN has conducted an endless stream of additional audits of every aspect of their service.
VyprVPN audits
Leviathan Security Group, Inc. conducted a No Log Assessment of VyprVPN back in 2018. But we haven't been able to turn up anything more recent than that.
It is excellent that both VPNs have been audited. Most VPNs still have not, leaving you to take their word for the privacy and security they provide. Still, we have to give this sub-category to ExpressVPN due to having more (and more recent) audits.
Security audits winner: ExpressVPN
VPN server security
It is important to protect the servers in a VPN. Most VPN services do a good job of protecting their servers from internet-based attacks. Our two contenders do an excellent job of this. They have strong encryption and no logs policies that leave no user data lying around for hackers to steal or authorities to demand.
More and more, the frontier of server security is the physical world. Preventing physical access to servers is smart. So is designing your servers to mitigate the risk of data loss even when someone gets physical access to the server.
ExpressVPN: In 2019, ExpressVPN completed its move to the next level of server security when they officially launched the TrustedServer feature. TrustedServer entailed converting their entire server network to RAM-disk operation (instead of using hard drives). The server software gets loaded whenever a server is started, and it disappears the instant the server loses power.
Because the server contains no hard drives, there is no place for user data to linger for the authorities or other nefarious operators to seize. Seizing a server to get at the data on its drives is impossible when the server has no drives.
No data can be stored on ExpressVPN servers, which means server data cannot be seized by third parties.
VyprVPN: VyprVPN owns all of their servers. This is a security plus, as they have complete control over those servers. Unlike ExpressVPN, however, VyprVPN does not rum RAM-disk servers.
Note: Most of the leading VPNs have already transitioned to RAM-disk servers, as we discussed in our Surfshark vs NordVPN guide.
VPN server security winner: ExpressVPN
To summarize this category, we have ExpressVPN coming out on top with server security, and also audits, with VPN protocols being tied. Therefore ExpressVPN is the overall winner in the security category.
Encryption and security winner: ExpressVPN
---
Privacy comparison: VyprVPN and ExpressVPN
How do these two VPN services compare in the area of privacy?
ExpressVPN – ExpressVPN is a great privacy option. This service is one of the few no logs VPNs that has been tested, verified, and audited by an independent third party. The trend toward outside verification has also been picked up by NordVPN and PIA.
VyprVPN – VyprVPN is another strong privacy option. Like ExpressVPN, they have been audited by an independent third party. And while VyprVPN does use the WireGuard VPN protocol, they have tweaked it to be used without maintaining any logs.
WireGuard is fast and secure but does log a user's IP address while they are connected. VPNs such as NordVPN take special steps to ensure user privacy while using WireGuard, as we discussed in the NordVPN review.
One nice privacy feature that VyprVPN has added is their set of Internet Privacy Guides. These guides provide detailed instructions on how to delete your account on services like Twitter, WeChat, and Tumblr.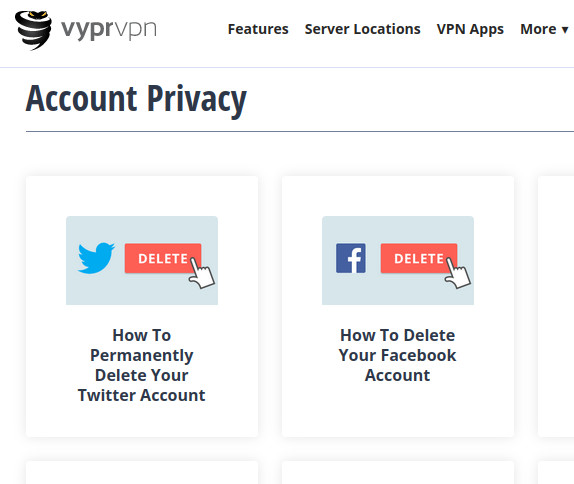 One privacy drawback with VyprVPN is that it requires a full name for registration. ExpressVPN does not do that. And unlike ExpressVPN, VyprVPN does not support any cryptocurrency payments, which is another privacy drawback. This means that the privacy category goes to ExpressVPN.
Privacy winner: ExpressVPN
---
Prices and refund policies of ExpressVPN and VyprVPN
Now that you know all the basics, let's talk about prices and refund policies.
VyprVPN was a low-priced VPN service for many years. However, in late 2021, they decided to dramatically increase prices. Since then they have reduced their prices once again, although not to their original level. Here are the current prices with VyprVPN:

These prices are available when you use this discount coupon >>
VyprVPN is no longer a high-priced VPN, but they are also not a cheap one either. If you are looking for a low-cost option just check out our guide to the best cheap VPN services.
VyprVPN offers a 30-day money-back guarantee on all plans, which we also see with ExpressVPN.
ExpressVPN offers 1-month, 6-month, and 12-month (with 3 free months) plans.
Discounted price: With ExpressVPN you can actually get a coupon to drop the price. This is the three-month free coupon here.
When you use the coupon above, prices drop down to what you see below: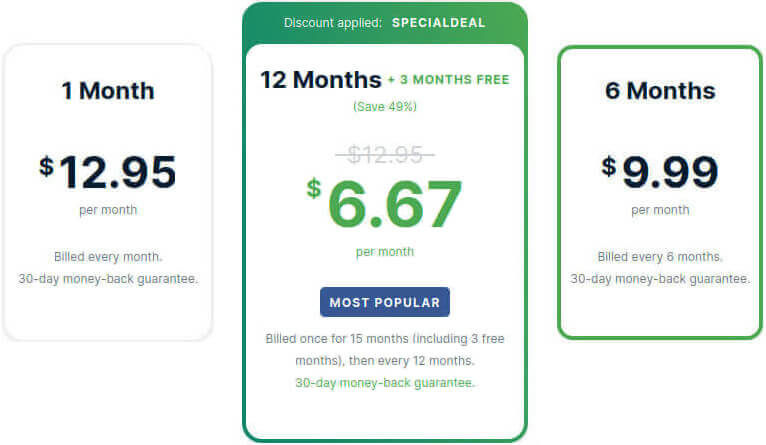 ExpressVPN gives you a 30-day money-back guarantee, as well.
With equivalent refund policies and better long-term pricing, VyprVPN wins this category.
Price and refund policy winner: VyprVPN
Note: If you are looking to save money on a VPN, you can also check out our guide highlighting the best VPN coupons that are valid now.
---
Does ExpressVPN or VyprVPN offer the best value?
Which VPN provides the best value can be an easy decision (such as when comparing slow, scandal-scarred PureVPN vs ExpressVPN). But things aren't so clear-cut when it comes to deciding between ExpressVPN and VyprVPN.
Let's look at these four general areas:
Security: Both VPNs are secure, but ExpressVPN is the overall winner here
Privacy: Both VPNs do well here as well, but ExpressVPN has undergone more audits and is the winner
Speed: While both VPNs are fast, VyprVPN with the WireGuard protocol comes out slightly ahead of ExpressVPN
Features: ExpressVPN is stronger in features
Based on all of our tests and analysis, ExpressVPN delivers more value, even though it is a little bit more expensive than VyprVPN.
Value winner: ExpressVPN
---
Conclusion: ExpressVPN wins in 2023
Let's summarize our test results. Here are the winners for each category:
Background and Jurisdiction: ExpressVPN
Speed tests: VyprVPN
Features: ExpressVPN
Streaming and Torrenting: ExpressVPN
Security and Encryption: ExpressVPN
Privacy: ExpressVPN
Price and Refunds: VyprVPN
Value: ExpressVPN
These results were not very close, unlike some of our other VPN comparisons. We can see that ExpressVPN is the overall winner here, having won six categories.
While VyprVPN didn't win here, it does come out strong in our best VPN rankings.
Whichever VPN you decide to go with, be sure to get the best deals with the discount links below.
Here is the best deal on ExpressVPN right now:
ExpressVPN Coupon:

Sign up for the 12-month plan and get 3 months added to your subscription for free.
(Coupon is applied automatically.)
This drops the price down to $6.67 per month, making ExpressVPN cheaper than VyprVPN.
This is currently the best coupon for ExpressVPN on the market today.
And now for VyprVPN.
VyprVPN has no active coupons available at this time. That said, you can check out the VyprVPN website here for more info.
Related Articles:
This ExpressVPN vs VyprVPN comparison was last updated on July 27, 2023.