Summary:
CyberGhost is a large, popular VPN service that offers some good features and applications. Unfortunately, speeds were somewhat dissappointing and it appears that CyberGhost is using invasive tracking on its website. Aside from these issues, CyberGhost is not a bad choice, especially considering the discounted prices they are currently offering.
CyberGhost 71% Discount: You can now get 71% off CyberGhost here >>
(This drops prices to $3.50 per month.)

Connections
5

Price
$3.50

Jurisdiction
Romania

Privacy Tests
Passed all tests.

Protocols
OpenVPN
IPsec/L2TP
PPTP

Multi-hop
No

Obfuscation
No

Logs
Connection logs
+ Pros
User-friendly applications
Competitive price
Live chat support
Ad blocking
– Cons
Variable speeds
Website uses invasive analytics and tracking (Hotjar)
Contradictory "no logs" statements
CyberGhost VPN Review (Rating: 3.4)
Performance

Features

Support

Value
Get a 7 Day Free Trial of CyberGhost VPN >>
CyberGhost VPN
In this CyberGhost VPN review we'll take a deep dive into the following general areas:
Company background and policies
VPN price and applications
VPN performance and cross-platform testing results
VPN features
CyberGhost alternatives and review conclusion
We'll first take a close look at the company.
CyberGhost Crossrider
CyberGhost has been around since 2010 and is operated out of Romania according to the website. However, the founder, Robert Knapp, and the development team are based in Germany. But the company dynamics get slightly more complicated.
While you won't notice anything different on the website, CyberGhost is now owned by the Israeli software/advertising company Crossrider. It was bought out by Crossrider rider last year (2017) for €9.2 million.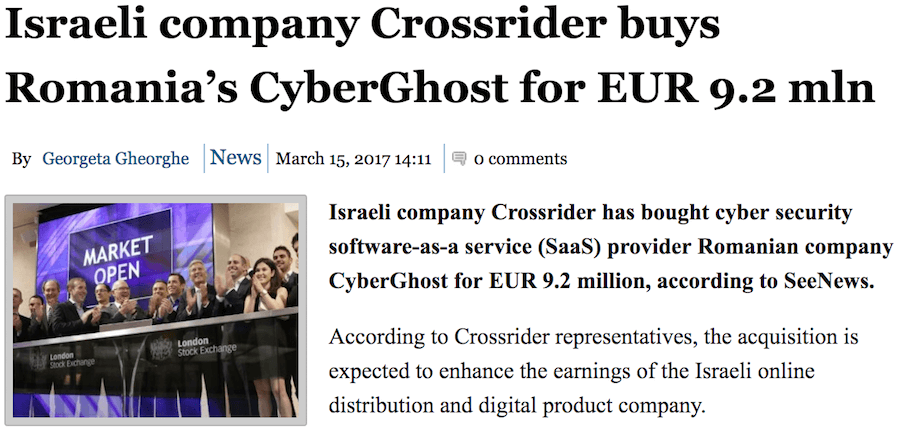 When you research the company Crossrider, you find numerous articles about Crossrider malware/adware and how to remove it from your device (see here from MalwareBytes).
Crossrider describes itself as an "online distribution and digital product company" and appears to be heavily focused on advertising. There isn't much discussion about the relationship between Crossrider and CyberGhost on the website, other than the Terms and Conditions page.
Reading through the Terms and Conditions, I did find this excerpt:
You understand that CyberGhost undertakes no responsibility for your actions. In case of statutory violations by the user, Crossrider may cooperate with public or private authorities at its sole discretion as provided by law.
Cooperation with "public or private" authorities essentially means any third party. Furthermore, there is also the statement, "at its sole discretion" which could mean any time and for any reason "as provided by law". This is why you read the fine print.
CyberGhost VPN website (tracking)
Another concerning issue I found is that CyberGhost is utilizing aggressive tracking measures on its website.
I found Hotjar analytics scripts, which are used to literally record visitors using the website. These "session recording scripts" are increasingly common, despite posing risks to privacy and security, as explained in this article by Motherboard (Vice).
We discussed VPNs that were found to be using session recording scripts in the article 'VPN Websites Caught Recording Visitors' after examining the findings published by a group of researchers from Princeton University. Another concern with using this invasive tracking software is that the recorded sessions (videos) are typically stored on third-party servers. Furthermore, there is no option to opt-out (but you can block the scripts from executing).
Here is Hotjar Analytics currently in use on the CyberGhost website, as well as the embedded scripts.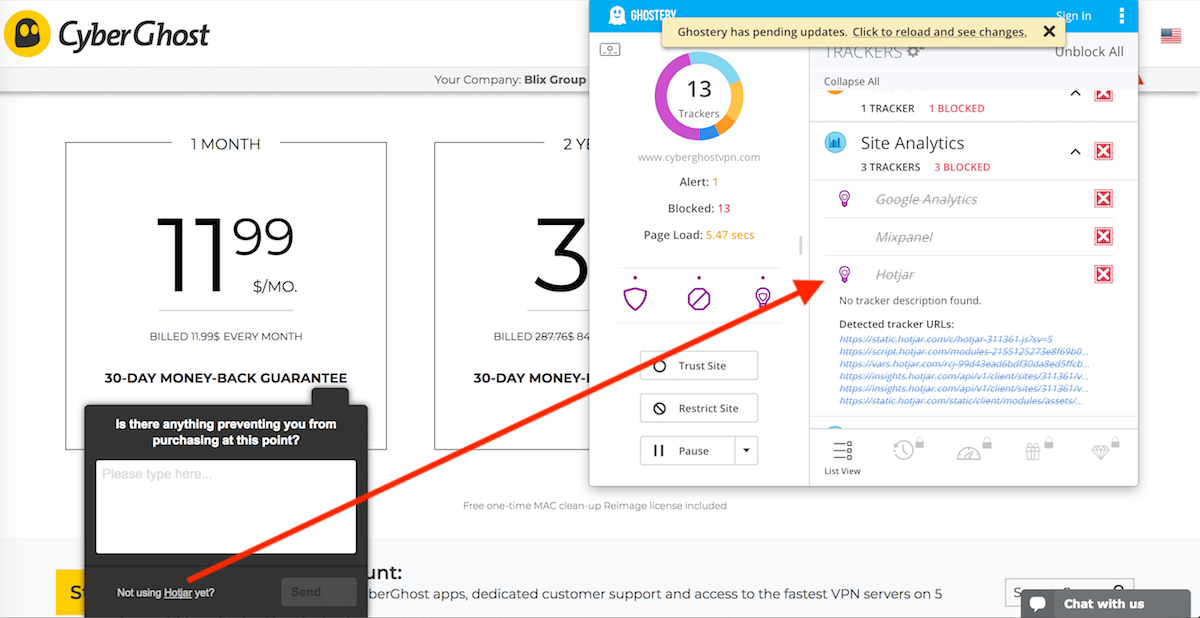 When you read through the Privacy Policy on the CyberGhost website, they claim to use Piwik (now Matomo) analytics:
CyberGhost uses Piwik, an Open-Source-Software for the statistical assessment of user access on cyberghostvpn.com.
But as you can see in the screenshot above, Piwik (Matomo) is not even being used. Instead, we find Hotjar, Mixpanel, and Google Analytics. Therefore it appears that the website tracking and analytics practices do not align with CyberGhost's privacy policy.
CyberGhost VPN price
CyberGhost VPN is competitively priced at $3.50 per month with the two-year plan. Here are the current pricing plans from the website:

This is on the lower end of the price spectrum, particularly for the longer-duration plans.
Occasionally CyberGhost offers further discounts for three-year plans. You can check for available discounts here – although these are not offered all year long.
Refund policy – CyberGhost gives you an excellent 30-day money-back guarantee. This is quite generous for industry standards, with the average refund window being seven days.
Reading through the CyberGhost refund policy on their website, I did not find any hidden clauses or exceptions. Overall everything looks good regarding the refund policy:
CyberGhost has a 30 day, no questions asked, refund policy for all of our products. This ensures that no mistake purchases are made or avoids situations like customers not being able to use our services (for example when your ISP is blocking VPN connections).
Now let's take a look at the available apps.
CyberGhost VPN apps
CyberGhost offers dedicated VPN apps for:
Windows
Mac OS
Android
iOS
Additionally, CyberGhost provides full support for Linux, routers, NAS, and Chromebooks.
We'll take a closer look at the Windows app and Mac OS app below.
CyberGhost encryption and servers
CyberGhost currently uses an AES 256-bit cipher with a 4096-bit RSA key and SHA256 for authentication. They recently updated the certificate and the authentication to SHA256. CyberGhost refers to this as "military grade encryption", which the VPN industry typically associates with the 256-bit cipher.
According to the CyberGhost website, they offer about 1,200 servers in 53 different countries.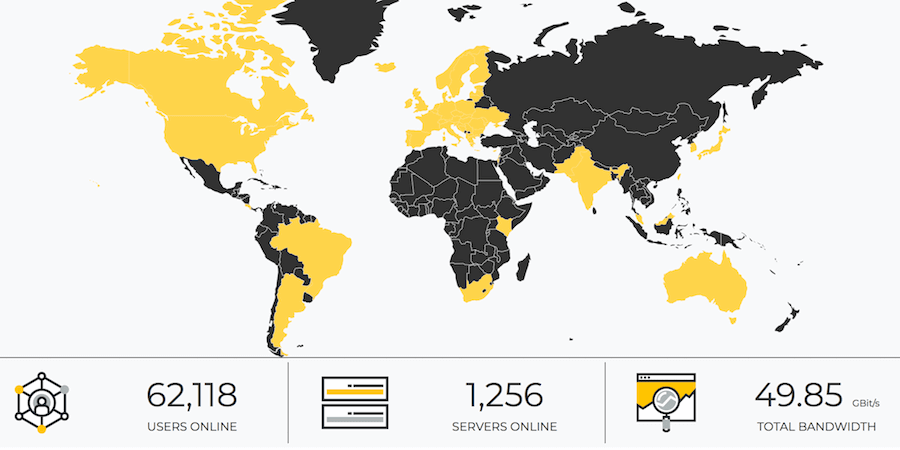 It is not possible to see real-time server bandwidth loads on the website – only server status. However, you can see available bandwidth for every server directly in the CyberGhost apps.
In general server loads seemed a little heavy, although still adequate.
CyberGhost Windows
I tested out the CyberGhost Windows client using a Windows 10 desktop and it performed pretty well.
The CyberGhost Windows app has a good design and layout. Accessing various settings and features is easy and intuitive. Here is the main connection screen for the CyberGhost Windows app.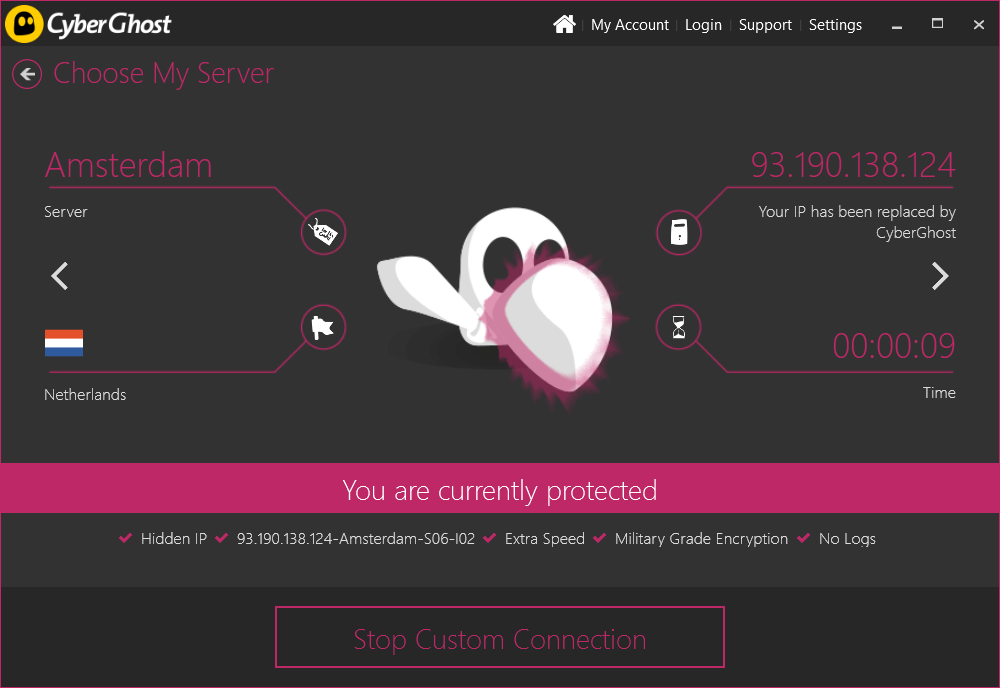 Within the CyberGhost Windows client you can select different startup options, languages, proxy settings, and also get detailed information on every server in the network.
Operation profiles – Another interesting option with CyberGhost are the different operational profiles you can select. Each profile is designed to meet a different use case, as you can see with the CyberGhost Windows app below.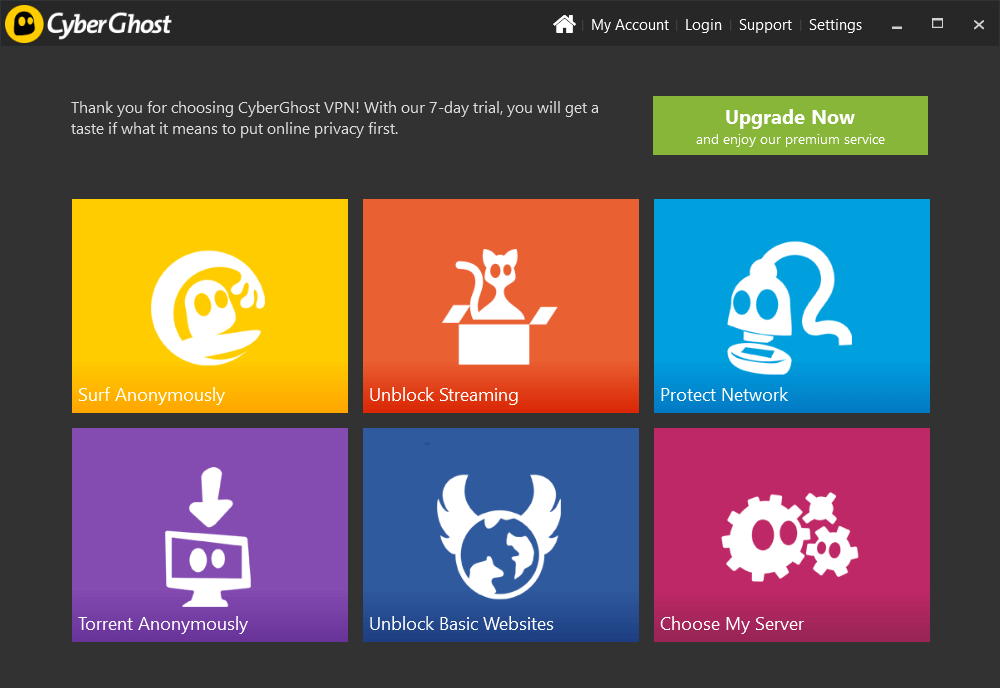 The main difference here with the profiles are the servers you will be using and the VPN settings. The VPN encryption, however, stays the same for every option.
A good all-around profile to use for privacy is the "Surf Anonymously" configuration.
You can get more information on these profiles from the CyberGhost website.
I ran the Windows client through some basic VPN tests and did not find any issues. Below I am testing the CyberGhost client with a VPN server in Sweden.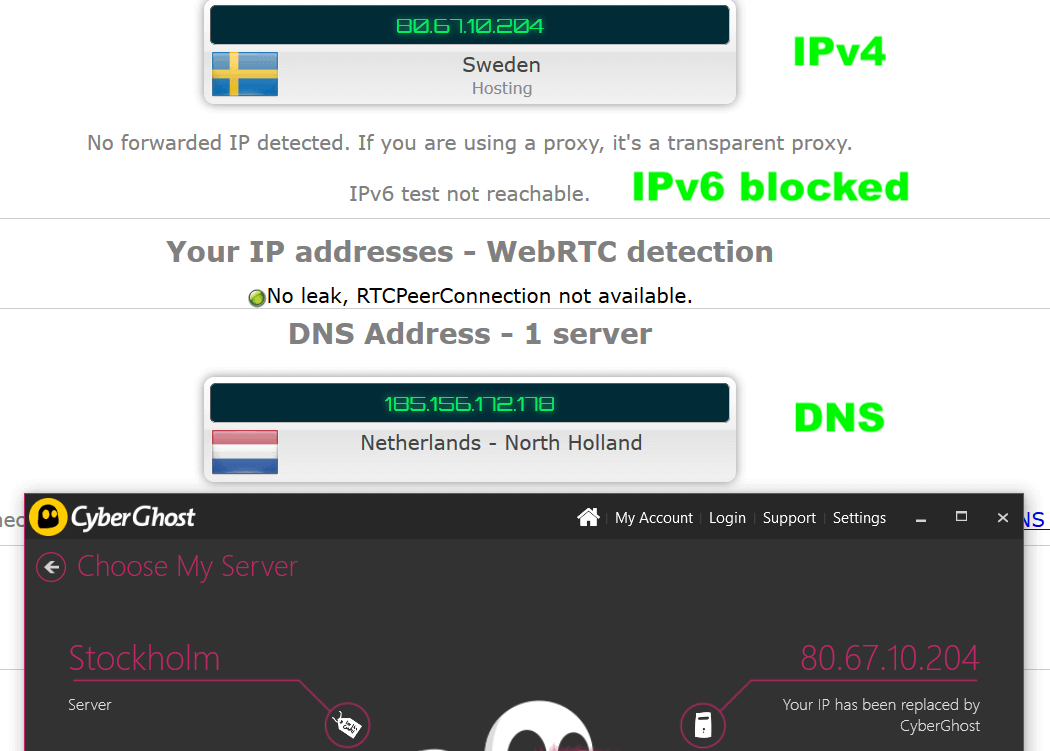 There are many factors that may contribute to IP address leaks or DNS leaks. That's why it's always good to regularly check your VPN to make sure everything is working.
CyberGhost Mac
CyberGhost offers a decent Mac OS app that includes all of the main features such as ad blocking and integrated leak protection. For this CyberGhost VPN review, I tested the Mac OS client on High Sierra.
Here is what the CyberGhost Mac client looks like, along with the connection notification that appears below the Mac OS menu bar.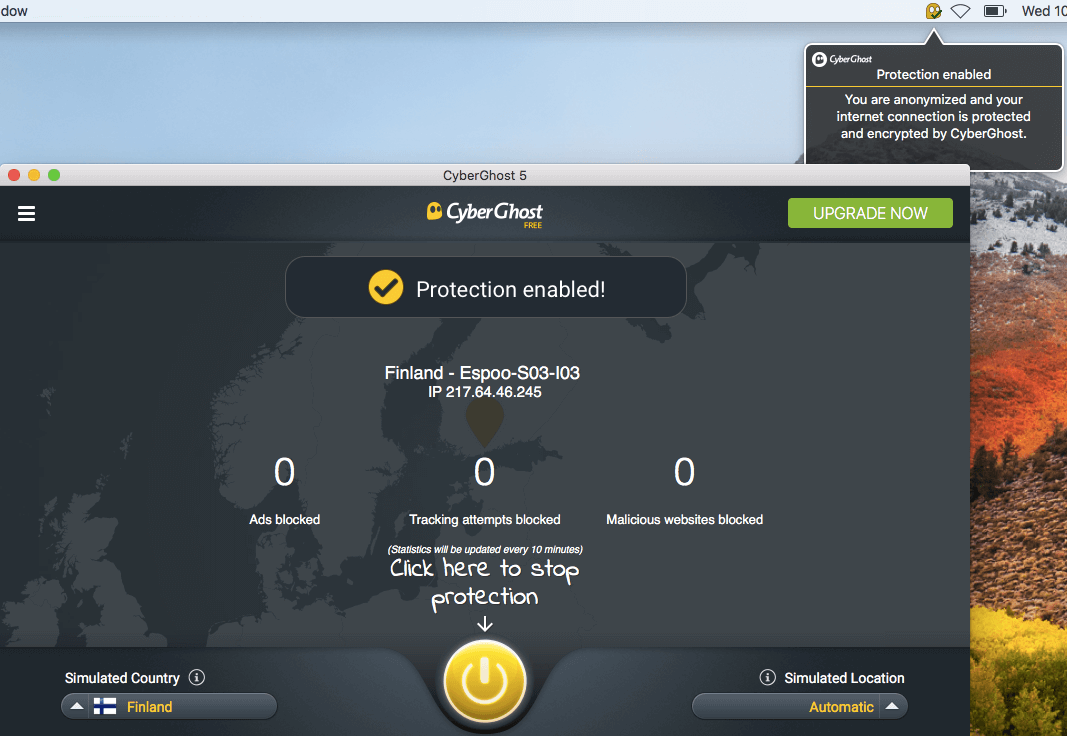 CyberGhost is still using version 5 for the Mac OS client, compared to version 6 with the Windows client.
Nonetheless, I still found the CyberGhost Mac client to perform reasonably well.
Below is a test of the CyberGhost Mac client for leaks. I did not identify any obvious leaks when running some basic VPN tests and checks.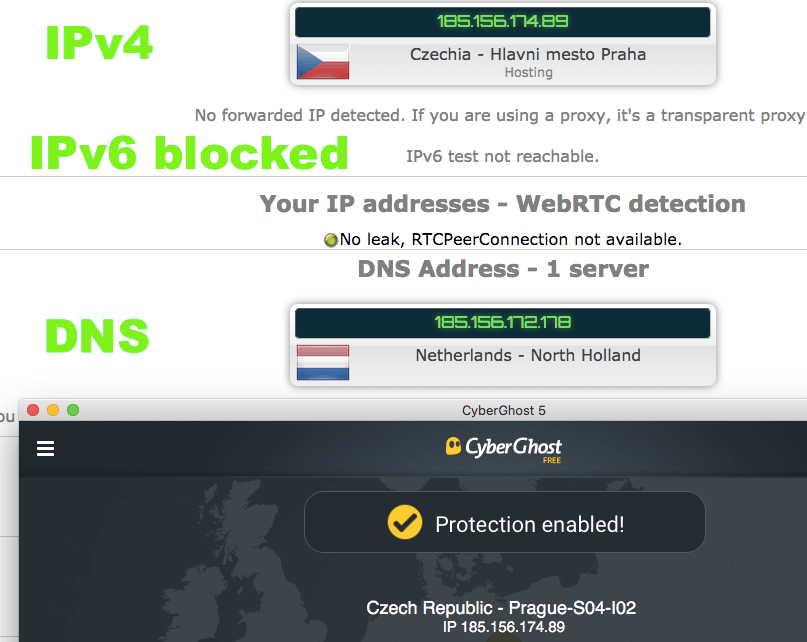 Overall it seems to be a pretty decent application for Mac OS. If you are a Mac user, you can also check out the guide on the Best VPNs for Mac.
You can also try out the CyberGhost Mac app for free by downloading it from the website here.
CyberGhost ad blocking
There is a growing danger from advertisements, tracking, and malware, which all pose a threat to privacy. CyberGhost offers some good features in this area, including filters for malicious websites, ads, and tracking.
The CyberGhost ad blocking features are currently available for Windows, Mac OS, and iOS devices. Android is currently under development. Here are the ad blocking features in the Windows VPN client:

Testing results – When first testing the ad blocking feature on the Windows client, some ads were getting through (Google Adsense) while others were getting blocked. This seemed to be a bug as it was only a temporary issue.
An alternative that offers good protection against advertisements and tracking is the TrackStop filter, which blocks everything at the VPN server level, rather than locally on your computer/device.
 CyberGhost VPN speed test
I tested CyberGhost VPN in a number of different speed tests with servers around the world. Overall the results were OK, although certainly not the best.
My baseline speed (without a VPN) was about 100 Mbps, and my physical location for testing was Germany.
With nearby servers (Western Europe) I could typically get about 20 to 60 Mbps. Here was the first test I ran with a nearby CyberGhost server in Zurich, Switzerland.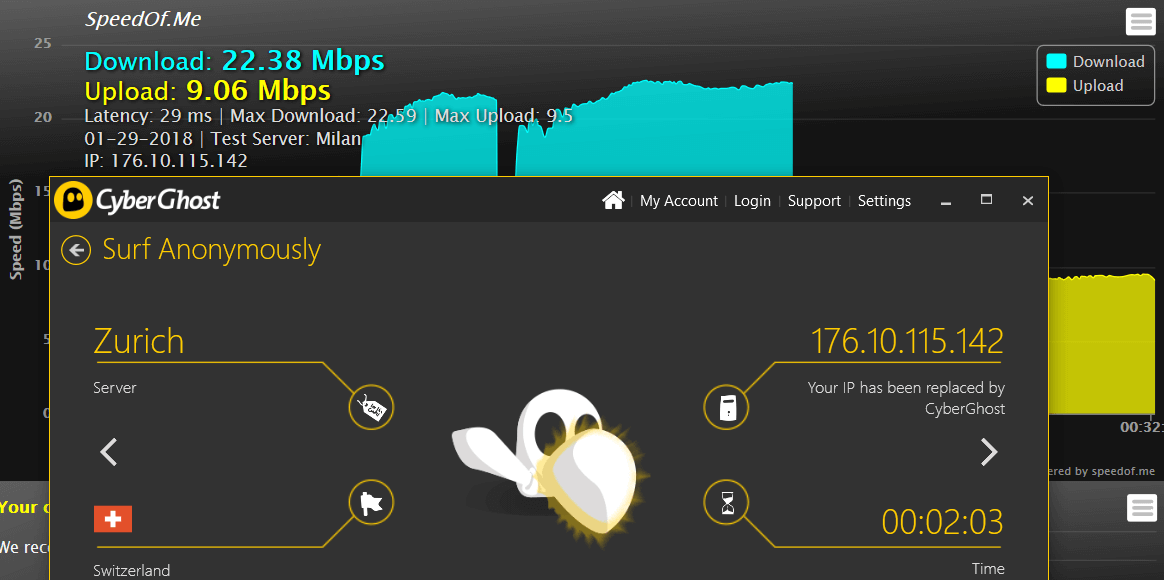 For this CyberGhost review I also decided to run some back-to-back tests with ExpressVPN.
Here are a few of those comparison speed test results.
Netherlands
CyberGhost speeds with a Netherlands server were about 52 Mbps.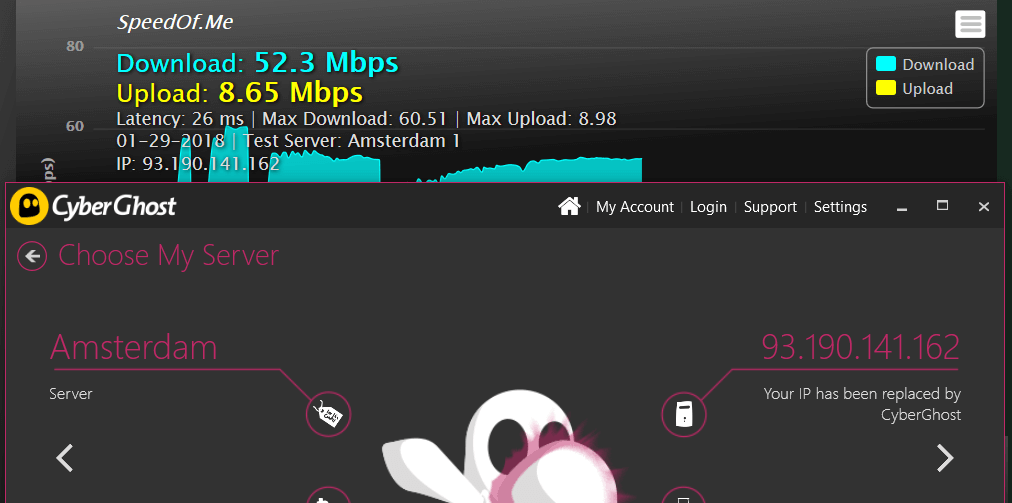 Next, I ran a comparison speed test with ExpressVPN, also using a server in Amsterdam.
ExpressVPN outperformed CyberGhost in this speed test, at about 72 Mbps download speed with the Amsterdam server.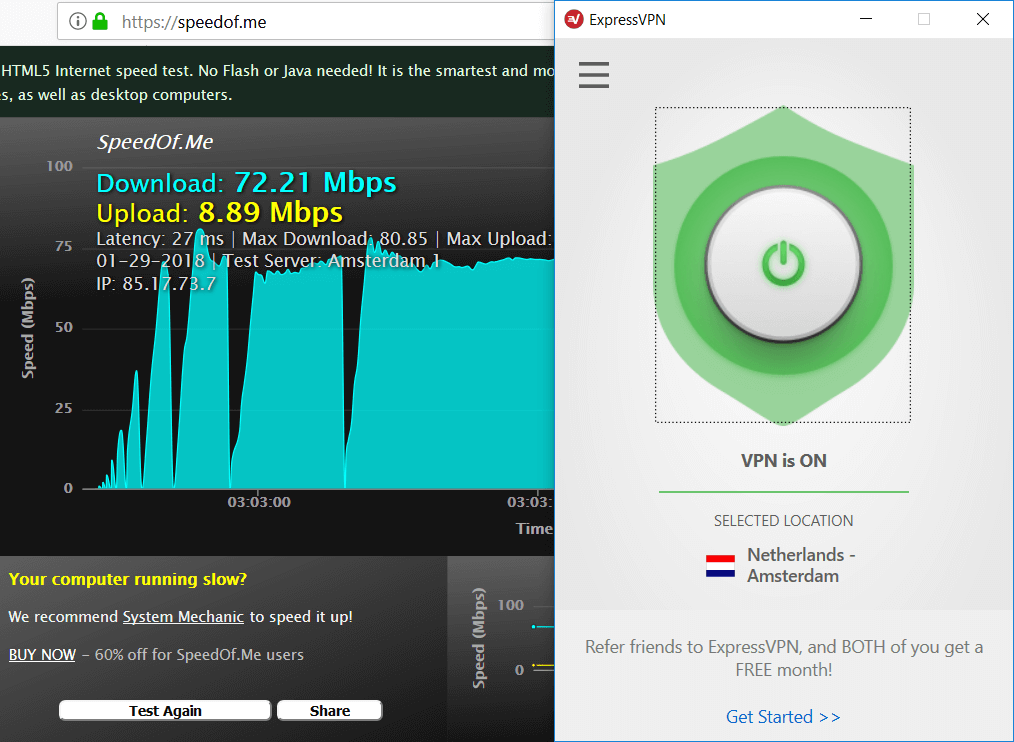 The other location I tested was New York.
New York
Next I tested speeds with a CyberGhost server in New York. The results were mediocre, with speeds around 5 Mbps.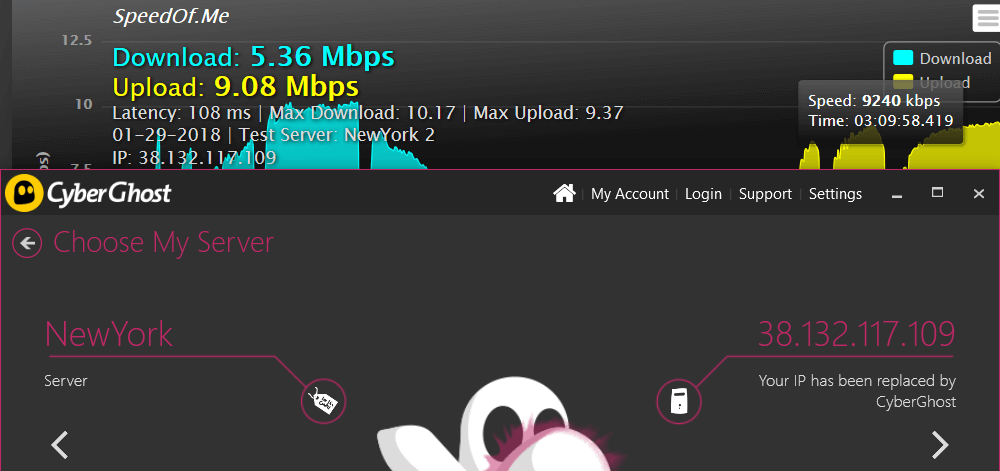 Immediately after testing CyberGhost I tried ExpressVPN and tested one of their New York servers.
Again, the speeds with ExpressVPN were better at around 35 Mbps.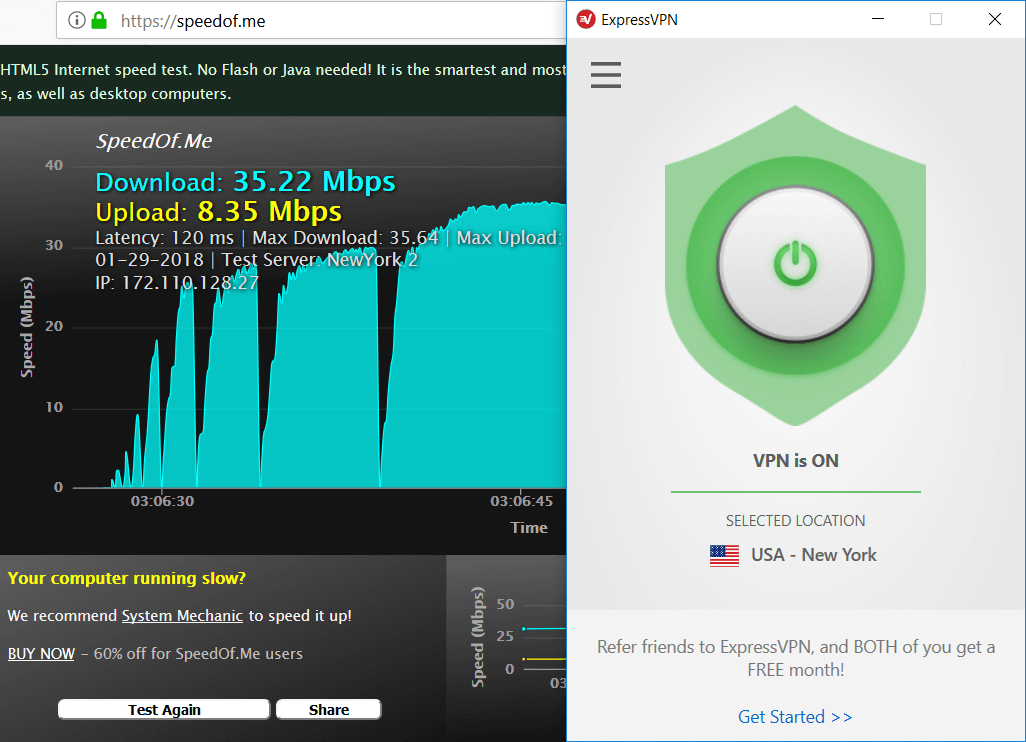 I ran a few other tests with servers in Europe and Canada and the results were similar. Of course, with servers located further from my location, slower speeds are to be expected due to the increased latency.
WINNER: ExpressVPN
Overall it's important to remember there are many factors affecting VPN speed and performance, so it's always good to test the VPN yourself.
CyberGhost VPN speed conclusion
CyberGhost offers OK speeds on the servers in their network, but I did find the speeds to be quite variable. For comparison, ExpressVPN outperformed CyberGhost in back-to-back testing with various locations in Europe and North America.
CyberGhost free
For the past few years, CyberGhost has offered a limited free VPN.
Right now, the CyberGhost free VPN is being discontinued and they are replacing it with a 7 day free trial, which you can pick up on their website here.
CyberGhost free VPN Windows
If you go to the website and download the software for Windows, you will automatically get a 7 day free trial to test everything. You will not need to enter any billing information whatsoever, just download and start using the VPN (see here).
CyberGhost's free Windows VPN appears to give you all the features of the full VPN client. Whenever you connect with the Windows client, you will be alerted to how much time is remaining on your free trial.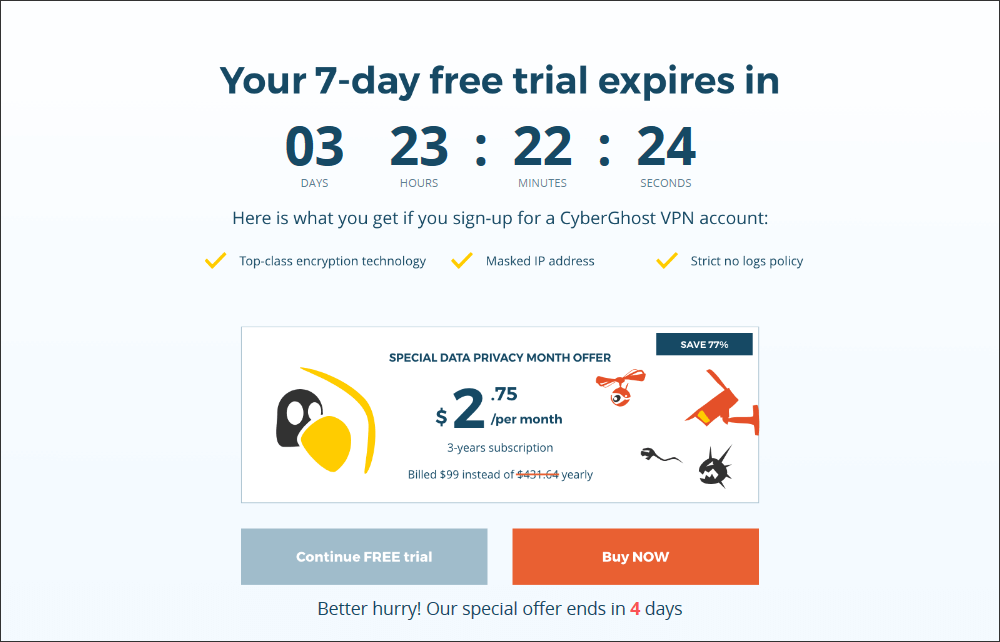 I also tested the CyberGhost free VPN on Mac OS.
CyberGhost free VPN Mac OS
Currently, with the older version of the CyberGhost Mac OS client (version 5), you can still use the unlimited free VPN, although server selection is quite limited. One of the CyberGhost chat representatives told me that the free VPN will be phased out and replaced with a seven day free trial, which is what you get with the Windows client right now.
If you do use the free Mac OS VPN, you will be greeted with annoying popups that lock you out of the VPN until the time in the top right corner runs out. Here is one example of this with the free VPN Mac OS client: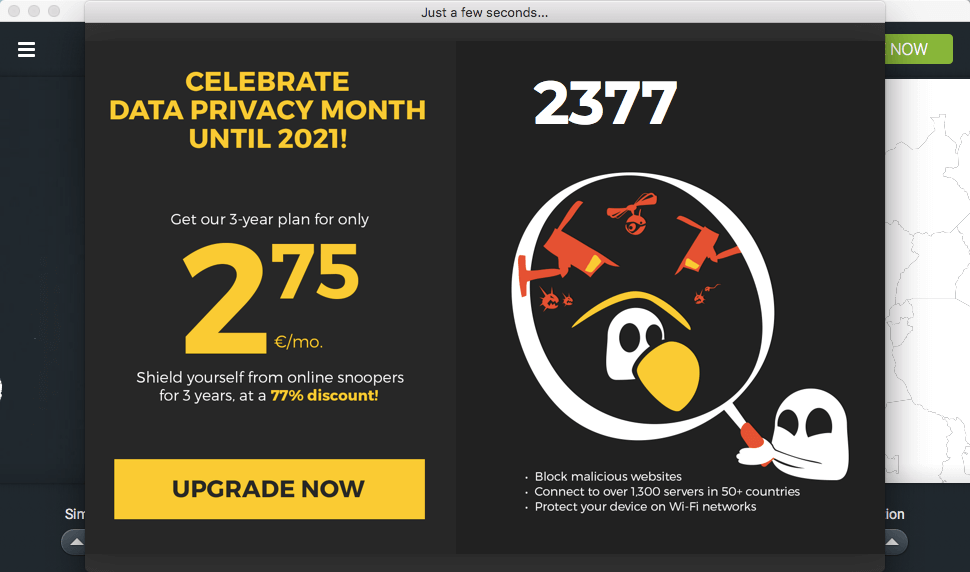 You can get more information on the CyberGhost free VPN from their website here.
For general information about free VPNs, see the free VPN guide.
CyberGhost support
CyberGhost offers good support, which is available via live chat most of the day. At the time of this CyberGhost review, live chat was available from 8:00 to 17:00 Central Europe Time (CET).
However, the representative informed me that they will be switching over to 24/7 live chat support very soon.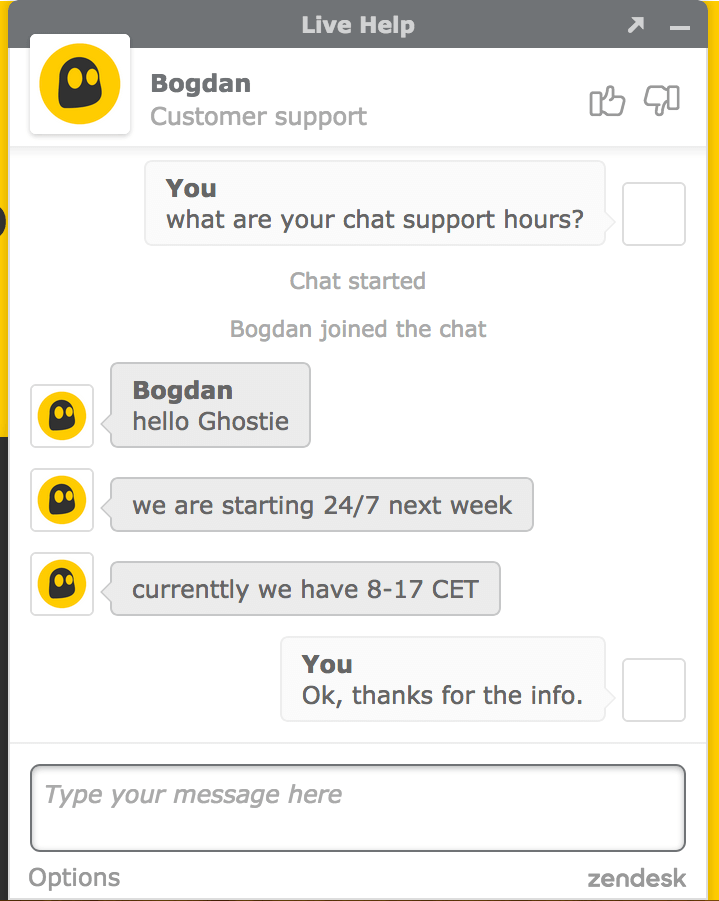 Aside from chat support, the CyberGhost website also offers various guides, troubleshooting information, FAQs, and a support ticket system.
The chat support seemed to work well. I was usually connected to a representative within a few minutes and they were helpful with all questions/issues.
You can access chat support directly on the website in the bottom right corner.
CyberGhost torrenting
CyberGhost seems to be an OK option if you're looking for a torrent VPN – although there are other options that offer more speed.
There are certain servers in the CyberGhost network that are designated for torrenting and P2P filesharing. If you use the CyberGhost Windows client, you can select the torrenting profile from the home screen. This will connect you to a nearby torrent-designated server.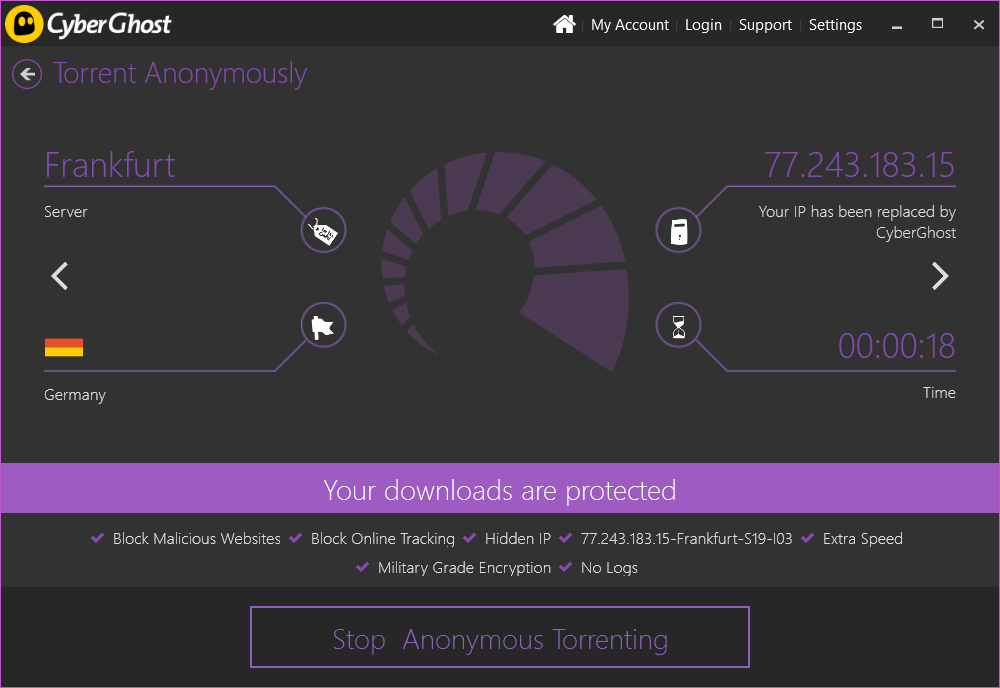 Regarding the policy on torrenting, here is the exact explanation from the CyberGhost website.
None of the current P2P technologies are illegal per definition, but we have to block P2P protocols on certain servers, either due to strategic (this is traffic that unnecessary slows down other user's traffic) or due to legal reasons in countries where we are forced by providers to block torrent traffic, among them USA, Russia, Singapore, Australia and Hongkong (China).

In the list of servers you will find a check mark on P2P/Torrent compatible servers.
Many VPNs block or restrict torrenting on various servers, simply because multiple copyright violations may cause the VPN to lose server hosting. See the VPN for torrenting guide for additional options.
CyberGhost logs
CyberGhost is another VPN service that carries out logging, but still claims to be "no logs" in its advertising and marketing practices.
You see the "no logs" mantra repeated often on the website. Here it is directly on the homepage: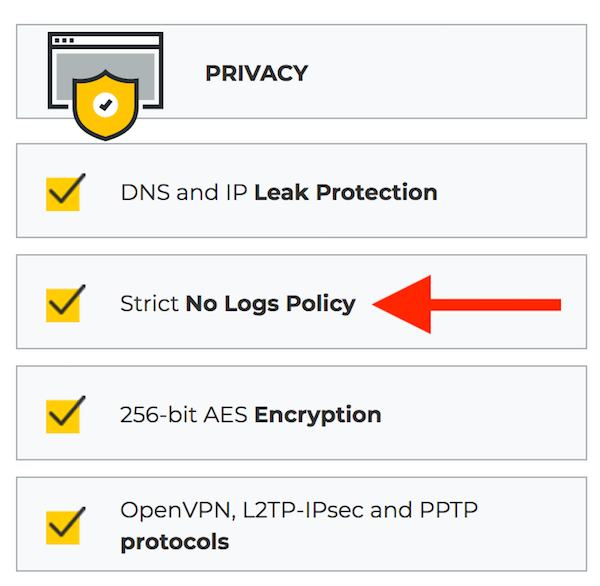 Additionally, the "No Logs" claims are also repeated in the applications. You can see this in the screenshot above in small print at the bottom.
But if you examine the Privacy Policy, you find that the apps are using third-party analytics, which collect data (logs) when you are using the VPN.

Other than what you see above, CyberGhost does not disclose exactly what's being logged with these third-party analytics services. When I spoke with a chat representative, he confirmed that there is no way to opt-out of this data collection when you use CyberGhost apps.
One solution here would be to not use CyberGhost's applications. Instead, you could go with open-source alternatives, such as Tunnelblick (Mac OS) or the OpenVPN GUI (Windows). Another alternative is Viscosity, which is a third-party app that costs $9 for a lifetime license (Mac OS and Windows).
Additional note on logs – CyberGhost provided additional clarification on their no logs policies via email:
I can guarentee that we do not log, which websites a user requested, we do not store the user's IP address and we keep no logs, which server was assigned to which user at a time. That's why by no chance we are able to provide any logs to authorities about which users have been using which VPN server at a specific time.
This all sounds good. It's also important to note that most VPN services need some basic logs (connection stats) to keep their server network running well. This is especially the case for larger VPN services such as CyberGhost.
Therefore it seems the main drawback in the area of logs is that users do not have any option to opt out of the analytics data that are collected via Mixpanel and Instabug with the apps.
CyberGhost alternative
There are many good alternatives to CyberGhost VPN if you are on the fence.
These VPNs performed very well in testing and are located in good privacy jurisdictions.

VPN.ac is a good alternative to CyberGhost and it is also based in Romania. Unlike CyberGhost, however, VPN.ac is a smaller service that offers a high-security VPN with maximum encryption and premium server quality. The server network is comprised entirely of dedicated (bare-metal) servers that offer more security and performance than the cheaper virtual servers that most VPNs use.
VPN.ac is also very reasonably priced, at only $4.80 per month, with a 7 day money-back guarantee. It performed very well in testing for the VPN.ac review and continues to be one of the top recommendations. They also offer a discounted trial subscription (see the FAQ page).

Connections
6

Price
$4.80

Jurisdiction
Romania

Privacy Tests
Passed all tests.

Protocols
OpenVPN
IPSec/L2TP
IPSec/IKEv2
PPTP

Multi-hop
Double-hop
18 configs

Obfuscation
Obfuscated servers
XOR protocol
Port selection

Logs
Connection logs
(erased daily)
---

Another alternative to CyberGhost is ExpressVPN. ExpressVPN is a provider based in the British Virgin Islands. It continues to improve and performed well in testing for the latest ExpressVPN review. Their support is also great with 24/7 live chat assistance and a 30 day money back guarantee.
ExpressVPN really stands out with its large selection of applications for different operating systems and devices. The VPN apps did well in testing without any leaks or problems. ExpressVPN's server network was also found to offer solid performance, along with a wide selection of locations around the world. It is one of the best options for streaming (Netflix, Kodi, etc.).

Connections
3

Jurisdiction
British Virgin Islands

Privacy Tests
Passed all tests

Protocols
OpenVPN
IPSec/L2TP
PPTP

Multi-hop
No

Obfuscation
Yes*

Logs
Connection logs
*Built into applications (not configurable).
Visit ExpressVPN and Get 49% Off >>
---

The final CyberGhost alternative we'll examine is Perfect Privacy. This is another premium provider offering fast speeds, the highest quality servers (100% dedicated, bare-metal), and the best features in the industry for online anonymity. The main drawback, however, is the higher price, at around €9 per month. For an in-depth testing report, see the Perfect Privacy review.
Nonetheless, if you're an experienced VPN user and looking for the highest level of online anonymity, I'd recommend Perfect Privacy with their NeuroRouting feature. Perfect Privacy also offers the TrackStop filter to block tracking, malware, and advertisement domains at the VPN server level, along with obfuscation (Stealth VPN) and a variety of other features.

Connections
Unlimited

Price
€8.95

Jurisdiction
Switzerland

Privacy Tests
Passed all tests.

Protocols
OpenVPN
IPSec/L2TP
IPSec/IKEv2
PPTP

Multi-hop
Up to 4 servers
Self-configurable
+ NeuroRouting

Obfuscation
Stealth VPN
Stunnel
SSH
Obfsproxy (2 & 3)

Logs
No logs
(with no restrictions)
---
CyberGhost VPN review conclusion
Overall CyberGhost seems to be a decent VPN, although it does not really stand out from the crowd in any noticeable way. The VPN applications did fine in testing and the extra features, such as the ad blocker, were a nice touch. In terms of performance, the speeds were OK, but ExpressVPN was the clear winner in back-to-back testing.
If you want to give CyberGhost a try, you will get a 30 day refund window with any subscription, and you can also pick up a 7 day free trial with the link below: