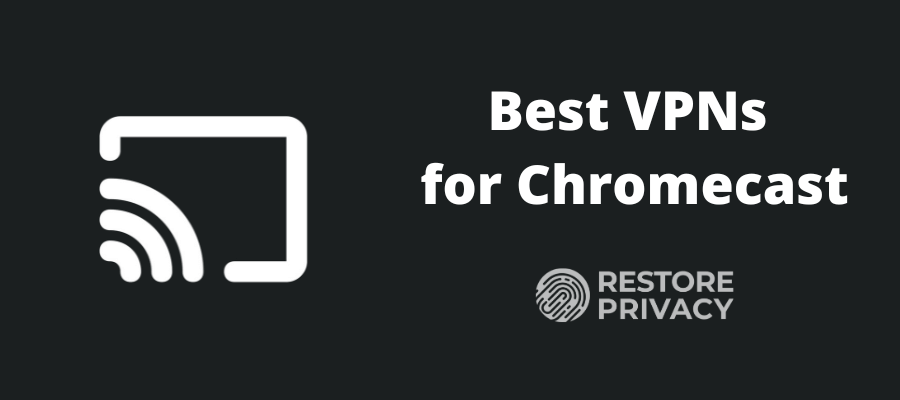 This article will show you the best VPNs for Chromecast and how to set them up to unlock the fastest speeds and reclaim your privacy.
Chromecast is one of the best devices for broadcasting shows and movies from popular streaming services on your TV. However, many of these services have geo-restrictions, making you unable to access their full library. This also includes live-stream sporting events, such as NBA League Pass, which has frequent blackouts. You can bypass these restrictions by getting a premium VPN service.
However, Chromecast does not have a VPN or smart DNS support, at least not by default. So, you will need a service that can be installed directly on your router. To save you time, we went through dozens of premium apps to find the best VPNs for Chromecast. These are our top four choices:
We will do an overview of each service, but first, let's show you how to quickly set up your Chromecast VPN.
Setting up a Chromecast VPN [Quick Guide]
Since you can't install a VPN on a Chromecast, you will need to do this directly on a router.
Find a VPN that's compatible with your router

NordVPN, Surfshark, IPVanish, and ExpressVPN have a list of supported devices.

If possible, use NordVPN, as it offers the best support for Chromecast and streaming in general.
Subscribe to and download your VPN
Install a VPN on your router

This varies greatly depending on your setup, so you should follow the instructions on your provider's website. Each service on this list provides extensive guides.
Connect Chromecast to a VPN router
Watch shows with Chromecast
We will do an extensive setup guide a bit later. For now, let's talk about what VPNs actually do.
VPNs: How they work and why should you use them
VPNs deliver privacy and safety to all of your devices. They do this through a process called encryption, which conceals your true identity.
By connecting to a VPN server anywhere in the world, you will gain a unique IP address. This will make it seem like you are connecting from a different location, giving you numerous benefits:
Unlock Geo-restricted Shows – Streaming services such as Netflix or HBO Max will have different content if you access them from another country. You'll also be able to access platforms that would otherwise be completely unavailable.
Bypass Censorship – If you are living under an oppressive regime, a good VPN will let you connect to banned websites and social media platforms. This can greatly improve your communication.
Improve your Connection: If your Internet Service Provider (ISP) is throttling your speed, installing a VPN will give you faster and more reliable speed.
Raise Security: Encryption will protect you from hacker attacks and prevent trackers from following your every move.
Reclaim Privacy: Best VPNs on the market follow a no-logs policy and use exclusively RAM mode servers. This means that they can't store user information and won't be able to supply your data to the government even if pressured.
Become Anonymous – Although many VPNs make you private, your ISP will still know that you are using one if you don't connect to obfuscated servers. Every service on our list provides obfuscation, which will make you completely undetectable.
How we found the best VPNs for Chromecast
We were looking for the VPNs that have …
Ultra-fast speed – Every app on our list uses advanced VPN protocols like NordLynx, WireGuard, and Lightway to give you the best speeds available.
Top-notch security – These VPNs have the most advanced (AES 256-bit) encryption that makes sure your privacy isn't compromised. Additionally, all servers run exclusively in RAM mode.
Huge server networks – With thousands of servers worldwide, you'll be able to unlock geo-restricted content and stream it via Chromecast.
Amazing value – All four services have an unmatched price/quality ratio and include premium features that can significantly improve your experience. They also have a 30-day refund option, so you don't have to take any risks.
Router support – Chromecast doesn't let you install VPNs or even use a Smart DNS service, so we found services that can be installed directly on a router.
Unblock streaming sites –We focused on apps that can easily bypass geo-restrictions imposed by popular streaming sites like HBO Max, Netflix, and Hulu.
Professional support team – We made sure that you're able to contact your customer service 24/7 via live chat. There are also a ton of guides on their website that'll speed up setting up.
NordVPN – Great Chromecast VPN
| | |
| --- | --- |
| VPN | NordVPN |
| Based in | Panama |
| Logs | No logs (audited) |
| Price | $2.99/mo. |
| Support | 24/7 live chat |
| Refund | 30 days |
| Website | NordVPN.com |
NordVPN may be the most popular VPN currently available, and it isn't hard to figure out why. It offers 5,800+ high-speed servers worldwide that are spread over 60 countries. Every server supports NordLynx, a VPN protocol that's a direct improvement on WireGuard in terms of safety. It is also arguably the fastest protocol yet.
We've decided to challenge this statement in our ExpressVPN vs NordVPN showdown. After doing a number of speed tests, we managed to get the highest download speed on a Seattle server. It gave us speeds over 750 Mbps, which is more than enough for watching shows via Chromecast in the highest quality available. If your ISP isn't throttling your connection, you will only experience a minor speed loss (~13%), compared to the other VPN apps.

But, we find speed irrelevant if the app doesn't meet our safety standards. Luckily, NordVPN pleasantly surprised us in that department as well. It uses AES-256 encryption, which can easily protect user data. Furthermore, all servers operate in RAM mode, so no data can ever be stored on a VPN server. This also aligns with NordVPN's no logs VPN policy.
NordVPN has also passed many external audits conducted by independent third-party auditing firms. For example, PwC recently confirmed that NordVPN is following its privacy guidelines to the letter. Another important audit was a pen test completed by VerSprite. Basically, penetration testing simulates a cyberattack and looks for any weakness in the system. Their results showed that NordVPN apps are remarkably safe.
NordVPN premium features
Double VPN servers – Gives you an additional layer of encryption. This will have some effect on your speed.
Obfuscated servers – If you are using regular VPN servers, your ISP will be aware that you are using NordVPN, they just won't know what you are doing. Obfuscation will hide your VPN traffic, which is important if you are from a country that doesn't tolerate VPNs, such as UAE, China, or Russia.
Onion-over-VPN – In combination with the Tor network, NordVPN gives you the safest browsing experience available. However, these servers are not very fast due to the Tor network.
Threat protection – A feature that blocks trackers, malware, phishing attacks, and intrusive ads.
Kill Switch – A failsafe that will protect your identity if your connection gets compromised. Depending on your setup, Kill Switch will either exit apps or block your internet connection.
SmartPlay – A DNS feature that unlocks regionally restricted content on PlayStation and similar gaming devices. However, it doesn't provide encryption.
Split tunneling – Give some apps permission to bypass NordVPN.
VPN proxy – A high-quality browser extension.
See all NordVPN features here >>
NordVPN is welcoming to new users as the app is very intuitive. Aside from Chromecast, it is available on every modern device that supports VPNs. It is reasonably priced, and a single subscription will let you use NordVPN on 6 devices simultaneously. You can also install it directly on your router, which makes set up convenient. The app is able to easily unlock popular streaming sites, including Hulu, HBO Max, and Netflix.
NordVPN offers 24/7 professional support to all users via live chat and also email, in case you need to troubleshoot. There is also a 30-day refund period, so you can reclaim your money if it doesn't work for you. This allows you to basically use NordVPN as a free trial VPN.
+ Pros
User-friendly and reliable apps
Double-VPN and Tor-over-VPN servers
Passed numerous 3rd-party audits
Strong encryption standards with full support for WireGuard
Works with Netflix and many streaming sites
Threat Protection feature to block ads, trackers, and malware
Professional 24/7 live chat support
Consistently fast speeds
Dedicated RAM-servers with 10 Gbps bandwidth channels
– Cons
Big discounts only available with 2-year plans
NordVPN's Cyber Deal is live:

Get 69% Off NordVPN with the coupon below plus 3 months FREE, no activation code needed:
(Coupon is applied automatically; 30 day money-back guarantee.)
Our full NordVPN review will answer any remaining questions you might have.
---
Surfshark – Most Affordable VPN for Chromecast
| | |
| --- | --- |
| VPN | Surfshark |
| Based in | The Netherlands |
| Logs | No logs (audited) |
| Price | $1.99/mo. |
| Support | 24/7 live chat |
| Refund | 30 days |
| Website | Surfshark.com |
For those of us on a strict budget, Surfshark may be the best choice. It offers 3,200+ servers around the world, with more than 600 in the US. All of the servers support the WireGuard protocol.
We have done a NordVPN vs Surfshark comparison and found that Surfshark offers great speeds, but it's not quite as fast as NordVPN. That said, in our VPN speed tests, we hit the top speed of 750+ Mbps when connected to the New York server. This is more than enough for streaming shows via Chromecast. However, your results may vary depending on your base download speed. You should expect anywhere between 20 to 30% speed reduction if your ISP isn't throttling your connection.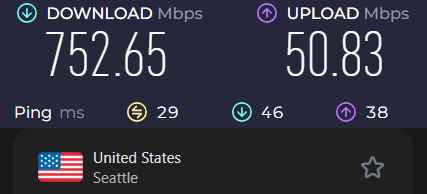 Surfshark offers solid security as it has advanced 256-bit AES encryption and operates as a no-logs VPN. In short, you won't leave any trace of your activities. The app was also vetted through a few independent audits, one of which was done by Cure53. They did a penetration test on the Surfshark browser extension, with very favorable results.
To keep good faith with their clients, Surfshark has posted a warrant canary on their website.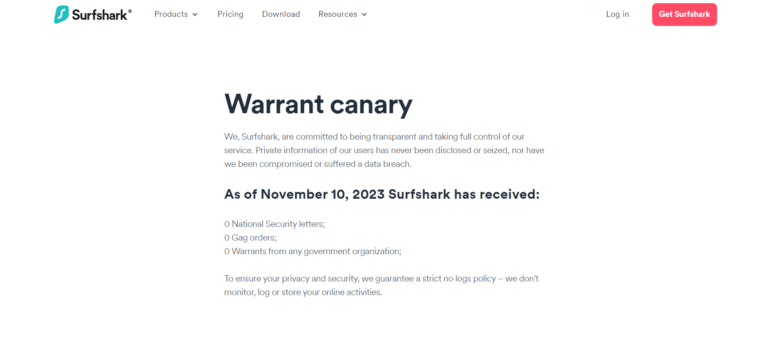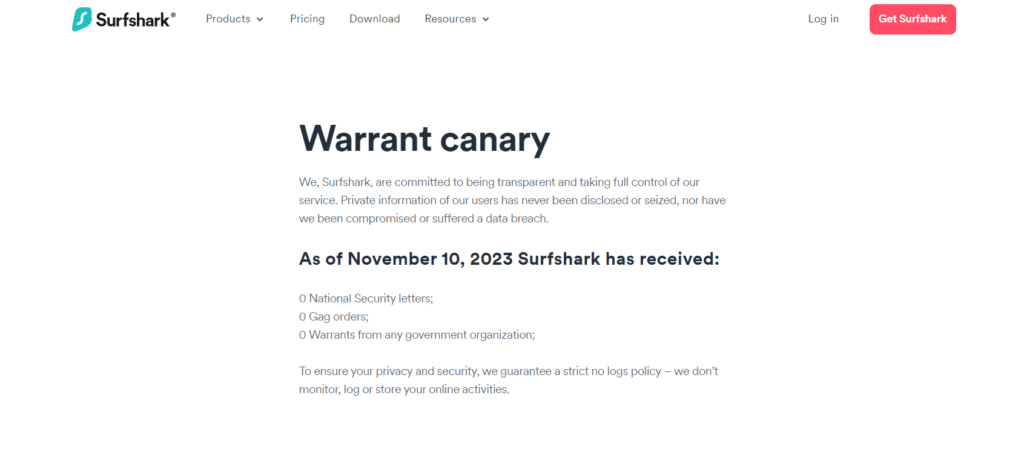 Surfshark premium features
Kill switch
Camouflage mode (Obfuscation)
Multi-hop (Double VPN)
Split tunneling
Trust DNS(browser extension)
SmartDNS
Clean web – Real-time protection tool that will stop malware, trackers, and ads from infecting your device.
See all Surfshark VPN features here >>
The Surfshark app is widely available and is among the top VPNs for Android. It is user-friendly and intuitive, and you can even install it on a router. Aside from Chromecast, this VPN unblocks HBO Max, Netflix, and other similar services.
A single subscription is enough to connect with an unlimited number of devices simultaneously. Considering Surfshark costs only $2.30/month, this is an incredible offer that places it on the pinnacle of the best cheap VPNs. Customer support is responsive and available 24/7 to solve all your problems. On top of that, you will get an option for a 30-day refund, in case you are not satisfied with the service.
+ Pros
Unlimited connections
User-friendly apps for all devices and operating systems
CleanWeb feature to block ads, trackers, and malware
Works great with Netflix and many other streaming services
24/7 live chat support
Strong encryption and security features (audited)
– Cons
Limited support for VPN routers
Above average monthly prices
Surfshark Coupon:

Get 80% off Surfshark VPN (drops the price down to $1.99 per month) plus 5 months FREE:
(Coupon is applied automatically.)
If you want to learn more, check out our full Surfshark review.
---
ExpressVPN – A solid Chromecast VPN
| | |
| --- | --- |
| VPN | ExpressVPN |
| Based in | British Virgin Islands |
| Logs | No logs (audited) |
| Price | $6.67/mo. |
| Support | 24/7 live chat |
| Refund | 30 days |
| Website | ExpressVPN.com |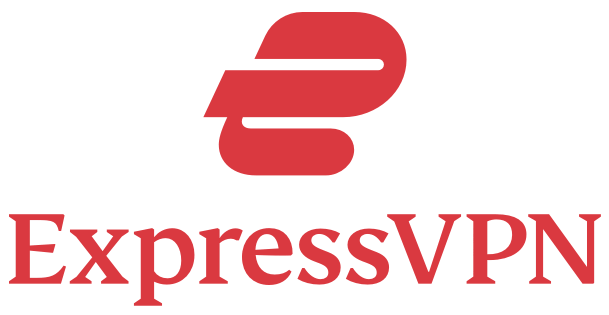 ExpressVPN is another great VPN for Chromecast. It has 3000+ servers in 105 countries, which rely on its TrustedServer technology. Because of this, the app operates as a no-logs VPN since its inception in 2009.
ExpressVPN uses a custom Lightway VPN protocol. While it is much faster than the regular OpenVPN protocol, it falls short in comparison to WireGuard or NordLynx. This can be seen in our ExpressVPN vs Surfshark article, in the section where we did the speed tests. While it lags a bit behind Surfshark and NordVPN, ExpressVPN is still plenty fast enough for streaming online.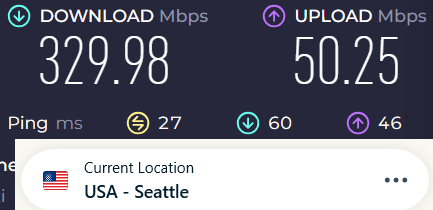 However, Lightway is great in terms of security. Its 256-bit AES encryption was challenged in a pentest done by Cure53, and it held up perfectly.
ExpressVPN premium features
Split tunneling
Obfuscation
Network lock (Kill switch)
MediaStreamer (SmartDNS)
Device groups – Connect each device on a different server at the same time using separate groups.
Threat Manager – Scans for and removes malware and trackers, and blocks suspicious ads and phishing sites.
See all ExpressVPN features here >>
ExpressVPN app is user-friendly and available on most VPN-friendly platforms on the market. Aside from being one of the best VPNs for Firestick, it offers extensions for all popular browsers that can prevent WebRTC leaks. Most importantly, ExpressVPN offers pre-configured routers which can save you the hassle of setting up. Alternatively, you can also freely download their firmware and install it on your router.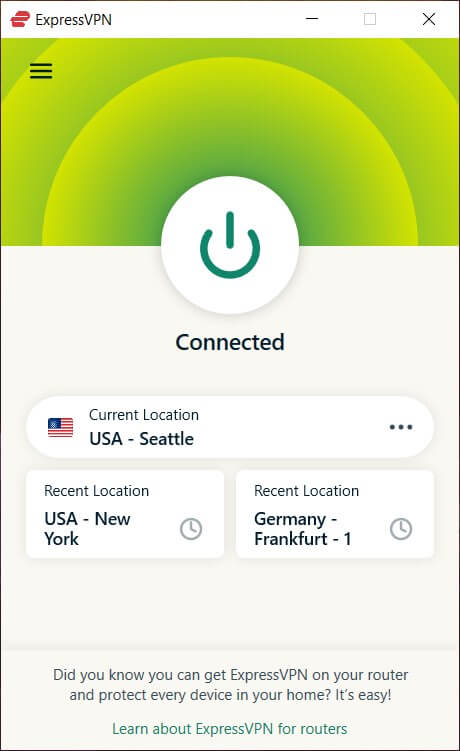 ExpressVPN easily unlocks streaming sites like Netflix and Hulu and is frequently mentioned as one of the best VPNs for Hulu. It offers a ton of setup guides on the website and has a very responsive support team. With ExpressVPN, you can hold up to 8 connections simultaneously. If you found that it didn't live up to your expectations worry not, as it can be refunded in the first month.
+ Pros
User-friendly and secure apps
Split tunneling feature (for macOS, Windows, and routers)
Works with Netflix and most streaming services
24/7 live chat support
Passed independent third-party audits for security and no-logs
Very large server network
– Cons
Above average prices
Fewer features than other leading VPNs
ExpressVPN Coupon:

Sign up for the 12-month plan and get 3 months added to your subscription for free.
(Coupon is applied automatically.)
We also wrote an extensive ExpressVPN overview that's well worth reading.
---
IPVanish – Blazing fast Chromecast VPN
IPVanish is a US-based VPN provider with 2,200+ servers in 75+ locations. It has 10+ years under its belt and follows a strict no-logs policy. Like our other top recommendations, this VPN has passed independent third-party audits and doesn't cut corners on security.
IPVanish supports various advanced VPN protocols. If you want an instant server connection and fast speeds you can use WireGuard, while Scramble provides obfuscated servers that give you full anonymity. We have done numerous tests and were very impressed with how well this VPN performs. When connected to a Seattle server, IPVanish provided us with the fastest connection we've measured with any VPN – just shy of 830 Mbps. All in all, speed won't be a problem while streaming shows.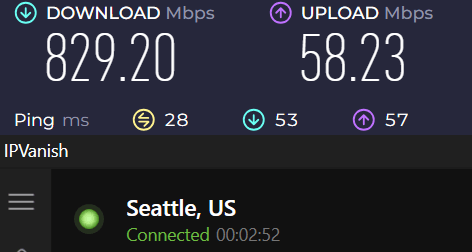 Nor will the security, as this VPN also uses AES 256 encryption to obscure your outgoing data. Along with it, you will get a powerful kill switch, which makes it an excellent VPN for Firestick. IPVanish went through multiple independent audits, including the one performed by Leviathan Security Group, which verified its no-logs policy.
IPVanish Extra Tools
Split tunneling
Obfuscation
Kill Switch, IPV6, and DNS leak protection
SOCKS5 proxy – A feature that provides faster speed for torrenting, but doesn't encrypt your connection. Find out more in our guide on Proxy vs VPN.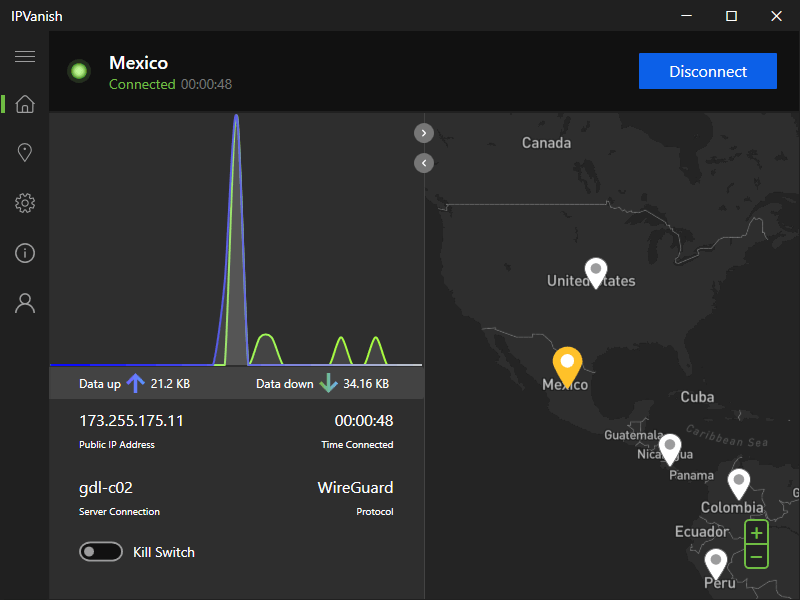 This service is ideal for casual users, due to its user-friendly and minimalistic interface. It has an app for many modern devices, including computers, tablets, and smartphones. IPVanish also sells pre-configured routers, so you can save yourself a headache. It is very good at unlocking restricted websites and streaming platforms and works on Netflix, Hulu, Disney+, and similar services.
Despite offering a very affordable price, IPVanish also provides unlimited simultaneous connections, allowing you to secure everything on your network. This makes it an ideal VPN for multiple devices. IPVanish also has live chat customer support and offers a 30-day refund policy if you get an annual or two-year subscription.
+ Pros
Strong security features, multiple VPN protocols, and a kill switch

Extremely fast and reliable connection speeds

Wide range of reliable apps

Unlimited simultaneous connections

Audited, no-logs policy

Ability to unblock popular streaming services like Netflix, Disney+, and BBC iPlayer
– Cons
No cryptocurrency payment options
Based in the United States
IPVanish Black Friday Deal is live:

Get 81% off IPVanish (drops the price down to $2.49 per month):
(Coupon is applied automatically.)
There's always more to learn. You can start by reading our complete IPVanish review.
---
How to set up a Chromecast VPN
Although Chromecast devices don't directly support VPNs, you still have two options to choose from.
1. Create a virtual router
This is a much easier method that involves creating a WiFi hotspot on your Mac, PC, or laptop. It is convenient, as you can easily connect multiple devices to a VPN network without additional installations. The only problem is that your Chromecast will have to be in close range.
A: Chromecast on Windows 10 and 11
Type "hotspot" in the search bar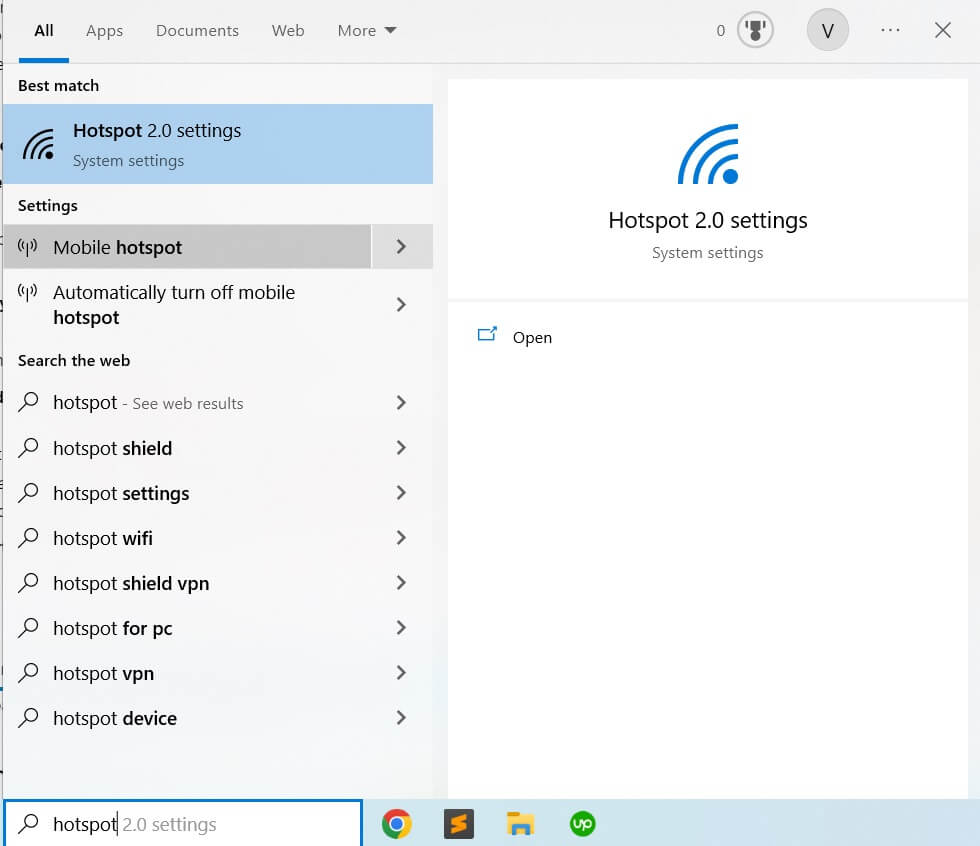 Open Mobile hotspot

Enable it and make sure that Share my Internet connection is set to WiFi and click Edit.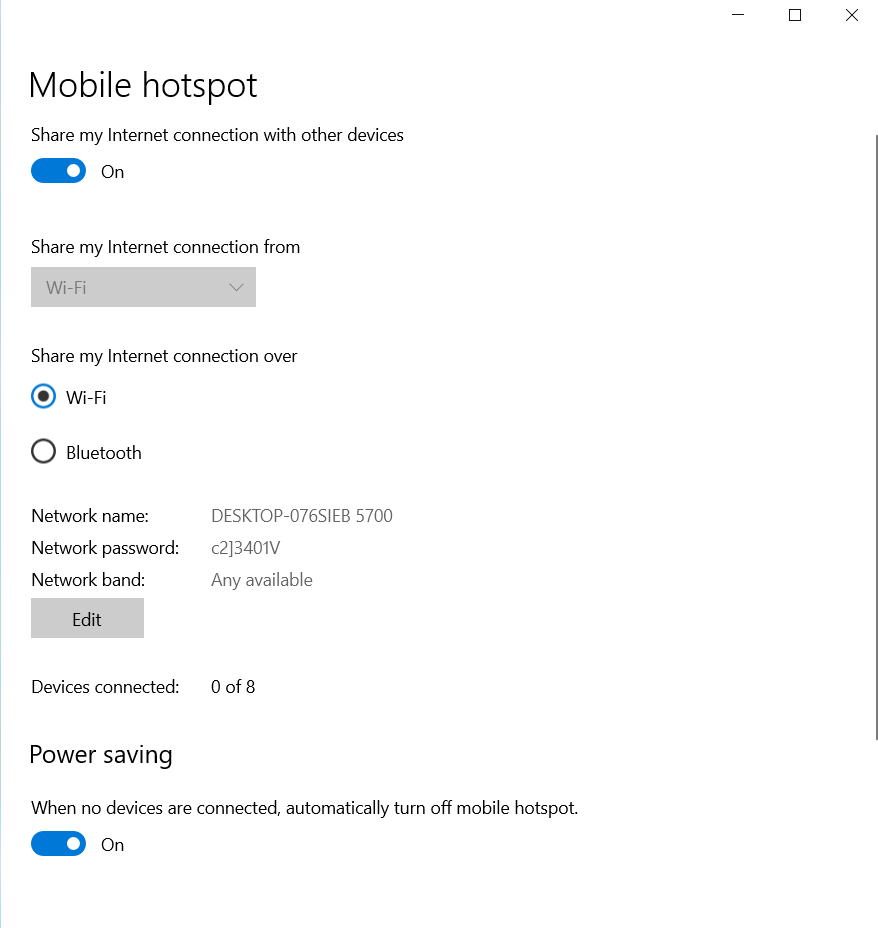 Set your Network name and password

In the Network band window, select 5GHz as this will give you a faster speed. Click Save and exit.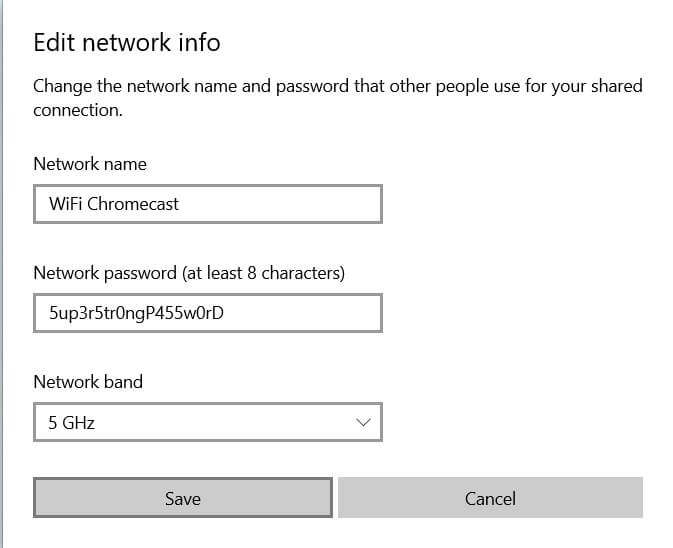 Find your VPN Tap adapter

You can find it under the Related settings > Change adapter options. Right-click on it to open Properties.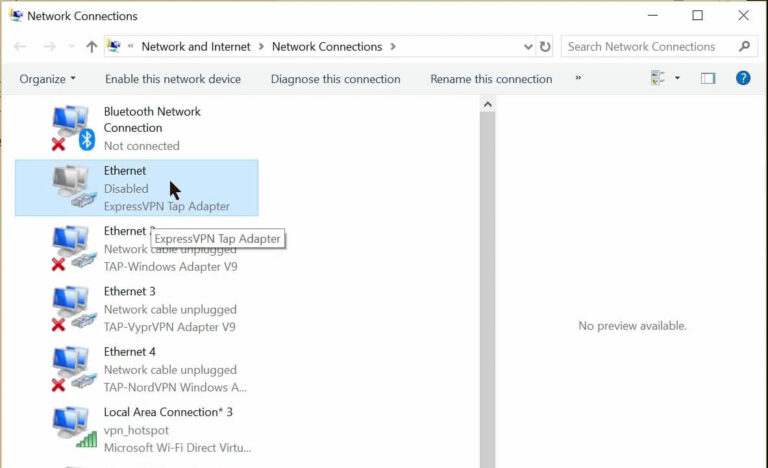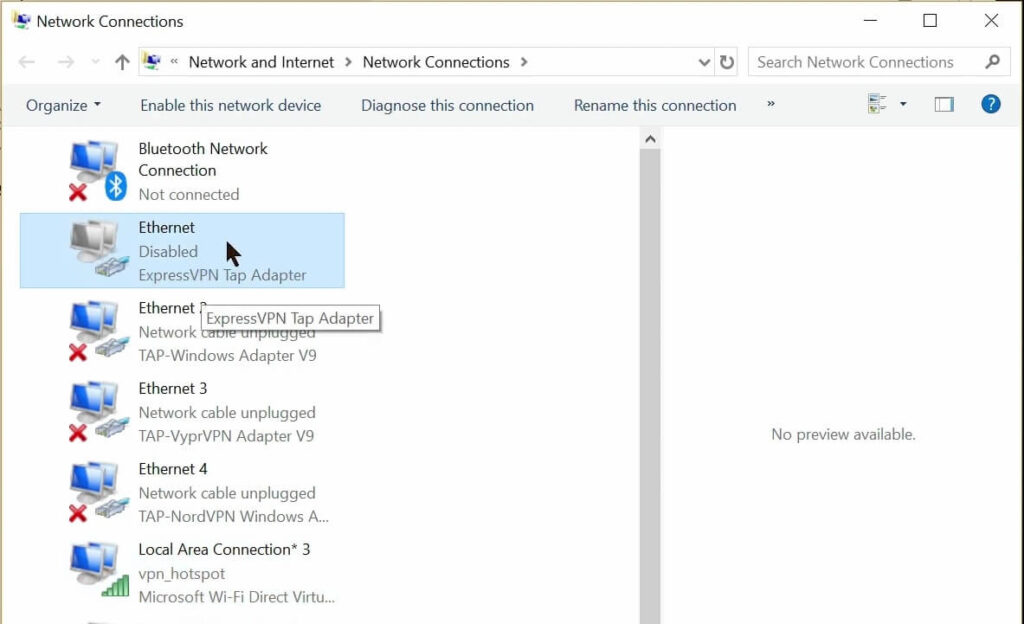 Share Internet connection

Go to the Sharing tab and tick the first box that says Allow other network users to connect through this computer's Internet connection. Next, select your new connection in the Home networking connection window and click OK.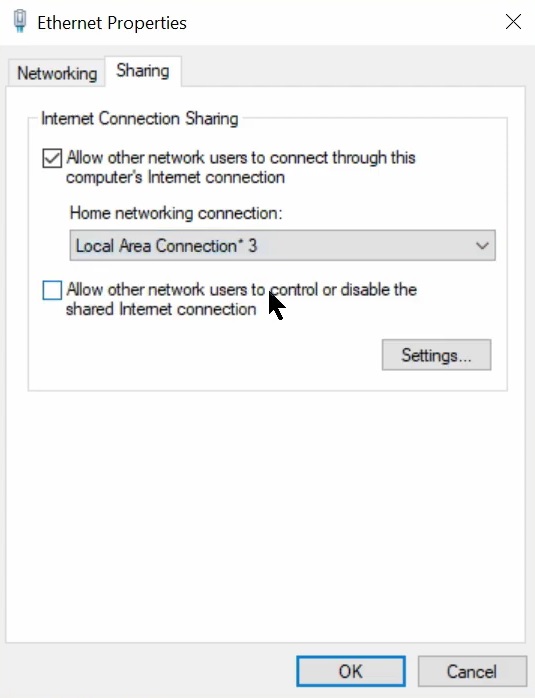 Open your VPN

And connect to a server of your choice.

Connect your Chromecast to the new connection
Stream your favorite shows
B: Chromecast on macOS
!Note: To enable sharing Mac's WiFi network, you will need to use a VPN with L2TP or IPSec protocol. Both NordVPN and ExpressVPN fit these criteria, but Surfshark doesn't.
Connect Mac to your router via ethernet cable

This is crucial as it will let your WiFi broadcast the connection to Chromecast at a later stage. Make sure to also turn off your WiFi.

Follow this NordVPN or ExpressVPN guide
Connect your Chromecast to a new network
Enjoy streaming shows
2. Install a VPN on a router for Chromecast
This route is a little bit more complicated and requires that you have a router with compatible firmware. The upside is that you will be able to quickly connect additional devices on a secure network.
Find out the model of your router

This is important, as every router won't work with every VPN. After you get it, compare it with NordVPNs, Surfsharks, and ExpressVPNs lists of supported routers.

We recommend going with NordVPN as it has excellent VPN router support.
Subscribe to a VPN that is compatible with your router
Follow your provider's instructions

Setting up a VPN router varies on a case-to-case basis, which is why you'll want to read a guide on their official website. Luckily, every service mentioned offers in-depth instructions on numerous models.
Connect Chromecast to a VPN router
Watch shows with Chromecast
!Note: If your router doesn't support VPNs, the next best thing is to get a pre-flashed router that is already configured. Although they can get expensive, they are much safer than manually installing new firmware, which can damage your router.
My VPN for Chromecast doesn't work
If you find that you still can't access geo-restricted content, we'll need to make sure that your VPN is functioning properly. Here is what you can do:
1. Troubleshoot your virtual router (Windows)
In case you can't create a WiFi hotspot, but your PC supports it, the problem can usually be fixed in the Network adapter settings. Just follow these three easy steps.
Press ⊞ Win Key + X and open Device Manager
Tap the arrow left from Network Adapters
Locate the main WiFi and TAP adapter

WiFi adapter should either have 802.11 or Broadcom in its name. Right-click on it and hit Update Driver Software (search automatically).

Right below it, you should see TAP-Windows Adapter V9. Right-click it to see if the device is enabled and to scan for updates.
2. Enable Leak Protection
Leak Protection will make sure that your real IP doesn't accidentally "bleed out". You should be able to find it in the Settings menu of your VPN.
If both of these methods didn't work, you might want to extensively test your VPN. It's also a good idea to contact your VPNs support team.
Reasons not to get a free Chromecast VPN
If you are on a tight budget, you might've considered downloading a freebie for your Chromecast. Personally, we believe that they have too many limitations and are, in most cases, actually dangerous. Here are some things we don't like about free VPNs:
1. Terrible speeds
You can forget about fancy VPN protocols and say hello to OpenVPN which, unfortunately, cannot measure to WireGuard, NordLynx, or Lightway. This usually translates to lower video quality and frequent buffering, which can easily ruin your night.
2. Data Limit
Nearly every free VPN has a monthly data cap that falls in the range of 1 GB to 10 GB/month. If you frequently binge on shows, you will likely hit your limit before the month is up. Once that happens you will be cut off, which can easily happen in the middle of an episode.
3. Subpar server network
Since maintaining them is expensive, it makes sense that free VPNs have fewer servers. This means that they also get overcrowded faster, which will have some effect on your speed. Depending on where you are from, an ideal server location may even be unavailable.
4. Inherent dangers
Granted, it is expected that free alternatives have some limitations. It is another thing entirely if they actually pose a security risk. This is exactly what was discovered in a 2021 study conducted on 270+ free mobile VPNs. To keep it short, here are the highlights:
> 38% of free VPNs came with malware
~75% of them featured 3rd party trackers
Over 84% of apps had substandard encryption (if they even had any)
Although this analysis only covered mobile VPNs, there's no evidence that the situation is any better for other devices, including Chromecast. In fact, it is much safer to assume that this is the case across multiple platforms.
It may be highly unethical, but free VPNs can generate a lot of profit by selling sensitive user data to advertising agencies. In the end, you'd be in a much worse place than when you started. Luckily, there are some exceptions to the rule, as we were able to find seven free VPNs that are safe, secure, and reasonably fast.
Conclusion on using a VPN for Chromecast
By using a good VPN for Chromecast, you can easily enjoy your favorite TV shows and movies, regardless of where you're located in the world. Not only does it allow access to streaming libraries globally, but it also ensures your streaming sessions remain private and secure.
Our top recommendation for the best VPN for Chromecast is NordVPN. It offers the best support for Chromecast and many types of routers. NordVPN also has a largenetwork of servers, impressive speeds, and the capability to unblock most popular streaming platforms.
Even though it may take some time to set up, using a VPN with Chromecast is a smart choice. With Chromecast, you have the liberty to transform any TV into a smart TV. With a VPN, you can get access to any network and streaming services. Freed from the constraints of geo-blocking, you can cast your favorite content, no matter where you are in the world.
Best VPN for Chromecast FAQ

What is the best VPN for Chromecast?


We found that NordVPN offers the best results, although Surfshark and ExpressVPN are great alternatives.


Is it legal to get a Chromecast VPN?


Using a VPN for Chromecast is completely legal, although certain countries, such as Russia or China, are trying to limit the usage of VPNs. In this case, connecting to Obfuscated servers will help you become fully anonymous.


Can I use a free VPN for Chromecast?


Free VPNs pose too many limitations and are even dangerous, which is why we wouldn't recommend using them.

The Best VPN for Chromecast article was last edited on November 11th, 2023.
Further reading: