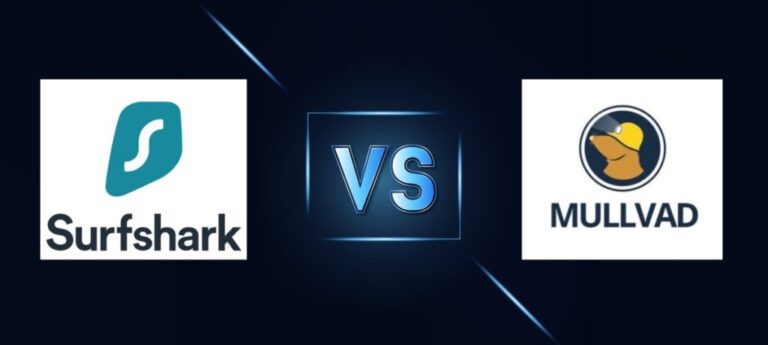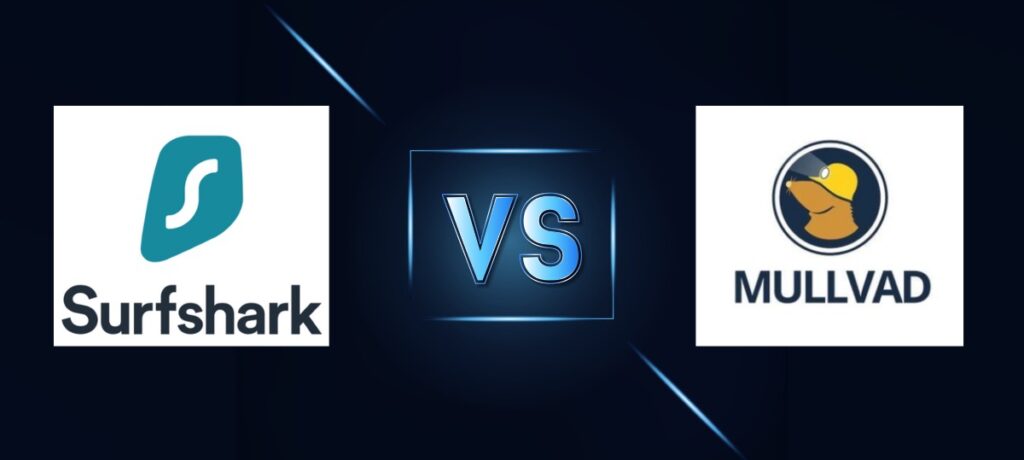 In a world where online privacy is increasingly vital, choosing the right VPN can be daunting. Surfshark and Mullvad VPNs are both popular choices, but which one will come out on top in this "Surfshark vs Mullvad" battle?
Get ready to dive into an in-depth comparison of features, performance, and pricing to determine which VPN best suits your needs.
| | | |
| --- | --- | --- |
| | Surfshark | Mullvad |
| Website | Surfshark.com | Mullvad.net |
| Location | The Netherlands | Sweden |
| Servers | 3,200+ | 784+ |
| Countries | 100 | 38 |
| Logs | No logs (audited) | No logs |
| Torrenting | All servers | All servers |
| Support | 24/7 live chat; knowledge base | Email; knowledge base |
| Apps for | Windows, macOS, Linux, Android, iOS | Windows, macOS, Linux, Android, iOS |
| Price | $2.99 (with coupon) | $5.44 |
| Coupon | 82% Off + 4 Months Free > | N/A |
Here are the categories we evaluated for this comparison report:
VPN Apps
Speed and Stability
Features Faceoff
Server Network
Privacy and Security
Logging and Audits
Jurisdictions
Streaming Capabilities
Torrenting Support
Pricing
Customer Support
Value
VPN Apps
A good VPN app should be user-friendly, feature-packed, and compatible across multiple devices. Both Surfshark and Mullvad cater to these requirements, with each offering dedicated apps for the most important operating systems and mobile devices. But beyond this, there are some clear differences.
| | | |
| --- | --- | --- |
| | Surfshark | Mullvad VPN |
| Apps | Windows, macOS, Linux, iOS, Android | Windows, macOS, Linux, iOS, Android |
| Browsers | Chrome, Firefox, Edge | N/A |
| Other | Android TV, Fire TV, Gaming systems, Routers, and more | N/A |
As you can see in the table above, Surfshark offers additional types of VPN apps that Mullvad cannot match. Beyond that, let-s see how they stack up against each other in terms of user experience and additional features?
Surfshark Apps
As we noted in the Surfshark VPN review, this VPN is in the process of changing the design of its desktop apps. They now present a bit more information than previously but are still easy to use. Overall, the Surfshark desktop apps performed well in our tests. Here is a screenshot of the Windows app we evaluated for this report:
Surfshark VPN apps are highly reliable and worked flawlessly during our testing. Surfshark has an edge over Mullvad when it comes to device compatibility. In addition to the "big 5" app types listed above, Surfshark has VPN apps for FireTV, various Smart TV types, gaming devices like Xbox, and some routers. They also have extensions for the Chrome, Firefox, and Edge web browsers.
Mullvad VPN Apps
Mullvad's apps are functional and ran without errors during our tests. While Mullvad offers some customization options, they are not as extensive as Surfshark's. The Mullvad VPN apps get the job done and hide the complication that Surfshark apps display. Just hit the Connect button and the Mullvad app does the rest. Here's a screenshot of the Mullvad VPN apps we tested out: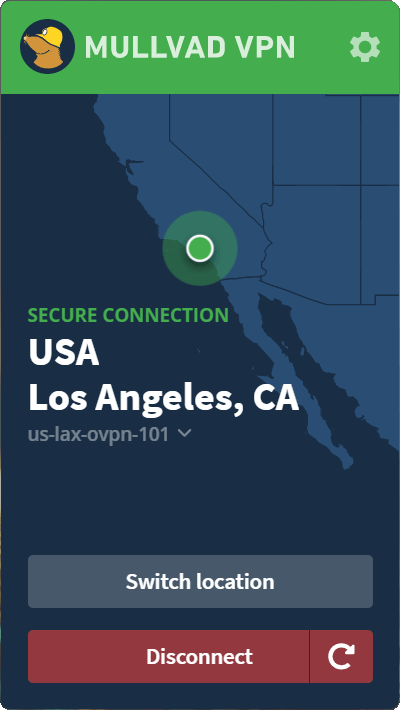 Mullvad's account creation process is unique, requiring users to generate a 16-digit account number before installing the app, adding an extra layer of anonymity. While we like this particular aspect of Mullvad, it isn't enough to compensate for Surfshark's strength in apps.
Winner for Apps: Surfshark
---
Speed and Connection Stability
Your online experience is directly impacted by the speed of a VPN, hence it's a significant factor when choosing one. Surfshark and Mullvad both support the very fast WireGuard VPN protocol, so we have reason to be optimistic about their speed test results. But how fast are they really, and how do they compare to each other?
Speed Test Results for Surfshark and Mullvad VPN
To measure VPN speeds, we used the Ookla Speedtest tool and WireGuard protocol for both Surfshark and Mullvad VPNs. While we ran multiple tests for each server location, here are the best test results for each VPN connecting to a VPN server in each test city:
Mullvad server in Seattle: 384 Mbps

This was an impressive first test result for Mullvad. Let's see how it compares to Surfshark VPN.
Surfshark server in Seattle: 752 Mbps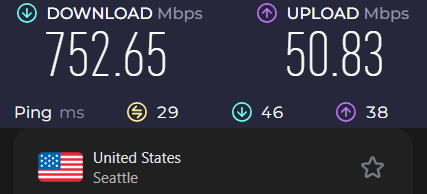 Surfshark was almost twice as fast as Mullvad on this test. Was that a fluke?
Next, I tested servers in Los Angeles, California.
Mullvad server in Los Angeles: 125 Mbps

This is a disappointing result, particularly after the speedy Seattle result.
Surfshark server in Los Angeles: 653 Mbps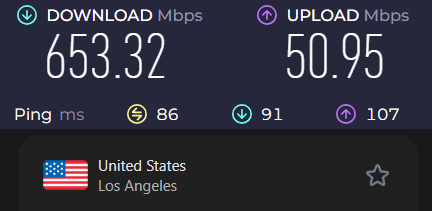 Surfshark was five times as fast on this test. Ouch!
Mullvad server in New York: 87 Mbps

Slower yet.
Surfshark server in New York: 637 Mbps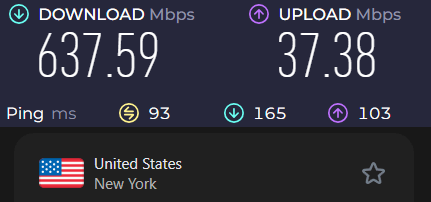 This isn't good. Surfshark was seven times as fast on this test.
Long-distance speed tests in the UK
We also did long-distance speed testing with servers in the UK. The results were even worse.
Mullvad server in the UK: 62 Mbps

This is another disappointing result for Mullvad VPN.
Surfshark server in the UK: 556 Mbps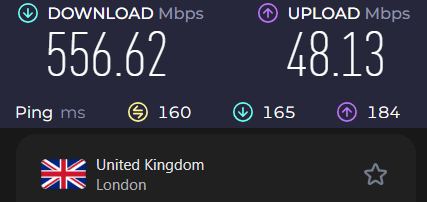 Rounding out the bad news for Mullvad, Surfshark was almost nine times as fast on this test. Here are all the speed test results gathered into one table for easy reference.
| | | |
| --- | --- | --- |
| Location | Mullvad VPN | Surfshark |
| Seattle | 384 Mbps | 752 Mbps |
| Los Angeles | 125 Mbps | 653 Mbps |
| New York | 87 Mbps | 637 Mbps |
| London, UK | 62 Mbps | 556 Mbps |
Summary of speed test results.
There is no contest when it comes to speed, as Surfshark currently ranks as one of the fastest VPN services.
Connection Stability
Connection stability is vital for uninterrupted streaming and browsing. During our testing, Surfshark delivered a seamless experience, with reliable connections throughout. Mullvad also provided reliable connections throughout the test cycle.
While both of these VPNs provide a stable connection, if something were to disrupt that connection, both have effective VPN kill switches. These prevent your data from leaking unprotected onto the internet until such time as the connection is restored.
Winner for connection stability: Tied
We found both VPN providers to deliver stable connections, but the major speed advantage of Surfshark gives it the win in this category.
Overall winner in Speed and Stability: Surfshark
---
Features: Surfshark vs Mullvad
Now we we will compare Surfshark and Mullvad features, including VPN ad-blocking capabilities, split tunneling options, device compatibility, and special features.
| Feature | Surfshark | Mullvad VPN |
| --- | --- | --- |
| Built-in ad blocking | Yes | Yes |
| Split tunneling | Yes | No |
| RAM-only servers | Yes | No |
| Kill Switch | Yes | Yes |
| Private DNS | Yes | Yes |
| Logs | No logs (audited) | No logs (audited) |
| Multiple VPN protocols | Yes | Yes |
| Browser Extensions | Yes | No |
Ad-blocking is a valuable feature for an interruption-free browsing experience. Surfshark's CleanWeb feature excels in this area, blocking ads, trackers, and malware effectively.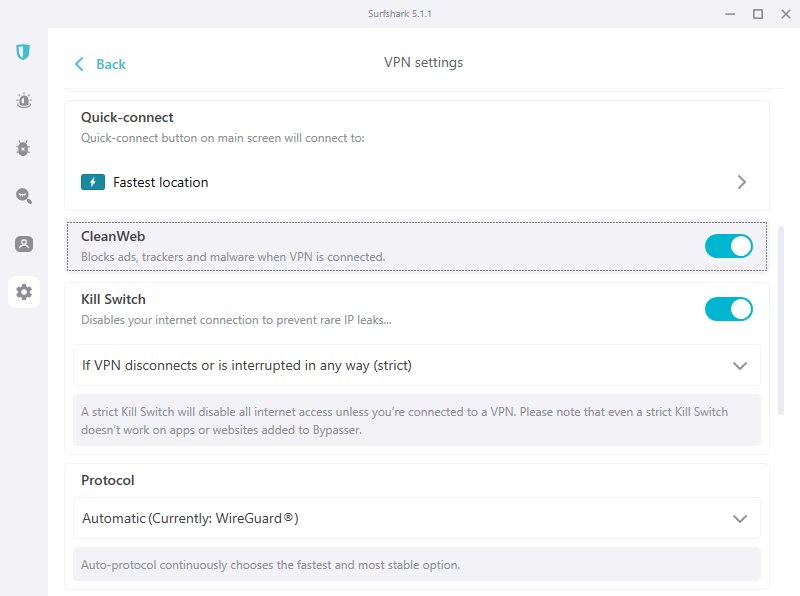 When comparing Mullvad vs Surfshark, Mullvad also offers ad-blocking capabilities, but they are not as comprehensive as Surfshark's, making Surfshark the better choice for users looking to block ads and trackers when considering Mullvad and Surfshark VPN.
VPNs with Split tunneling allow users to choose which apps use the VPN connection and which do not. Both Surfshark and Mullvad offer this feature, but Mullvad provides more detailed control over app usage on the VPN connection.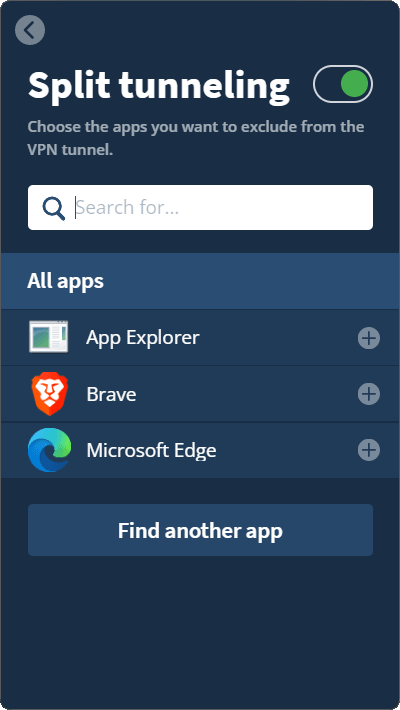 This makes Mullvad a better choice for users who require precise control over their split tunneling settings.
Device compatibility is important if you wish to use a VPN on a wide range of hardware. Surfshark outshines Mullvad in terms of device compatibility, supporting a wider range of devices, including Fire TV, Apple TV, Smart TVs, and gaming consoles.
Although Mullvad is compatible with Windows, Mac, Linux, iOS, Android, and routers, its limited device support may be a drawback for some users.
Special features are next. By special features, we mean uncommon, unusual, or unique features that help a VPN stand out. Both Surfshark and Mullvad VPN offer some special features.
One Mullvad VPN special feature we like is the way you subscribe to the service through a random account number instead of a username or email address. This approach lets you subscribe to the service without ever having to disclose this data. Mullvad VPN also supports anonymous payment methods, potentially making this one of the most private VPNs in existence.
Meanwhile, Surfshark offers a large and growing number of special features. Here is a partial list:
Unlimited simultaneous connections – Where most VPNs let you have 5 (like Mullvad VPN) or 6 devices use their network simultaneously, Surfshark puts no limits on the number of your devices that can use the network at any one time. As more and more of us have more and more internet-connected devices ourselves and in our immediate families, this becomes an ever more valuable feature.
Rotating IP addresses – This feature changes your IP address every so often, without changing your VPN location. Doing this makes it hard to track your online activities by correlating them with the activity on a particular IP address.
Dynamic MultiHop – While both these VPNs have a multi-hop capability, Surfshark allows you to define and use custom MultiHop configurations right from their apps.
Cookie pop-up blocker – Activate this feature and Surfshark will automatically decline consent pop-ups to protect you against website tracking while sparing you those annoying pop-ups.
Optional add-ons – Surfshark offers add-ons to the basic VPN service such as 24/7 antivirus protection, webcam protection, email and identity breach alerts for an additional monthly fee.
Identity protection – The latest optional add-ons for Surfshark include tools for creating a new online name, birthday, and a valid home email address you can use for online registrations at sites where you do not want to use your real data. Likewise, you can generate an alternate email address you can use in lieu of your real email address to prevent spam from reaching your real inbox. Finally, you can add a service that will work to remove your personal data from the databases of companies, people search websites and similar locations.
See all Surfshark features here >>
Features winner: Surfshark
---
Server Network: Surfshark vs Mullvad VPN
Here we take a look at the server network of each VPN. This is an essential aspect as the server network determines the VPN's speed, reliability, and its ability to bypass geo-restrictions. A larger server network often translates to less congestion and better speeds, while a global spread of servers allows users to access content from different regions with ease.
The Surfshark server network is one of the key features that sets it apart in the crowded VPN marketplace. With over 3200+ servers in 100 countries, Surfshark ensures that wherever you are, high-speed, reliable, and secure internet access is just a click away. Whether you're streaming your favorite TV show, securely accessing your work files from a coffee shop, or simply browsing the web, the Surfshark server network is designed to provide a seamless online experience.
It's not just about the numbers – each server is optimized to provide the best possible performance, ensuring that you get the fastest speeds and most reliable connections, no matter where you are or what you're doing online.
Surfshark has upgraded its network to run with 100% RAM-only servers. These servers have no disk drives and get wiped and reloaded with the most recent version of VPN software every time they are restarted. From the privacy perspective, there is literally no place for user data to be stored on the server. This can be important since over the years there have been several instances of hostile actors physically seizing VPN servers to search for data about VPN users. You can read about one such case in our ExpressVPN review.
In addition, the Surfshark network is excellent at bypassing geo-restrictions that some countries and companies put on content (we'll cover this in detail later). So whether you're a digital nomad traveling the world, a student studying abroad, or just someone who values their online privacy, the Surfshark server network has you covered.
The Mullvad VPN server network is not nearly as large or expansive as Surfshark's network. Mullvad maintains 650+ servers in 39 countries. Whether this coverage is sufficient for your needs will depend on which countries you need access to, and how much you depend on that access.
| | | |
| --- | --- | --- |
| Features | Surfshark | Mullvad |
| Number of Servers | 3,200+ | 650+ |
| Countries Covered | 100 | 39 |
| Dedicated Servers | Yes | Yes |
| P2P Servers | Yes | Yes |
| Obfuscated Servers | Yes | No |
Fortunately, Mullvad VPN has a web page with details about the location, number, and status of every one of their servers. Click the link to check the status of the Mullvad VPN servers.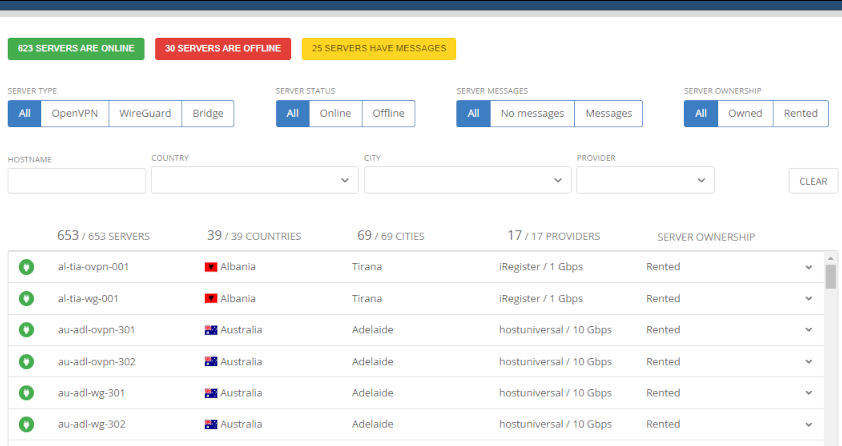 This network allows users to bypass geo-restrictions and enjoy a more open internet.
The Mullvad VPN servers are well-maintained and updated regularly to ensure optimal performance and security. Furthermore, Mullvad is committed to expanding its server network to provide its users with an even better VPN experience. The company has just about completed a transition to RAM-only servers, which can only help to boost its security and privacy.
While there is nothing in particular wrong with the Mullvad VPN server network, Surfshark's network is bigger, faster, and distributed across many more countries.
Server network winner: Surfshark
---
Privacy and Security
Privacy and security are of paramount importance when choosing a secure VPN. Both Surfshark and Mullvad take security seriously, offering support for OpenVPN, IKEv2/IPsec, and WireGuard protocols. These encryption protocols create a secure pathway for your data, protecting it from prying eyes. Both company's apps come equipped with kill switches that ensure your data doesn't inadvertently leak onto the internet. But there is more to the security and privacy story.
Surfshark security and privacy are top-notch. Each VPN server uses a private DNS service. This is a plus. If you use a DNS provided by your ISP they can (at least in the United States) legally monitor and log your DNS queries to track your online activities. Furthermore, Surfshark passed all our tests without leaks or problems of any sort.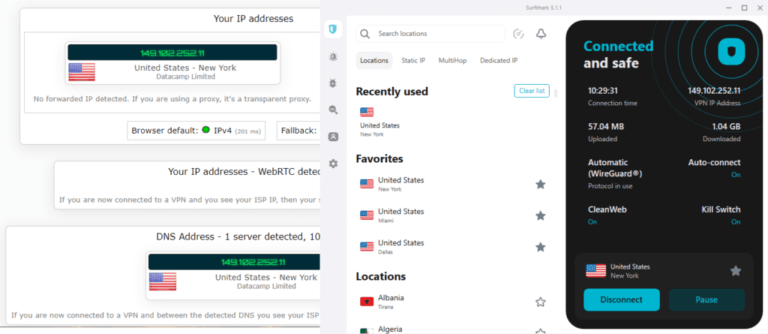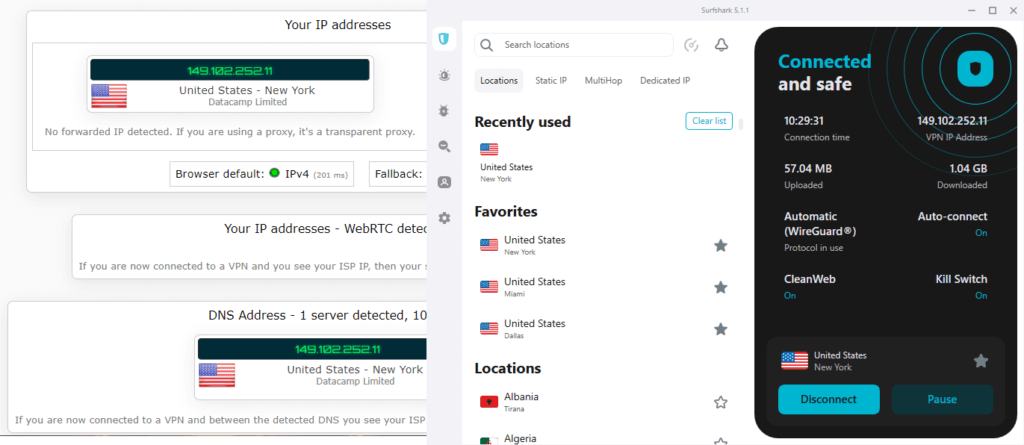 Surfshark keeps no logs, which we consider to be one of the most important characteristics of a quality VPN. Surfshark was once based in the British Virgin Islands (BVI) but is now based in The Netherlands. The company's move to The Netherlands doesn't bother us since the country does not have any data retention laws and is overall favorable from a privacy standpoint. Surfshark also notes on its website:
We're based in the Netherlands, so we play by their rules (which are pretty great when it comes to user privacy). As there is no obligatory data retention law, we do not have to store logs, and it makes for a perfect location for a VPN provider.
We assumed that the Surfshark Terms of Service would be governed by the laws of The Netherlands. However, the company says that the Terms of Service are governed by the laws of the British Virgin Islands, regardless of which Surfshark company your contract is with.
While this might be confusing, it doesn't appear to be a problem, since the BVI is a jurisdiction known for strong privacy laws, which adds another layer of protection for users.
Mullvad VPN security and privacy are not to be underestimated. Despite being a smaller player in the VPN market, Mullvad takes user security and privacy extremely seriously. Like Surfshark, Mullvad keeps no logs. This is possible because the company is based in Sweden, another country known for its strong privacy laws and lack of the requirement for a VPN to keep logs.
Also like Surfshark, Mullvad VPN passed all of our IP address and DNS leak tests without any trouble, just like we saw with ProtonVPN and NordVPN. In other words, while it may not be as well-known as some of its competitors, Mullvad offers robust security and privacy features that can provide peace of mind for users concerned about protecting their online activities.
Security and privacy winner: Tied
---
Logging and Audits
| | | |
| --- | --- | --- |
| | Surfshark | Mullvad VPN |
| No Logs Policy | Yes | Yes |
| Audited By | Deloitte | Assured AB |
The logging policy of a VPN and its independent audits significantly influence the determination of implemented privacy and security measures. So let's see how each competitor fares in this category.
Both Surfshark and Mullvad maintain strict no-logs policies, ensuring that your online activities remain private and secure. Using a no-logs VPN service is crucial for maintaining your privacy, especially in this era of seemingly unending data breaches and privacy issues. Even better, both services are among the subset of VPN services that has conducted outside (third-party) audits of their no-logs policies.
Mullvad VPN had their no-logs policy audited in 2022 by Assured AB, a Gothenburg, Sweden security consulting firm.
Surfshark also had their no-logs policy audited in 2022. In this case, the auditor was Deloitte, one of the Big Four accounting firms.
Logging and audits winner: Tied
---
Jurisdiction comparison
| | | |
| --- | --- | --- |
| | Surfshark | Mullvad |
| Jurisdiction | Netherlands | Sweden |
| Five Eyes | Nine Eyes | 14 Eyes |
Jurisdiction plays a vital role in determining a VPN's ability to protect user privacy. This is because a VPN service must comply with the laws of the jurisdiction where they are based. Some jurisdictions (India, for example) force VPN services to log the activities of users as a matter of course.
Others, such as the United States can and do sometimes direct VPN services to violate their own policies and log data about specific users. The United States also allows Internet Service Providers (ISPs) to log your online activities. So you can see why knowing where your VPN is based is so crucial.
Surfshark is based in The Netherlands, while Mullvad is headquartered in Sweden. While both of these countries have privacy-friendly laws for VPNs, there is one thing to be aware of. The Netherlands is a member of the Nine Eyes intelligence alliance, while Sweden is a member of the 14 Eyes intelligence alliance.
We don't consider this a big threat to your privacy. But if you are concerned, you might want to consider NordVPN or ExpressVPN, two high-quality VPN services based in countries that are not part of any intelligence alliances.
Jurisdictions winner: Tied
---
Streaming Capabilities: Is Surfshark or Mullvad best?
Streaming capabilities are often a top priority for VPN users. Surfshark is known for its reliable streaming performance, consistently unblocking popular platforms like:
Netflix
Amazon Prime Video
Hulu
BBC iPlayer
On the other hand, Mullvad's streaming capabilities can be hit or miss. Let's explore their streaming performance in more detail.
Features of a Good Streaming VPN
A good streaming VPN should offer:
Fast and reliable connections
A vast server network
Unlimited bandwidth
Robust encryption
Dedicated streaming servers
Compatibility with popular streaming platforms
An intuitive interface
A strict no-logs policy
A kill switch
Reliable customer support.
Considering these features, let's evaluate the performance of Surfshark and Mullvad.
Surfshark excels in the streaming department, unblocking popular platforms like: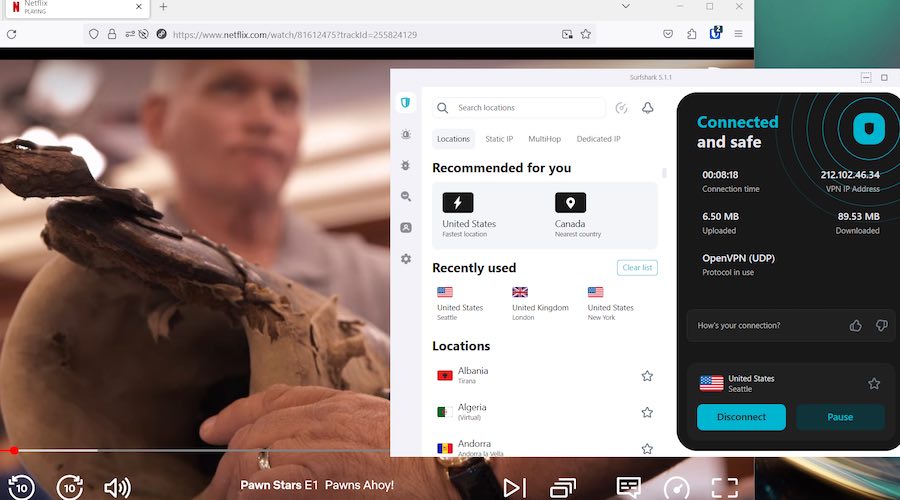 Add in the great speed of Surfshark, which can stream HD video content with ease, plus the automatically activated SmartDNS feature and you will be able to access geo-restricted content from around the world with no trouble. It is no surprise that Surfshark is on our list of the best VPNs for Netflix.
Speaking of trouble, streaming with Mullvad VPN is problematic. In our testing, Mullvad was consistently unable to stream Netflix. Instead of the movie we wanted to see, we got this kind of result over and over again: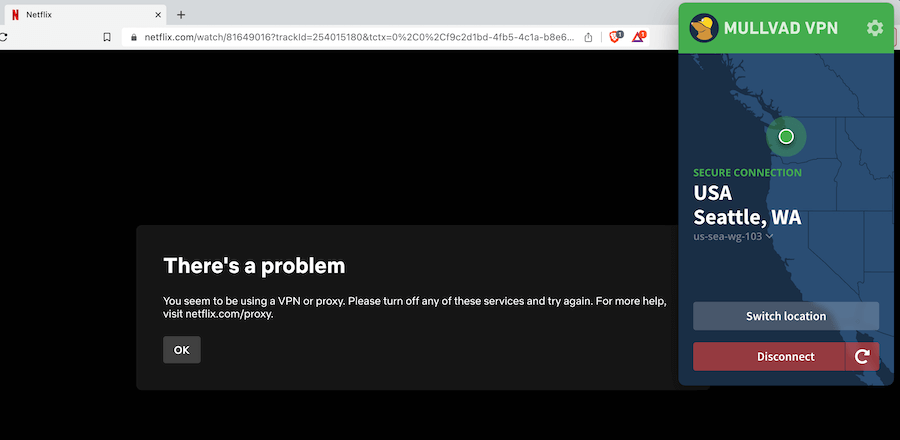 Mullvad was also unable to stream BBC iPlayer consistently. This is unfortunate because many people are looking for a VPN for BBC iPlayer and Mullvad VPN can't fulfill that role reliably.
Given these problems, we didn't try to test Mullvad VPN with other popular streaming media sources. But given the kinds of comments we saw on Reddit, it doesn't appear that things go much better for other service either:


Streaming capabilities winner: Surfshark
Check out Surfshark streaming capabilities here >>
---
Torrenting Support
Torrenting is an important use case for many VPN users. Although both Surfshark and Mullvad support torrenting, we need to compare their features and performance for secure and anonymous torrenting.
When it comes to torrenting, Surfshark offers a wide range of features to ensure secure
Features of a Good Torrenting VPN
A VPN that is good for torrenting and other P2P file transfers should offer:
Strong encryption
A strict no-logs policy
Fast and stable connections
Support for P2P
A kill switch
A wide server network
DNS and IP leak protection
Considering these features, let's assess the torrenting capabilities of Surfshark and Mullvad.
Surfshark excels in the torrenting department. According to the Surfshark website, all servers are P2P friendly. With great speeds (using WireGuard), good leak protection settings, no logs, and safe, secure apps, Surfshark is a great option. You should also know that Surfshark is not forced to comply with US DMCA laws. Legal notices and copyright violation claims shouldn't affect Surfshark users.
Note: Some Surfshark servers will redirect you to P2P optimized servers rather than handle torrents themselves. If you wish to avoid the redirection and connect directly to a P2P optimized server, you can find them by typing P2P into the Locations search box in the Surfshark VPN app, as shown here: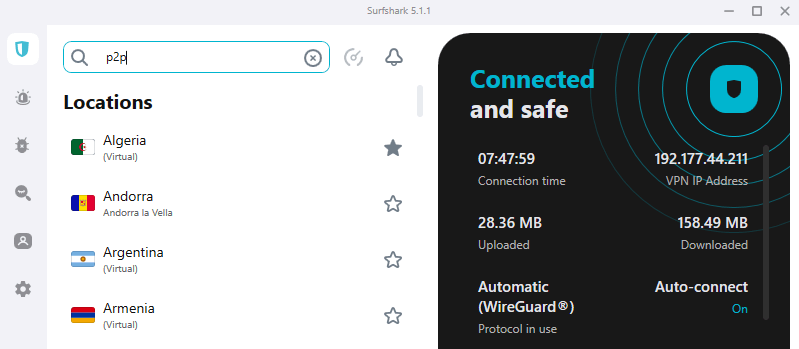 Mullvad is a good option for torrenting as well. Their strong focus on privacy and security prevents your IP address from being exposed, which is job #1 for a torrenting VPN. The one place where Mullvad falls behind Surfshark (literally) is its slower download speeds.
Torrenting winner: Surfshark
---
Pricing: Is Surfshark or Mullvad better?
Pricing is a crucial factor for many users when choosing a VPN. Here we will be comparing two very different pricing models.
Surfshark offers various subscription options with attractive deals for long-term plans. In fact, despite its high-end features and performance, Surfshark's price is extremely low if you go with their 2-year subscription.
If you use our discount coupon, you can get this premium VPN for one of the lowest prices on the market. This makes Surfshark a strong contender for the best cheap VPN award.
Surfshark Coupon:

Get 80% off Surfshark VPN (drops the price down to $1.99 per month) plus 5 months FREE:
(Coupon is applied automatically.)
Mullvad VPN uses a flat fee pricing model. The service costs 5 Euros per month, period. There are no discounts for longer subscriptions.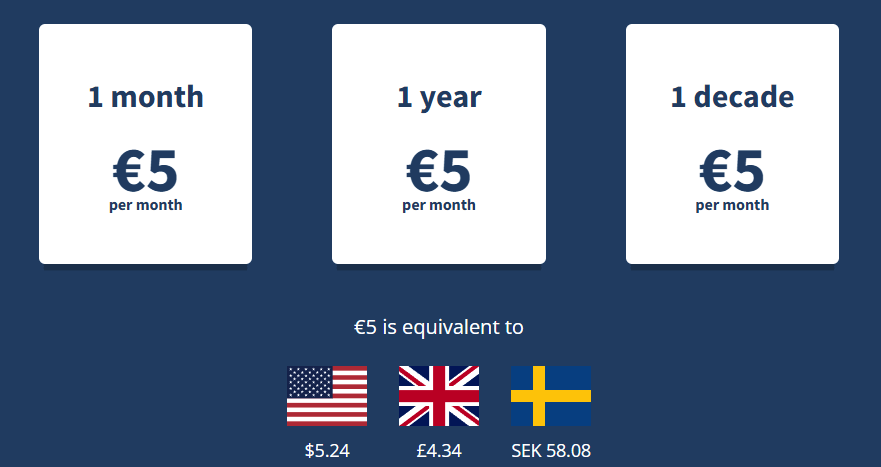 While some people prefer Mullvad's flat pricing model, most people will save money by buying a 2-year subscription to Surfshark.
Pricing winner: Surfshark
---
Customer Support
| | | |
| --- | --- | --- |
| | Mullvad VPN | Surfshark VPN |
| Live Chat | No | Yes (24/7) |
| Email | Yes | Yes |
| Articles | Yes | Yes |
| FAQs | Yes | Yes |
| Support Tickets | No | Yes |
| Subreddit | Yes | Yes |
Customer support is an important aspect of any VPN service, since it can directly impact your satisfaction with the service. Many major VPN services now provide 24/7 live chat support. Given how important it is to have your VPN working when you need it, this kind of support is very valuable.
Mullvad offers email support, their own subreddit, and a searchable knowledge base, but it does not provide 24/7 live chat support, and it does not have a system for submitting support tickets. Mullvad does have an X (formerly Twitter) account, but it does not appear to have been active for a long time.
In contrast, Surfshark provides 24/7 live chat support, support tickets, their own subreddit, an active X presence, and a detailed knowledge base. It is a much more comprehensive support experience overall.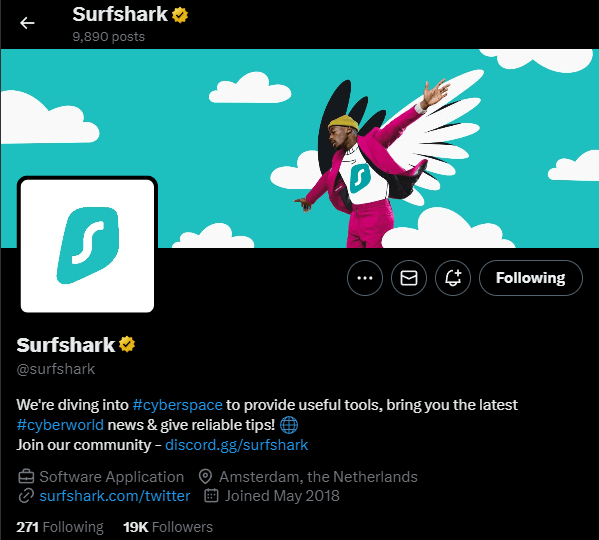 When people need customer support, they want it right away. Surfshark delivers with the 24/7 live chat customer support and wins this category.
Customer support winner: Surfshark
---
Value: Is Surfshark or Mullvad best?
Taking into account features, performance, and pricing, Surfshark offers excellent value for money, with plans starting at just $2.30 per month if you use our discount coupon.
Mullvad, on the other hand, offers a single, flat-rate pricing structure of around $5.25 per month. While Mullvad may be a good choice for short-term use, Surfshark's longer-term plans provide a better overall value.
Value winner: Surfshark
---
Conclusion: Surfshark wins
In conclusion, Surfshark VPN provides a more comprehensive and versatile VPN experience than Mullvad. It delivers advanced features, better speeds, and seamless streaming capabilities that elevate your online experience. Whether you're a casual browser or a heavy streamer, Surfshark's superior performance makes it a standout choice.
Let´s take a look at the category-by-category results:
| | |
| --- | --- |
| Category | Winner |
| VPN Apps | Surfshark |
| Speed and Stability | Surfshark |
| Features | Surfshark |
| Privacy and Security | Tie |
| Logging and Audits | Tie |
| Jurisdictions | Tie |
| Streaming Capabilities | Surfshark |
| Torrenting Support | Surfshark |
| Pricing | Surfshark |
| Customer Support | Surfshark |
| Value | Surfshark |
On the other hand, Mullvad, while it does offer strong privacy and security features that will appeal to privacy-conscious users, falls short in other areas. Its streaming performance and device compatibility do not match up to Surfshark's, making it less versatile for diverse internet users.
When it comes to affordability, Surfshark also takes the lead with its budget-friendly plans that do not compromise on the quality of service. This is a significant advantage for users who are seeking excellent service without breaking the bank.
In the end, the choice between Surfshark and Mullvad will depend on your specific needs and preferences. However, for users seeking the best value for their money, Surfshark is the clear choice.
Surfshark Coupon:

Get 80% off Surfshark VPN (drops the price down to $1.99 per month) plus 5 months FREE:
(Coupon is applied automatically.)
While Surfshark wins here, Mullvad is still a strong contender. It has a great following in the privacy space.
You can check out Mullvad here >>
---
Frequently Asked Questions
This section will tackle some common queries about Surfshark and Mullvad VPNs, aiming to dispel any remaining doubts or concerns. We understand that choosing a VPN service is an important decision that can significantly impact your online experience.
Is Mullvad better than Surfshark?
Surfshark is the clear winner here, offering better streaming performance, bank-grade encryption, an impressive feature suite, and an incredibly low price along with unlimited simultaneous connections. Mullvad is still a great privacy-centric VPN provider from Sweden, but Surfshark holds the upper hand in this battle.
What are the customer support options available for Surfshark and Mullvad VPN?
For Surfshark, customer support is available 24/7 and is accessible through various channels. Users can reach out to Surfshark's support team via live chat, which is the quickest way to get a response. Email support is also available for more complex queries or issues. Additionally, Surfshark has an extensive knowledge base on its website, which includes FAQs, guides, and tutorials to help users navigate the VPN service.
On the other hand, Mullvad VPN provides customer support mainly through email. While it may not offer instant responses like live chat, Mullvad's email support is known for its detailed and helpful responses. In addition to email, Mullvad has a comprehensive FAQ section on its website that covers a wide range of topics, providing users with instant answers to common queries.
Can I trust Surfshark?
Surfshark is one of the best no-log VPN services out there, offering a range of user privacy and security features including AES-256 encryption, a kill switch, and RAM-only servers. Audits have confirmed that your online activities will not be tracked or stored, making it a reliable choice you can trust.
Are both Surfshark and Mullvad suitable for torrenting?
Both Surfshark and Mullvad offer suitable features for torrenting, ensuring a secure and anonymous experience. They both offer a no-logs policy, which means that your activity is not tracked or stored. They also both use strong encryption protocols to protect your data. Additionally, they both have a kill switch to protect your privacy if the connection to the VPN server fails for any reason.
---
This Surfshark vs Mullvad VPN comparison was last updated on December 4, 2023.