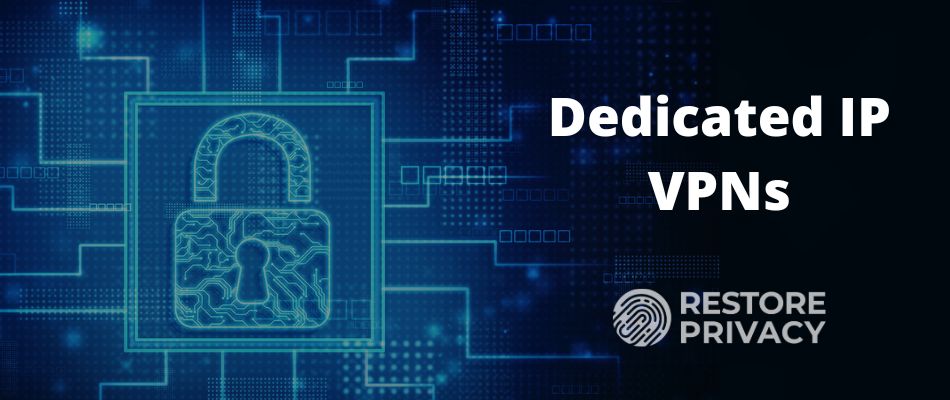 This guide examines the five best dedicated IP VPN options for 2023 — as well as some you should avoid.
Are you looking for a VPN that offers dedicated IP addresses? if so, you have come to the right place. In this guide, we examine the best VPNs with dedicated IP options. We'll introduce you to some thoroughly tested options that we recommend — and point out some options to avoid. Using a dedicated IP VPN comes with some great advantages, as well as a few drawbacks, as we'll show you below.
Why do we only recommend five dedicated IP VPNs? Well, some of the VPNs with dedicated IPs have a troubling past. One example of this is PureVPN, which was found to be logging its users, despite claiming to be a "zero logs" VPN. There was also the case of Windscribe, which had a "security incident" that put its users at risk. These are just a few of the dedicated IP VPN services that we cannot recommend (more examples are below).
Consequently, we only recommend five VPNs that offer a dedicated IP address. Only these five services passed all of our tests (with no data leaks) and also have a clean track record:
---
---

---

---
---
---
First, let's start out with some terminology.
One of a VPN's key jobs is to conceal your IP address (also known as "your IP" or "your address"). To do this, the VPN server replaces your real IP address with one of its own. This new IP address may be different every time you connect to the VPN server, and will likely be used by other people too. This is actually a good thing. It makes it difficult for anyone to track your online activity since your activity is mixed with the activities of others using the same IP address.
But for some activities, you might need a VPN server to give you the same IP address each time you use it. This is called a static IP. Having a static IP makes it look like you're always in the same place, even if you're not.
There are actually two types of static IP that a VPN service can provide. One type is a shared static IP In this type, the VPN server always assigns you the same IP address, but that address may be used by multiple people. Surfshark is a leading VPN that offers shared static IP addresses, which they refer to simply as "Static IP."
Surfshark has also just launched dedicated static IPs, which they call "Dedicated IP." Surfshark's Dedicated IP is only available for Android users at the moment, but that will surely change soon.
The other type is a dedicated static IP. In this type, the VPN server always assigns you the same IP address, but no one else can have that same address. NordVPN is a leading VPN that offers dedicated static IP addresses. Like Surfshark, they simply refer to this as "Dedicated IP."
For the rest of this guide, we will use the terms "Static IP," and "Dedicated IP" to describe the two types of addresses.
Why use a VPN with a dedicated IP?
Here are the top reasons for using a Dedicated IP with your VPN service:
It will minimize CAPTCHA authentication, which is usually triggered with multiple users behind the same IP.
Your dedicated IP is less likely to be blocked by services, such as banks, streaming platforms, and various websites.
You will always appear to be in the same physical location, regardless of your actual location.
You can securely access home servers, NAS, FTP, and other resources.
Here are the best VPN services that offer Dedicated IP addresses:
NordVPN – Best Dedicated IP VPN
| | |
| --- | --- |
| VPN | NordVPN |
| Based in | Panama |
| Logs | No logs (audited) |
| Price | $3.19/mo. |
| Support | 24/7 live chat |
| Refund | 30 days |
| Website | NordVPN.com |
NordVPN is the best all-around VPN for a static IP address. It is a privacy-focused service based in Panama and is a verified no-logs VPN. NordVPN offers an impressive lineup of servers around the world and reliable apps for all major operating systems and devices.
NordVPN performed exceptionally well in our testing. It offers a dedicated IP addresses, along with other impressive features and capabilities. The NordVPN app we tested on Windows shows the Dedicated IP as the first option under Specialty servers in the image below.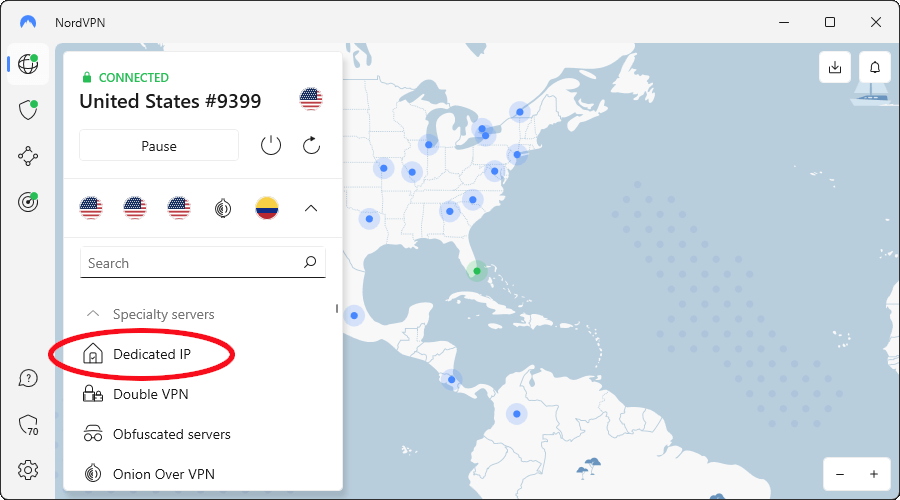 Here are a few of the standout features of NordVPN:
Double-VPN servers that encrypt traffic over two hops
Threat Protection feature to block ads, trackers, malware domains, and other problems
Secure apps with built-in leak protection settings (kill switch)
24/7 access to Netflix, Hulu, Amazon Prime, and many other streaming services (rated the best VPN for streaming)
Unlimited torrenting and bandwidth on all servers
Excellent speeds and reliability
NordVPN is a high-performance VPN, consistently ranking among the fastest VPNs in our tests. Its impressive speed is largely due to NordLynx, a custom VPN protocol that incorporates the WireGuard VPN protocol. WireGuard provides faster speeds and enhanced security compared to legacy protocols. In our testing, NordVPN achieved a 445 Mbps download speed using NordLynx on a 500 Mbps connection.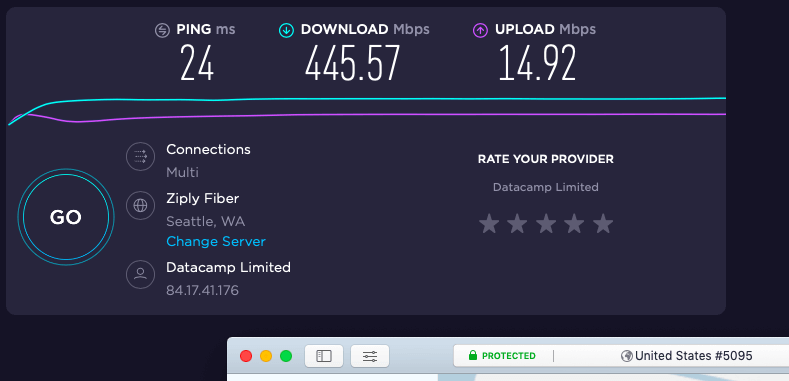 NordVPN is an excellent choice for streaming media as it supports all major Netflix regional libraries, as well as Hulu, BBC iPlayer, Amazon Prime, and more. It's the best option for access to the world's streamable content. If you have problems connecting to a specific program or website, NordVPN's 24/7 live chat support line is there to help.
NordVPN is a leader in server selection and security with over 5,500 servers in 60 countries. Their servers operate in RAM-disk mode without hard drives, making it impossible to store user data on them. Additionally, they are upgrading their entire network to colocated servers with 10 Gbps data channels for improved performance.
NordVPN with a dedicated IP address
NordVPN offers dedicated IP addresses in these locations:
United States (Buffalo, Los Angeles, Dallas, New York)
Germany (Frankfurt)
United Kingdom (London)
Netherlands (Amsterdam)
France (Amsterdam)
Canada (Toronto)
Japan (Tokyo)
Italy (Milan)
Sweden (Stockholm)
Australis (Sydney)
To get a NordVPN dedicated IP address, simply purchase a regular subscription, and then select the dedicated IP add-on during checkout. The price you pay for a dedicated IP will depend on the NordVPN subscription plan you choose. Right now a dedicated IP costs $3.89/mo. if you choose a 2-year subscription plan.
All NordVPN subscriptions come with a 30-day refund window, as well as 24/7 live chat support. In terms of prices, NordVPN is arguably the best cheap VPN service on the market, coming in as low as $3.19 per month when you use the 68% discount coupon below.
+ Pros
User-friendly and reliable apps
30 day money-back guarantee
Double-VPN & Tor-over-VPN servers
24/7 live chat support
Verified no logs VPN
Works with Netflix and many other streaming services
CyberSec feature to block ads, trackers, and malware
Large server network around the world
– Cons
Big discounts only available for long-term subscriptions
NordVPN Cyber Deal is Live:

Get 68% Off NordVPN (drops the price to $3.19 per month) plus 3 months FREE:
(Coupon is applied automatically.)
You can also see the NordVPN review for more test results and analysis.
---
Surfshark – Dedicated IP addresses and static IPs in one VPN
| | |
| --- | --- |
| VPN | Surfshark |
| Based in | The Netherlands |
| Logs | No logs |
| Price | $2.30/mo. |
| Support | 24/7 live chat |
| Refund | 30 days |
| Website | Surfshark.com |
Surfshark has come out of nowhere to be one of the top VPN services in the world. It is unique in our list in that Surfshark offers both dedicated IP addresses and static IP addresses, as you can see here: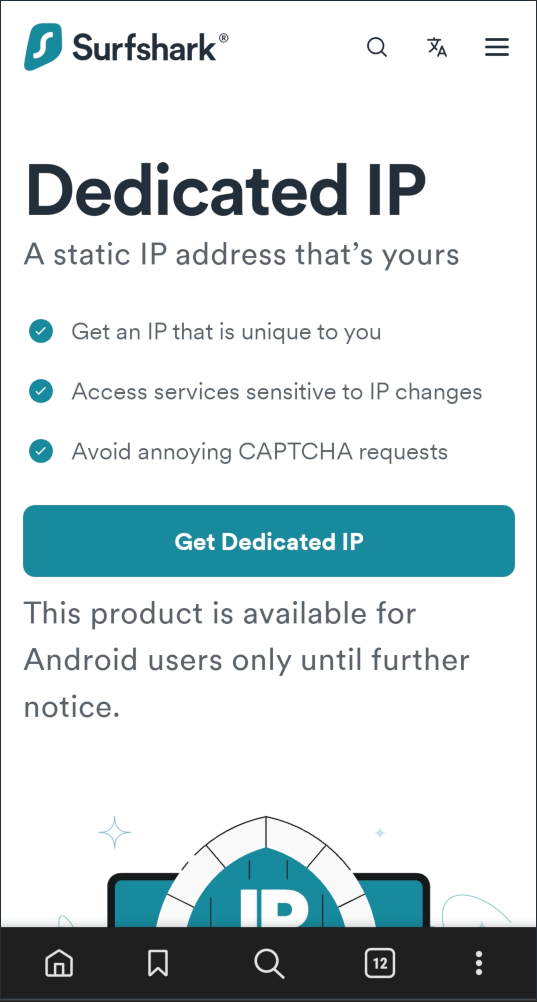 As of June, 2023, Surfshark's dedicated IP address feature is available in all of their major apps. You can see the dedicated IP VPN option in the screenshot below of the latest Surfshark Windows app.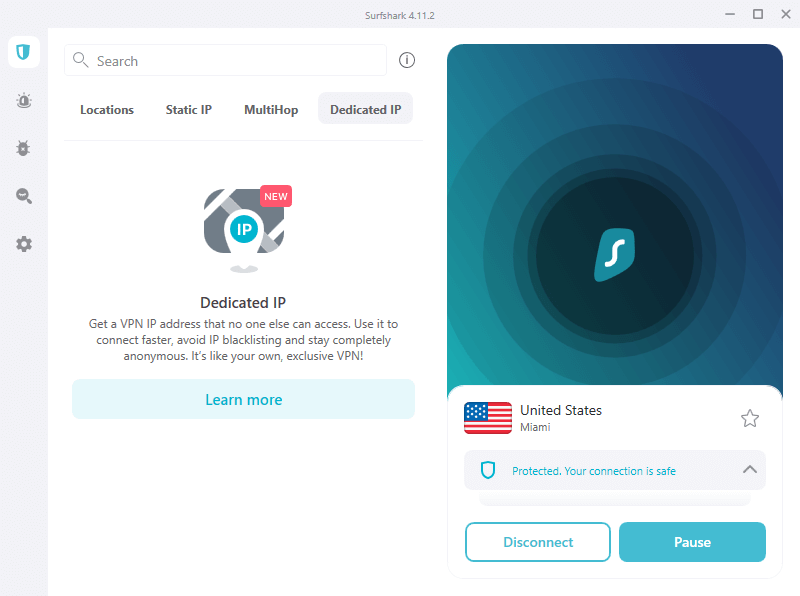 Like NordVPN, Surfshark is an excellent general-purpose VPN. It is a verified no-logs VPN with a large list of features, including multiple server types:
Double VPN (MultiHop)
Obfuscated (Camouflage mode)
P2P servers for torrenting
Other Surfshark features you might find useful include:
CleanWeb to block ads, trackers, and more
Split tunneling (Bypasser)
Surfshark One, a bundle of the VPN plus other privacy tools
Streaming and torrenting
Surfshark is one of the best streaming and torrenting VPNs. Fast and secure, it also unlocks most geo-blocked streaming services. It is one of the best VPNs for streaming.
Likewise, Surfshark is excellent for torrenting and appears on our list of the best VPNs for torrenting anonymously.
Surfshark also has a very low subscription price, and is one of the few VPNs to give you an unlimited number of simultaneous connections.
+ Pros
Unlimited connections
User-friendly apps for all devices and operating systems
CleanWeb feature to block ads, trackers, and malware
Works great with Netflix and many other streaming services
24/7 live chat support
Strong encryption and security features (audited)
– Cons
Limited support for VPN routers
Above average monthly prices
Surfshark VPN Coupon:

Get 82% off Surfshark VPN (drops the price down to $2.30 per month) plus 2 months FREE:
(Coupon is applied automatically.)
See our complete Surfshark VPN review for more details.
---
OVPN – Secure, private, and fast, with dedicated IP support
OVPN is a Swedish VPN provider founded in 2014 to provide reliable and trustworthy VPN services. They provide dedicated IP addresses, which they call Public IPv4 in a large number of locations around the world for only $4.00/month.
OVPN uses a multi-layered approach to safeguard user data and run their entire network on colocated (self-owned) bare-metal servers running in RAM-disk mode, with strong security and ample bandwidth. This VPN performed well in our tests and offers secure apps with built-in leak protection settings, including a full GUI Linux client. OVPN now has support for WireGuard built into its apps, and they finally have an iOS app too.
+ Pros
Designed for maximum user privacy and security
Dedicated apps for Windows, macOS, Linux, Android, iOS, and support for other devices
No IP address or DNS leaks detected
Support for streaming and torrenting
Lots of configuration options
Monthly transparency reports
Multiple payment methods including anonymous payments
– Cons
Small server network with few locations
Above average prices
See our complete OVPN review for more information.
---
TorGuard – Dedicated IP VPN with many locations
TorGuard is a well-known VPN service that offers reasonable speeds and dedicated IP addresses. It is a popular VPN for torrenting and offers extras like encrypted email services, proxies, and streaming bundles. While it performed well in all tests, it has the drawback of being based in the US, which isn't an ideal privacy jurisdiction as it is a member of the Five Eyes. However, TorGuard is a no-logs VPN provider with a great track record.
Below you can see the option for a dedicated IP right in the TorGuard VPN app. To use it, simply enable the Dedicated IP option, and then enter the dedicated IP address that you were assigned in your user panel. This will enable you to quickly and easily connect to your dedicated IP address directly within the VPN app.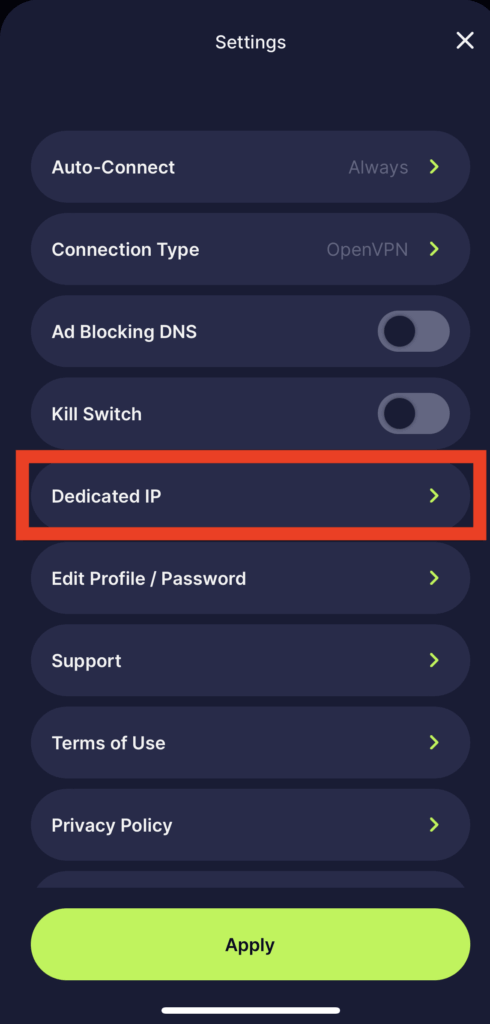 In our tests we found TorGuard to perform reasonably well — but there are some drawbacks. The VPN apps can be a bit clunky at times. We also found that it does not perform as fast as other leading VPNs, which you can see in the TorGuard vs NordVPN comparison.
TorGuard dedicated IP options
TorGuard offers a huge range of dedicated IP address options. They have three categories: Dedicated Regular IP, Dedicated Streaming IP, and Dedicated Regional IP addresses, with multiple individual locations under each category. If you are looking for the most dedicated IP options, this is the place to start.
However, you had better be prepared to pay. The prices of TorGuard's dedicated IP addresses range from $7.99 to $13.99 per month. That comes to between $96 and $168 per year on top of the TorGuard VPN subscription.
+ Pros
Strong encryption and security
Consistent speeds
Good leak protection settings
P2P torrents allowed
Apps for all major operating systems
– Cons
VPN apps are confusing and clunky
Based in the US (bad privacy jurisdiction)
Limited streaming support (unless you upgrade)
Short refund window
See our TorGuard review for more info.
---
Trust.Zone – A low-cost VPN for dedicated IP
Trust.Zone is a basic, privacy-focused VPN service based in Seychelles. In my review of Trust.Zone, I found the speeds to be fast on all servers tested. Trust.Zone offers direct support for Netflix streaming with different streaming hubs, and torrenting is allowed on all servers in the network.
Trust.Zone has secure VPN apps for Windows, iOS, and Android. Unfortunately, they do not offer a macOS VPN app at this time (see these best macOS VPNs for alternatives). Despite this, you can still use Trust.Zone with third-party apps, such as Tunnelblick.
One of the best advantages of Trust.Zone is that you can get a dedicated IP without breaking the bank. It may be the cheapest dedicated IP VPN you will find. There is also an exclusive discount code for Restore Privacy readers (see below).
Pricing for Trust.Zone dedicated IP addresses
Unlike some of the other dedicated IP VPNs in this guide, the cost of a Trust.Zone dedicated IP can vary depending on location. Here are some notes on prices:
Longer-duration plans will give you a bigger discount on dedicated IPs
Paying with Bitcoin will give you 10% off your dedicated IP addresses
Using the coupon code RESTOREPRIVACY10 will give you an additional 10% off the cost
Trust.Zone offers dedicated IP addresses with and without port forwarding. If you choose the two-year VPN subscription you can get a dedicated IP for as low as $1.78 per month, depending on the location you choose and whether or not you need port forwarding.
Note: Use the discount link and coupon code below to get an additional 10% off any subscription plan and dedicated IP address.
+ Pros
Competitive prices
Great speeds and reliability
Good leak protection settings
Free trial (no payment info required)
P2P torrents allowed
Dedicated IP addresses are available
Additional 10% discount with coupon code
– Cons
Limited on features
No custom VPN clients for Mac OS
Fewer Netflix regions are supported
See our Trust.Zone review for more details.
---
Should you get a dedicated IP VPN?
There are many different advantages and use cases for using a dedicated IP address through your VPN service. Here are some of those cases:
High-security access – High-security sites like banks may blacklist shared IP addresses as a security measure.
Web browsing – Some general websites block shared IP addresses to protect themselves against fraud.
Endless authentication requests – User authentication requests like Google's annoying reCAPTCHA are often triggered when numerous people are using the same IP address (the way most VPN connections work).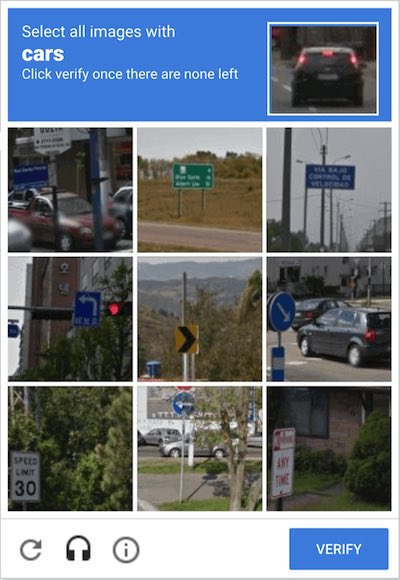 Streaming media access – Streaming services, such as Netflix, Amazon, and Hulu also block shared IP addresses. If they see numerous people accessing their services from the same IP, it will quickly get blocked (if it's not already on a blocklist). Aside from a dedicated IP address, there are also VPN services that implement various solutions to unlock all major streaming sites, including Netflix (see ExpressVPN for example).
Gaming – Gaming behind a shared IP address is often a problem, which will result in blocked access or constant authentication requests. A dedicated IP address through your VPN would likely solve this, as it won't trigger authentication. We discuss this more in our guide on the best VPNs for gaming.
Now let's take a quick look at some of the different static IP VPN services you may want to avoid – for various reasons.
5 Static IP VPNs that we don't recommend (and why)
There are a few other VPN providers that offer static IP addresses, but it may be best to avoid them at this time for the reasons discussed below.
1. PureVPN – PureVPN offers dedicated IP addresses, but it did very poorly in the PureVPN review. Some of the issues identified in the review were:
DNS leaks (this exposes your browsing history to third parties)
Slow speeds
Buggy apps
Connection problems with many servers
Another interesting development with PureVPN is that they were caught logging customer data and handing the information over to the FBI (US authorities). This all transpired despite PureVPN's "zero log policy." See the PureVPN logs article for details.
And aside from the logging incident, PureVPN also lags behind leading VPN services in performance, as you can see in the PureVPN vs NordVPN comparison.
2. Ivacy – Ivacy appears to be a re-branded (white label) version of PureVPN, based on some reports. The parent company looks to be Gaditek, which is based in Pakistan. Given PureVPN's history of cooperating with US authorities, it may also be best to avoid Ivacy.
3. CyberGhost – CyberGhost is a VPN service that is based in Romania and is now owned by a large conglomerate (Kape Technologies). Aside from all the performance problems I found in my CyberGhost review, there were also problems with accessing streaming sites. Lastly, there were also connection problems in tests for the CyberGhost vs NordVPN comparison.
4. VPN Unlimited – VPN Unlimited is a USA VPN service that offers dedicated IP addresses. Unfortunately, it did not do well in the VPN Unlimited review. Some of the issues identified were:
IP address leaks
Faulty kill switch (traffic exposed whenever switching servers)
Bad privacy policy
Based in USA (Five Eyes)
Slow speeds
5. Windscribe – Last up is Windscribe, a Canadian VPN. Overall, Windscribe isn't too bad, but it also was not recommended in my review, for the following reasons:
Slow speeds
Based in Canada (Five Eyes)
Contradictory "no logs" claims
Slow support
Our Windscribe review has more details. Additionally, in 2021, we wrote about a Windscribe security breach that put the VPN's user at risk of traffic surveillance. This is not a VPN we recommend using for any situation. There are just too many issues.
Now let's examine some disadvantages of using a dedicated IP address with your VPN.
Disadvantages of a dedicated IP VPN
We've covered the advantages and benefits of using a dedicated IP VPN service, but there are also some disadvantages.
Using a dedicated IP address with a VPN is indeed a double-edged sword.
When you have a dedicated IP address, only your traffic is associated with that address. Since your traffic is not being mixed in with other users, your online anonymity is reduced. One simple solution here is to only use the dedicated IP address when you need it, then use shared IP addresses (standard VPN connections) for everything else. You can accomplish this with any of the recommended VPNs above. You'll have the benefits of a dedicated IP when you need them, and the benefits of shared IP addresses the rest of the time.
Who needs a static IP address with a VPN?
Perhaps you want a VPN simply to hide your IP address. With a dedicated IP, you can not only hide your real IP address but appear to be the same person in the same location at all times.
With that being said, most people would only need a dedicated IP address if they have one of the issues below:
Not sharing an IP address with other "bad" users
Not getting blocked by websites
Not having to deal with authentication issues
Needing a secure access point for servers and other resources
Dedicated IP VPN Conclusion
OK, we've now covered all aspects of using a VPN with a dedicated IP address. We have also recommended five different VPNs that offer dedicated IP addresses. But one question remains:
Which of these dedicated IP VPNs is the best value?
Considering everything, the best value from all of these VPNs is NordVPN. It simply offers more features, faster speeds, and upgraded security over the competition. It continues to improve with new updates and features, including full support for the WireGuard VPN protocol.
You can also upgrade a NordVPN subscription to include other security and privacy products like a cross-platform password manager (NordPass) a data breach manager, and encrypted cloud storage (NordLocker).
If you want to test drive NordVPN, be sure to use the exclusive discount below to drop the price even more:
NordVPN Cyber Deal is Live:

Get 68% Off NordVPN (drops the price to $3.19 per month) plus 3 months FREE:
(Coupon is applied automatically.)
This concludes our review of the best dedicated IP VPN services in 2023. Stay safe online and happy browsing!
Related Articles:
This dedicated IP VPN guide was last updated on June 8, 2023.