NordVPN and HideMyAss (HMA VPN) are both popular services with many users around the world. Both of these VPNs have been operating for many years and have millions of subscribers. Our focus today, however, is which one comes out on top in this NordVPN vs HideMyAss comparison.
Based on the latest test results, NordVPN was the clear winner for 2023. In comparison to HMA VPN, NordVPN offers much faster speeds, better apps with more security features, it has a better track record, and it's also cheaper than HMA VPN when you use the discount coupon linked in the table below.
This table highlights the key facts about each VPN:
| | | |
| --- | --- | --- |
| | NordVPN | HMA VPN |
| Website | NordVPN.com | hidemyass.com |
| Location | Panama | United Kingdom |
| Servers | 5,200+ | 1,000+ |
| Countries | 59 | 210* |
| Logs | No logs (audited) | No logs** |
| Torrenting | All servers | Restricted |
| Support | Knowledge Base; 24/7 chat | Knowledge Base; email |
| Apps for | Windows, macOS, Linux, Android, iOS | Windows, macOS, Linux, Android, iOS |
| Price | $2.99 (with coupon) | $2.99 |
| Coupon | 69% Off NordVPN Coupon > | N/A |
* HideMyAss VPN relies heavily on the use of virtual server locations that are not in the claimed location. We tested this in the HideMyAss review and found that numerous servers in exotic locations were actually located somewhere else. This allows HMA VPN to claim an absurdly large number of locations (210) when the VPN does not truly have servers in these countries. Unlike with HideMyAss VPN, NordVPN does not use any virtual server locations.
** HideMyAss VPN claims to be a "no logs VPN" today — but it has a history of providing customer data to government law enforcement agencies, and this has been proven in the past via court documents.
This HideMyAss vs NordVPN guide will examine the following categories:
Company background and jurisdiction
Speed tests
Prices and Refunds
Features
Streaming and Torrenting
Security and Encryption
Privacy
These are the same categories we used in the HideMyAss vs ExpressVPN comparison. Will the HideMyAss team get better results this time around? Let's see.
Company background check
We tend to think that using a VPN prevents everyone from being able to see what we do online. However, we must always remember that we're trusting the VPN itself with our internet traffic. Consequently, we should put the VPN under a microscope first.
We have to be able to trust that our VPN service will protect us and not spy on our traffic. Here are quick background checks on the companies running NordVPN and HMA.
NordVPN background and jurisdiction
While NordVPN is run by a global team, the business itself is strategically based in Panama. Panama is a good jurisdiction for a VPN. The country is not a member of the 14 Eyes intelligence alliance or any other major intelligence organization that we know of. While the country does have friendly relations with the United States, it is generally considered to be safe from US and European influence.
Nord Security (a.k.a. NordSec or Nord), the company behind NordVPN, was established in 2012. As you can see, they have been around for a while, and have a good reputation, which has been further bolstered by security audits and no-logs audits. They also are behind NordPass, a secure password manager, and NordLocker, a secure cloud storage and encryption tool. All of these Nord products, including NordVPN, have passed independent security audits.
HMA background and jurisdiction
HideMyAss (which is also known by the names HMA and Hide My Ass) was founded 15 years ago in England. Its story is complex. In 2015, AVG acquired HMA. In 2016, Avast (a company registered in the Czech Republic) acquired AVG.
This is where things get weird. Despite being owned by a company based in the Czech Republic, Hide My Ass operates in England under the company name Privax Limited, with offices at 110 High Holborn, London, WC1V 6JS, United Kingdom.
And despite all the above, the HMA End User License Agreement specifically states that any disputes will be arbitrated in the United States, even though as far as we can tell the company has no presence of any sort in the United States.
It should be noted that the UK is an awful jurisdiction for privacy – and VPNs for that matter. The UK government requires telecoms to keep detailed usage logs of all their customers. This data is stored in government databases for a full two years under the Investigatory Powers Act. We do not recommend any VPN providers based in the UK because they will need to operate under these privacy-abusing laws.
ALERT: HMA caught logging its users
No background check of HMA is complete without discussing the case of HMA proving logs to authorities. In what became known as the LulzSec case, HMA provided logs to US authorities who were trying to catch someone who hacked Sony. With HideMyAss providing logs to the FBI, they were able to catch the HMA user. This is similar to the PureVPN logging case, which we covered in our PureVPN review. There was also the case of IPVanish logging users, which we examined in the IPVanish vs NordVPN comparison.
Against this background, we can see that in August 2020, HideMyAss announced that they had passed an audit of their no-logging policy by VerSprite. This is a positive step for the company, but I am still troubled by the rest of their story. Given the number of high-quality VPNs that do not have such a confusing background, you might want to look elsewhere if you value your privacy.
Background check winner: NordVPN
---
NordVPN vs HideMyAss speeds
Whatever else a VPN may or may not do for you, it must move data across the internet rapidly. For these NordVPN vs HideMyAss speed tests, we tested out each VPN using a 500 Mbps internet connection from our US lab.
First, we tested servers in the United States and then servers in the United Kingdom.
Test #1: Seattle
HideMyAss server in Seattle: 164 Mbps

These results are not horrible, but also not very fast. Let's see how NordVPN does.
NordVPN server in Seattle: 445 Mbps

This is more like it! Using a NordVPN server in Seattle resulted in a very low loss of performance. In fact, this is the fastest VPN speed test result we have gotten here on Restore Privacy.
Test #2: Los Angeles
HideMyAss server in Los Angeles: 153 Mbps

This is close to the previous HMA speed test result.
NordVPN server in Los Angeles: 304 Mbps

We see that NordVPN is still significantly faster than HideMyAss with this location, just as we saw in the NordVPN vs PureVPN comparison.
Note: We did not test out VPN servers in Canada, but we have a guide on the best VPNs for Canada here.
Test #3: United Kingdom
Let's try one more, the UK. This has always been a popular location for people using VPNs in the UK to avoid censorship and privacy issues.
HideMyAss server in the UK: 164 Mbps

This is on par with the other two locations.
NordVPN server in the UK: 295 Mbps

For the third time in a row, we see that NordVPN is significantly faster than HideMyAss VPN. This time NordVPN was about 131 Mbps faster than HMA VPN — a noticeable difference.
Overall, we see that NordVPN was the winner for speed in every location. We had the same results in our PIA vs NordVPN comparison.
Why is NordVPN faster than HideMyAss?
One of the biggest advantages that NordVPN had over HMA VPN is that it supports the WireGuard VPN protocol. This protocol is faster than OpenVPN and IPSec/IKEv2, which are what HideMyAss uses. WireGuard also incorporates upgraded security. If you want to use this protocol, check out either NordVPN or Surfshark, which both offer above-average performance.
Speed test winner: NordVPN
---
Prices and refunds
What about prices and refunds? Let's see how HMA VPN compares with NordVPN.
HMA price – As we noted in other reviews, HideMyAss has an unusual pricing structure. You can get a 7 day free trial, a one year (12 month) subscription, or a three year (36 month) subscription.
Note: HMA used to promote a monthly subscription. Now they don't make it obvious but it does still exist. You can find out more about this in the HMA VPN review. Here are the current HMA price plans: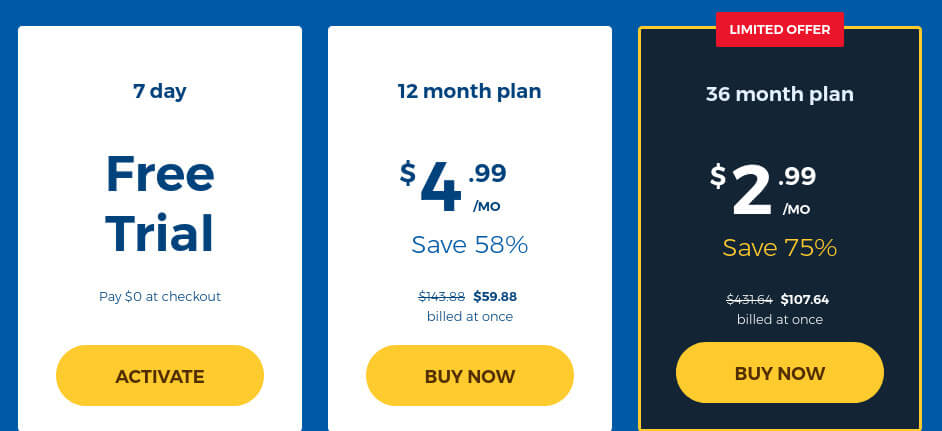 The pricing on HMA plans is good. If you are willing to sign up for their 36 month plan, HideMyAss qualifies as a cheap VPN. If you are looking for a budget VPN, you can find comparable pricing from NordVPN, Surfshark, and a few other VPN services.
One bonus with HMA is that it is a free trial VPN, with zero up-front cost.
HMA refund policy – In addition to the 7 day free trial you can get with the basic HMA plan, Hide My Ass offers a nice 30 day money-back guarantee on all their plans. We can't see anything to complain about with the HMA refund policy.
NordVPN price – Right now, you can get NordVPN's 2 year plan for $2.99, if you use this 69% discount coupon >>
Here are the discounted 2 year prices when you use the coupon link above: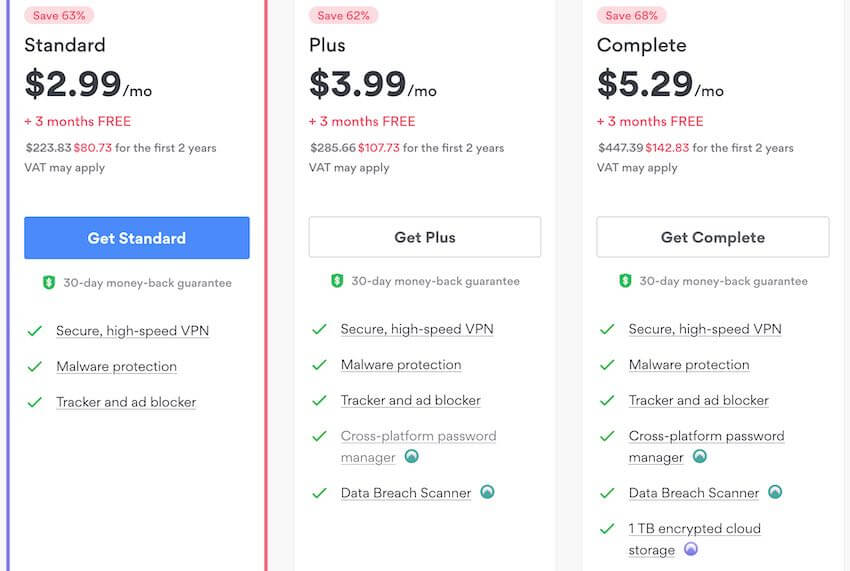 Note that there are actually three options here. The Standard option provides the full set of NordVPN features. The Plus and Complete plans add non-VPN features like a password manager and encrypted cloud storage at an additional cost. But all three give you the full technical capabilities of NordVPN itself.
Now let's examine the refund policy.
NordVPN refund policy – NordVPN gives you a nice 30 day money-back guarantee. This is on par with HMA.
Price and Refund Winner: With equal pricing and equal refund policies, this category is a tie.
See the latest deals with NordVPN here
---
Features: Is NordVPN or HMA better?
Let's see what the challenger brings to this feature set fight.
HMA does give you a set of user-friendly apps that use the OpenVPN and IPSec/IKEv2 protocols with AES 256-bit encryption. This is a strong combination and the kind of thing you want to see to securely handle your online activities. Here is the HMA Windows VPN app we tested: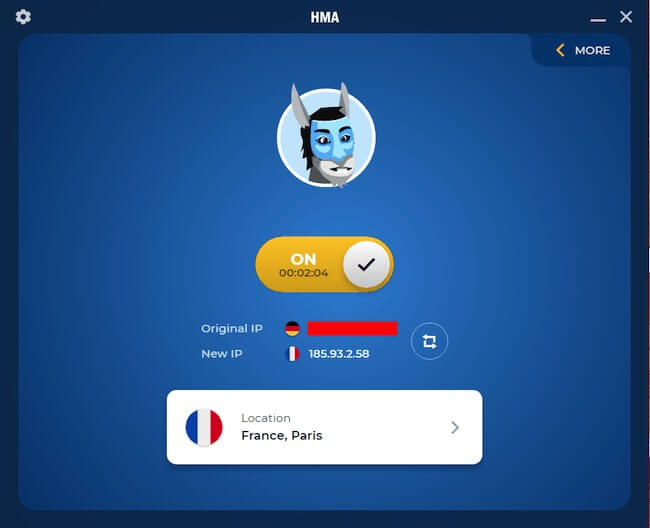 HMA also had a decent-sized VPN server network, with 1,100+ servers spread across over 290 locations in over 210 countries. This is great. However, it is important to realize that HMA uses a large number of virtual server locations. These are servers that are physically located in one place but use an IP address that makes it look like they are located somewhere else. We aren't clear on how many of those 210 countries have servers physically located in them as opposed to how many have only virtual server locations.
For those times when you have problems, HMA does provide live chat support. Unfortunately, chat support is only available 8:00 AM to 10:00 PM UK time, seven days a week.
And it is great to see that HideMyAss has transitioned to being a no-logs VPN, a fact confirmed through a third-party audit. This makes your privacy more secure until HMA decides to log users again.
More technical features of HMA include:
Smart kill switch and leak protection – These features prevent your data from getting onto the internet in unencrypted form.
Split-Tunneling – Control which apps or websites are protected by the VPN tunnel, and which are not. (Both Proton VPN and NordVPN also offer split tunneling.)
IP Shuffle – This feature changes your virtual IP address every few minutes to increase the difficulty for anyone trying to spy on you.
Now let's see what features NordVPN brings to the contest.
NordVPN offers a huge range of advanced features. It has user-friendly apps that use OpenVPN with AES 256-bit encryption. And it offers more apps for more physical devices than HMA. Here was the NordVPN Windows client we tested: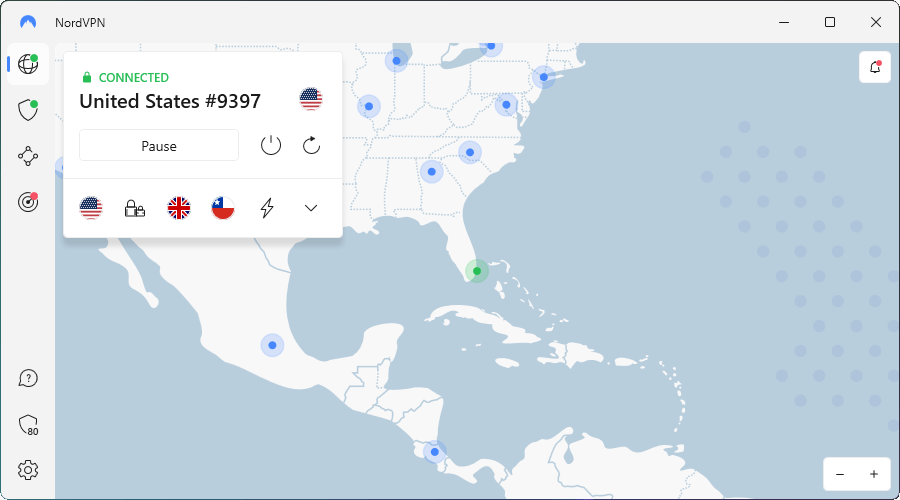 Like HideMyAss, NordVPN supports split tunneling on both desktop and mobile operating systems. We also see this feature with Surfshark and ExpressVPN.
Particularly impressive are the NordVPN specialty servers that cover a wide range of use cases:
A large set of P2P servers optimized for torrenting
Obfuscated servers designed to defeat internet censorship in countries like China.
Double-VPN servers pass your traffic through two VPNs, one after the other, for an extra layer of security.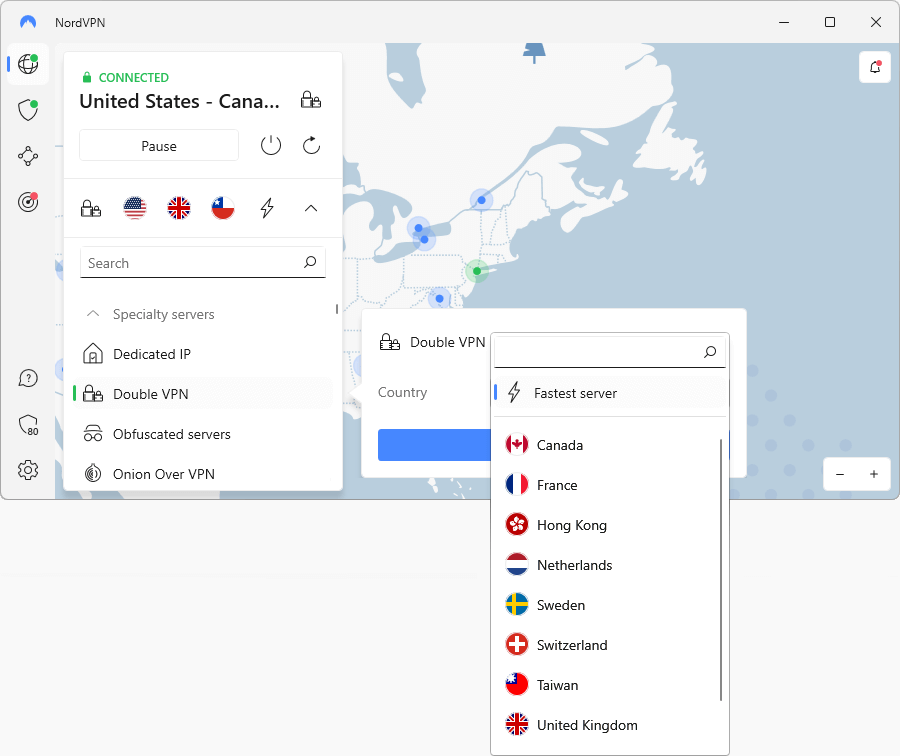 Then there's Threat Protection. NordVPN's Threat Protection feature blocks ads and trackers while also protecting your devices from malware and phishing domains. It can even scan downloaded documents for cyber threats before they can attack your system. Even more impressive is the fact that Threat Protection works even when you are not connected to a VPN server. Just turn it on as shown below to greatly boost the defenses of your devices.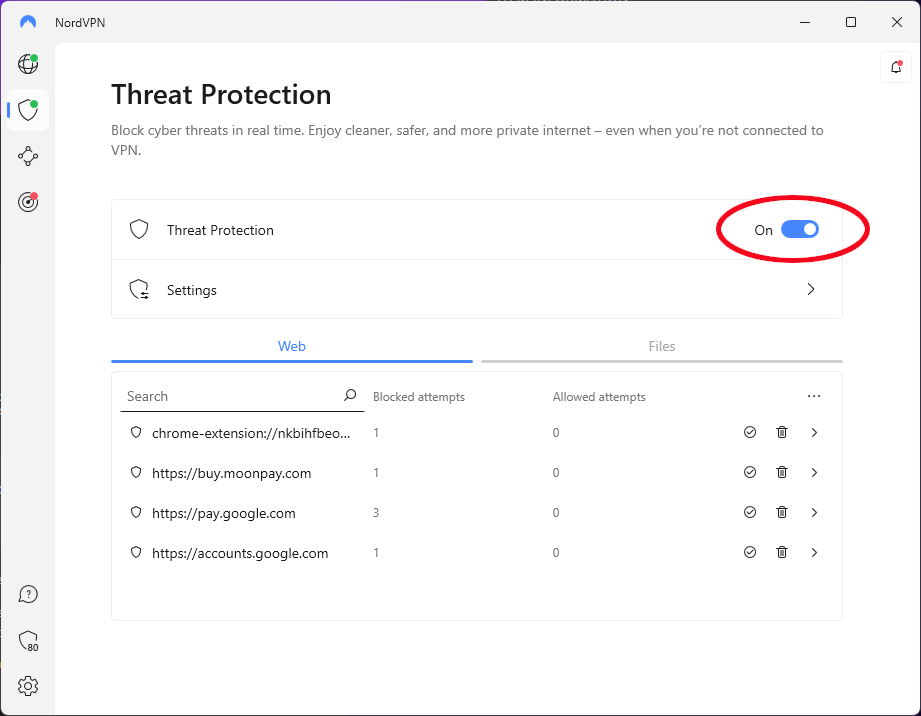 The full set of Threat Protection capabilities is available on NordVPN's Windows and macOS apps. Other apps and browser extensions include Threat Protection Lite, which delivers a subset of the Threat Protection capabilities.
Static IP Addresses – Another advantage of NordVPN over HideMyAss VPN is that NordVPN offers static IP addresses. A VPN with a static IP is useful in some cases, but it's also not for everyone (and it is an added cost).
While HideMyAss offers some good features, it is simply overpowered by what NordVPN brings to the table.
Features winner: NordVPN
---
Streaming and Torrenting comparison
Do you want a VPN for streaming videos or torrenting? Is either of these VPN providers up to that challenge?
Streaming comparison
Streaming media is definitely a major use of VPNs. Hundreds of millions of people use a VPN to watch Netflix or to stream shows from other streaming media services. For example, using a VPN for BBC iPlayer is a popular activity. Many of the best VPNs work hard on this aspect of their service, giving users full access to streaming media sources around the world.
Hide My Ass – In our testing, HideMyAss has a tough time with streaming. First, we were not able to unlock Netflix libraries for the US or UK regions. This is a major drawback that puts HMA out of the running for the best Netflix VPN.
Next, we also ran into problems when trying to use HMA servers in the UK to access BBC iPlayer. Here's what that looked like: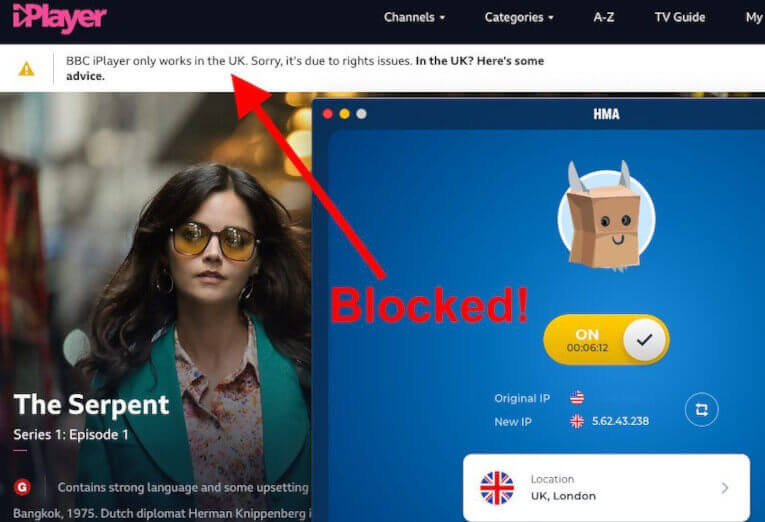 In our extensive tests, HMA is simply not a good VPN for streaming. And if you want to change Netflix regions, it's also not a good option.
While it can unblock websites, HMA struggles with advanced geo-blocking that we find with streaming platforms. Worse, in our last round of testing, we found that HMA couldn't stream most of the other major services worldwide. In short, it's not a good VPN for Hulu and most other services.
Combine these facts with the slow download speeds demonstrated by HideMyAss in our recent testing, and we have a hard time recommending them to anyone who likes to stream media.
NordVPN – NordVPN does a great job of streaming Netflix. No matter where you are located in the world, you'll have access to 15+ Netflix libraries through NordVPN servers. Below I'm streaming US Netflix with a NordVPN server in Washington: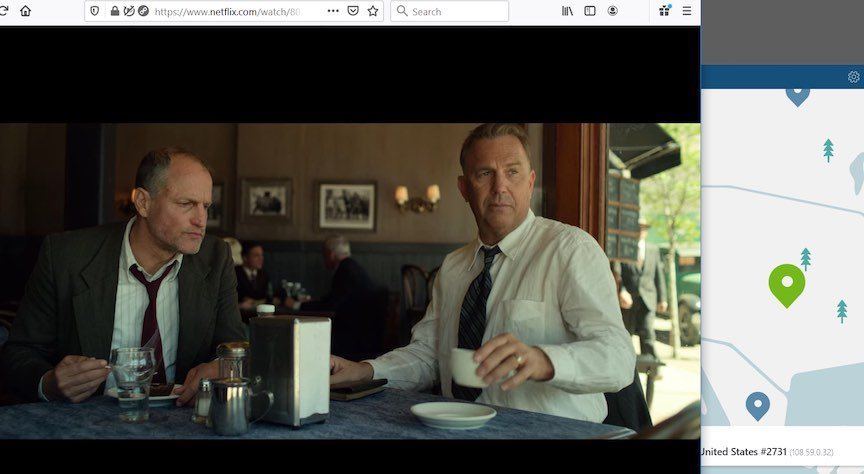 NordVPN works with many Netflix regions around the world, including: the US, UK, Canada, Australia, France, Germany, Finland, Italy, Netherlands, Spain, Brazil, Japan, India, and Korea. Beyond that, it is a great VPN for Amazon Prime, Hulu, Roku, BBC iPlayer, and more.
Much faster and more capable of connecting to more streaming media sources, NordVPN clearly is better than HMA for streaming.
Torrenting: Is NordVPN or HideMyAss better?
Torrenting requires different characteristics than streaming, so maybe HideMyAss can gain ground here. For downloading torrents, the most important characteristics are speed and leak protection.
NordVPN is one of the fastest VPNs in the world, and their leak protection is excellent. We rated it the best VPN for torrenting in recent testing.
HideMyAss can't keep up on the speed front, and we don't consider their leak protection to be as good as NordVPN's.
We also like the dedicated P2P servers, which we find in both NordVPN and CyberGhost.
We have to take NordVPN over HMA here too.
Streaming and Torrenting winner: NordVPN
---
Security and Encryption
When it comes to security, NordVPN passed all our tests with flying colors (hit this link to see our VPN test guide).
HMA had some issues. Their kill switch was a bit unreliable, and we ran into occasional IP address leaks.
NordVPN is the clear winner in this area.
VPN Encryption
NordVPN and HMA offer comparable levels of encryption:
HMA: AES-256-GCM cipher, SHA-256 hash authentication, and a 4096-bit RSA key.
NordVPN: AES-256 and ChaCha20, SHA-256 hash authentication, and a 4096-bit RSA key exchange.
NordVPN's NordLynx protocol incorporates the WireGuard VPN protocol and its advanced encryption. For non-WireGuard use, NordVPN and HMA basically offer the same levels of encryption and both are secure.
Security audits
NordVPN has undergone the following third-party audits:
An audit of their no-logs policy, conducted by PricewaterhouseCoopers AG Switzerland.
A more recent in-depth assurance audit confirming their no-logs policy on regular servers as well as obfuscated, Double VPN, and P2P servers, again conducted by PricewaterhouseCoopers.
An app and infrastructure security audit conducted by VerSprite.
HideMyAss completed an audit by Versprite to verify their no-logs claims.
Hide My Ass is to be commended for getting their no-logs policy audited. Few VPNs have done this. Unfortunately for HMA, NordVPN has gone above and beyond with their security auditing and has to get the nod for this.
VPN server security
Unlike HideMyAss, NordVPN runs all servers in volatile RAM memory, without any hard drives. Eliminating hard drives from servers eliminates the security risks that come up when a VPN server is physically seized. As soon as a diskless server loses power, all data on them is gone. Going diskless is the strongest level of server security currently available.
NordVPN is also in the process of deploying colocated (self-owned) servers for all locations. These will replace servers that are rented from data centers and give NordVPN full control over all hardware. In comparison, HideMyAss does not have colocated servers and relies on rental servers.
Security winner: NordVPN
---
Privacy: HMA vs NordVPN
Which VPN service is better at protecting your privacy: HMA or NordVPN?
HMA – Two things about HideMyAss make us nervous about the privacy they provide their users.
They have turned over user data to the FBI in the past. This is less troubling now that they have converted themselves to a no-logs VPN, but still, it really erodes trust.
HMA operates under UK law, which means they must comply with all UK laws and regulations. The problem with being a UK company is that the UK is a member of the 5 Eyes surveillance alliance, a group of countries conducting surveillance on the world and each other. The UK is not a safe place to be operating a VPN service.
NordVPN – They are based in Panama. Panama is not a member of any international intelligence organization that we know of and is considered to be a good location for a VPN or other pro-privacy service.
NordVPN has also undergone two separate third-party audits that verified its compliance with the no-logs privacy policy.
Privacy winner: NordVPN
---
Conclusion: NordVPN is the winner for 2023
HMA definitely has some positive points. And it seems to be going in the right direction with a no-logs audit and better pricing, but it is simply overwhelmed by NordVPN. NordVPN came out ahead in all categories tested except price and refunds:
Company background and jurisdiction: NordVPN
Speed tests: NordVPN
Price and Refunds: Tie
Features: NordVPN
Streaming and Torrenting: NordVPN
Security and Encryption: NordVPN
Privacy: NordVPN
If you are looking for a general-purpose VPN, there is no question that NordVPN is the winner. However, there are many different use cases for VPNs, so we can't say that HMA is a VPN that should be avoided by everybody. But just consider the value and which service best fulfills the criteria important to you.
Note: If you want to test drive NordVPN, get the best prices with the discount below:
NordVPN's Cyber Deal is live:

Get 69% Off NordVPN with the coupon below plus 3 months FREE, no activation code needed:
(Coupon is applied automatically; 30 day money-back guarantee.)
If you want to consider a few more quality options, check out our best VPN services guide.
There is also a VPN coupons guide if you are looking to save money.
Related Articles:
Have you used either NordVPN or HMA VPN? If so, leave your experience below in the comments to help others.
This NordVPN vs HideMyAss HMA VPN comparison was last updated on January 7, 2023.