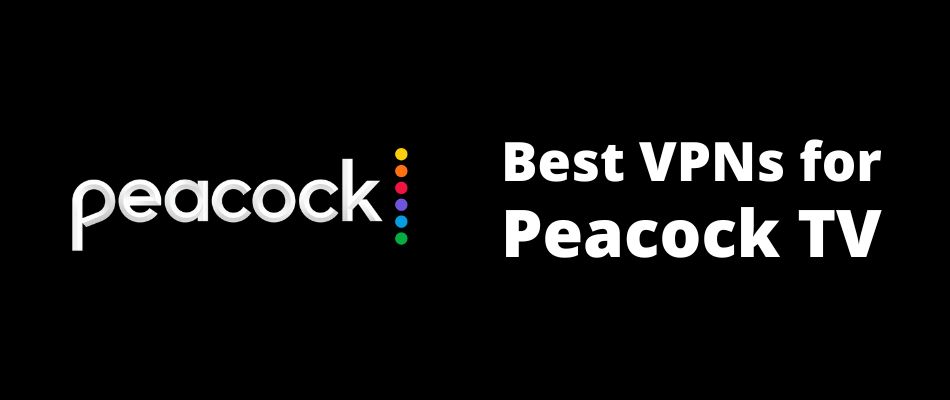 This guide will cover the best VPN services for Peacock TV and how to easily use a VPN to stream Peacock TV from anywhere in the world.
With 1000+ shows and movies, Peacock TV is one of the most popular free streaming services around. It offers a variety of content, ranging from Dreamworks Animation to NBC movies, as well as hit shows like Parks and Rec, and SNL.
However, under most circumstances, you can only access Peacock TV from the US. If you try to watch it from anywhere else, you'll get a message that the service is unavailable (but there is an easy fix).
This happens because various licensing laws prevent the full distribution of popular shows. However, it is possible to bypass geo-blocking and start streaming Peacock TV shows, with a premium VPN (virtual private network) service.

While VPN services are perfectly legal and also reliable, it can be hard for casual users to find the ones that are worth their time. So, we've tested dozens of VPNs and found three premium services that surpassed our expectations.
These VPNs will allow you to easily watch Peacock TV from anywhere in the world and offer a large selection of secure, fast, and reliable VPN servers.

---

---

---
How to watch Peacock TV [Quick Guide]
VPN's main job is to give you anonymity and privacy by encrypting your internet traffic and hiding your IP address. That way, your real identity and location are hidden and you will be able to access content from wherever there is a VPN server.
When you connect to a VPN server in the US, you will have a US IP address and appear to be located in the United States. This gives you full access to watch Peacock TV from anywhere in the world. All you need is a good VPN service and follow the steps below.
You can set this up in under 10 minutes, just follow these steps.
Get a premium VPN service.
For the best results, we recommend NordVPN (use this 68% off coupon).
Install and launch the VPN on your streaming device (computer, tablet, etc.).
All of the services we've mentioned are available on most streaming devices.
Connect to a VPN server in the US.
For the best performance, pick the one that's the closest to your location. (For example, if you are in the UK, a server in New York would be better than one in Los Angeles.)
Go to Peacock TV and begin watching great shows and movies.
Criteria we used for finding the best VPNs for Peacock TV
After you test many VPNs, you'll notice that there is a pattern to their excellence. All of the top premium services are:
Consistently updated and secure
Available on nearly every modern device
Armed with a fast, reliable, and safe network of servers around the world
Come with 24/7 live chat support from technical professionals
Have advanced features that will improve your privacy and security
As you will see, each service on our list shares these features. Let's cover them in depth.
NordVPN – The best VPN for PeacockTV
| | |
| --- | --- |
| VPN | NordVPN |
| Based in | Panama |
| Logs | No logs (audited) |
| Price | $3.19/mo. |
| Support | 24/7 live chat |
| Refund | 30 days |
| Website | NordVPN.com |
We found that NordVPN is currently the best premium VPN for streaming Peacock TV. It has over 1900 US servers, which are all fast and reliable. They are strategically placed in key locations such as LA, Atlanta, and New York, so you'll be able to stream Peacock TV in 4K, provided you have a solid connection.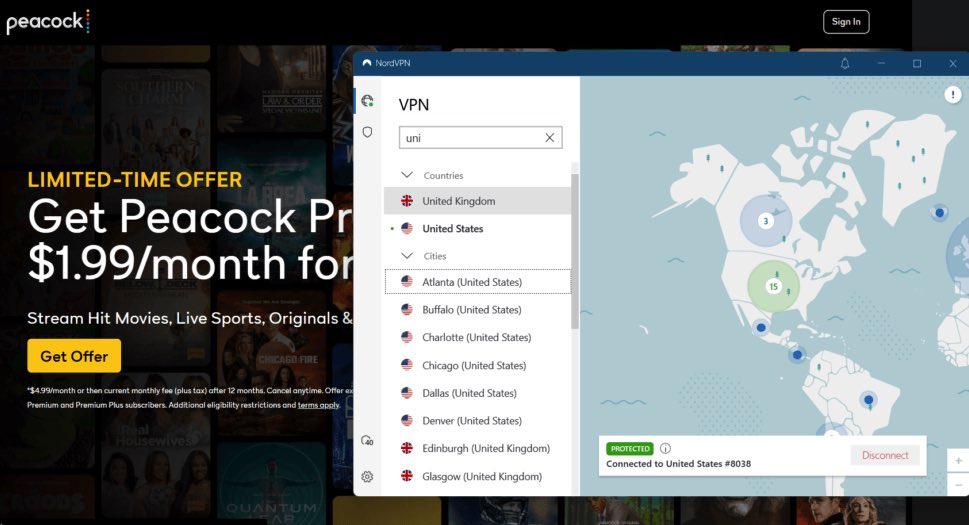 It's not a stretch to say that NordVPN is one of the fastest VPNs available. This is because it implements NordLynx, an improved version of the Wireguard VPN protocol. With it, you'll get strong encryption and an instant server connection, no matter where you are located.
We've decided to test NordVPN and found that, compared to other premium VPNs, it does have the upper hand. It went beyond our expectations, achieving a download speed of 445 Mbps when connecting to a VPN server in Seattle. To see more results, you can check out our NordVPN vs ExpressVPN article.

These speeds are excellent for streaming. NordVPN is a VPN that works with Hulu, BBC iPlayer, Amazon Prime, Disney Plus, Netflix, and many other services. It supports numerous types of streaming platforms, computers, phones, routers, and tablets (currently the best VPN for iPad).
NordVPN also excels in the areas of privacy and security. Since NordVPN is based in Panama it can implement a no-logs policy and not be forced to collect user data. Additionally, NordVPN has passed independent audits that have certified its no logs VPN status and also security qualifications.
Basically, this policy guarantees that NordVPN won't collect or retain any user data. Since all of their servers are run on RAM, there's no way for them to store any of the information that could compromise users.
NordVPN privacy features
Dedicated IP address – Provides you with an exclusive IP, so that you get the fastest speed available
VPN proxy extension – A lightweight version of NordVPN that you can run directly from the browser (for more info, check best VPNs for Chrome)
Double-VPN servers – By using this feature, your traffic will be routed through 2 servers. Double-VPN will give you more safety, but you will sacrifice some speed.
Threat protection – Scans downloaded files, blocks trackers and ads, gets rid of malware
Onion-Over-VPN servers – In combination with Tor, NordVPN will bring you the safest browsing experience. We wouldn't use this for streaming Peacock TV since it will considerably slow your download speed.
Privacy and speed provided by NordVPN won't amount to much without a good interface and customer support. Luckily the user interface is intuitive, and customer service is available 24/7 over live chat on their website. If you are still skeptical, rest assured that there is a 30-day refund guarantee, in case you're disappointed.
+ Pros
User-friendly and reliable apps
Double-VPN and Tor-over-VPN servers
Passed numerous 3rd-party audits
Strong encryption standards with full support for WireGuard
Works with Netflix and many streaming sites
Threat Protection feature to block ads, trackers, and malware
Professional 24/7 live chat support
Consistently fast speeds
Dedicated RAM-servers with 10 Gbps bandwidth channels
– Cons
Big discounts only available with 2-year plans
NordVPN's Cyber Deal is live:

Get 68% Off NordVPN with the coupon below plus 3 months FREE, no activation code needed:
(Coupon is applied automatically; 30 day money-back guarantee.)
We've also done a comprehensive NordVPN review that will answer any remaining questions.
---
Surfshark – A budget VPN to stream Peacock TV
| | |
| --- | --- |
| VPN | Surfshark |
| Based in | The Netherlands |
| Logs | No logs |
| Price | $2.30/mo. |
| Support | 24/7 live chat |
| Refund | 30 days |
| Website | Surfshark.com |
As another alternative for streaming Peacock TV, we have a young and cheap VPN service from the Netherlands. Surfshark was founded in 2018, and it only took a few years for it to be recognized as one of the best premium VPNs. It can easily unblock numerous streaming sites, including Peacock TV, without issues.
Surfshark has over 600 servers in the US alone, which are located in major metropolitan areas like New York, Portland, and LA. Aside from being reliable, they offer fast speeds and operate exclusively in RAM mode. Surfshark also uses an advanced 256-bit AES encryption to further strengthen your privacy while you stream Peacock TV.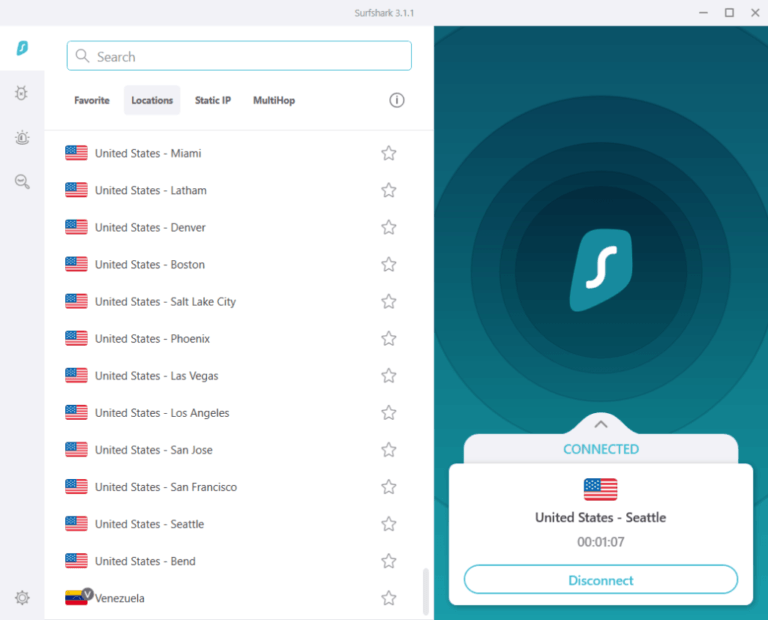 In terms of streaming, Surfshark is one of the best VPNs for Netflix and can unblock numerous regions around the world. It is also a great VPN for BBC iPlayer and consistently works well. Surfshark's large network of servers around the world makes it a great option for all types of streaming.
Surfshark also offers reliable VPN apps for all types of devices from computers to tablets, phones, routers, and various streaming devices. Whether you are using a VPN for Mac or streaming movies on your Android device, Surfshark has you covered. There's also a powerful browser extension that has been audited by the Cure53 cybersecurity company.
Surfshark's advanced features
Clean Web – Stops ads, trackers, and malware attacks
Double-VPN servers – Gives you an extra layer of encryption
Obfuscation – Hide the fact that you are using a VPN from your internet service provider by making your data look like regular HTTPS traffic. This is a great tool if you need a VPN for UAE or China, where VPNs are often blocked.
Split tunneling – Let some of your apps bypass the VPN and connect directly to the Internet. Split tunneling VPNs are very useful.
WireGuard support – Surfshark is compatible with one of the fastest VPN protocols on the market. With it, you can easily watch Peacock TV shows in 4K, if available.
What makes Surfshark really popular is its affordability. With a single subscription, you will be able to connect an unlimited number of devices simultaneously. This is a deal you won't get with the other two services.
+ Pros
Unlimited connections
User-friendly apps for all devices and operating systems
CleanWeb feature to block ads, trackers, and malware
Works great with Netflix and many other streaming services
24/7 live chat support
Strong encryption and security features (audited)
– Cons
Limited support for VPN routers
Above average monthly prices
Surfshark VPN Coupon:

Get 82% off Surfshark VPN (drops the price down to $2.30 per month) plus 2 months FREE:
(Coupon is applied automatically.)
Take a deep dive by reading our detailed Surfshark VPN review.
---
ExpressVPN – A solid VPN to unblock Peacock TV from anywhere
| | |
| --- | --- |
| VPN | ExpressVPN |
| Based in | British Virgin Islands |
| Logs | No logs (audited) |
| Price | $6.67/mo. |
| Support | 24/7 live chat |
| Refund | 30 days |
| Website | ExpressVPN.com |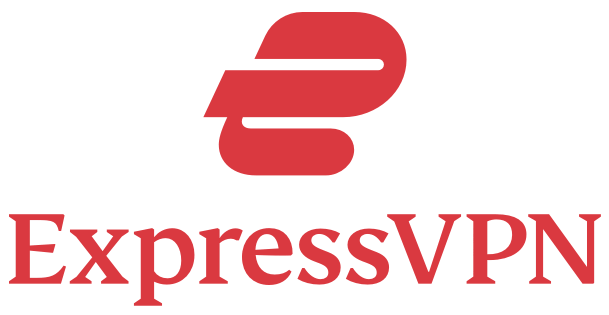 The last service on our list is one of the oldest as well. Over the years, ExpressVPN has built a network of 3,000+ fast servers in 94 countries around the world. The company is based in the British Virgin Islands and has a strong track record that also includes passing third-party security audits.
With ExpressVPN, you will also get speed along with privacy, thanks to their VPN protocol which is called Lightway. It can go toe-to-toe with Wireguard, as you can see in the Surfshark vs ExpressVPN comparison, and it completely overshadows the old OpenVPN protocol that is still used by the majority of VPN providers.
ExpressVPN is available on nearly every modern device, from PCs and mobile devices to Linux, routers, and Amazon Fire TVs. Furthermore, there is a browser extension for Firefox, Edge, and Chrome (making it one of the best VPNs for Chrome). Better yet, you can run the service on up to five devices at the same time. This is great news if you want to stream Peacock TV from multiple screens.
The app also works great with other streaming services. It is one of our top VPNs for Netflix, and we use it to connect to different regions and unlock additional content. You can also use this VPN for Hulu as it can quickly bypass its restrictions. And like NordVPN and Surfshark, ExpressVPN is also one of the best VPNs for Firestick with a dedicated app for streaming.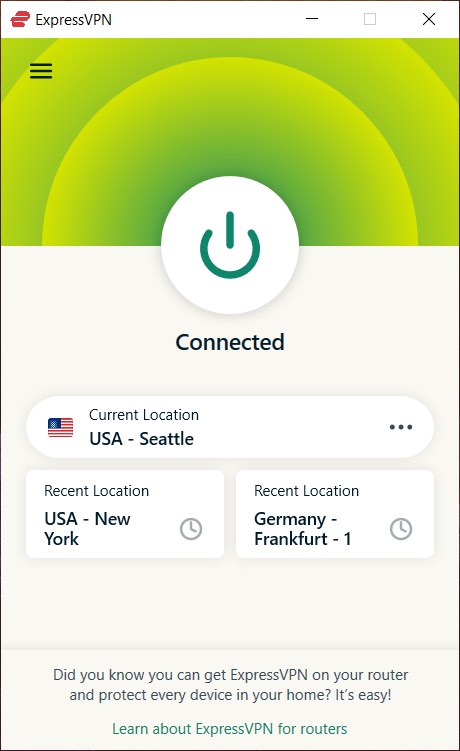 ExpressVPNs privacy and security features
Kill Switch – If your VPN connection becomes compromised, Kill Switch will disconnect you from the web. That way, your identity and safety will be protected.
Device Groups – Allows you to connect each device to a different server simultaneously.
MediaStreamer – A DNS service that will improve your streaming experiences on devices that don't directly support VPN, such as gaming consoles.
Threat Manager – This feature will block ads and trackers that are hidden in mobile apps
Split Tunneling
+ Pros
User-friendly and secure apps
Split tunneling feature (for macOS, Windows, and routers)
Works with Netflix and most streaming services
24/7 live chat support
Passed independent third-party audits for security and no-logs
Very large server network
– Cons
Above-average prices
Fewer features
Average OpenVPN speeds (use Lightway)
ExpressVPN Coupon:

Sign up for the 12-month plan and get 3 months added to your subscription for free.
(Coupon is applied automatically.)
Find out more about the service in our ExpressVPN review.
---
With so many people using VPNs for streaming, we have covered many streaming topics here at RestorePrivacy.
Overall, the directions are basically the same for unblocking content. The key ingredient is a good VPN with a large network of fast and reliable servers that can get access to streaming websites.
How to watch Peacock TV shows [In-Depth Guide]
Now, we'll give you detailed step-by-step instructions on how to start streaming Peacock TV from anywhere in the world. This process will work on nearly every modern device.
1. Subscribe to a premium VPN service
While NordVPN is currently the best choice, Surfshark and ExpressVPN still do a great job. They all have huge US server networks and are user-friendly.
2. Download and run your VPN
All of the best VPNs for Peacock TV work on smartphones, iOS, PCs, and other modern devices.
Note: If you want to watch Peacock TV from an Android or iPhone, you will need to modify your app store location, so that it's set to the US. We'll show you how to do this just on iPhone, as the Android guide would be nearly identical.
Visit Settings > Profile > Media and Purchases > View Account.
Verify your identity by entering a password or using a Touch ID.
Go to Country/Region > Change Country or Region and select United States.
After scrolling through the terms and conditions, you'll need to provide a US address and phone number. This generator will be helpful. Click Done to confirm the changes.
Whether you need the best VPN for Android or iPhone, any of our recommended options above will work well for you.
3. Connect to a US server
You'll get the fastest speeds by choosing a server that's closest to your physical location.
4. Visit Peacock TV and create an account
You can sign up for free even without a credit card. Alternatively, you can download a Peacock TV app from Google Play Store, App Store, or Microsoft Store.
5. Use your VPN to stream Peacock TV
Peacock TV subscription plans
Once you have a VPN and can get access, you will need to decide on a Peacock TV subscription plan. Here are your options: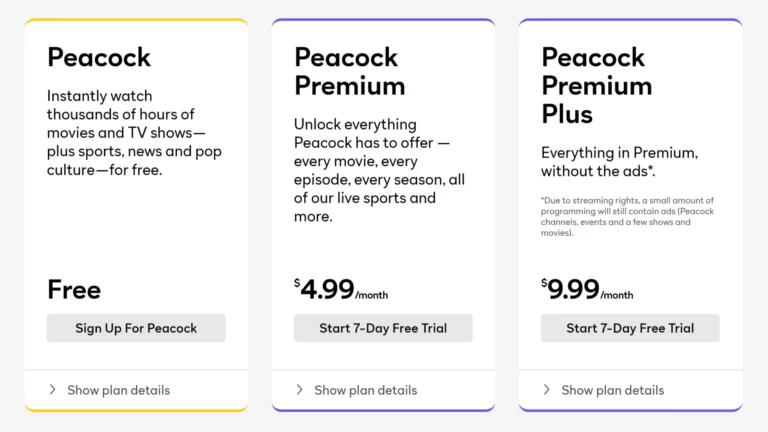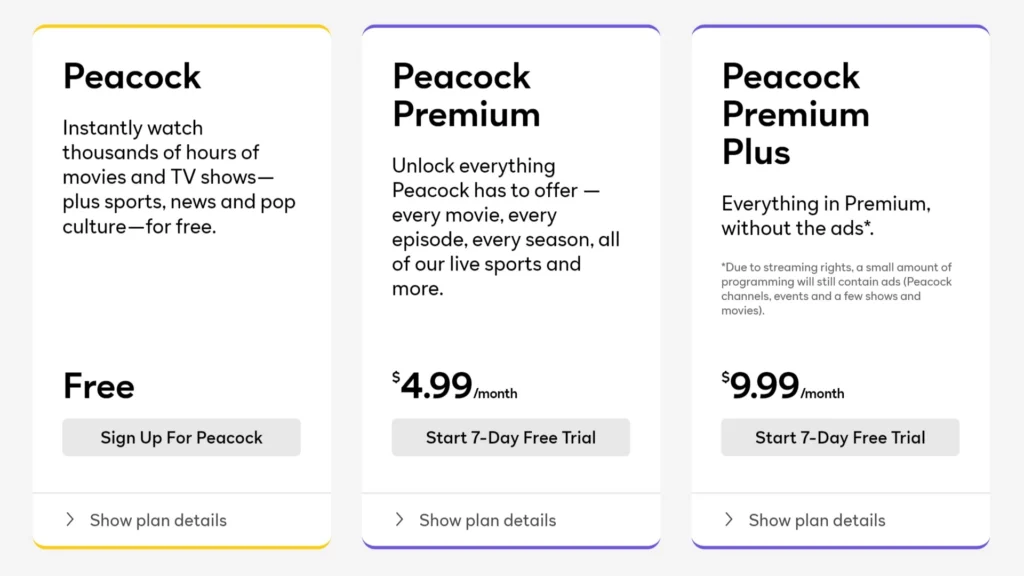 1. Peacock (Free)
1000+ hours of content
Exclusive Peacock channels including sports, pop culture, and daily news
Kid shows
Telemundo channel
2. Peacock Premium ($4.99/month)
Includes everything in the free plan along with:
Live sports
Peacock Originals
Access to popular NBC shows
Unrestricted access to movies, cartoons, and TV shows
3. Peacock Premium Plus ($9.99/month)
This option lets you watch Peacock TV without any ads and download content to watch later offline.
Note: In our guide on the best VPNs for NBA League Pass, we noted how buying a subscription to League Pass from another country can save you money. This does not appear to be the case with Peacock TV.
How to buy a Peacock TV subscription?
If you decide to get a paid plan, there are a few more steps you'll need to take. This is because Peacock TV requires that you use a US credit card for payment. If you don't do this, the service will notice that you are not a US resident and block the transaction. Luckily, there are two alternative methods that you can use.
1. Get a virtual payment card
Many online services let you buy a digital prepaid card that will work in the United States. The best one we've found is called StatesCard. This is how to set it all up.
Run your VPN and connect to a server in the United States
Create a StatesCard account – Sign-up is straightforward, but you'll have to send a picture of your ID, a passport, or a driver's license to verify your identity.
Send funds – You can transfer money from your credit card or use PayPal. Once sent, your funds will become available in a few minutes.
Sign up to Peacock TV – When you reach the payment section, copy the zip code and credit card details from your StatesCard account. Select the subscription you want and pay for it.
Enjoy Peacock Premium or Premium+
2. Buy a gift card
If you are using an Apple device, it's more convenient to get a gift card to start streaming Peacock TV. All you need to do is …
Start your premium VPN – We would recommend that you use NordVPN.
Connect to a US server
Make a new Apple ID – Make sure to enter a US address while signing up.
Purchase an Apple gift card – You can choose between a card with $25, $50, or $100. Once bought, it will be instantly delivered to your e-mail address. Besides using them for purchasing a Peacock TV subscription, an Apple gift card will let you buy music on iTunes, apps on the App Store, and much more.
Use your Apple ID to redeem the card
Download the Peacock TV app from the Apple Store – Make sure to select Premium or Premium plan.
Use your VPN to stream Peacock TV!
My VPN doesn't let me stream Peacock TV
As mentioned, streaming sites are doing their best to block VPN services from accessing their website. Peacock TV also has algorithms built to detect unusual traffic and block suspicious server domains. If you can't stream Peacock TV shows, this might be because …
1. Your IP is compromised
To solve this, visit VPN settings and make sure that Leak protection is active.
2. Tracker cookies show your true location
You can fix this by clearing the cache and cookies from your browser. However, this process will also remove all of your preferences and passwords, so you should copy them to your Notepad. If you are still having problems, try using another browser.
3. GPS location and your new IP aren't in sync
Services like ExpressVPN or NordVPN will do this on their own, but many VPN apps require that you manually change the location of your device.
While these are the most likely scenarios, there are many more you can consider. This guide will help you test your VPN and find out where your problem lies. If everything fails, you'll want to switch to a different VPN service.
How to stream Peacock TV on devices that don't support VPN?
Whether accidentally or on purpose, some gadgets don't let you install a VPN. However, you can circumvent this by getting a VPN router, which are inexpensive and pretty easy to set up. This VPN router guide gives you step-by-step instructions, as well as some recommendations.
We also found great VPN routers for Apple TV.
Can I use a free VPN to stream Peacock TV?
By doing a quick Google search, you will find that there are plenty of VPNs that are free of charge. So why then, you ask, should I spend my money on a premium service?
While you may be tempted to save some bucks, there are plenty of reasons why you shouldn't use a free VPN.
Since they lack funding, free VPNs have to impose limits on their users. Lack of servers, slow download speeds, and limited bandwidth are some of the most common problems. When combined, they will most likely translate to a terrible streaming experience.
If you find a way to watch Peacock TV, you can expect lower video quality and constant stuttering. You might manage to stream a few episodes of your favorite TV show without problems, but pretty soon you will hit your bandwidth limit. You will have to wait for a full month to continue watching, which is frustrating.
The streaming experience is completely different if you are using a premium VPN. Since they earn a lot of money, they can invest in developing better privacy tools, building more servers worldwide, creating new VPN protocols, and more.
Premium VPNs also possess massive backlogs of IP addresses they can use to avoid being blacklisted from streaming services. This is an important feature where most of free services are lacking, so they frequently stop working on popular streaming sites like Peacock TV, Hulu, or Netflix.
However, free VPNs aren't just disappointing …
Risks that come with free VPNs
The worst part isn't their limited service due to low funds, it's the danger they pose to their own users. In a comprehensive analysis of more than 270 free VPNs, many alarming things came to the surface:
More than 84% of free VPNs have weak or no encryption, and leak user IP
75% of free VPNs use 3rd party tracking libraries
Over 38% of free VPNs are infected with malware
While they are marketed as services that enhance privacy and security, most of them do anything but. Instead, free VPNs act like a Trojan Horse – under the guise of security, they infect you with malware and steal your sensitive information to sell it to advertising companies.
However, not everything is so grim. Amongst these malicious apps, there are still a few free VPNs that do their job with no strings attached. While they might not win against premium services, they're still free and, most importantly, safe.
Devices that support Peacock TV
Apple TV – requires fourth generation model (4K) with tvOS 13 and up
Amazon Fire TV and Fire Tablet – with at least Fire OS 6
Android phones – OS 5.1 and above
Apple devices
Mac
PC
PlayStation 4, PlayStation 5
Roku
Smart TV
Xbox One, Xbox Series X/S
What can I stream on Peacock TV?
Choosing from 1000+ titles can feel overwhelming to anyone. Here are our recommendations:
Peacock TV Movies
Harry Potter
The Blues Brothers
Jason Bourne
Dazed and Confused
Peacock TV Series
This is Us
Law and Order
Frasier
Yellowstone
Downtown Abbey
Love Island
Live Sports (requires Peacock Premium)
Peacock TV also lets you stream popular sporting events.
Beijing Winter Olympics
Tour de France
EPL
MLB
NFL
Premier League
World Figure Skating Championship
WWE
Upcoming Shows and Movies
The Calling
She Said
Leopard Skin
Irreverent
Pounding Instincts
Once Upon a Time in Londongrad
The Life We Share
Best VPNs for Peacock TV FAQ

Can I watch Peacock TV for free?


Yes. There are 3 subscription plans to choose from: free, premium, and premium+.


Is Peacock TV free with Amazon Prime?


Unfortunately no. Peacock TV is an entirely separate streaming platform that doesn't have a deal with Amazon.

Can I stream live NBC with Peacock TV?


Peacock TV offers live streams of popular sports and talk shows that NBC has to offer. Unfortunately, a good chunk of the NBCs library is still unavailable.


Can I watch Peacock TV outside of the US?


While Peacock TV is only available to US residents, you can use a premium VPN service to start streaming from abroad.


Is it legal to use a VPN to stream Peacock TV?


Yes, using a VPN service for streaming is completely legal.

This guide on the best VPNs for Peacock TV was last edited on December 30, 2022.