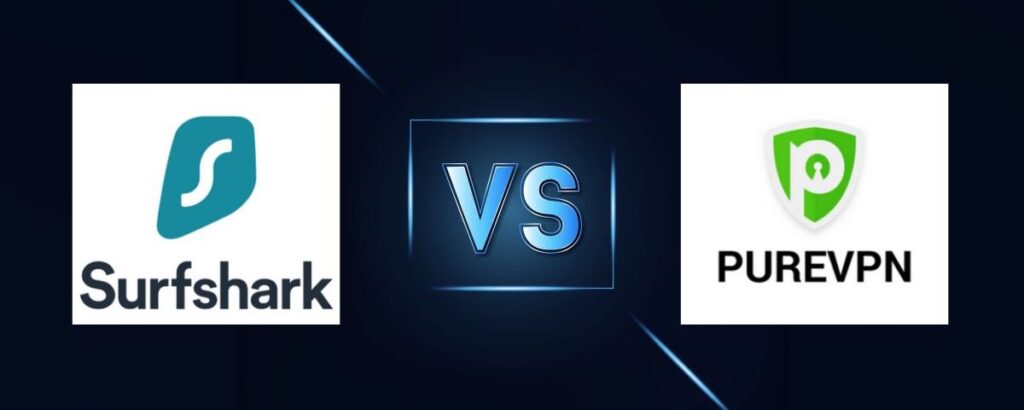 Surfshark and PureVPN are both well-known brands in the world of VPNs — but that's about where the similarities end. PureVPN has been around for longer than Surfshark but has suffered from a data logging scandal a few years ago. Meanwhile, Surfshark is a newer VPN having launched in 2018 with an excellent track record and a growing user base.
Based on our test results for this comparison, Surfshark is the overall winner. In comparison to PureVPN, Surfshark is significantly faster, and offers more reliable apps, better features, better customer support, and a better overall value (with the coupon in the table below).
But before we get into the details, let's cover the basics. This table highlights the key differences between the two VPNs.
| | | |
| --- | --- | --- |
| | Surfshark VPN | PureVPN |
| Website | Surfshark.com | PureVPN.com |
| Location | The Netherlands | British Virgin Islands |
| Servers | 3,200+ | 6,000+ |
| Countries | 100 | 78 |
| Logs | No logs | No logs* |
| Torrenting | All servers | Restricted |
| Support | Knowledge Base; 24/7 chat | Knowledge Base; email |
| Apps for | Windows, macOS, Linux, Android, iOS | Windows, macOS, Linux, Android, iOS |
| Price | $2.05 (with coupon) | $3.99 |
| Coupon | 84% Off Coupon > | N/A |
The remainder of this article is a nose-to-nose competition pitting Surfshark vs PureVPN. We've broken down the results into eight different categories:
Company background and jurisdiction
Features
Speed tests
Streaming and Torrenting
Security and Encryption
Privacy
Prices & Refunds
Value
The information we present here should make it easy to decide which of these VPNs is better for your particular needs and circumstances.
Company background check and jurisdiction
When you use a VPN to protect your data you need to remember that the VPN itself is in a position to see your data. This means you need to choose a VPN that you can trust. We'll talk about the VPNs themselves later, but for now we need to talk about two other factors, factors that most people fail to consider: the company background and the jurisdiction.
A VPN can have the best technology in the world, but if the company behind it all is untrustworthy your data is likely to become compromised. Likewise, a VPN can have the best technology and the most trustworthy company behind it, but if it based in the wrong jurisdiction, your data is still at risk.
Surfshark background check and jurisdiction
| | |
| --- | --- |
| VPN | Surfshark |
| Based in | The Netherlands |
| Logs | No logs |
| Price | $2.30/mo. |
| Support | 24/7 live chat |
| Refund | 30 days |
| Website | Surfshark.com |
Surfshark officially launched in 2018 and operates out of The Netherlands. The Netherlands is a good jurisdiction for privacy and it is not a member of any surveillance alliances, such as the 5 Eyes. Furthermore, this country does not have any mandatory data retention requirements.
Interestingly, Surfshark joined forces with Nord Security a few years back. While it is technically owned by the same parent company that owns NordVPN and Atlas VPN, Surfshark will continue to operate independently. With a large security company backing it, we have seen Surfshark continue to innovate and improve over the past few years.
Finally, Surfshark has also passed a variety of different third-party audits. We'll discuss this more in the security section below. And unlike PureVPN, Surfshark has never suffered any security incident or privacy scandal (that we know of).
Surfshark VPN passes the background check and it is based in a great jurisdiction.
PureVPN background check and jurisdiction
| | |
| --- | --- |
| VPN | PureVPN |
| Based in | British Virgin Islands |
| Logs | No logs |
| Price | $6.49/mo. |
| Support | Email and Chat |
| Refund | 31 days |
| Website | PureVPN.com |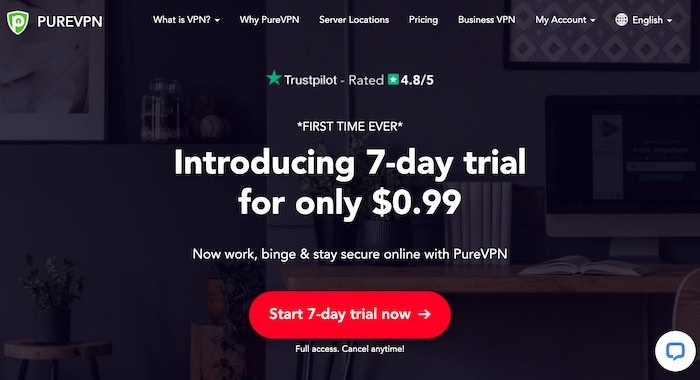 PureVPN is owned by GZ Systems Limited, a company based in the British Virgin Islands. Things get a little confusing here since we have discovered that PureVPN is also listed on the website of Gaditek, a company based in Karachi, Pakistan.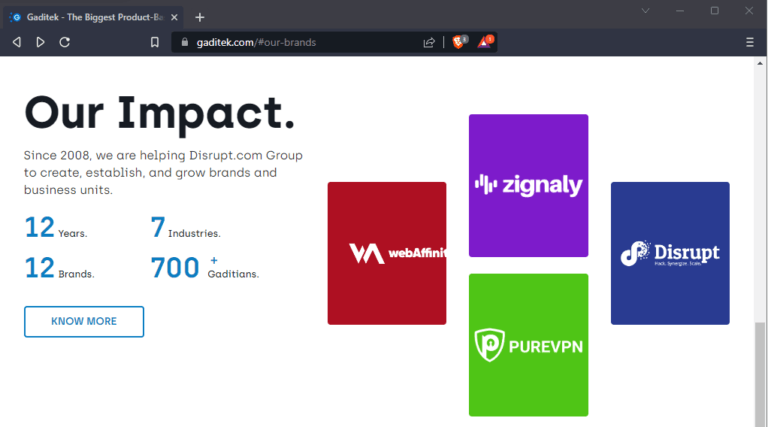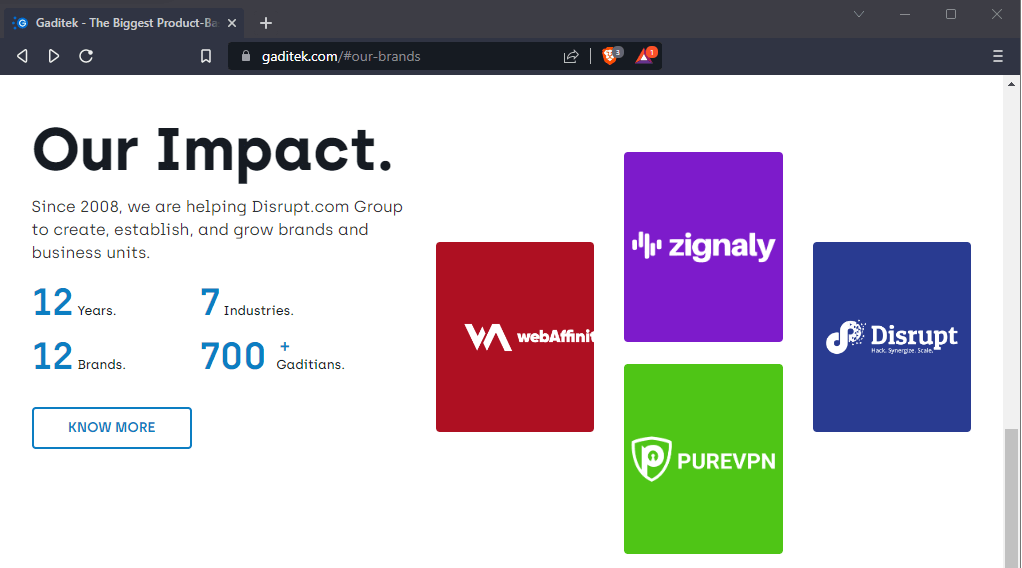 Gaditek is working with the Disrupt.com Group, a company based in the UAE, which lists PureVPN as one of their brands.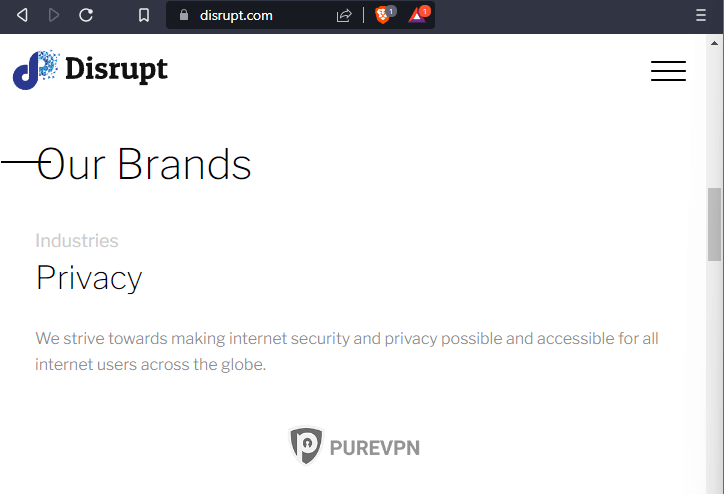 Despite the complicated corporate structure, the important thing for us to know is that the legal jurisdiction of PureVPN is the British Virgin Islands, a very good jurisdiction for a privacy company.
PureVPN has logged user data for the FBI
PureVPN has long claimed that they were a no-logs VPN. However, in 2017 the world learned that PureVPN had not only logged data about one of its users, but it had handed that data over to the FBI for use in a criminal investigation. You can find out more about that case here.
Since that time, the company has taken steps to clean up its reputation, including third-party audits of its compliance with its no-logs policy. While it's great to see PureVPN follow in the footsteps of NordVPN and PIA by pursuing a no-logs audit, trust is slow to be earned back.
Company background check and jurisdiction winner: Surfshark
---
Features comparison: Is Surfshark or PureVPN better?
Now we get into the fun part of the Surfshark vs PureVPN battle. Some VPNs focus on just delivering the basics: security and privacy. Others add in a few popular features like the ability to stream video or give you some specialized server types for less common use cases. PureVPN fits into this category.
And some VPNs go all out, giving you a slew of advanced features and server types that most VPN providers don't support. Surfshark is a prime example of this type of VPN.
So we can already see that Surfshark will win this feature comparison. In this case, we will quickly skim through the features provided by each service so you can see what you would be getting from choosing either VPN.
Surfshark features
Surfshark gives you a full set of features, starting with great security and no-logs privacy that has never been compromised to our knowledge. With the help of a built-in VPN kill switch and private DNS, this VPN passed all our IP address and DNS leak tests without problems.
Surfshark also provides a full range of VPN apps for major operating systems, many internet-ready devices, and leading web browsers. Here is Surfshark's desktop app for Microsoft Windows: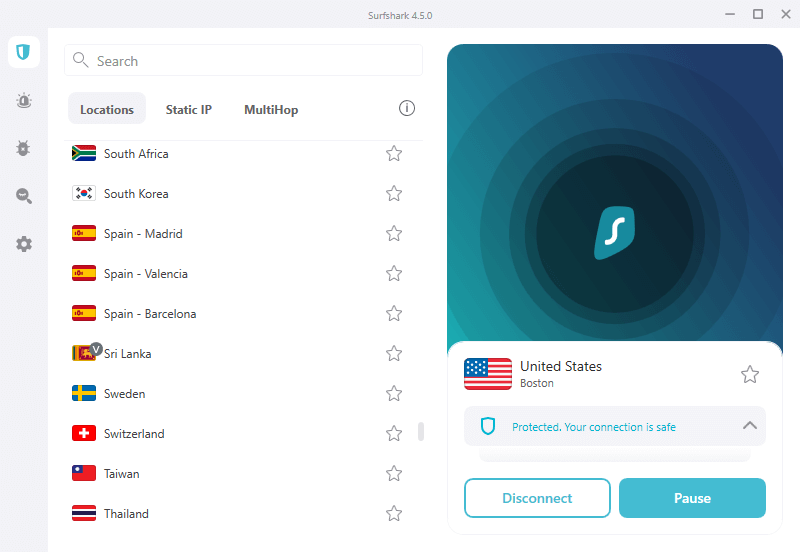 And here is the Surfshark iPad app (ranked among the best VPNs for iPad). The family resemblance is clear: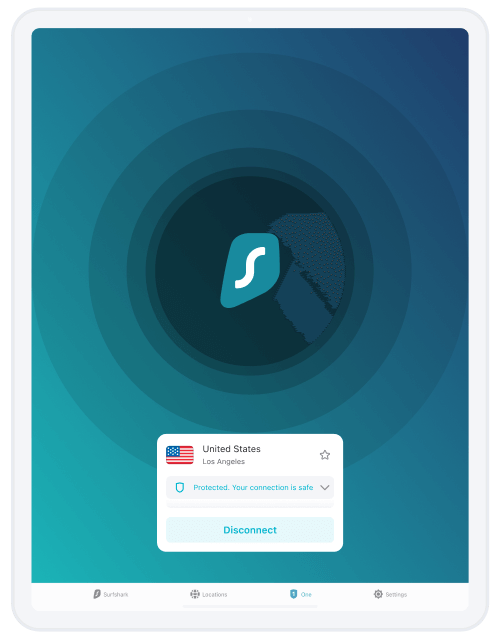 Our testing showed the Surfshark apps to work well, with no bugs or connection problems. But as we noted before, Surfshark goes way beyond these basics. As you will learn later in this article, Surfshark is one of the best VPNs available for streaming content, as well as interacting with torrents or other P2P services.
Bypasser is another very useful Surfshark feature. It is the company's name for its version of split tunneling. With Bypasser, you can control which applications or websites connect to the internet through Surfshark, and which connect directly.
Another reason Surfshark is so popular is its great speed. This comes from its successful integration of the WireGuard VPN protocol into all its servers and apps. When implemented well, WireGuard is extremely secure, and capable of great speeds, easily beating OpenVPN (see our OpenVPN vs WireGuard comparison).
The Surfshark VPN also offers a feature that goes outside the standard range of VPN features. It is called CleanWeb. CleanWeb is now on version 2.0, which incorporates ad and tracker blocking, as well as protection against malware, blocks pop-ups, and provides Data breach alerts.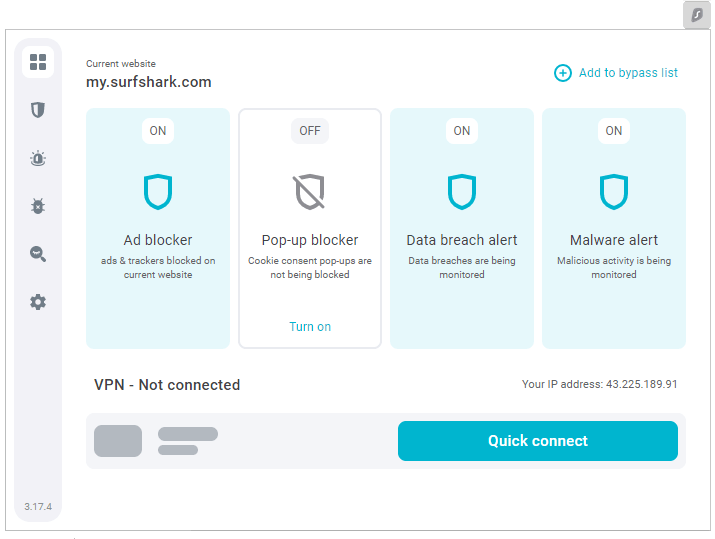 ClearWeb's combination of capabilities helped put Surfshark on our list of the best VPNs with ad blockers, while adding far more value than simple ad blocking.
Perhaps the most popular feature of all among Surfshark fans is support for unlimited simultaneous connections. While you can always install VPN apps on any number of devices, most VPN services only permit you to have 5 or 6 devices simultaneously connected to the VPN.
With the growing number of internet-connected devices in our lives (everything from computers and smartphones to TVs and home appliances) a limit of 5 or 6 devices using the VPN at one time is a problem for many people. Support for an unlimited number of simultaneous connections makes that problem go away.
We also need to talk about Surfshark's VPN servers.
Surfshark VPN servers
As of December 2023, Surfshark had over 3,200 VPN servers in 100 countries. These servers are fast, secure, diskless devices some of which are allocated to provide specialized features. The specialized features in these servers include:
Camouflage mode servers. These obfuscated servers make your VPN traffic look like regular internet traffic, thereby hiding you from internet censors. This makes Surfshark one of the best VPNs for China.
MultiHop servers. MultiHop (double-VPN) servers are actually two servers that your VPN traffic passes through, one after the other. Using MultiHop servers can increase your privacy in several ways, but can also slow down your connection.
Static IP servers. Normally when you connect to a VPN server, you will be assigned an IP address out of a pool of addresses assigned to that server. But some use cases require you to connect to have the same IP address all the time. Connecting to a static IP server ensures that you get the same IP address every time you connect. (See other dedicated IP VPNs here.)
PureVPN features
PureVPN's feature set is much smaller than that of Surfshark. Worse, not all their features work well. Specifically, while they provide VPN apps for most operating systems and devices, we found their apps to be buggy and somewhat unreliable when it came to connecting to a VPN server.
On a positive note, this situation should improve as PureVPN has been rolling out new (and improved?) VPN apps. Here's what their Windows desktop app looks like now: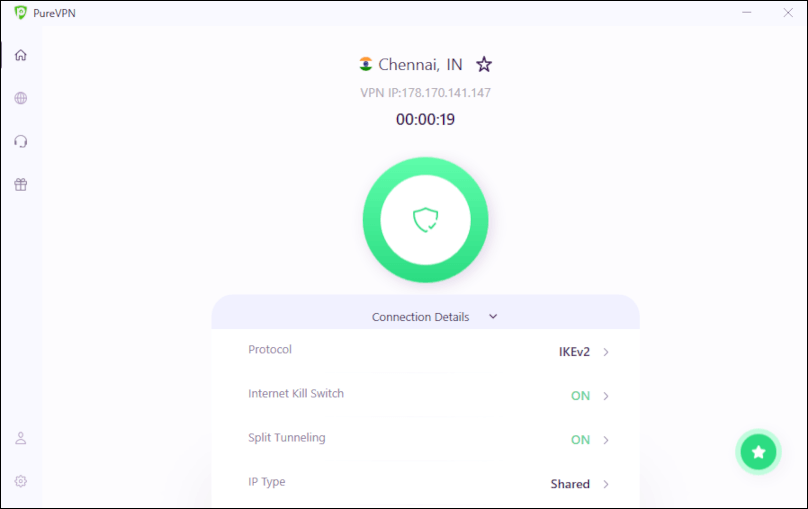 We noted earlier that most VPN services support 5 or 6 simultaneous connections. PureVPN gains an edge over those services by offering 10 simultaneous connections. This is a nice feature of PureVPN, even though it doesn't compare to Surfshark's unlimited connections in today's competition.
PureVPN servers
PureVPN offers more than 6,500 servers located in over 78 countries around the world. This is one of the largest VPN server networks we have seen. However, we do not know how many of those VPN servers are virtual servers. It is unclear to us how many of those 6,500+ servers are physical devices and how many are virtual. But even if half of all their servers are virtual, this is still a large network with good global coverage.
One specialized server type provided by PureVPN is Static IP VPN servers. As with Surfshark, these servers come in handy for use cases that require you to have the same IP address every time you connect.
Features winner: Surfshark
See all Surfshark features here >>
---
Surfshark vs PureVPN speed tests
All other things being equal, a faster VPN is a better VPN. This becomes more true every year, as we spend more time streaming, torrenting, and downloading multimedia content. That may explain why so many VPNs claim they are the fastest VPN.
Thanks to all the work they do to protect your internet traffic, every VPN has some impact on the speed of your connection. But that impact varies massively. Some VPN services are so efficient that you won't notice the impact they have. Others are so inefficient that they slow your connection to an infuriating crawl.
This is why we do speed testing of every VPN we write about. While many factors affect speed, seeing the results of our standardized tests will give you a good sense of which VPNs are fast and which are slow.
So let's get into the testing we did on Surfshark and PureVPN. For each test, we connected them to the internet through our 500 Mbps fiber optic connection. Then we connected to VPN servers in several locations across the United States and recorded the best download speeds each VPN delivered.
United States Speeds
This is the best speed we saw when we connected PureVPN to a server in the United States: 59 Mbps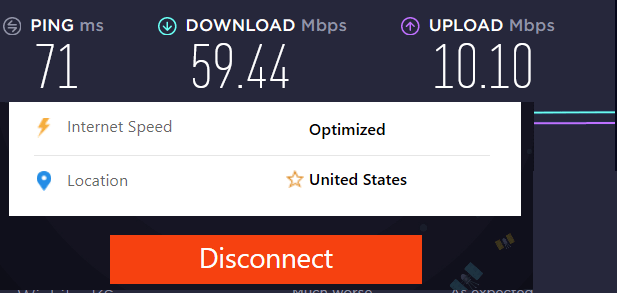 59 Mbps is a rather slow result, particularly when you consider that our internet connection is capable of 500 Mbps.
We repeated the tests by connecting Surfshark to several US VPN servers.
This is the best speed we got when we connected Surfshark to a server in the United States: 397 Mbps

397 Mbps is one of the fastest speeds we have ever recorded using our test configuration. More importantly for today's conversation, it is almost 7 times as fast as PureVPN's best speed in the United States. This is on par with our results in the ExpressVPN vs PureVPN comparison.
Note: While we did not test speeds in Canada, we have found Canadian servers to offer similar performance to servers in the US. You can see the best VPNs for Canada here.
United Kingdom speeds
Next, we tested both VPNs using servers in the United Kingdom (UK). Not only is the UK a major source of streaming content, but it is also an area with high demand for VPN services due to eroding privacy laws in that part of the world.
This is the best speed we saw when connecting to a PureVPN server in UK: 18 Mbps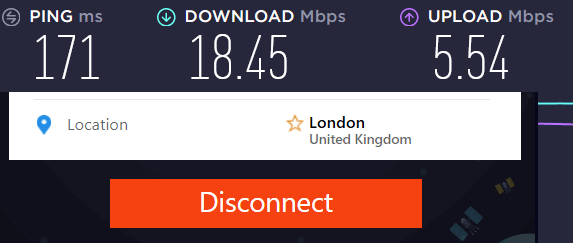 18 Mbps is truly a terrible result on this test. A download speed of 18.45 Mbps on a 500 Mbps connection means a loss of more than 97% of the connection's potential!
Meanwhile, here is the best result we saw when we connected Surfshark to a server in the UK: 330 Mbps.

This is a very good result. In this test, Surfshark was around 17 times as fast as PureVPN. The result is a devastating defeat for PureVPN. Unfortunately for them, it is similar to the results we got in our NordVPN vs PureVPN comparison.
Surfshark is a very fast VPN. And despite what their marketing team might claim, PureVPN is a slow VPN.
Speed test winner: Surfshark
---
Streaming and Torrenting: PureVPN vs Surfshark
As we noted in the speed testing section, streaming and torrenting are very popular uses for VPNs. That's why we specifically test each VPN to see its suitability for these activities.
Streaming: Surfshark compared to PureVPN
Streaming has been popular for a while, but it really got a boost when everyone began spending more time at home for various "lockdowns" and such. Now streaming content from around the world is a major use of VPNs – but only certain VPNs are really good at it.
Major streaming services use geo-blocking systems to control who can view their content. Their goal is to manage access to their content by geographic region. Netflix is a good example. Fortunately, the best VPNs for streaming get around these restrictions.
Let's see how well our two contenders handle streaming.
Surfshark
Surfshark routinely excels at streaming content, whether it is using a VPN for Hulu, Netflix, or anything else. Below you can see us streaming UK Netflix while we are physically located in the United States, thanks to Surfshark's ability to defeat geo-blocking systems: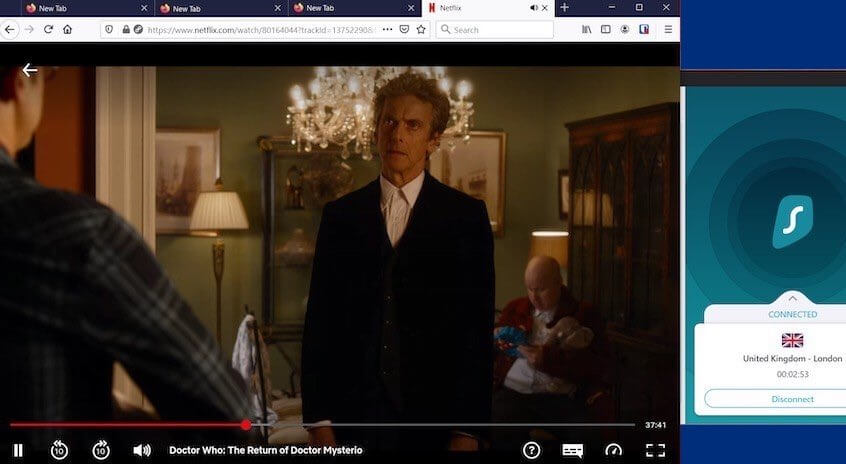 We've discovered that Surfshark can unblock at least 15 Netflix regional libraries. And it does so consistently. Some VPNs can connect to Netflix occasionally, but not reliably. Surfshark is one of the best VPNs for Netflix, with access to numerous regional libraries.
Even better, Surfshark does just as well with all the other leading streaming services as it does with Netflix. This includes: Amazon Prime Video, BBC iPlayer, HBO, Hulu, and various other services.
Regardless of which streaming service you want to connect to, Surfshark's high-speed server network and advanced VPN protocols let you stream HD video without the buffering or other problems that plague slower VPNs when streaming.
PureVPN
Our testing showed that PureVPN is not a very good VPN for streaming. It was sometimes able to connect to Netflix, but not consistently. And even when it could connect, the slow speeds of PureVPN resulted in buffering and reduced image quality. PureVPN also did not make it on our list of the best VPNs for HBO Max.
Given that the image quality problem is the poor speed of PureVPN, you can expect similar problems when streaming content from any service. If streaming is important to you, PureVPN would not be a good choice.
Streaming sub-category winner: Surfshark
Torrenting: Is PureVPN or Surfshark better?
As you can imagine, the speed of your VPN is always important. But when it comes to torrenting, speed takes a back seat to reliable leak protection. Media companies have been known to sue anyone they find illegally downloading their content. And innocent torrenters sometimes get caught up in this as well. If your IP address ever gets exposed while you are torrenting, you could find yourself facing an ugly lawsuit driven by a massive media conglomerate and its army of high-priced lawyers.
The best and safest torrenting VPNs protect against IP address leaks and have kill switches that cut in if the connection to the VPN server is broken for any reason.
Surfshark has solid VPN apps with built-in kill switches that do not leak. Add in the fact that it is one of the fastest VPNs around, and it isn't surprising that Surfshark is a contender for the best VPN for torrenting.
PureVPN can't measure up here. Tests have shown that it can sometimes leak your IP address, which in our books marks it as unsafe for torrenting right there. Even if you aren't worried about your address leaking, remember that PureVPN is a slow VPN, which could make torrenting excruciatingly slow.
Streaming and Torrenting winner: Surfshark
---
Security and Encryption comparison
Here we are at the heart of what makes a VPN. Without airtight security and strong encryption, all the other features of a VPN mean little. Here is where PureVPN and Surfshark stand on these two crucial elements.
VPN Encryption
Surfshark and PureVPN have comparable levels of encryption:
Surfshark: AES-256 and ChaCha20 ciphers
PureVPN: Offers a range of encryption options up to and including AES-256 and ChaCha20 ciphers
While both VPNs support AES-256 and ChaCha20, PureVPN offers several other encryption options, one or more of which could be necessary for your particular use case.
PureVPN leads in the VPN encryption subcategory.
Third-party audits
Surfshark has undergone the following third-party audits:
A security audit of their browser extensions was conducted by Cure53 in 2018.
An audit of their infrastructure and VPN configuration was conducted by Cure53 in 2021.
While Surfshark has completed these two security audits, they have not published any third-party audits of their no-logs policy.
PureVPN has undergone the following third-party audits:
A no-logs audit was conducted by Altius IT in 2019.
Two no-logs audits were conducted by KPMG, one in 2020, and another in 2021.
PureVPN's no-logs audits are particularly important since they were caught providing logs to the FBI, even though claimed to be a no-logs VPN service.
While PureVPN has completed these no-logs audits, they have not published any third-party security audits.
The security audits subcategory is a tie.
VPN server security
Surfshark runs all their VPN servers in RAM-disk (diskless) mode. Their servers do not have any hard disk drives. Without physical disk drives, the Surfshark servers are protected against a major security risk. There have been cases where a hostile force (such as the Turkish government) has physically seized VPN servers looking for user information. With no physical disk drives, seizing a server simply results in all data on the server disappearing.
In another step to increase the security of their servers, Surfshark is deploying colocated servers across their network. These servers are owned and maintained by Surfshark, despite being physically located in a third-party data center. By owning and managing these servers itself, Surfshark has full control over all server hardware and software, thereby boosting security even further.
PureVPN doesn't use diskless servers. Their servers have encrypted disk drives instead. While that is good, going diskless is better. In addition, PureVPN has not announced any plans to move to colocated servers.
Surfshark leads in the VPN server security subcategory.
Security and encryption winner: A tie
---
Privacy: PureVPN vs Surfshark
Security is one of the core attributes of a VPN. The other key attribute is privacy. Let's see which of these VPNs does a better job of protecting your privacy.
Both of these VPNs have solid no-logs policies.
Surfshark has undergone the third-party audits we covered in the previous section. While they were not audits of the company's no-logs policy, they do make us comfortable that Surfshark couldn't provide user data to anyone even under duress. In addition, we have seen no reports or even hints that Surfshark has ever violated the privacy of their users.
PureVPN has undergone third-party audits of their no-logs policy. That would normally give them the edge here… if not for the fact that they have previously been shown to log user data when they claimed to not keep any logs. You will have to decide for yourself how you feel about all this, but we would rather trust the company with a clean record.
Privacy winner: Surfshark
---
Prices and refunds comparison
The features and capabilities of a VPN are very important, but they don't do you any good if you can't afford a subscription to the service. Knowing that VPN prices fluctuate frequently, we're going to look at each service's price and refund policy as they stand at the end of 2023.
PureVPN pricing – PureVPN offers something we have never seen before: a five-year subscription. That's a 60-month subscription with a monthly price of only $1.33 per month. You can see this and their other subscription terms in the following image: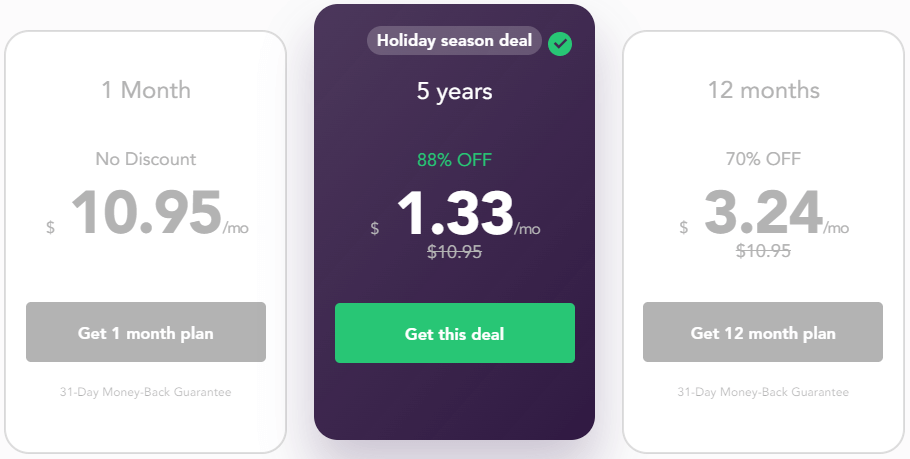 What you see here is the price for PureVPN by itself. However, there are a few add-ons you can include for an additional fee. These include three non-VPN security features: PureKeep (a password manager), PurePrivacy (a security tool with several features), and PureEncrypt (a cloud-based file encryption tool).
Beyond those additional features, you can also add Port Forwarding, a Dedicated IP, DDoS Protection, and a Dedicated IP with Port Forwarding.
PureVPN refunds – You get a 31-day money-back guarantee, which is supposedly a, "no questions asked, risk-free, stress-free refund policy." However, before giving you a refund PureVPN says they will, "first try to resolve your issue successfully." One of those statements can't be true, leaving us a little uncomfortable about the PureVPN refund policy. This is especially so since the refund policy also states that certain forms of payment are not refundable.
Surfshark pricing – Surfshark does not have complicated pricing for their VPN. Even better, this is one of the best cheap VPN services (assuming you skip their monthly plan). Here's what Surfshark pricing looked like in December 2023:

Surfshark offers an excellent price for their 24-month plan.
PureVPN and Surfshark refund policies
While we hope you will never need to use them, it is good to know something about the refund policies of any VPN you are considering.
PureVPN refund policy
You get a 31-day money-back guarantee, which is supposedly a, "no questions asked, risk-free, stress-free refund policy." However, before giving you a refund PureVPN says they will, "first try to resolve your issue successfully." One of those statements can't be true, leaving us a little uncomfortable about the PureVPN refund policy. This is especially so since the refund policy also states that certain forms of payment are not refundable.
Surfshark refund policy
Surfshark has a good 30-day money-back guarantee on all plans. And it doesn't have any of the confusion and the exceptions PureVPN has.
It is hard to compare the pricing of Surfshark and PureVPN because the subscription lengths they offer are so different. If you are willing to make a five-year commitment to PureVPN, they definitely offer a better price. But Surfshark definitely offers a better refund policy. We're going to call this one a tie too.
Price and Refund Winner: a Tie
---
Value: Does Surfshark or PureVPN offer more value?
Judging the value of something as complicated as a virtual private network (VPN) is difficult. That's because the value very much depends on which features and capabilities of the VPN are important to you. But there are a few things that almost everyone wants out of their VPN. These are security, privacy, and performance.
Surfshark is highly secure, with a number of advanced security features that few VPNs can match. To our knowledge, it has never compromised the privacy of its users in any way. And it is perhaps the second-fastest VPN on the market. At the same time, it is great at streaming and torrenting is available for a very low price and features an unlimited number of simultaneous connections. In other words, there is a ton of value here.
PureVPN is secure but lacks the advanced security features of Surfshark. While it has passed some no-logs audits in recent years, it has in the past been caught violating user privacy by providing logs to the FBI while claiming not to keep any logs.
Unless only PureVPN offers some particular thing that you must have, Surfshark is a much better value.
Value winner: Surfshark
---
Conclusion: Surfshark beats PureVPN
Our test results were rather lopsided. Surfshark outscored PureVPN in six categories and they tied in two. Here is a summary of our PureVPN vs Surfshark tests:
Company background and jurisdiction: Surfshark
Features: Surfshark
Speed tests: Surfshark
Streaming and Torrenting: Surfshark
Security and Encryption: Tie
Privacy: Surfshark
Price and Refund: Tie
Value: Surfshark
PureVPN has some things going for it, including an incredibly low price. But buggy apps and slow performance would have doomed them, even if we ignored their previous history of secretly logging user data for the FBI. We do not recommend PureVPN.
We do, however, heartily recommend Surfshark. Fast, cheap, and full of features, this VPN ranks high on every comparison we run. We urge you to take advantage of their 30-day money-back guarantee and give Surfshark a try. If you don't like it you have 30 days to request a hassle-free 100% refund. To get the best price available for Surfshark, use the discount coupon below.
Surfshark VPN Coupon:

Get 82% off Surfshark VPN (drops the price down to $2.30 per month) plus 2 months FREE:
(Coupon is applied automatically.)
If neither of these VPNs interests you, don't worry. You can see our other VPN comparison articles here. The important thing is to get protected. With cyber threats proliferating across the world using a VPN, especially one that can block malware and other attacks like Surfshark, this becomes more important every day.
We also have a guide highlighting the best VPN coupons that are available now.
Related Articles:
Have you used either Surfshark or PureVPN? If so, we would appreciate it if you could share your experience in the comments to help others.
This Surfshark vs PureVPN comparison was last updated on January 7, 2023.