As the consequences of copyright infringement continue to escalate around the world, many people are looking for the best VPN for torrenting to stay safe and secure online. Media companies are increasingly monitoring torrent traffic and collecting IP addresses from torrent swarms. Depending on where you live, you may receive copyright violation notices from your internet provider, or perhaps from a law firm that is demanding immediate payment on behalf of the copyright holder.
While some torrent clients offer different encryption setup options, these will not protect you. This is because media companies run networks of monitoring nodes, which are able to join torrent swarms and collect IP addresses and connection data of the infringing parties. If your torrent client connects with one of these nodes and you are not using a VPN, your identity could easily be compromised. This is why a VPN offers the best protection when torrenting, rather than simply relying on your torrent client.
The problem, however, is that many popular VPNs will actually fail when put to the test. One in-depth study found that 84% of VPNs will leak your IP address. There are also VPNs that lie about being "no logs" while providing user data to authorities (PureVPN). There are many examples of problematic VPNs, but the bottom line is that you need to choose your torrent VPN carefully.
What is the best VPN for torrenting?
The best VPN for torrenting is Perfect Privacy because it offers a secure, leak-proof service with very advanced features and port-forwarding. However, it is also rather expensive and somewhat limited on apps. The next best alternative would have to be ExpressVPN, which offers excellent performance and very secure (leak-proof) applications that will keep you safe when torrenting. ExpressVPN is also currently offering a discount for three months free.
We will discuss each of these options below and why they are the best VPNs for torrenting in 2018.
---
---
---
---
---
---
Now let's take a close look at each of these torrent VPN options below.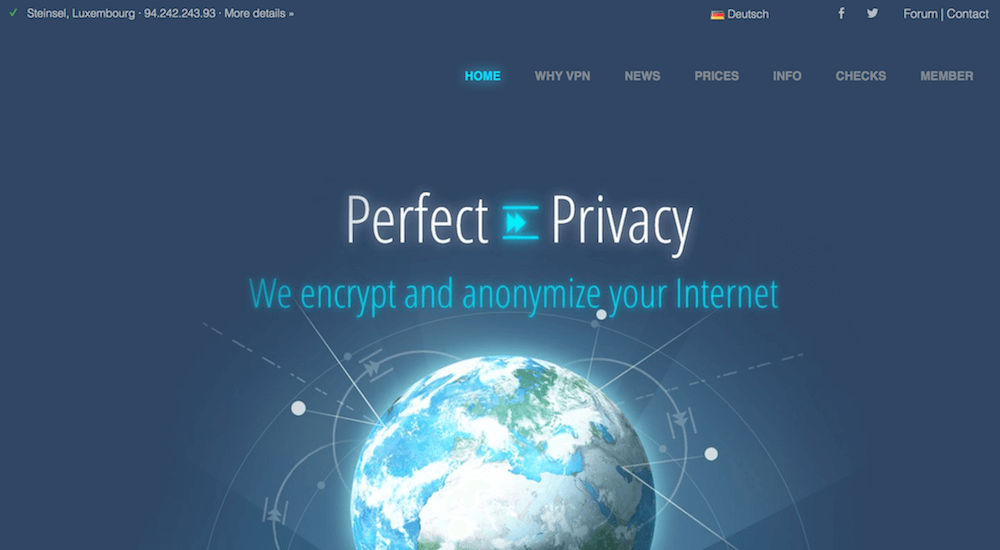 Perfect Privacy currently holds the top spot as the best VPN for torrenting. Their entire network is made up of dedicated bare-metal servers that offer excellent speeds, the highest level of security, and full IPv6 support (you will get both an IPv4 and Ipv6 address). Every server in their network also supports obfuscation features (Stealth VPN), multi-hop VPN chains, port forwarding, and even direct Tor network connectivity. Finally, Perfect Privacy offers excellent bandwidth at all times for torrenting, which you can verify in real time on their server status page.
If you are serious about security and online anonymity, this Switzerland-based, no logs VPN service is tough to beat. Perfect Privacy offers custom VPN clients for Windows, Android, Linux, and Mac OS (still in BETA, but performed well in testing). Mac OS users can also use the built-in IKEv2 VPN settings to create an always-on VPN that is 100% leak-proof, utilizing the native Mac OS firewall (see review for instructions).
The main drawback is the price, at about €8.95 per month. But your subscription also gives you an unlimited number of connections to use with all devices, along with advanced features, such as TrackStop and NeuroRouting, multi-hop VPN chains, and obfuscation. For an in-depth analysis you can read the review or check out their website here >>
---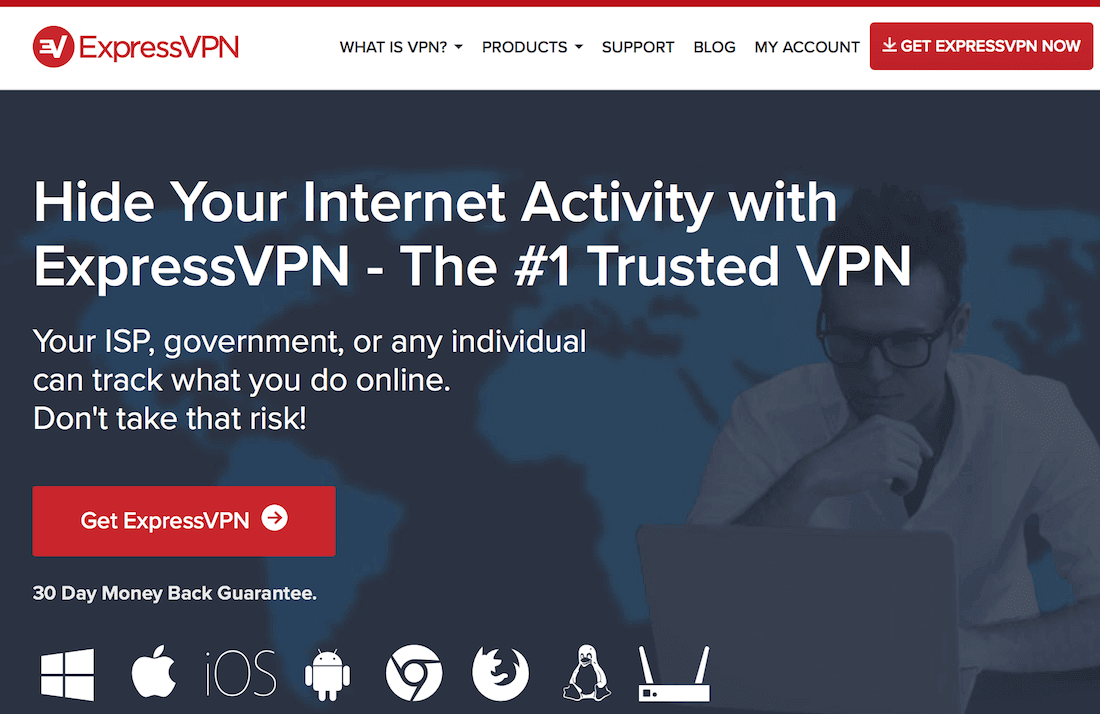 ExpressVPN is another excellent option for torrenting and P2P downloads. This British Virgin Islands-based service has a great lineup of custom applications and it also performed very well in testing for the ExpressVPN review. ExpressVPN has offers strong protections for customer data with a solid no logs policy, very secure applications, and offshore jurisdiction.
If you want a fast and reliable VPN for torrenting that offers consistent speed, ExpressVPN is one of the best choices available. All of the apps are equipped with advanced leak protection settings to ensure your privacy will be protected whenever you are torrenting. It also has a very reliable network lock (kill switch) that will block all internet traffic if the VPN connection drops for any reason.
ExpressVPN is also one of the best values you will find for a high-quality torrent VPN. They are offering an exclusive 49% discount, which drops the price to $6.67 per month, along with a 30 day money-back guarantee.
Special Deal
Sign up for the 12 month plan, and get 3 months FREE
Visit ExpressVPN
---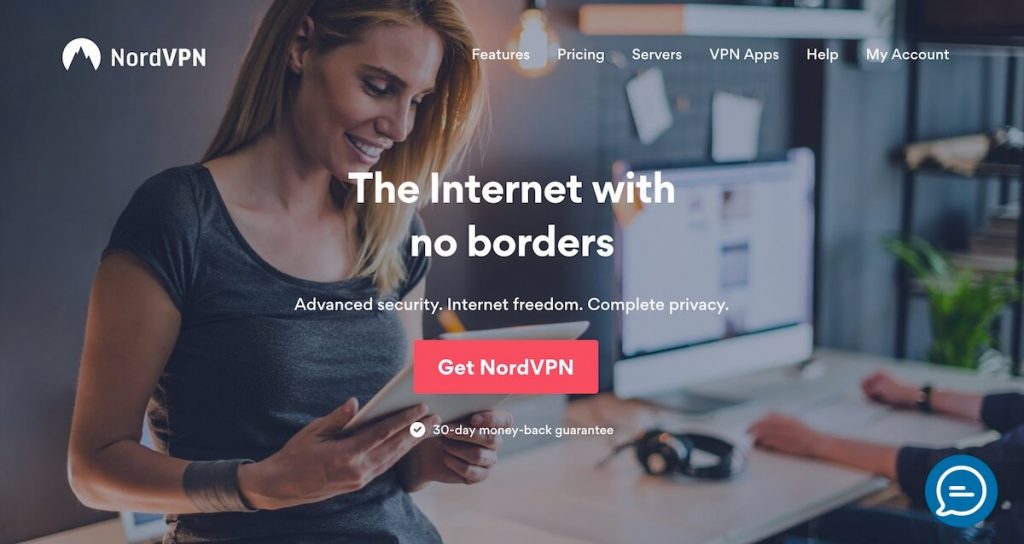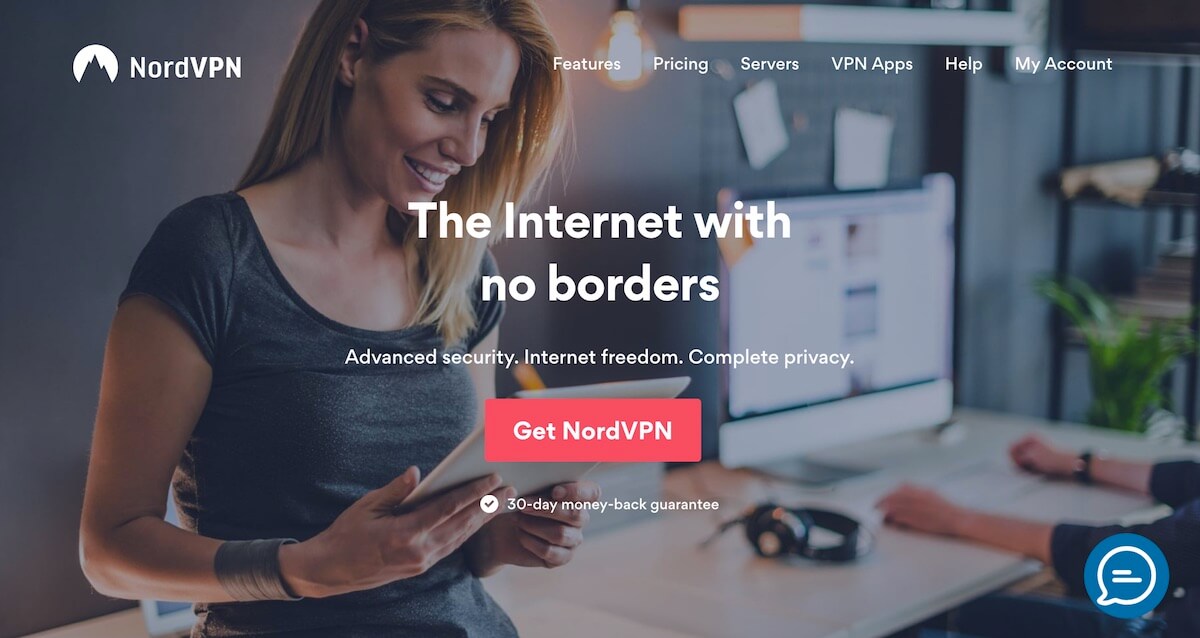 NordVPN is a Panama-based VPN provider with a strict no logs policy and a nice lineup of apps with solid performance. It performed well in testing for the review, and continues to offer one of the best values for your money with the 77% discount coupon. NordVPN is also one of the best VPNs for torrenting because it offers very secure applications (no leaks) with a fast server network and many locations.
If you are a privacy-focused user, NordVPN has many features you may be interested in. These include double-hop VPN configurations, VPN-over-Tor servers, and a well-designed ad-blocking feature that is built into the VPN apps. Whether you are using NordVPN for torrenting, accessing Netflix, or just basic internet browsing, it remains a great all-around VPN at a very affordable price.
NordVPN Coupon
Get 77% off NordVPN (drops price down to $2.75 per month)
77% Off Coupon
---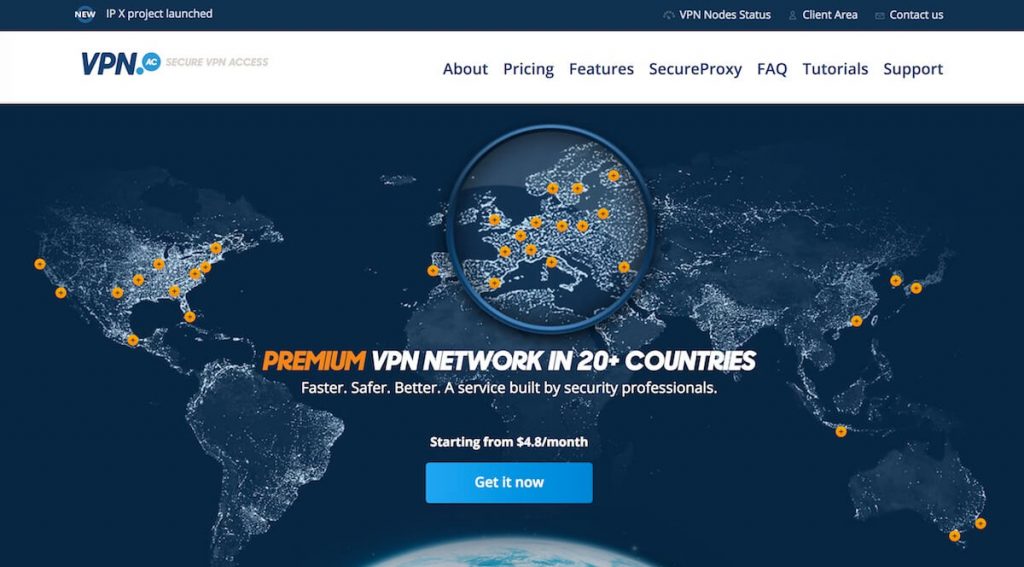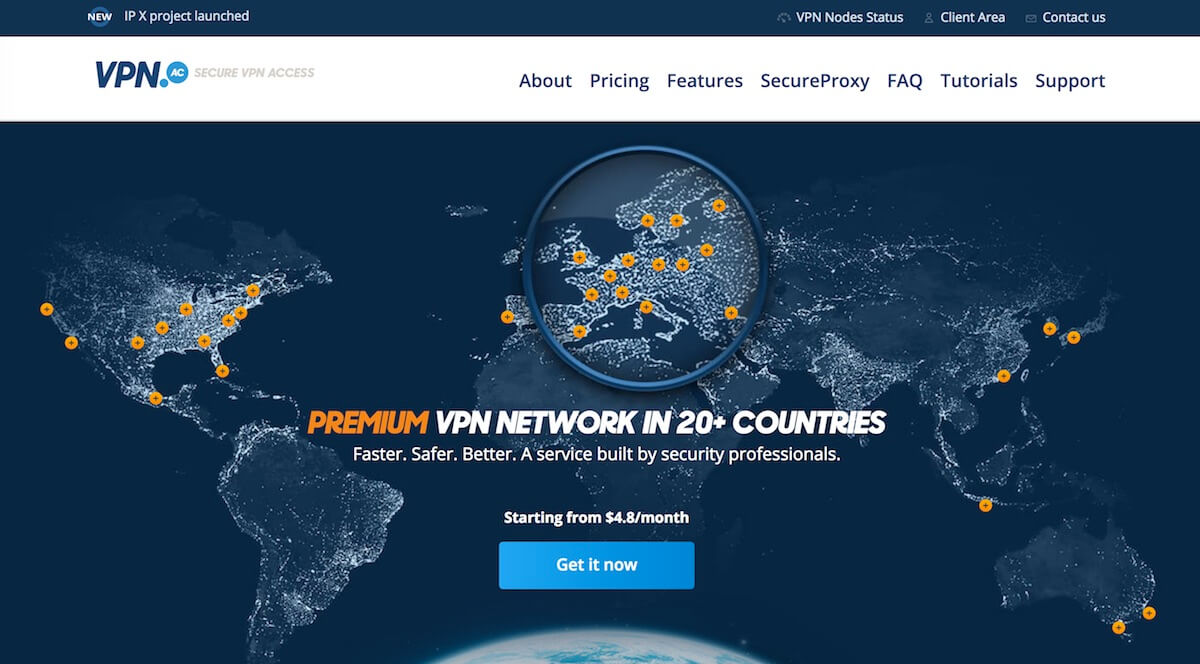 VPN.ac is another great VPN for torrenting. It was created by a team of network security professionals with a focus on security and quality. Their server network is composed entirely of dedicated bare-metal servers offering excellent bandwidth and maximum security. (Check out their real-time bandwidth stats by selecting VPN Nodes Status at the top of the site.)
VPN.ac offers premium applications with advanced leak protection features, double-hop VPN configurations, numerous encryption options, as well as obfuscation. They do not limit torrenting traffic in any way, while also providing designated servers that are optimized for P2P downloads. And when you consider all the privacy and security features in relation to the price, at only $4.80 per month, this is another great deal for a premium VPN service.
The one drawback is the connection logs, but all data is erased daily and they do not maintain any activity or usage logs.
---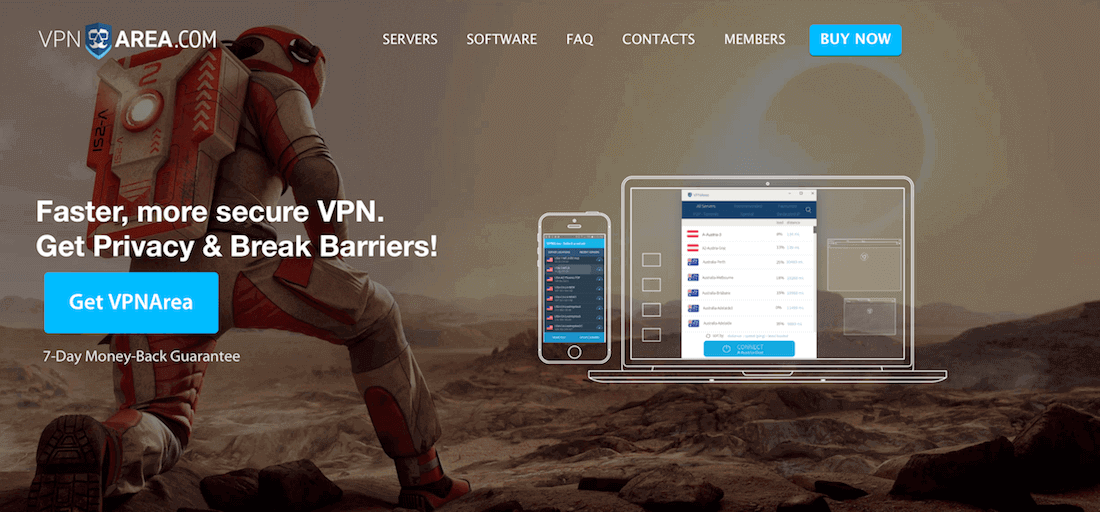 Another solid choice when selecting a VPN for torrenting is VPNArea. This Bulgaria-based provider offers good applications that did well in testing for the review. VPNArea is a strictly no logs service that is also competitively priced at $4.92 per month.
Many of the servers in VPNArea's network are optimized for torrenting and P2P downloads with high-bandwidth data channels. They are also one of the few VPNs that work with Netflix with dedicated streaming servers. It passed all privacy and security tests while also having great speeds and reliability. Overall VPNArea is a privacy-focused VPN that works very well for many uses and isn't too expensive.
---
Torrenting without a VPN and copyright violations
Some people may torrent without protection for years and not face any consequences. However, given the recent trends with copyright violations, it is no longer safe to just hope you stay under the radar. The consequences are getting real.
Aside from the growing practice of blocking torrent websites, many governments are rolling out some very scary copyright infringement laws. Here are a few examples:
United States – The US is home to the infamous Digital Millennium Copyright Act (DMCA). DMCA penalties for copyright violations include:

Up to $500,000 in fines and 5 years in jail (first offense)
Up to $1,000,000 in fines and 10 years in jail (repeat offenders)

United Kingdom – The Digital Economy Act was recently passed in the UK, which raises the maximum prison sentence for copyright infringement to 10 years.
Australia – Many torrenting websites have already been blocked in Australia (but a torrent VPN will get around these restrictions). Now, industry lawyers will be targeting copyright infringers for damages with fines up to $2,000 per infringement.
We see these trends throughout Europe as well, particularly in Austria, Denmark, and Germany.
So no matter where you are located, using a good VPN is essential whenever you are torrenting.
I know what you download
You should also know that without a VPN hiding your identity and IP address, you can be easily tracked online.
Even worse, random groups are now creating giant databases of torrenting activity linked to your IP address, available for anyone to see. One example is the website I Know What You Download, which publicly publishes all torrents under the user's IP address.
Here's an example I found linked to one of the shared IP addresses I use with Perfect Privacy (hence, not traced back to me):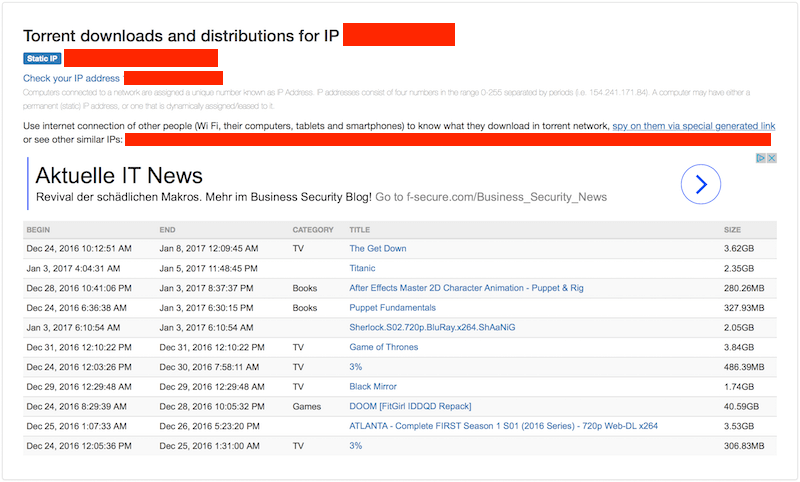 Thanks to websites such as I Know What You Download, it is even easier for copyright attorneys to target users – unless you're torrenting behind a good VPN service.
Reasons to use a torrent VPN
The simplest and most effective way to protect your privacy and security when torrenting is to use a high-quality (paid) VPN service.
A good torrent VPN gives you many advantages and allows you to:
Hide your real IP address and geographic location
Add an extra level of security by encrypting your internet connection (on all your devices)
Prevent your Internet Service Provider (ISP), corporations, governments, and other third parties from spying on your online activities
Access blocked content that's restricted to certain geographic locations
P2P download in safety
Surf the internet with peace of mind
There are many factors to consider when looking for the best torrent VPN.
Given all the different factors, it is easy to see that there's no one single VPN that will be the "best" for everyone to use when torrenting. Instead, you can look at the details of each service and consider which is the best option for your unique situation. Additionally, every torrent VPN service on this page offers a money-back guarantee if you aren't satisfied with the service.
After purchasing your torrent VPN, you can then test it to ensure the VPN is keeping you safe while torrenting. See this VPN test guide for instructions.
If you want blanket protection for all devices on your network, you may also want to consider using a VPN router.
What is the safest VPN for torrenting?
In general, the safest VPN for torrenting is one that does not leak and offers a good kill switch that will block internet traffic if your VPN connection drops. So in other words, the safest VPN for torrenting will always protect your identity by encrypting all your traffic.
All of the VPN services mentioned on this page offer good kill switches that will block VPN traffic if your connection drops.
If you are relatively new to VPNs and are not sure how to set everything up, ExpressVPN may be the safest VPN for torrenting simply because it is user-friendly and very secure and easy to use correctly. In other words, it just works well and will keep you safe.
Finally, you can also run some different VPN tests to ensure everything is working correctly.
Best VPN for torrenting conclusion
Most people are now using a VPN for torrenting simply to protect themselves against copyright infringement penalties. But aside from copyright violation issues, there are many other alarming trends which further highlight the importance of a good VPN service:
Internet service providers (ISPs) are recording your online activities (US, UK, Australia, Europe, …) and providing this data to third parties and government authorities for various purposes.
Many ISPs are cancelling internet service for repeated copyright violations (common in the US).
Governments and ISPs are actively blocking torrent websites, such as The Pirate Bay and 1337x, throughout the world.
Websites are now publicly posting all torrent activity associated with your IP address, which can be viewed by anyone – see I Know What You Download.
The trend is clear. Use a good VPN whenever you go online. Here are the best VPNs for torrenting in 2018:
---
---
---
---
---
---