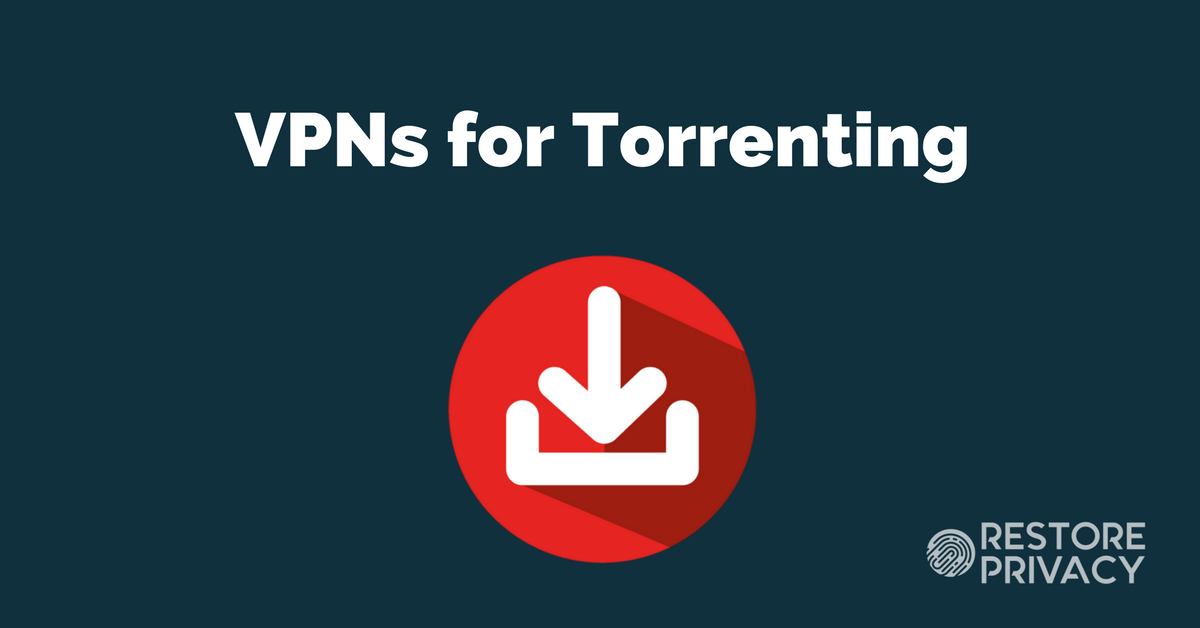 Torrenting without a good VPN is becoming increasingly dangerous throughout the world. This torrent VPN guide will show you how to protect yourself, including the latest torrent VPN trends and the best VPNs for torrenting.
So why should you use a VPN for torrenting? Here are just a few trends we see unfolding:
Industry lawyers are increasingly targeting users for copyright violations (torrenting and streaming) – often with massive fines and sometimes the threat of jail (10 years for copyright violations in the US and UK).
Internet service providers (ISPs) are recording your online activities (US, UK, Australia, Europe, …) and providing this data to third parties and government authorities for various purposes.
Many ISPs are cancelling internet service for repeated copyright violations (common in the US).
Governments and ISPs are actively blocking torrent websites, such as The Pirate Bay and 1337x, throughout the world.
Websites are now publicly posting all torrent activity associated with your IP address, which can be viewed by anyone – see I Know What You Download.
Solution: use a good VPN at all times when torrenting.
In the first part of this guide we'll cover the best VPNs for torrenting, before moving onto other torrent VPN topics. Here the top recommendations (and where they are based):
There are also two US-based VPNs that may be a good choice for torrenting, which we will cover further below:
Best VPN for torrenting
When looking for the best VPN for torrenting, there are many factors to consider. All of the torrent VPNs listed on this page did well in each of these categories:
Jurisdiction – Where the VPN is based affects customer privacy and data security. Mass surveillance practices and laws are a concern with some countries (US and UK). Copyright violation laws in a given country may also affect a VPN operating there, which must comply with the laws where it operates.
Company policies – Some VPNs do not allow any torrenting on their network (see VyprVPN for example). Other VPNs encourage torrenting, without limiting bandwidth or imposing any P2P restrictions on their network (all the VPNs listed on this page).
Test results – All of the torrent VPNs on this page were tested for IPv4 leaks, IPv6 leaks, DNS leaks, speed, reliability, and whether all the features function as advertised. The recommended VPNs passed all the tests.
Note: When selecting the best VPN for torrenting, there is no "one size fits all". Overall, the top recommendation is Perfect Privacy, but any of the torrent VPNs listed on this page may be the best VPN for you. Each service has pros and cons – the best choice will depend on your unique needs and uses for the VPN.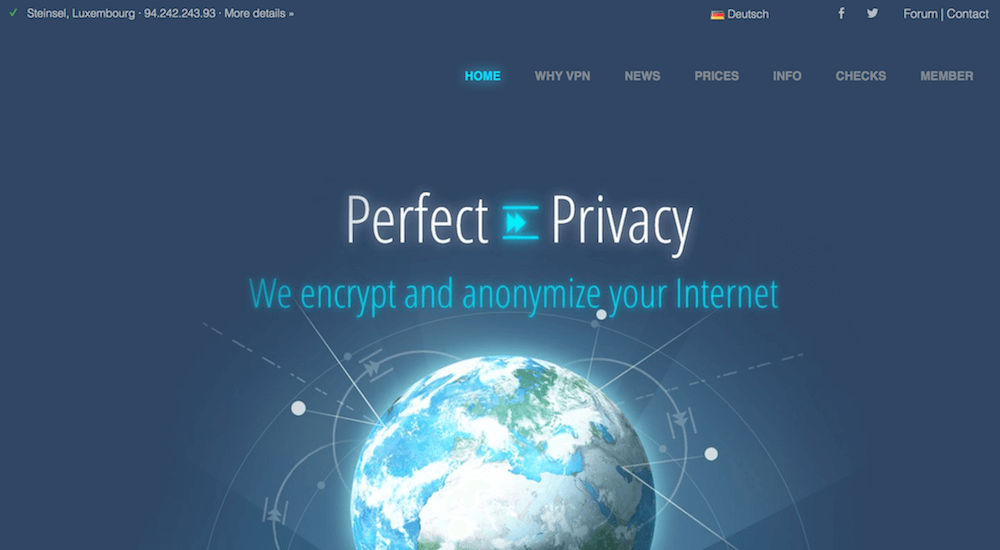 Perfect Privacy currently holds the top spot as the Best VPN for torrenting. Their entire network is made up of dedicated premium servers (bare metal) that offer excellent speeds, the highest level of security, and full IPv6 support (many VPNs fail with IPv6). Every server in their network also supports obfuscation features (Stealth VPN), multi-hop VPN chains (plus NeuroRouting), port forwarding, and even direct Tor network connectivity. The network also includes secure, self-hosted DNS (no third parties). Finally, Perfect Privacy offers excellent bandwidth at all times for torrenting, which you can verify right now on their server status page.
If you are serious about security and online anonymity, this Switzerland-based, no logs VPN service is tough to beat. Perfect Privacy offers custom VPN clients for Windows, Android, Linux, and Mac OS (still in BETA, but performed well in testing). Mac OS users can also use the built-in IKEv2 VPN settings to create an always-on VPN that is 100% leak-proof, utilizing the native Mac OS firewall (see review for instructions).
The main drawback is the price, at around €9 per month. But your subscription also gives you an unlimited number of connections to use with all devices, along with advanced features, such as TrackStop and NeuroRouting, multi-hop VPN chains, and obfuscation. For an in-depth analysis you can read the review or check out their website here >>
---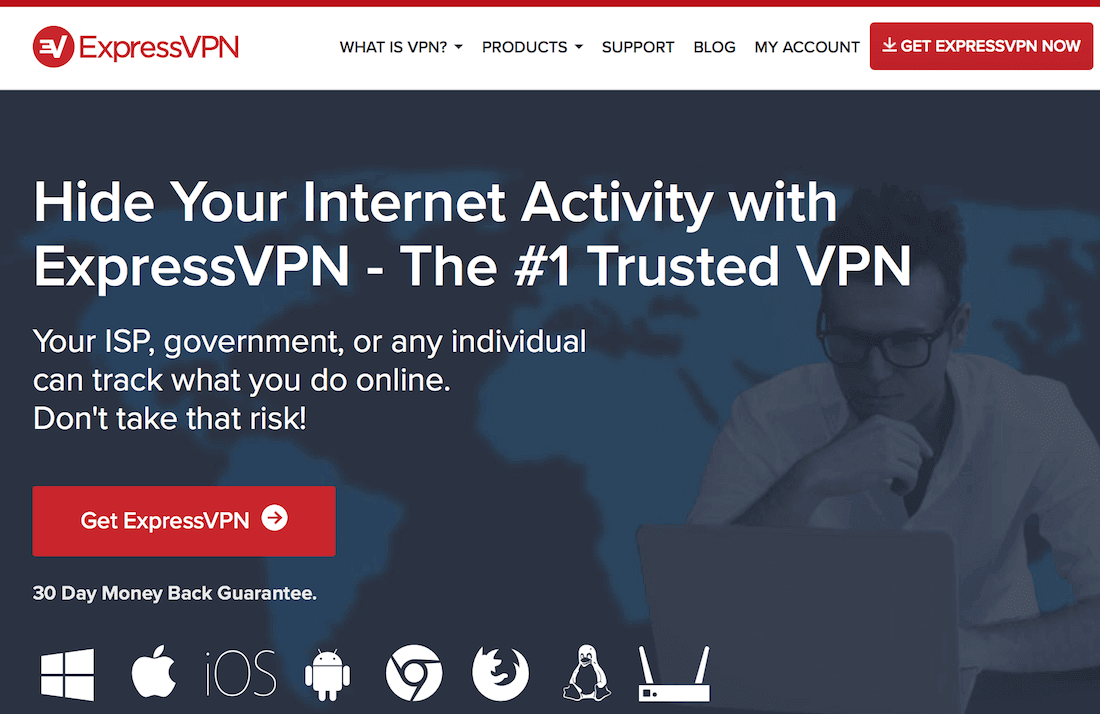 ExpressVPN is another excellent option for torrenting and P2P downloads. This British Virgin Islands-based service offers an excellent lineup of custom applications (more than Perfect Privacy) and it also performed very well in testing. Their policies are very friendly to torrenting, without any restrictions on their high-performance server network – see here.
While it may not have as many advanced features as others, ExpressVPN offers the best lineup of custom applications you will find. ExpressVPN's apps are all built with advanced leak protection and kill switch settings to protect your privacy while torrenting. Their server network is also optimized for torrenting with excellent bandwidth, speed, and reliability (see test results here).
ExpressVPN is also one of the best values you will find for a high-quality torrent VPN. They are offering an exclusive 49% discount, which drops the price to $6.67 per month, along with a 30 day money-back guarantee. Overall, this is another excellent torrent VPN that's worth considering.
*Built into applications (not configurable).
---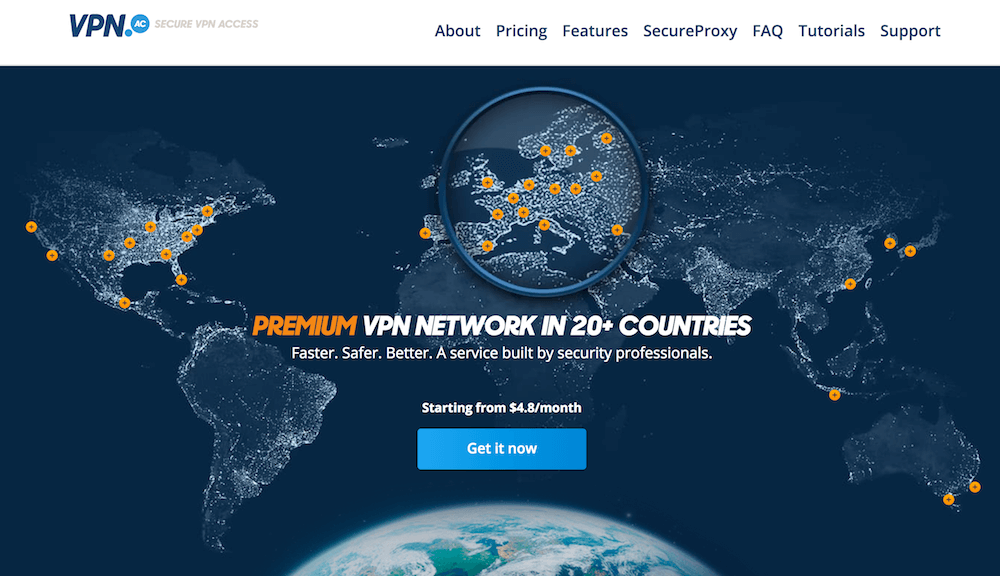 VPN.ac is another great VPN for torrenting. It was created by a team of network security professionals with a focus on security and quality. Their server network is composed entirely of dedicated premium servers offering excellent bandwidth and maximum security. If you want a torrent VPN that will provide great performance for large downloads, VPN.ac is a solid choice. (Check out their real-time bandwidth stats by selecting VPN Nodes Status at the top of the site.)
VPN.ac offers premium applications with advanced leak protection features, double-hop VPN configurations, numerous encryption options, as well as obfuscation. They do not limit torrenting traffic in any way, while also providing designated servers that are optimized for P2P downloads. And when you consider all the privacy and security features in relation to the price, at only $4.80 per month, this is another great deal for a premium VPN service.
---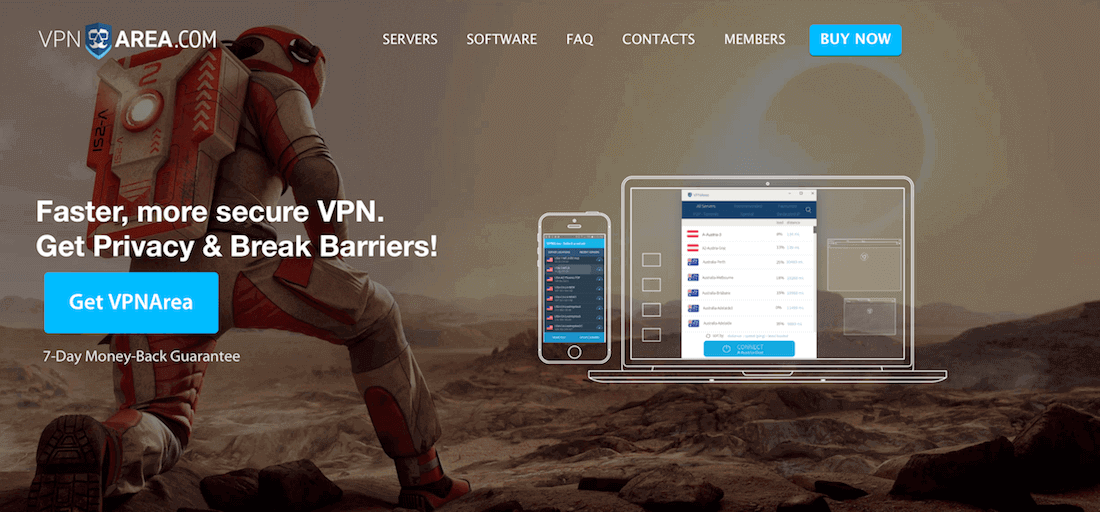 Another solid choice when selecting a VPN for torrenting is VPNArea. This Bulgaria-based provider offers a good lineup of applications and it also performed quite well in testing for the review. VPNArea is a strictly no logs service that is also competitively priced at about $4.92 per month.
While it doesn't offer as many advanced privacy features as other VPNs, VPNArea still did well in all categories for the review. It passed all privacy and security tests while also having great speeds and reliability. Overall VPNArea is a privacy-focused VPN that also isn't too expensive.
---
US VPNs for torrenting
Despite the drawback of the jurisdiction, there are still some good VPNs for torrenting that are based in the United States. In general, I tend to avoid recommending US-based VPNs simply due to concerns with surveillance practices/policies.
Note – It is difficult to determine how much jurisdiction affects users. Ultimately, it is just one of many factors to consider. However, due to harsh copyright laws and surveillance practices, I decided to leave US-based VPNs off the torrent VPN list above.
Nonetheless, the two VPNs listed below work well for torrenting and may also be worth considering.

TorGuard is a popular VPN when it comes to torrenting. It offers a "no logs" service, a good selection of servers, and some decent privacy features (including obfuscation). Overall it appears to be a solid VPN that you will often see recommended for torrenting.
A detailed review of TorGuard is forthcoming (stay posted).
You can get more information on the TorGuard website here >>

Another popular US-based VPN service that works well with torrenting is IPVanish.
Overall IPVanish performed well in testing for the review. Aside from a connection bug with the Mac OS client, everything worked well without any leaks or issues to report. The performance on the server network was excellent. I could often achieve speeds that were near the maximum for my internet service provider connection (100 Mbps).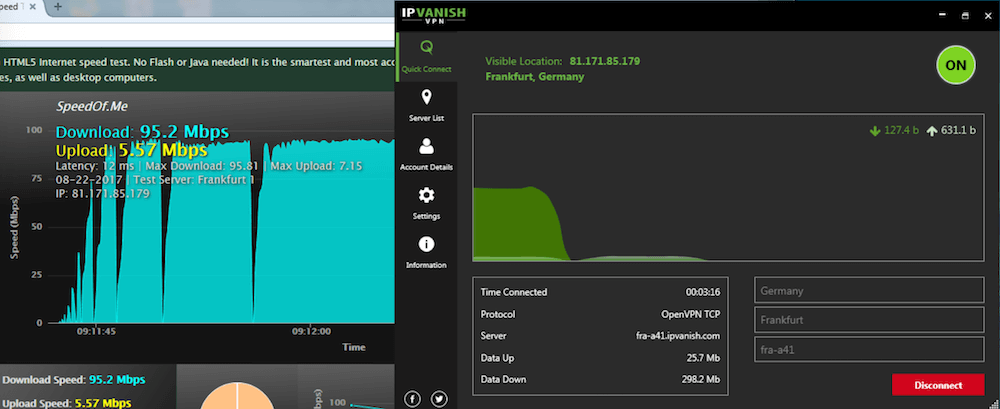 You can see all the testing results in the IPVanish review.
20% Discount – IPVanish is currently offering a 20% discount coupon through this link. Note – this discount will work on any subscription plan.
Copyright violations = playing with fire
Copyright violations are serious offenses in many countries throughout the world – and it's only getting worse. The movie, music, and TV industries exert enormous influence, which explains the major trends we see happening around the world.
Aside from the growing practice of blocking torrent websites, many governments are rolling out some very scary copyright infringement laws. Here are a few examples:
United States – The US is home to the infamous Digital Millennium Copyright Act (DMCA). DMCA penalties for copyright violations include:

Up to $500,000 in fines and 5 years in jail (first offense)
Up to $1,000,000 in fines and 10 years in jail (repeat offenders)

United Kingdom – The Digital Economy Act was recently passed in the UK, which raises the maximum prison sentence for copyright infringement to 10 years.
Australia – Many torrenting websites have already been blocked in Australia (but a torrent VPN will get around these restrictions). Now, industry lawyers will be targeting copyright infringers for damages with fines up to $2,000 per infringement.
We see these trends throughout Europe as well, particularly in Austria, Denmark, and Germany.
Wherever you are, using a good VPN is essential whenever you are torrenting.
I know what you download
You should also know that without a VPN hiding your identity and IP address, you can be easily tracked online.
Even worse, random groups are now creating giant databases of torrenting activity linked to your IP address, available for anyone to see. One example is the website I Know What You Download, which publishes all torrents under the user's IP address.
Here's an example I found linked to one of the shared IP addresses I use with Perfect Privacy (hence, not traced back to me):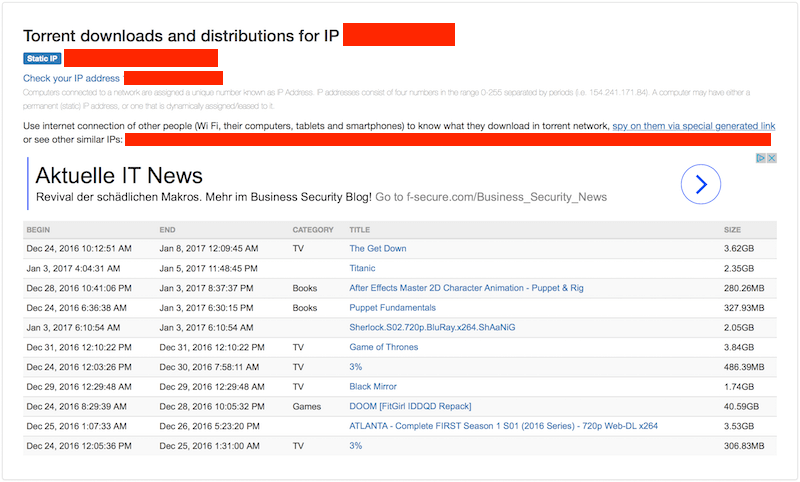 Thanks to websites such as I Know What You Download, it is even easier for copyright attorneys to target users – unless you're torrenting behind a good VPN service.
Free VPN for torrenting
Many people want to save money, so they look for a free VPN for torrenting.
Unfortunately, this is a usually a bad idea, for many reasons that are discussed in the free VPN guide. Here is an overview of why you should not use a free VPN for torrenting:
Malware – Free VPNs make money by collecting user data and selling it to third parties. Malware is often embedded in the VPN code to infect the user's device and collect their data. One study found malware in 38% of free VPN apps.
Tracking – Tracking libraries hidden in the VPN are just another tool for tracking the user, targeting him/her with ads, and collecting data for sale to third parties.
Third party access to your data – If you used a free VPN for torrenting, you should keep in mind that third parties may be getting access to everything you do when using the service. You can often read about these alarming practices directly in the VPN privacy policy.
Stolen bandwidth – One free VPN was even busted for stealing user bandwidth and reselling it through its sister company – see HolaVPN.
Browser hijacking – Some free VPNs have been found to hijack and redirect browsers to e-commerce sites, such as Alibaba and eBay, through partner networks.
Fraud – When third parties have access to your data and online activities, this makes you susceptible to fraudulent activities.
Traffic leaks –  This is perhaps the greatest risk for people using a free VPN to torrent. If your VPN is leaking your IP address while you are torrenting, then your identity and activities are exposed. This is a very dangerous situation, especially when you think the VPN is protecting your identity. (It only takes one leaked packet to expose your activities.)
These are the risks that you should consider when using a free VPN for torrents and file sharing.
Given the risks of copyright infringement in many countries, using a free VPN that may leave you exposed is just not worth the risk. Here is one example of leaks when testing Betternet free VPN: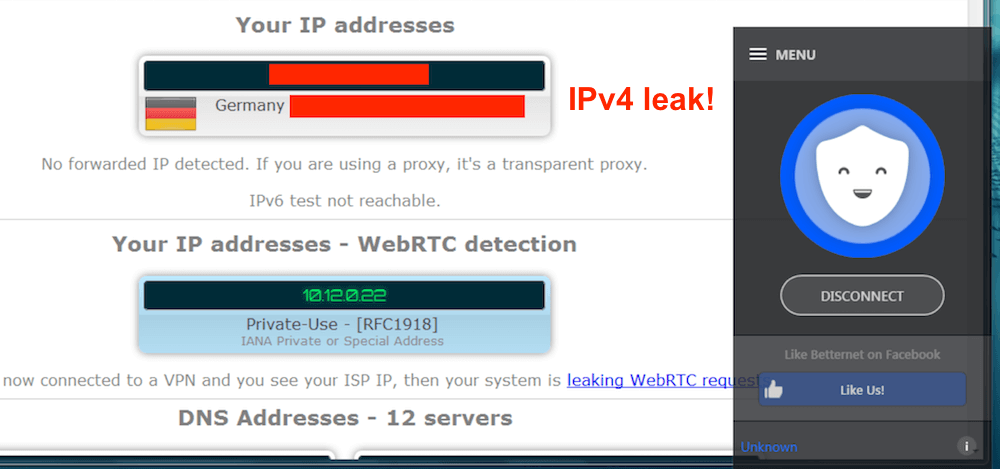 Another problem is that many free VPNs simply do not allow torrenting, given the high bandwidth load this activity places on the server network.
Best free VPNs for torrenting
Some free VPNs give you a small amount of free bandwidth for a limited amount of time, in the hopes that you upgrade to a paid plan. This is the "freemium" or "free sample" business model.
At the end of the day, you still end up needing a paid VPN, simply because you quickly run out of "free" bandwidth when torrenting.
Windscribe free VPN – The highest amount of "free" VPN bandwidth offered I've seen is from Windscribe. This is probably the best free VPN for torrenting I have come across.
Windscribe gives you 10 GB of free bandwidth, which won't last too long when torrenting. You can get the details of this free VPN here.
Trust.Zone VPN – Another "free sample" VPN you can try is Trust.Zone, which gives you 3 GB of bandwidth.
These are the only two free torrent VPNs I would consider using. In that regard, they are the best free VPNs for torrenting, although you will still need a paid VPN when you run out of free bandwidth.
Free torrent VPN conclusion
Ultimately, you will need a good, safe, reliable, paid VPN service for torrenting – rather than a free VPN. Therefore, you will save yourself some time and frustration by just avoiding free VPNs entirely.
Reasons to use a torrent VPN
The simplest and most effective way to protect your privacy and security when torrenting is to use a high-quality (paid) VPN service.
A good torrent VPN gives you many advantages because you can:
Hide your real IP address and geographic location
Add an extra level of security by encrypting your internet connection (on all your devices)
Prevent your Internet Service Provider (ISP), corporations, governments, and other third parties from spying on your online activities
Access blocked content that's restricted to certain geographic locations
P2P download in safety
Surf the internet with peace of mind
There are many factors to consider when looking for the best torrent VPN.
Given all the different factors, it is easy to see that there's no one single VPN that will be the "best" for everyone to use when torrenting. Instead, you can look at the details of each service and consider which is the best option for your unique situation. Additionally, every torrent VPN service on this page offers a money-back guarantee if you aren't satisfied with the service.
After purchasing your torrent VPN, you can then test it to ensure the VPN is keeping you safe while torrenting. See this VPN test guide for instructions.
If you want blanket protection for all devices on your network, you may also want to consider using a VPN router.
RECAP – Best VPNs for torrenting
---
---
---
---
---
Updated and revised on 09 December 2017