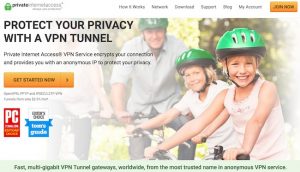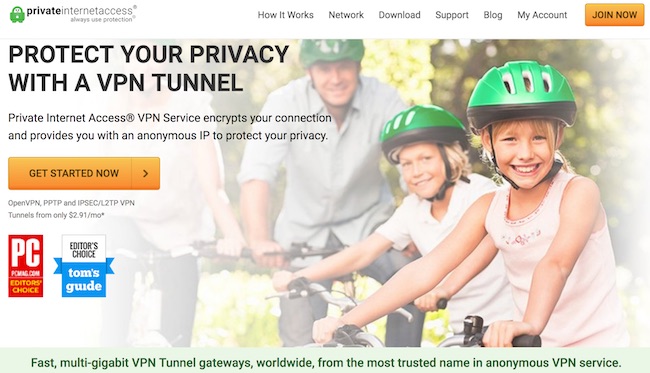 Private Internet Access (PIA) is a decent, low-cost VPN service that is based in the United States and works with a variety of devices. It offers acceptable speeds, a simple VPN application and an ad blocker, for a very competitive price.
While PIA is certainly not the worst choice, it also doesn't stand out in any meaningful way. Some of the drawbacks identified in this PIA review include US jurisdiction (Five Eyes), limited features, and poor support (as reported by numerous PIA users).
PIA Discount: If you want to give PIA a shot, you can now get a 58% discount here >>
(This drops prices down to $2.91 per month.)

Jurisdiction
United States

Logs
No logs

Price
$2.91
+ Pros
Low price ($2.91 per month)
No logs
Some decent security and privacy features
Ad blocker (but very minimal)
– Cons
Based in the US
Poor support
Limited on features
Visit Private Internet Access >>
---
Alternatives to Private Internet Access:
---
Private Internet Access VPN price
Private Internet Access (PIA) offers three basic pricing tiers.


With every plan you get a 7 day money-back guarantee. There are no hidden bandwidth clauses or other restrictions on the refund.
Unfortunately, I found it was difficult to get a refund and had to send their support department numerous emails. Searching online, it seems I'm not the only one complaining about this issue. Here are just a few recent complaints directly from the PIA forums:

I'm not sure I would trust the 7 day refund window, but their support may have improved since these issues were posted.
London Trust Media and US jurisdiction
PIA is owned by a company called London Trust Media, Inc. Despite the name, it's an American company that appears to be located in the state of Indiana. Unfortunately, it is difficult to find much information on London Trust Media and the people and investors behind the company.
In general, the United States is not the best jurisdiction when it comes to VPNs and privacy. This is due to:
Mass government surveillance (NSA spying)
Mass corporate surveillance (Google, Facebook, Verizon, Comcast and most US telecoms)
Troubling copyright laws (Digital Millennium Copyright Act – DMCA)
Many large tech and telecom companies have also been working directly with the NSA for a number of years (see the PRISM Program).
For more of a discussion on privacy jurisdictions, check out the Five Eyes article and also the VPN for USA guide.
Private Internet Access VPN features
While PIA doesn't have too many features, the application is simple and user-friendly. It integrates well with both the Mac OS and Windows operating systems. In Windows, you can simply select the red PIA icon from the dashboard and connect to a VPN server.

Within the application you can easily select from different security features and encryption options.
One nice feature is called "PIA MACE" which blocks malicious advertisements, trackers, and malware. This is similar to the Perfect Privacy Trackstop feature, but PIA's ad-blocker is not as customizable or powerful (number of items blocked).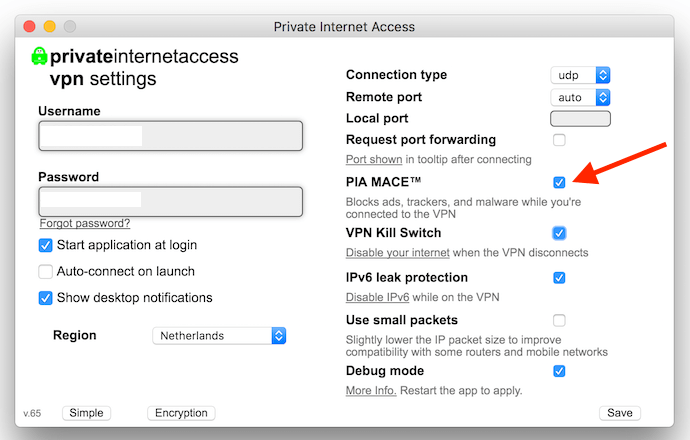 The main drawback of PIA MACE is that it is a very limited ad blocker.
You cannot customize anything and it does not seem to filter as many ads as other alternatives, such as Perfect Privacy's Trackstop.
In terms of functionality, PIA is simple and easy to use. A small icon (a privacy-looking character) with a check mark next to it lets you know you're connected and protected. Within the dashboard you can connect to VPN servers around the world.
PIA servers
The map below shows worldwide PIA server locations. As you can see, it isn't the largest server network, but it still gives you a decent selection. Compared to other VPN providers, the server network is about average.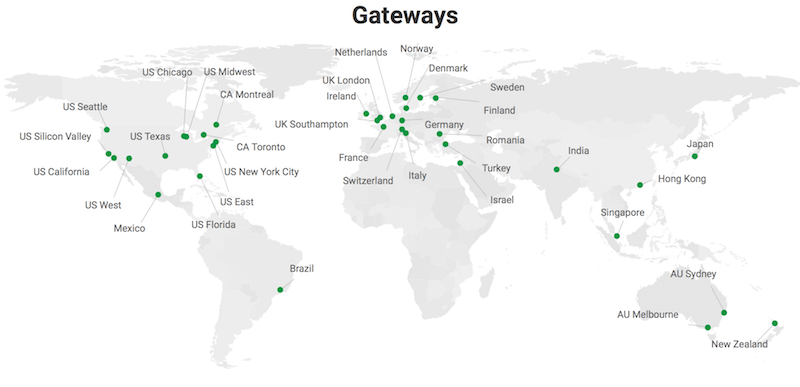 I also tested the servers to verify their true locations using the testing methods here.
Everything matched up.
PIA speeds and reliability
After testing a number of different servers, I found that speeds could vary somewhat depending on the server and time of day. I suspect this problem may have to do with the server load.
Unfortunately, PIA does not provide a server status page with real-time bandwidth information, (such as this). Therefore, there's no way to see the real-time bandwidth or know for sure what was causing these speed/connection issues.
Overall, Private Internet Access has ok speeds. Not awful, but certainly not great.
One comparably priced option (also cheap) that I found to perform better is VPN.ac (review).
User feedback – The feedback I have received from PIA users regarding speeds has also been mixed. While some are happy, many users are claiming speeds have gone down significantly in the past year as PIA has taken on more customers and has not done enough to expand their network capacity.
Privacy and security
PIA provides some basic privacy and security features that will benefit users.
The two main features are the "kill switch" and "IPv6 leak protection." The kill switch blocks all internet traffic in the event of a dropped VPN connection.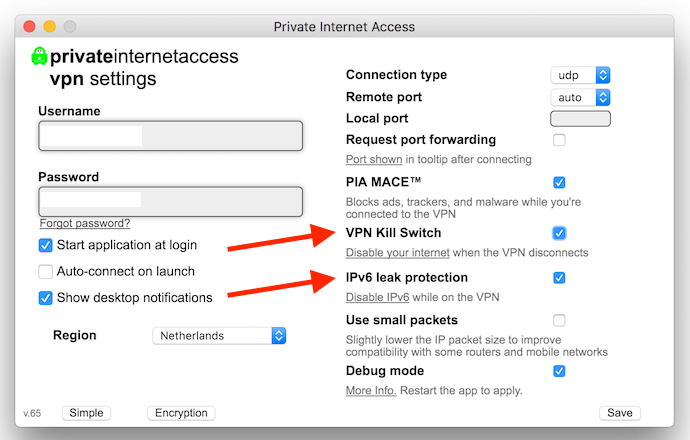 The IPv6 leak protection feature prevents your IPv6 address from "leaking" outside of the VPN tunnel.
The real question is how these features perform in testing…
Privacy features testing results
For testing, I ran PIA through all of the security checks here and also the website ipleak.net. The basic testing procedure is outlined here.
My tests checked for:
IPv4 leaks
IPv6 leaks
DNS leaks
WebRTC leaks
The PIA Mac OS and Windows clients passed all tests.
I did not identify any active or reconnection leaks. For a lower-priced VPN service, PIA is a decent option that should keep you safe.
Note: In older versions of the applications I did occasionally have problems with brief reconnection leaks. However, these issues appear to be fixed with the latest round of testing for this review. Nonetheless, it's always good to verify your VPN is working by testing it periodically.
PIA logs
PIA's homepage claims they do not keep any "traffic or request logs" – which is a good sign.
However, it's important to note that VPN logs are a grey area. PIA is a large provider that imposes limitations on subscriptions (limited to 5 connections). Usually, limitations require logging (connection logs), which is important to keep in mind.
Regarding logs, it's important to note that the US is a dangerous jurisdiction that has compelled various companies to log and hand over customer data. There was also recently a case where US authorities forced a Hong Kong VPN provider (PureVPN) to log data and provide this to the FBI.
Being located in the United States, PIA is more vulnerable to these issues, due to the simple fact that they fall under US regulations and laws.
For providers that are outside of the United States, check out the Best VPNs list.
Poor support – many complaints…
PIA's support seems to have taken a nosedive in the past few months when it comes to support. Going back a few years ago when I first tested PIA, I do not remember having any problems with support. However, the support has recently taken a turn for the worse, based on my recent interactions and other user feedback I've seen online.
Here is a recent screenshot I took from the PIA forums: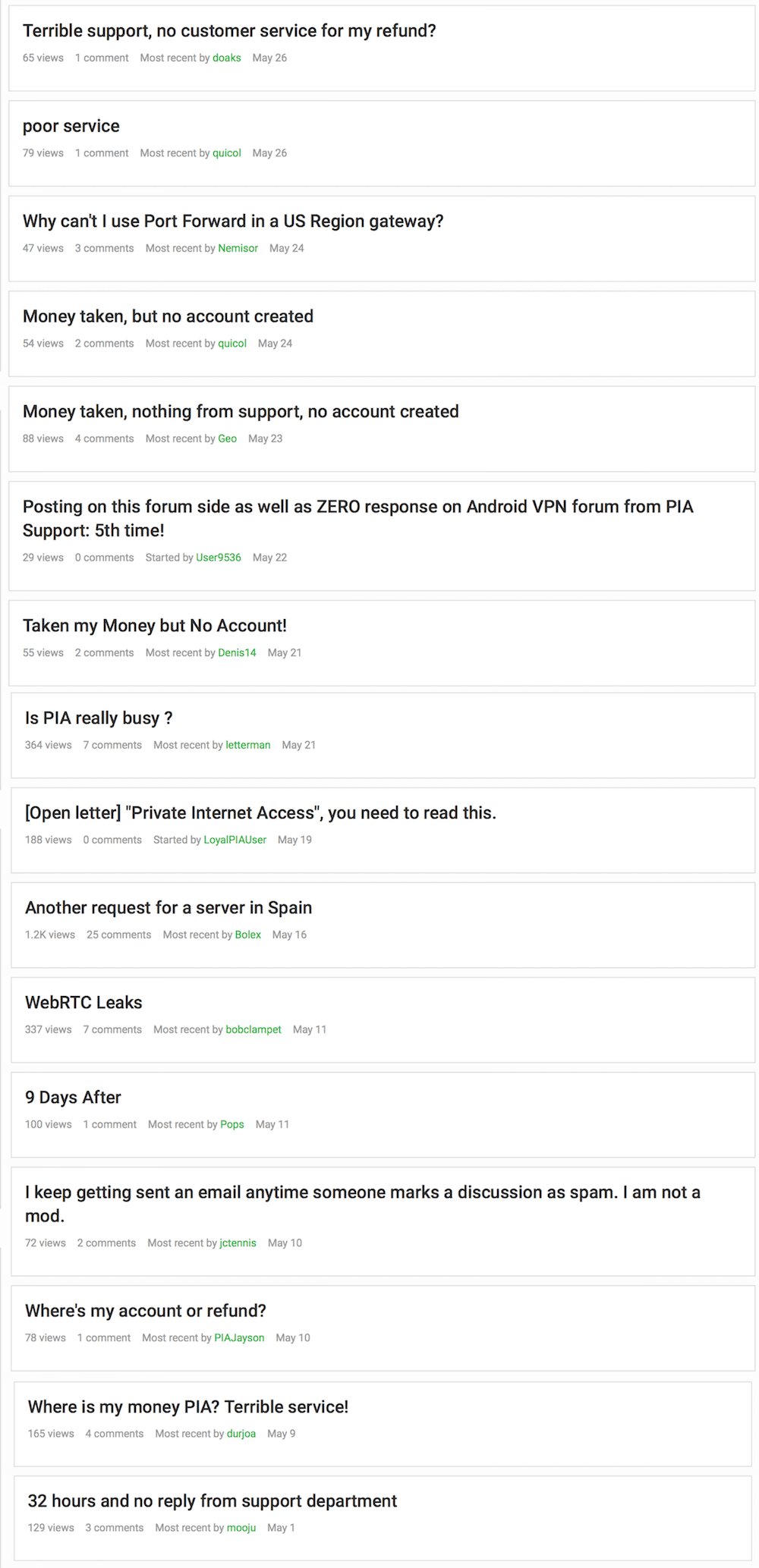 This may just be a temporary issue with the support department, but regardless, it is not reassuring.
I have also seen a few replies where PIA has stated they are expanding their support. We'll check back later to see how this has gone – hopefully things will improve.
Private Internet Access review conclusion
Private Internet Access is overall a mixed bag. If you're looking for a cheap, decent VPN service, it's worth considering, but there are other low-priced options that score better, particularly NordVPN (and see this NordVPN coupon). For a bit more money, ExpressVPN is also worth considering, especially with the three months free coupon.
You can also check out the VPN coupon page for other active discounts.
For a full description of our top VPN recommendations, see the best VPN comparison report.
And if you want to give PIA a shot, you can check out their discount prices below:
Get 58% Off Private Internet Access >>
Stay safe!
---
Alternatives to Private Internet Access:
---
If you have used Private Internet Access VPN, feel free to share your honest review (good or bad) below.
---