Can you get a great VPN service that is secure and fast without spending much money?
Answer: Yes, it is possible — but choose carefully.
WARNING: Many cheap (and free) VPNs suffer from two serious problems:
Reduced security: This can come in the form of IP address leaks, DNS leaks, broken features, and data collection. Many free VPN mobile apps include malware to collect your data, as documented in this study.
Reduced performance: Another problem with some cheap VPNs is reduced performance. This can be seen with slow speeds, dropped connections, and buggy apps.
Fortunately, many VPN services are dropping their prices and offering great discounts and savings. If you are looking to save money without sacrificing security, you still have some options with a good cheap VPN.
What is the best cheap VPN?
Based on our latest test results and analysis, the best cheap VPN service is NordVPN when you use this 68% discount coupon.
NordVPN offers the best value for your money with excellent speeds, reliable VPN apps, full streaming support, and the highest security standards. But we'll examine each of the best cheap VPN services in greater detail below.
How do we rank these low-cost VPNs? Here are the criteria:
Cheap prices (under $3.50/month)
Strong security with no leaks found (no IP address leaks or DNS leaks)
Good performance throughout the server network (speed and reliability)
High-quality VPN apps with all features working correctly
Supports the OpenVPN protocol and strong encryption standards
A trustworthy and well-established VPN provider with a good track record
Located in a safe privacy jurisdiction (outside of Five Eyes countries, such as the US and UK) to keep your data secure
So now let's examine the results!
Here are the best cheap VPN services for 2020:
1. NordVPN – Best cheap VPN in 2020
NordVPN is a privacy-focused VPN based in Panama that excels in many areas. It is one of the fastest VPNs I've tested, consistently beating out other top-rated VPNs, as shown in the NordVPN vs ExpressVPN tests. Recently, NordVPN incorporated the WireGuard VPN protocol into all its apps. This offers even faster speeds than other protocols and upgraded security. NordVPN is also a verified no logs VPN service, having passed an independent audit performed by PWC Zurich.
If you need a good VPN for streaming, NordVPN remains one of our top recommendations. It offers full support for Netflix, BBC iPlayer, Hulu, Amazon Prime and more. NordVPN even offers a dedicated Amazon Firestick VPN app to use with streaming devices. Torrenting is also allowed on all servers and speeds remain better than any VPN I've tested.
If you are looking for a discounted VPN that is packed with features, NordVPN has a lot going for it. Check out these highlights:
wIt also offers very strong encryption and some great privacy features. In addition to privacy and security, NordVPN also does very well in the area of streaming, such as with unblocking Netflix, Hulu, and other services.
Double-VPN servers: NordVPN currently has 31 double-VPN servers, which allow you to encrypt your traffic across two locations before entering the unencrypted internet.
Obfuscation: NordVPN apps come with built-in obfuscation features to conceal your VPN traffic as regular HTTPS encryption. Traffic will be routed through the Obfuscated Servers, even in places where VPNs may be blocked, such as in China.
Strong encryption: NordVPN uses an AES-256-GCM cipher with an HMAC SHA256 hash authentication, and a DHE-4096 key exchange for Perfect Forward Secrecy.
CyberSec: The CyberSec feature blocks tracking, malware, and advertising domains to improve privacy and page load speeds.
Leak protection: NordVPN incorporates a kill switch in all their VPN apps to keep your traffic secure and ensure no unencrypted data leaks out of the tunnel.
Huge server network: NordVPN offers over 5,500 servers in 59 countries. Additionally, it does not use any virtual server locations.
If you want to test-drive what I consider to be the best cheap VPN for 2020, check out NordVPN with the discount below. All plans come with a 30 day money-back guarantee, as well as access to 24/7 live chat support.
NordVPN 68% Off Coupon
Get 68% off NordVPN (drops the price down to $3.71 per month)
68% Off NordVPN Here >>
(Discount is applied automatically.)
My NordVPN review also includes more test results and information.
---
2. Surfshark – Most affordable VPN (lowest monthly price)
Surfshark is the cheapest VPN that we recommend in this guide, coming in at only $2.49 per month with the two-year plan. Despite being a relatively new VPN (launched in 2018), Surfshark has a lot to offer. For starters, it offers an unlimited number of connections and custom VPN apps for all major operating systems and devices. The Windows VPN clients offer full support for the OpenVPN and IKEv2 protocols and use AES-256 encryption.
If you need a basic VPN for streaming, without spending too much money, Surfshark remains a great option. It fully supports all major Netflix regions, BBC iPlayer, Hulu, Amazon Prime, and many other streaming services. You can easily stream Kodi with a VPN as Surfshark offers a broad server network and good speeds.
For privacy features, Surfshark offers many features similar to NordVPN:
CleanWeb feature to block ads, tracking and malware domains
Double-VPN servers
Obfuscated servers
In addition to these features, Surfshark also offers a "WhiteLister". This is a split tunneling feature that lets you route applications or websites outside the VPN tunnel, similar to ExpressVPN.
To get the lowest price with Surfshark, use the coupon below with the two-year subscription plan. Every Surfshark subscription comes with a 30 day money-back guarantee and 24/7 live chat support.
Surfshark 81% Off Coupon
Get 81% off Surfshark VPN (drops the price down to $2.49 per month)
81% Off Surfshark VPN Here >>
(Discount is applied automatically)
See our Surfshark review for more info and the latest test results.
---
3. Trust.Zone VPN – Inexpensive VPN in Seychelles
Another inexpensive, yet high-performing VPN service is Trust.Zone. Trust.Zone is based in Seychelles and offers a basic VPN with some great features at a very reasonable price. It is a no-logs service with strong encryption and good leak protection features.
Here are some highlights from the Trust.Zone review:
Strong encryption: Data is secured with an AES-256-CBC cipher, SHA256 authentication, and an RSA-2048 handshake.
Leak protection: Leak protection (kill switch) features are available with the Windows and Android clients.
Streaming support: You can stream Netflix, Hulu, and other services through Trust.Zone servers (no blocks).
Dedicated IP: Trust.Zone offers very affordable prices if you need a VPN with a static IP addresses in different countries.
Unfortunately, Trust.Zone does not offer a VPN client for Mac OS or iOS, but instead supports these operating systems through third-party apps. If you are a Mac user, see these VPNs for Mac instead.
FREE TRIAL: Trust.Zone is a great option if you want a free trial VPN. You will get 3 GB of bandwidth and/or 30 days, whichever comes first, and you don't need to provide any payment info.
10% OFF Coupon Code: For an additional 10% off your order, use the coupon code RESTOREPRIVACY10
See my Trust.Zone review for more details.
---
4. VPN.ac – Security-focused VPN that's affordable
VPN.ac is another great cheap VPN service, coming in at only $3.75 per month with the two-year plan. They offer very secure VPN apps and a dedicated bare-metal server network with great speeds. Although it is not as fully-featured as NordVPN (above), VPN.ac is still a decent option at a reasonable price.
For those on a budget who are looking for a security-focused service, VPN.ac is worth considering. Their entire server network runs only on dedicated bare-metal servers, providing you with excellent speeds and security. They offer 22 different double-VPN server configurations as well as a secure proxy browser extension. Within the VPN.ac applications, you can select the VPN protocol, port, and encryption cipher you'd like to use.
If you are in a location where VPNs are blocked, VPN.ac offers excellent obfuscation features to get through these restrictions. This makes it one of the best VPNs for China. However, VPN.ac is not the best service to use for unblocking streaming services, as they are generally more focused on privacy and security.
While VPN.ac is an excellent low-cost VPN, it does come with a few drawbacks:
Connection logs – Connection logs are kept for network security and troubleshooting. These logs are automatically erased every 24 hours and do not include any browsing activity or usage stats.
Limited streaming support – VPN.ac has limited streaming support and is not the best VPN for Netflix or other streaming services.
VPN.ac offers a 7 day refund window on all subscriptions.
See the VPN.ac review for detailed test results.
---
5. VPNArea – Good all-around inexpensive VPN
Another reliable cheap VPN service is VPNArea. While it may not get as much attention as other big-name VPN services, VPNArea does very well in terms of performance and privacy features. It is a no-logs VPN provider based in Bulgaria, which is an excellent privacy jurisdiction.
In terms of streaming services, VPNArea currently supports Netflix and BBC iPlayer, but other services may work as well. VPNArea is also a good VPN for torrenting, with dedicated P2P servers in many countries. With your subscription, you'll get up to six simultaneous connections with your subscription.
VPNArea encrypts traffic with an AES-256 cipher and offers the OpenVPN and IKEv2 protocols. The apps include a kill switch to prevent any VPN leaks. If you want to block ads, VPNArea also offers ad-blocking DNS servers. Lastly, you can utilize a dedicated IP address as a feature add-on.
Main drawbacks of VPNArea:
Limited number of Netflix servers available
Desktop apps feel a bit clunky
Refund policy: VPNArea offers a 30 day refund policy with one-year and three-year plans, and a 14 day refund window with one-month plans. The cheapest VPN subscription with VPNArea is the three-year plan, coming in at only $2.99 per month.
Check out the VPNArea review for more info.
---
6. VyprVPN – Reliable and inexpensive VPN in Switzerland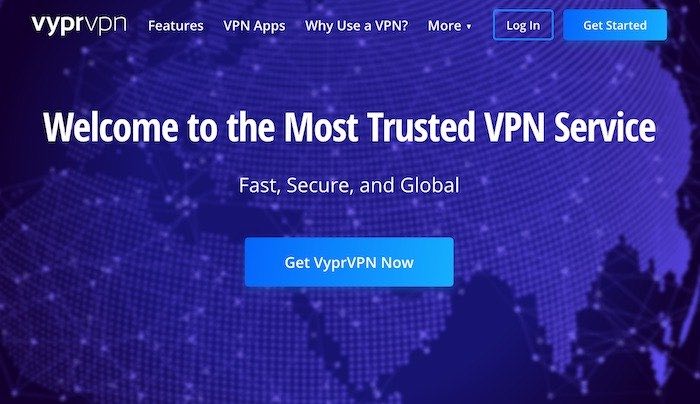 Next up is VyprVPN, a lower-priced VPN service based in Switzerland. VyprVPN is a no-logs VPN provider with simple and reliable applications for all major operating systems and devices. It performed well in testing and offers some great features at a low price.
Here's an overview from the VyprVPN review:
Good speeds: VyprVPN offers good speeds and reliability throughout the server network.
Obfuscation features: The VyprVPN apps include an obfuscation feature to hide VPN traffic and get through VPN blocks. This is called the Chameleon protocol.
Self-owned servers: VyprVPN owns all servers in its network and does not rely on any third parties for infrastructure. (However, VyprVPN does utilize virtual server locations.)
Secure apps: The desktop and mobile VyprVPN apps include built-in leak protection settings (kill switch).
Good for streaming: VyprVPN works well with streaming Netflix, BBC iPlayer, Hulu, and more. (Currently one of the best VPNs for streaming.)
While VyprVPN is a good cheap VPN service, I have found some drawbacks. There is currently no support for cryptocurrency payments and streaming support is somewhat limited compared to other options.
Refund policy: All plans come with a 30 day refund window.
See my review of VyprVPN for detailed test results and analysis.
---
7. AirVPN – Secure and cheap VPN in Italy
AirVPN is a privacy-focused VPN service based in Italy that is also quite cheap. It has a great reputation within the privacy community and a good track record going back many years. AirVPN offers secure VPN clients for all devices and operating systems with built-in leak protection features. The server network consists only of dedicated bare-metal servers.
Although AirVPN has a lot to offer, it also has a few drawbacks. Speeds aren't as good as some of the best VPN services and support can be hit or miss. It's also not the most user-friendly service, but once you get everything configured it works pretty well.
Overview of AirVPN:
Fully-featured open source clients: The AirVPN client is open source and available for Windows, Mac OS, Linux, and Android. It incorporates strong leak-protection features.
Strong encryption: Air VPN encrypts traffic with an AES-256-GCM cipher together with a 4096-bit RSA key and SHA384 authentication.
Secure servers: AirVPN runs only dedicated bare-metal servers in secure data centers around the world.
IPv6 support: IPv6 is supported throughout the server network.
No logs: AirVPN is a no-logs VPN service.
Here are the drawbacks of AirVPN:
VPN clients are not very user-friendly
Speeds can be hit or miss (variable)
Support can be abrasive
Limited refund policy (below)
Refund policy: Refunds are limited to only 3 days and/or 5 GB of data transfer.
The cheapest price you can get with AirVPN is €2.20 (about $2.45) per month with the two-year plan.
---
Are there drawbacks with cheap VPN services?
When choosing a cheap VPN service, you really need to be careful.
With more people turning to VPNs for privacy, security, and online freedom, there are numerous shady and unknown VPNs coming on the market. Below are just a few issues that plague some cheap VPN services:
Traffic leaks – Many cheap VPNs do not offer adequate leak protection. This means the VPN may be leaking your IP address and/or DNS requests, thereby rendering the VPN useless.
Broken features – Many cheap VPN services advertise features that simply do not work well. Examples of this include faulty kill switches and split tunneling features. (See for example with PureVPN.)
Data collection – Some cheap and free VPN services collect data, which is sold to third parties for profit. Betternet is one example of this.
Poor support – Delayed and inadequate customer support is another problem frequently encountered with many low-priced VPN services.
The point here is to use caution when selecting a good VPN for your needs. Granted, there are good cheap VPN services on the market, but you need to be selective.
Free VPNs vs Cheap VPNs
Some people looking to save money may be tempted to use free VPN services – despite the known risks. This is generally a bad idea because it raises two important questions:
What is the business model of the free VPN?
How is the free VPN covering the costs of app development, support, and server hosting?
The answer to both of these questions is usually as follows: the free VPN is making money by collecting and selling user data to third parties.
One interesting study found that 38% of free Android VPN apps contained malware, and over 80% leaked sensitive user data.
If something is free, you are probably the product, but there are a few free trial VPN services service may be worth considering.
Low-price VPNs via discounts and coupons
As mentioned above, some of these VPN services are offering discounts and coupons.
VPN coupons and discounts are a great way to secure a cheap VPN service without breaking the bank. While many VPNs are fairly expensive and do not offer any major discounts or coupons, there are a few that offer some great deals.
For example, our top recommendation, NordVPN, occasionally offers bundled deals and discounts. I keep track of these on the NordVPN coupon page.
What about renewal prices?
Many cheap VPN services offer consistently low prices where the renewal price is the same as the sale price (no changes). Others, however, may renew for a higher price when the first billing cycle ends.
Just be sure to read the specifics of the deal you are signing up for so there aren't any surprises.
Do you get what you pay for with cheap VPNs?
Perhaps you are wondering: With cheap VPNs, do you get what you pay for?
The short answer is: it depends.
The key question here is value: what you get for your money.
Some VPNs are on the higher end of the pricing spectrum, such as with ExpressVPN at $6.67 per month. However, even here you can still save money, such as with an ExpressVPN coupon for three months free. At the other end of the spectrum are free VPN services, which are generally not worth the risk.
Cheap VPNs take the middle ground and offer good value for your money. In other words, you can still get a pretty good VPN without spending too much money.
Cheap VPN Comparison Table
To wrap up this guide, below is a comparison table of the best cheap VPN services. Of course, there are other cheap and inexpensive VPNs out there, but the ones below meet our standards, have been thoroughly tested, and offer a great value for your money.
At the end of the day, you don't have to spend a lot of money to achieve more privacy and security online. A cheap VPN service will get the job done, with money to spare.
---
---
---
---
---
---
---
---
---