ExpressVPN is a long-time leader in the VPN world. TorGuard is another well-known VPN service. Both have large subscriber bases, and both have recently done significant updates. That makes this a great time to pit them one against the other and see which one comes out on top.
We did extensive testing and broke down the results into eight categories. Reading through from beginning to end lets you see how ExpressVPN and TorGuard function as general VPN services. Or if a specific category (streaming, for example) is your top priority you can save yourself some time by heading right to that category.
Overall, the test results revealed that ExpressVPN is the clear winner. In comparison to TorGuard, ExpressVPN offers more security features, much faster speeds, better apps, and more streaming support. It is a better overall value.
This table summarizes the main facts about TorGuard and ExpressVPN:
| | | |
| --- | --- | --- |
| | ExpressVPN | TorGuard |
| Website | ExpressVPN.com | TorGuard.net |
| Location | British Virgin Islands | United States |
| Servers | 3,000+ | 3,000+ |
| Countries | 94 | 50 |
| Logs | No logs (audited) | No logs |
| Torrenting | All servers | Restricted |
| Netflix | Supported | Limited* |
| Support | Knowledge Base; Email; 24/7 chat | Knowledge Base; Email (no chat) |
| Apps for | Windows, macOS, Linux, Android, iOS | Windows, macOS, Linux, Android, iOS |
| Price | $6.67 (with coupon) | $2.50 |
| Coupon | 49% Off + 3 Months Free > | > (opens in a new tab)">50% Off >> |
* TorGuard only supports Netflix and streaming if you pay an extra $7.99 per month for a streaming bundle.
From this point on, the article is a head-to-head comparison of TorGuard and ExpressVPN. We've broken down the comparison into eight different categories:
Company background and jurisdiction
Features
Speed tests
Streaming and Torrenting
Security and Encryption
Privacy
Prices & Refunds
Value
By the time you see the results of our testing, it will be easy to see why we say that ExpressVPN is the superior VPN in this comparison.
Company background check and jurisdiction
When you use a VPN to secure your online communications, you need to remember that your VPN service could arrange to see and record your online activities. While VPNs normally avoid doing that, some have been caught spying on their users. While some of those do so for their own reasons, others do so under orders from the government of the jurisdiction in which they are based.
IPVanish is a US-based VPN service that claimed to be a "no-logs" VPN, while secretly logging user data and handing it over to the FBI. We don't know how that all came to pass, but it doesn't really matter.
What does matter is the jurisdiction a VPN company is based in, along with the history and integrity of that company. Some jurisdictions are good for privacy, and some are very bad. Here is all the relevant information we were able to discover about TorGuard VPN and ExpressVPN.
ExpressVPN background check and jurisdiction
ExpressVPN is based in the British Virgin Islands (BVI), one of the best jurisdictions in the world for privacy reasons. The BVI is not a member of any international spy alliances and imposes no data retention rules upon companies. We have never heard of an instance where the BVI pressured a company to turn over private information, and the country has no laws requiring data logging.
As far as ExpressVPN itself, the company is owned by Kape Technologies but continues to function as an independent service separate from other Kape brands. In response to a 2022 directive from the Indian government for VPN services to start collecting and storing user data, ExpressVPN announced that it was removing its servers from India and that it "refuses to participate in the Indian government's attempts to limit internet freedom."
TorGuard VPN background check and jurisdiction
TorGuard is based in the United States. Whatever feelings you might have toward the USA as a country, it is not a privacy-friendly jurisdiction. Without getting too far into the details, the company that owns TorGuard (VPNetworks LLC), and the holding company that owns VPNetworks LLC, were previously based outside the USA, but are now both based in Orlando, Florida, USA.
We don't know why the companies returned to the United States, but their US jurisdiction is not good for their users. Here's why:
The US government runs numerous surveillance programs inside and outside the country, sometimes (intentionally or not) sweeping up information on millions of US citizens.
As a founder of the Five Eyes surveillance network, the US and other members reportedly gather information about each other's citizens, then pass that information along, possibly skirting laws designed to protect the privacy of citizens.
On multiple occasions, the US government has forced VPN services to log their users. The government may keep this activity a secret and can impose gag orders on the VPNs, preventing the VPN from notifying their users that their data may be logged. This has happened at least three times that we know of (IPVanish, Lavabit, and RiseUp).
Politicians are under continual political pressure in the United States to increase the surveillance of citizens. And recently, demands have been growing to try to force VPNs to include encryption backdoors which could be a disaster for privacy.
TorGuard gets sued in the US and is now required to block torrenting on US servers
Any VPN based in the United States can be sued under the Digital Millennium Copyright Act (DMCA). TorGuard was sued in this manner and the courts have forced TorGuard to block torrenting on all their US servers.
Note: You can find out more about this lawsuit in this article.
Company background check and jurisdiction winner: ExpressVPN
---
ExpressVPN features vs TorGuard features
Both of these VPNs have more features than the typical VPN. But the question we want to answer today is which of the two has the best feature set.
TorGuard features
TorGuard has lots of features that might appeal to you if you want or need to adjust the VPN's inner workings. The following image shows just one of the eight (8) tabs of options you can adjust: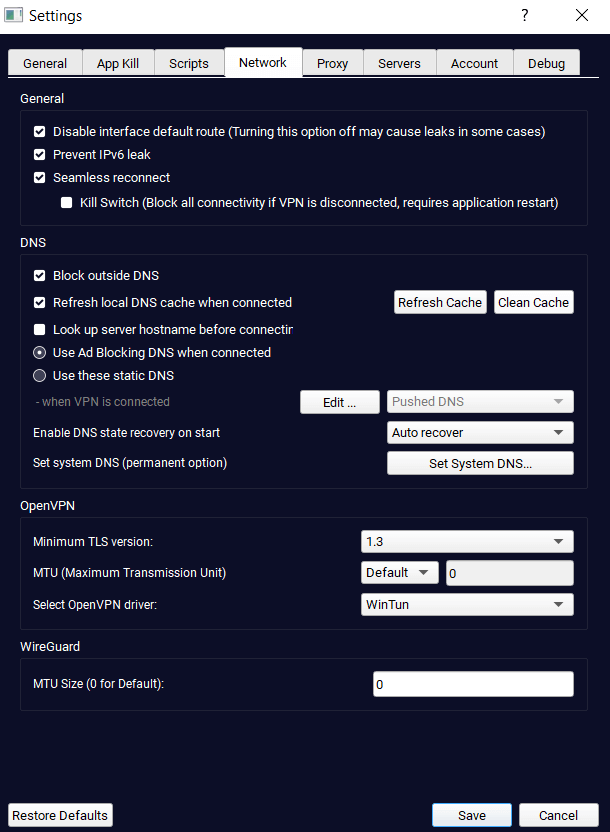 Fortunately, few of us need to delve this deeply into the inner workings of our VPNs. So instead we should talk about features that the average user is more likely to be interested in.
TorGuard supports a wider range of VPN protocols than most services. These include:
Standard VPN protocols: OpenVPN, IKEv2, L2TP, and IPSec.
Stealth VPN protocols: OpenVPN Stealth, ShadowSocks, Stunnel, and AnyConnect (a.k.a. OpenConnect).
Their stealth VPN protocols could serve well as a VPN for Dubai and UAE or similar countries that try to block the most common protocols.
Note: Although we haven't been able to make it work on our test machines, TorGuard officially supports the WireGuard VPN protocol.
TorGuard gives you access to a wide range of encryption algorithms. The list includes: AES-128, AES-256, Blowfish, and ChaCha20 (once they get WireGuard working).
Another TorGuard feature that we like is their support for 8 simultaneous connections. Most VPNs support 5 or 6 simultaneous connections. Some, however, give you an unlimited number of connections, as we noted in the Surfshark VPN review.
The TorGuard VPN network is fairly large, with more than 3,000 servers deployed across more than 50 countries. And because the network has servers in some less-commonly supported countries, TorGuard might be a good choice for you if you need access to servers in places like Moldova and the UAE.
While the TorGuard server network supports some uncommon countries, their VPN app selection is pretty basic. They have apps for the following: Windows, Mac OS, Linux, iOS, and Android. Their iOS support used to be good enough to make it onto our list of the best VPNs for iPhone, but they have since fallen off that list.
This is the TorGuard Windows VPN app we did our testing with: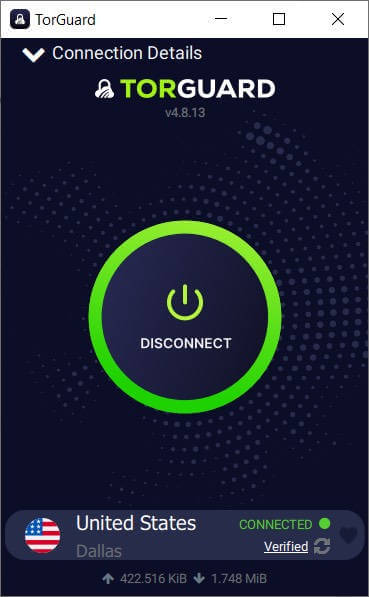 In addition to their apps, TorGuard has browser extensions for both Firefox and Chrome. And you can get VPN routers with TorGuard pre-installed from their sister company Private Router.
One thing that bothers us about the TorGuard apps is that what you can do is limited when you are connected to a server. In other words:
You can't even look at the server list (much less connect to a different VPN server) without disconnecting from the current VPN server.
You can't look at your settings or preferences (much less adjust them) without disconnecting from the current VPN server.
This is slow and clumsy and leaves your internet traffic unprotected while you are contemplating which server to use, or whether some setting needs to be changed. Other leading VPNs like NordVPN and ProtonVPN let you choose a new server and switch directly to it without manually disconnecting and reconnecting in this way.
The TorGuard apps were also very buggy in our tests. We ran into numerous problems where the new apps had problems when tested on the same computers where the old apps ran flawlessly. We observed numerous "check your firewall" error messages like the one here: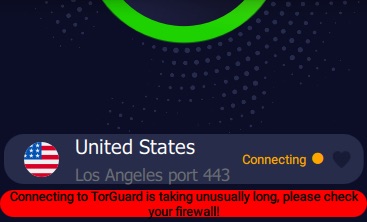 We also saw these errors which seemed to appear randomly and without cause:

No matter what we tried (cleaning the system, reinstalling the VPN, etc.), we could not get rid of these bugs. There seems to be something seriously wrong with the new TorGuard VPN apps.
Fortunately, there are many VPNs out there whose apps work without errors. You can see this in our comparison of Private Internet Access and NordVPN.
More bad news: TorGuard charges extra for many features
Sadly, many of TorGuard's best features are delivered as extra-cost options. The most glaring example is streaming support. The standard TorGuard VPN offers limited support for streaming content. If you want a good streaming experience with this service, you need to pay for it. And the prices can quickly add up when you start including these paid add-on features, turning TorGuard into an extremely expensive VPN very quickly.
If you decide to sign up for TorGuard, during the process you will be exposed to numerous "bundles" of interesting features available for an additional monthly fee. The need to pay extra for the best capabilities marks TorGuard as the loser when it comes to VPN features. The one exception to this is the VPN with a dedicated IP option, which is typically a paid add-on with other VPNs as well.
ExpressVPN features
ExpressVPN takes a different approach to features than does TorGuard. As you just saw, TorGuard has a good number of features, some of which come with an extra charge. ExpressVPN has a smaller feature set, but all the features are included in the base price. And all of the features and apps you get with ExpressVPN are polished and work correctly. It is a bit of a quality vs quantity situation.
Here are the main ExpressVPN features that we think you should know about:
Lightway VPN protocol – ExpressVPN's answer to WireGuard. It is faster, more secure, and more reliable than older protocols like OpenVPN. However, in our ExpressVPN vs Surfshark tests, WireGuard appears to be faster than Lightway.
Split tunneling – Route some of your internet traffic through the VPN for maximum security and privacy, and some of your traffic directly to the internet for the best speed. While this is a useful feature, most of the top VPNs today include their own versions of split tunneling.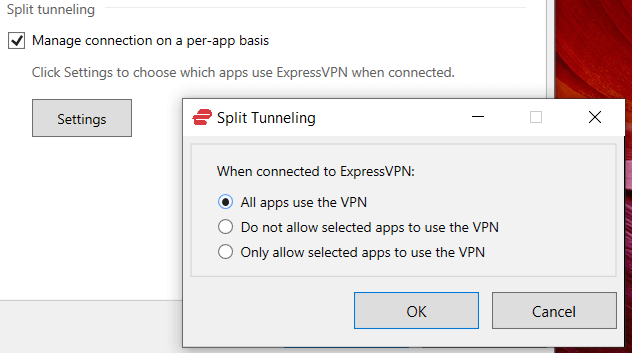 TrustedServer Technology – All ExpressVPN servers are diskless. With no disk, there is no way personal data can be stored on a server. While TorGuard does not have diskless servers, other leading VPNs like NordVPN and Surfshark do.
Threat Manager – This feature prevents apps and sites from communicating with potentially dangerous internet locations and trackers.
Overall, TorGuard offers more features than ExpressVPN, but the TorGuard features tend to be less reliable. Worse, several of the most desirable TorGuard features come in the form of expensive add-ons.
Features winner: ExpressVPN
---
ExpressVPN vs TorGuard speed tests
The speed with which a VPN can move data is very important, regardless of what you plan to do with that VPN. It is well-known that all VPNs will have some negative impact on the speed of your connection. However, some VPNs have a minor impact, while others can slow your internet activities to a crawl.
We have seen differences in speed of more than an order of magnitude (one VPN ten or even 20 times faster than another when communicating between the same two points). We conducted our standard speed tests to see whether ExpressVPN or TorGuard is faster.
Note: We ran these tests on the 500 Mbps connection in our US lab. For ExpressVPN, we ran all tests using their new, faster Lightway VPN protocol. For TorGuard, we were forced to run the tests using the OpenVPN protocol, since we have never been able to get TorGuard's WireGuard support to function.
We started the testing by connecting to servers in several locations across the United States.
Test 1: Los Angeles
TorGuard speeds with a server in Los Angeles: 9.7 Mbps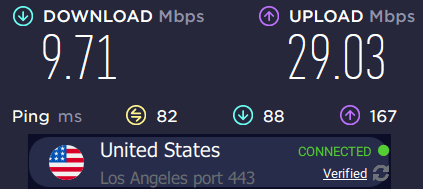 This is an incredibly bad result for any VPN. It is even worse when you consider that the last time we tested TorGuard, it achieved a speed of over 200 Mbps on this same test.
ExpressVPN speeds with a Los Angeles server: 209 Mbps

ExpressVPN's speed on this test is pretty good, but certainly not exceptional. Even so, on this test ExpressVPN is almost 22 times as fast as TorGuard! This is similar to what we saw in the ExpressVPN vs CyberGhost comparison.
Test 2: Seattle
TorGuard server in Seattle: 50 Mbps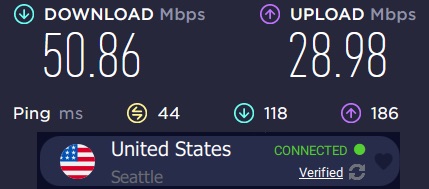 Better than the Los Angeles results, but frankly, still terrible. TorGuard clocked in at over 200 Mbps on this test a few months ago.
ExpressVPN server in Seattle: 136 Mbps

This is not a great result for ExpressVPN. To give you an idea of what is possible, NordVPN killed it on this test with a speed of 445 Mbps! Sadly, even with its slow performance on this test, ExpressVPN was almost 3 times faster than TorGuard.
Test 3: New York
TorGuard server in New York: 47 Mbps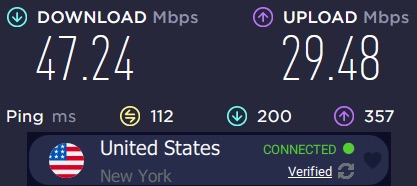 Another disappointing result for TorGuard, and once again far slower than the last time we tested this VPN.
ExpressVPN server in New York: 214 Mbps

ExpressVPN is almost 5 times as fast as TorGuard on this one. But even these improved ExpressVPN results, Surfshark blows both of them away with a test result of 397 Mbps. (See the
Test 4: United Kingdom
To round out our testing we connected to servers in the United Kingdom. This country has some really good content available but is becoming more and more of a surveillance state, making the use of a VPN to view that content mandatory.
TorGuard server in the UK: 152 Mbps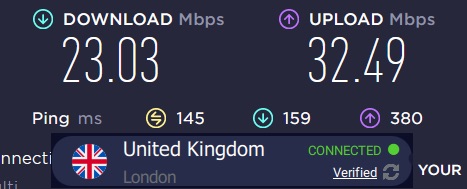 23 Mbps this time versus 152 Mbps last time. Every one of these results is disappointing.
ExpressVPN server in the UK: 235 Mbps

This is a pretty good test result for a transatlantic connection. Not the fastest we have ever seen, but better than most and more than 10 times faster than TorGuard. We found similar test results in our TorGuard vs NordVPN comparison.
Why is ExpressVPN so much faster than TorGuard?
We can't say why TorGuard seems to have gotten much slower with time, but we can think of at least one major reason why ExpressVPN is so much faster than TorGuard. That's because we ran the ExpressVPN tests using ExpressVPN's new Lightway protocol. Lightway improved ExpressVPN's speed noticeably when compared to ExpressVPN using the OpenVPN protocol.
Theoretically, TorGuard should have an edge here. TorGuard claims to support the WireGuard VPN protocol, which is faster than even Lightway. But we haven't been able to get TorGuard's WireGuard implementation running on either of our test machines. Whenever we try to use the TorGuard WireGuard option, we get SSL Handshake Failure error messages. That left us with no choice but to run the TorGuard tests using the OpenVPN protocol.
Note: We think the problem lies with the TorGuard apps because our test computers got the exact same errors, despite running two different operating systems (Windows and Linux), being physically located on different continents, and trying to connect to different servers. The single commonality was that we were trying to use TorGuard's WireGuard implementation.
Hopefully, the TorGuard team will have everything working well the next time we are ready for some TorGuard speed testing.
Speed test winner: ExpressVPN
---
Streaming and Torrenting: TorGuard vs ExpressVPN
Streaming and torrenting are two very popular uses of VPNs. In this section, we are going to look at how both VPNs handle both tasks. And we will start with streaming.
When we look at the streaming capabilities of VPN services, we look for two things:
Sufficient speed to stream HD video from Netflix and other services at full quality and without interruption.
The ability to stream content from other countries, particularly content that is geo-blocked.
ExpressVPN streaming
ExpressVPN has a well-earned reputation as one of the best VPNs for streaming. It is more than fast enough to stream HD content and will unblock numerous streaming channels.
ExpressVPN is one of the best VPNs for Netflix. It can unblock numerous regional libraries, giving you access to content specific to that region. With it you can keep watching your favorite Netflix shows even from outside your normal geographic region.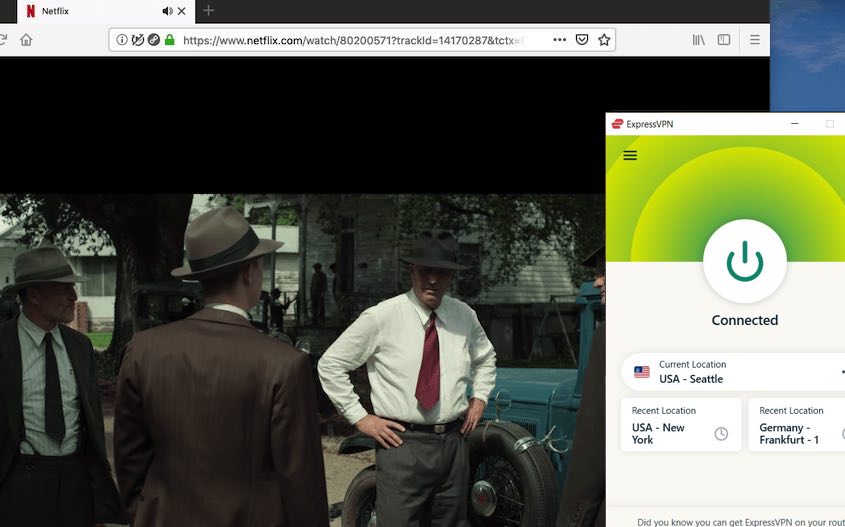 ExpressVPN can also stream numerous other channels. It is a great VPN for Amazon Prime, Disney Plus, and also Hulu. No matter which ExpressVPN subscription you choose, you get access to ExpressVPN's full streaming capacity at no additional cost.
TorGuard streaming
If you want to use TorGuard for streaming, you will need to pay extra. The basic TorGuard VPN has a limited streaming capability. So if you want a quality streaming experience, you will need to use one of TorGuard's special streaming IP addresses. They offer streaming IP addresses in the USA, UK, France, Germany, Spain, and Japan. Each IP address costs an additional $7.99 per month, potentially making TorGuard streaming a very expensive activity.
As if that wasn't bad enough, you are only allowed to use streaming bundle addresses for streaming or general web browsing. Torrenting is forbidden on these special IP addresses making using TorGuard that much clumsier to use.
While TorGuard does claim to be a good VPN for Hulu, Netflix, and other streaming services, it will cost you.
We recommend choosing a different VPN service if streaming content is important to you.
Surfshark takes the Netflix and streaming category easily.
Torrenting: Is TorGuard or ExpressVPN better?
VPN speed is always a priority, but the most important thing for torrenting is the ability to protect your IP address. Companies actively look for people torrenting copyrighted content and can take legal action against anyone they can identify. That makes preventing your IP address from being exposed while torrenting vital.
ExpressVPN – ExpressVPN is one of the best VPNs for torrenting. It is reasonably fast, but more importantly, it is extremely secure. As you'll see in a moment, it is one of the few VPNs on the market that has passed an external security audit (conducted by Cure53). It has also had its no-logs policy audited and verified (by PWC).
And don't forget that ExpressVPN is based in the BVI, one of the best jurisdictions for a VPN service. Add in the fact that ExpressVPN apps easily passed our IP address leak tests and their VPN kill switch (called Network Lock) works great, too, and these guys have the full package for torrenting.
TorGuard – As we saw earlier, this VPN has become very slow, which could make torrenting a tedious endeavor. On the bright side, our VPN tests show it to be a secure service so it should be safe. Hopefully, someday they will bring in a third-party service to verify their security and no-logs status like ExpressVPN has done.
Some VPNs, such as CyberGhost and NordVPN, have dedicated P2P servers. This is not the case with either TorGuard or ExpressVPN.
Streaming and Torrenting winner: ExpressVPN
---
Security and Encryption comparison
While we often focus on the fancy features of a VPN, or how fast it is, those characteristics are only secondary. The primary characteristics of a VPN are the security it can provide against outsiders spying on your internet traffic, and how well they protect your privacy.
In this section, we will look at the security of each VPN, along with the all-important encryption that makes such security possible.
VPN Encryption
TorGuard and ExpressVPN both support the most common VPN encryption algorithms (ciphers):
TorGuard uses AES-128, AES-256, Blowfish, and ChaCha20 ciphers
ExpressVPN uses AES-256, and ChaCha20 ciphers
There is a problem with TorGuard in that it uses ChaCha20 in its WireGuard protocol. But we can't make TorGuard's WireGuard work. ExpressVPN, on the other hand, uses ChaCha20 in its Lightway VPN protocol, which does work. So if you really want to benefits of ChaCha20 today, you will want to go with ExpressVPN instead of TorGuard.
VPN server security
ExpressVPN was an industry leader in diskless servers with their TrustedServer initiative. If a server has no disks, it is secure against attacks where government security forces or other intruders physically seize a VPN server to look for data they cannot get otherwise.
While defending against something like this might sound silly at first, there have been several cases of VPN servers being seized as part of some investigation. Turkish authorities seized an ExpressVPN server in 2017 looking for evidence in an investigation into an assassination. At that time, ExpressVPN was a no-logs VPN provider but had not yet implemented TrustedServer.
TorGuard is a bit behind when it comes to server security. While they are a no-logs VPN, their servers do still use disk drives. In addition to ExpressVPN, NordVPN and Surfshark also use diskless servers, establishing a level of server security not yet attained by TorGuard (or most other VPNs).
Security audits
ExpressVPN has had two third-party security audits to date. Cure53 conducted a security audit on the ExpressVPN browser extensions in 2018. Cure53 also conducted an audit of the ExpressVPN infrastructure and VPN configuration in 2021.
TorGuard has not published any security audits as of January 2023.
Security and encryption winner: ExpressVPN
---
Privacy: TorGuard vs ExpressVPN
We've seen that ExpressVPN is better when it comes to security. Let's see how they do when it comes to protecting your privacy.
ExpressVPN has a no-logs policy. Even better, ExpressVPN successfully completed an audit of their no-logs policy and other privacy protections conducted by PWC. This makes ExpressVPN one of the few audited no-logs VPN services.
TorGuard also has a no-logs policy. However, unlike ExpressVPN they have not conducted a third-party audit of their no-logs policy and privacy protections like ExpressVPN has.
When discussing privacy on these two VPNs it is important to remember that TorGuard is located in the USA (a bad privacy jurisdiction) while ExpressVPN is located in the BVI (a good privacy jurisdiction).
Privacy winner: ExpressVPN
---
Prices and refunds comparison
Price is someplace that TorGuard may be able to compete with ExpressVPN. ExpressVPN is one of the more expensive VPN services. Let's see if TorGuard can take advantage of that.
TorGuard pricing
TorGuard has streamlined their Anonymous VPN ricing since we last updated this review. They now offer three plans (Standard, Pro, and Premium) with either monthly or annual billing.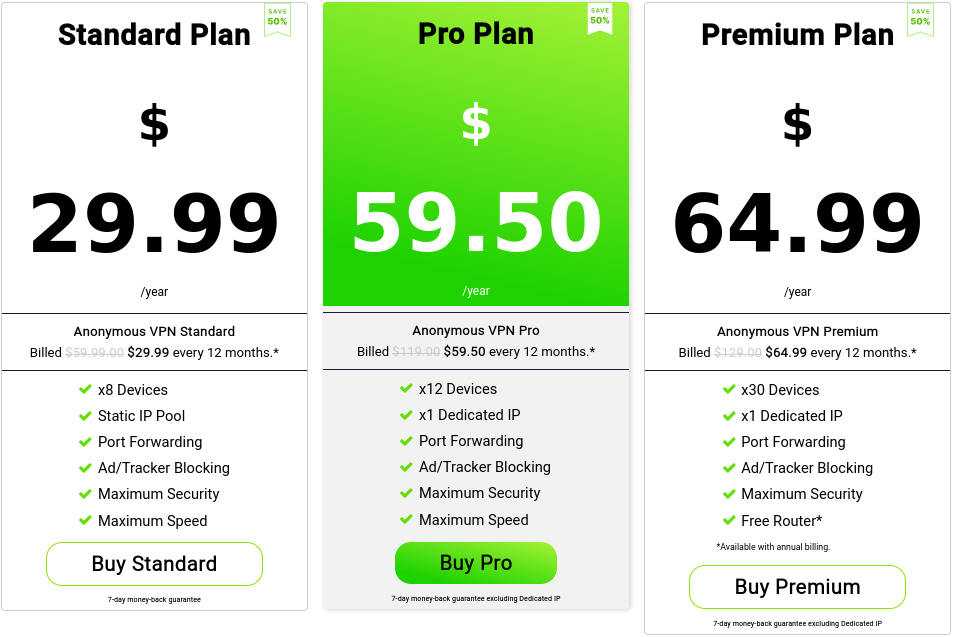 Once you choose a plan you can look at the list of available addons, and possibly configurable options to complete your order.
Note: TorGuard offers a VPN coupon with a large 50% discount. They also have special prices from time to time and have a Black Friday VPN deal which they have been running every November.
ExpressVPN pricing – ExpressVPN has a much simpler pricing model. Everyone gets 100% of the features, with the monthly cost of the service decreasing as you choose longer and longer billing cycles. The downside to ExpressVPN pricing is that this VPN is expensive. Even if you use the discount coupon we secured for you, ExpressVPN costs significantly more than TorGuard at every price point.
Here are the current ExpressVPN prices with this discount coupon applied: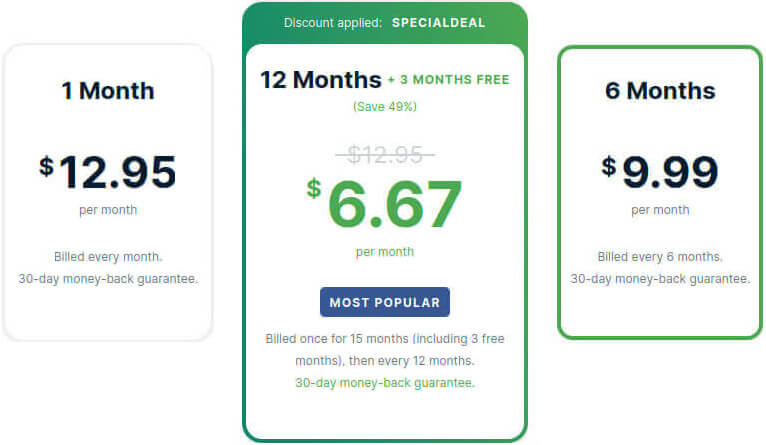 TorGuard definitely beats ExpressVPN when it comes to the price of the Standard plan. But if you need any additional price features such as quality streaming, the price of TorGuard will quickly exceed that of ExpressVPN.
ExpressVPN and TorGuard refund policies
The ExpressVPN refund policy is pleasingly simple: you have 30 days to get a refund, regardless of which plan you have subscribed to.
Unfortunately, the TorGuard refund policy is not simple: you have 7 days to get a refund, assuming you don't trigger one of the policies exceptions. Things that interfere with getting a full refund include:
No refunds are given for dedicated, streaming, or residential IP addresses
No refunds are given if you paid with gift cards or cryptocurrencies
The company has the right to deny a refund in certain cases
Where does this leave us? ExpressVPN has a far superior refund policy but TorGuard has generally better pricing. Unless you start adding features that are optional with TorGuard but included with ExpressVPN. We will call it a draw.
Price and Refund Winner: Draw
---
Value: Is TorGuard or ExpressVPN the best?
Price is important, but unless money is really tight, what you need is the best value VPN, not the cheapest VPN. In this section, we discuss which VPN offers the better value.
ExpressVPN is faster than TorGuard, streams better, has a superior refund policy, and ran without any bugs or other problems throughout our testing.
TorGuard is in some cases less expensive than ExpressVPN and has more features and configuration options than ExpressVPN. But not all those features work (WireGuard for example), and most users are more likely to be confused by all the settings and options than they are to enjoy or use them.
TorGuard would do well against the majority of VPNs, but ExpressVPN is too strong for them.
Value winner: ExpressVPN
---
Conclusion: ExpressVPN still beats TorGuard
ExpressVPN is simply a better option for most users than TorGuard. It dominated the testing with seven wins and one tie. Here's the summary of our TorGuard vs ExpressVPN test results:
Company background and jurisdiction: ExpressVPN
Features: ExpressVPN
Speed tests: ExpressVPN
Streaming and Torrenting: ExpressVPN
Security and Encryption: ExpressVPN
Privacy: ExpressVPN
Price and Refund: Tied
Value: ExpressVPN
There isn't really much else to say. I can't think of any situations where it would make sense for most people to choose TorGuard VPN over ExpressVPN.
If you have read this far you are probably convinced that ExpressVPN is a good possibility for your future VPN. To find out, click the link below to get a massive discount on ExpressVPN. You'll have 30 days to test ExpressVPN and see if it meets your needs.
ExpressVPN Coupon:

Sign up for the 12-month plan and get 3 months added to your subscription for free.
(Coupon is applied automatically.)
Want to read more comparisons before making a decision? Here are the rest of our VPN comparisons.
Curious about special deals and pricing on VPNs? We can point you to the best VPN coupons.
This ExpressVPN vs TorGuard comparison was last updated on January 26, 2023.