| | |
| --- | --- |
| VPN | VyprVPN |
| Based in | Switzerland |
| Logs | No logs (audited) |
| Price | $2.50/mo. |
| Support | Chat and email |
| Refund | 30 days |
| Website | VyprVPN.com |
VyprVPN is a Switzerland-based VPN service that has undergone some major changes and improvements over the past few years – but it also has some noteworthy drawbacks.
In this new and updated VyprVPN review we put the service through extensive testing to answer some key questions:
Does VyprVPN offer good performance throughout the server network (speed and reliability)?
Are VyprVPN's apps secure (no leaks)?
Does it work with Netflix and other streaming services?
Is VyprVPN a good value for the money considering all the latest test results?
All of these questions are answered in this VyprVPN review, with screenshots below to verify all results.
Here's an overview of the pros and cons before diving into the details
+ Pros
Secure and reliable applications with strong encryption
Good speeds throughout the server network
Obfuscation features to defeat VPN blocking (Chameleon protocol)
Entirely self-owned and operated server network, including secure DNS (no third parties)
User-friendly applications for many devices/platforms
Located in a strong privacy jurisdiction (Switzerland)
– Cons
No cryptocurrency payment options
Uses virtual server locations throughout the network
VyprVPN Discount: VyprVPN is currently offering an 80% discount on two year plans here.
---
VyprVPN speed tests
We'll kick this VyprVPN review off with one of the most important questions: how does VyprVPN perform on servers throughout the network?
To answer this question I conducted numerous tests from my location in Europe with both nearby servers (Europe) and long-distance servers (Canada and the US). My baseline speed without a VPN was about 94 Mbps on the day I tested.
VyprVPN speed tests with nearby servers
All of the nearby servers in Europe I tested offered good speeds in comparison to my baseline. (Tests were conducted using OpenVPN 256-bit encryption.)
Germany – Here is the first test I ran with a server in Frankfurt: 80 Mbps download speed (about 85% of my baseline speed).

Luxembourg – Another nearby VyprVPN server in Luxembourg offered similar good speeds around 81 Mbps.

All of the nearby servers I tested in the Europe region gave me around 75 to 82 Mbps download speeds. Considering my baseline speed, these are good results.
VyprVPN speed tests with long-distance servers
Next up was testing long-distance servers in the United States and Canada from my location in Germany. As expected, due to the longer distance, the VyprVPN servers I tested in the US and Canada were not as fast as those tested in Europe.
New York – Testing VyprVPN servers in New York gave me download speeds around 63 Mbps.

Next up was the VyprVPN server in Chicago, which also gave me around 59 Mbps:

I also tested the VyprVPN Canadian server location (Toronto) and could get around 60 Mbps.
Considering the speed test results for the USA and Canada, VyprVPN isn't a bad option, but there are probably better VPNs to consider. See for example my best VPN Canada page for more info.
If speed is your top concern, you may want to look at other VPNs, such as NordVPN.
What about reliability?
VyprVPN did pretty well in the reliability category:
Connections were stable and the speeds weren't too bad.
No issues with applications bugs or timed out connections.
Pretty consistent performance throughout the day.
Now let's examine cost.
How much does VyprVPN cost?
VyprVPN is reasonably priced compared to most other high-quality VPN services. When you use this VyprVPN coupon, you can get VyprVPN for only $2.50 per month.
Here's a breakdown of VyprVPN prices:

Get the 80% off VyprVPN discount here.
VyprVPN is a good option if you are looking for a cheap VPN service without cutting corners on quality.
Refund Policy – All VyprVPN plans come with a 30 day money-back guarantee, which is the best you will find in the VPN industry.
For a high-performance VPN with a large selection of apps, the prices are quite competitive when compared to other alternatives, such as ExpressVPN.
VyprVPN offers different payment options, including all major credit cards, PayPal, and Alipay. Unfortunately, there is no option to pay with Bitcoin or other cryptocurrencies at this time.
Does VyprVPN offer a free trial?
As of right now, VyprVPN does not offer a free trial.
In the past, VyprVPN used to have a three-day free trial. However, in July 2019, VyprVPN phased out the three day free trial option. Now, all plans come with a full 30 day money-back guarantee. This allows you to test out the VPN risk-free and cancel anytime within the 30 days to get a full refund.
There are other free trial VPNs – if that's what you're looking for.
VyprVPN apps
VyprVPN offers VPN apps for a large number of devices. For this VyprVPN review I tested the different applications with Windows, Mac OS, and Android. Everything worked well without any problems to report.

In addition to the apps above, VyprVPN also provides support for other platforms. You can get more details on the VyprVPN website here.
Here are the main impressions I got from testing out the VyprVPN apps on Windows, Mac OS, and Android:
Well-designed
User-friendly
Reliable
How many connections do you get with VyprVPN?
All VyprVPN subscriptions come with five simultaneous connections. This is about average in the VPN industry. However, some VPN do offer more. For example, IPVanish gives you ten connections and Perfect Privacy gives you an unlimited number of connections.
Here's what the Mac OS desktop app looks like, with the locations screen on the right, sorted by ping (latency).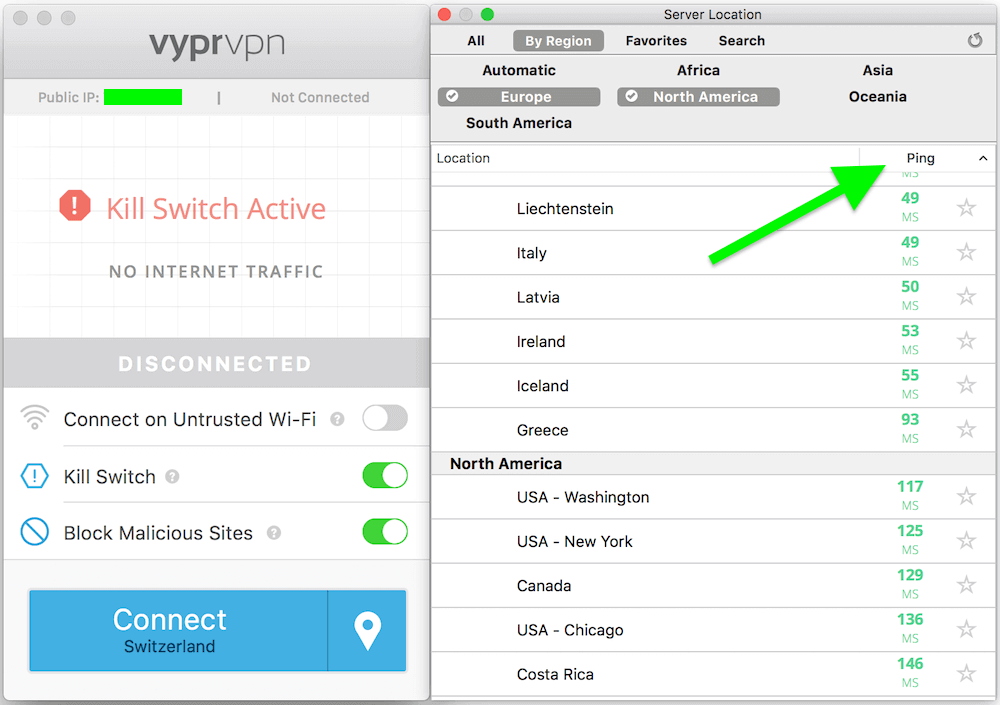 In the top right corner you can see that servers are grouped by geographic region and then ranked by ping.
You can also see there are two features activated in the VPN app:
Kill Switch – This forces all internet traffic through the VPN. If the VPN connection drops, your internet traffic will be blocked and your real IP address will remain secure.
Block Malicious Sites – This option filters/blocks a list of domains that are known to spread malware.
My overall experience in testing out the different apps is that they are simple and work well.
VyprVPN Android and iOS
Many people want a VPN that will perform well on mobile devices.
VyprVPN offers both an Android app as well as an iOS app.
Here is a quick look at the Android app (left) when connected to a VPN server in the Netherlands. On the right are the leak testing results (no leaks).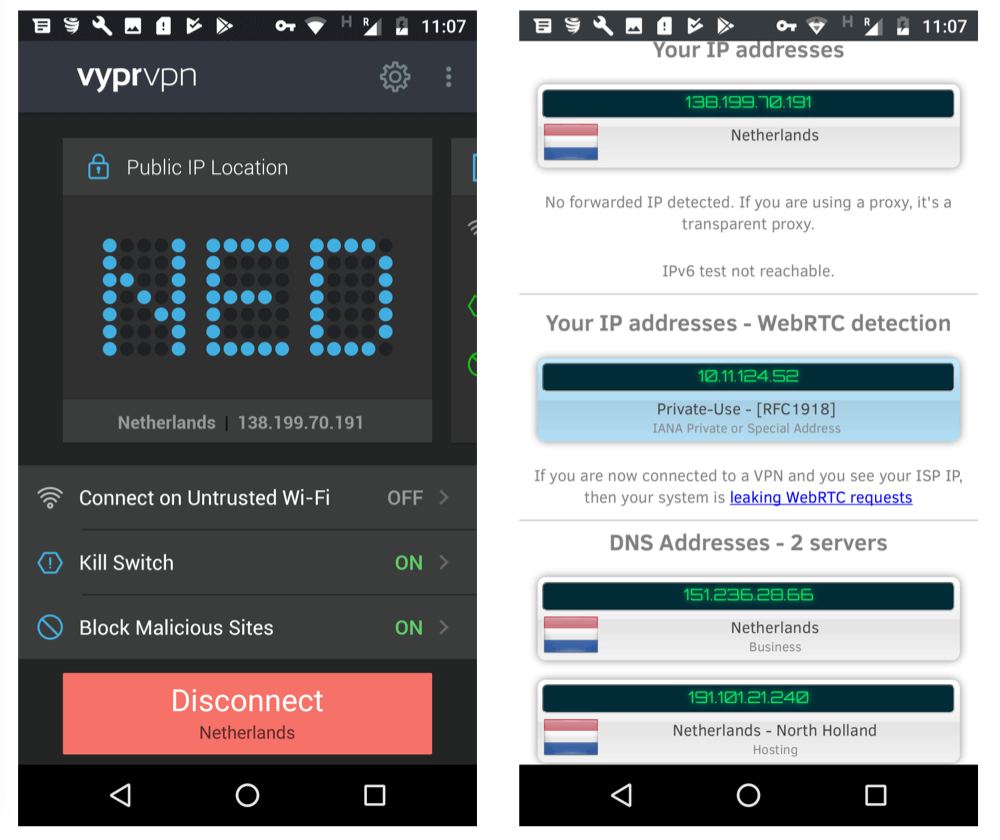 Another great feature of the Android client is the ability to selectively route apps on your device through the VPN on a per-app basis. This is often called a "split tunneling" feature.
VyprVPN also offers a good iOS app that I have used in the past, although did not thoroughly test for this review. Overall, VyprVPN is a good choice if you want a reliable VPN for using on mobile devices.
VyprVPN privacy and security test results
VyprVPN did well in all privacy and security tests.
I ran the Windows, Mac OS, and Android apps through some basic VPN tests to check for:
DNS leaks
WebRTC leaks (which affects Firefox, Chrome and Opera browsers)
Kill switch (to see if it is properly blocking all traffic when the VPN connection drops)
Some users are wondering about IPv6 and how VyprVPN handles this, since they officially do not support IPv6. My tests found VyprVPN to effectively block IPv6 (no IPv6 leaks). Additionally, VyprVPN has implemented IPv6 blocking since version 2.7.8 released in October 2015:
IPv6 traffic is now blocked while connected to the VPN and while Kill Switch is enabled
VyprVPN Windows app – Testing a server in the United Kingdom with the new Windows app (no leaks were found):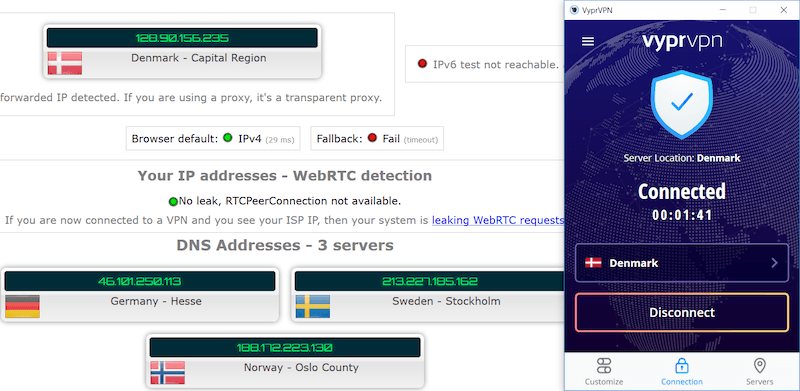 Above you can see that the VyprVPN server is providing me with an IPv4 address, my real IPv6 address is blocked, and DNS requests are being handled by three different VyprVPN DNS servers.
VyprVPN Mac OS app – Testing a server in the United States with the VyprVPN Mac OS app (no leaks):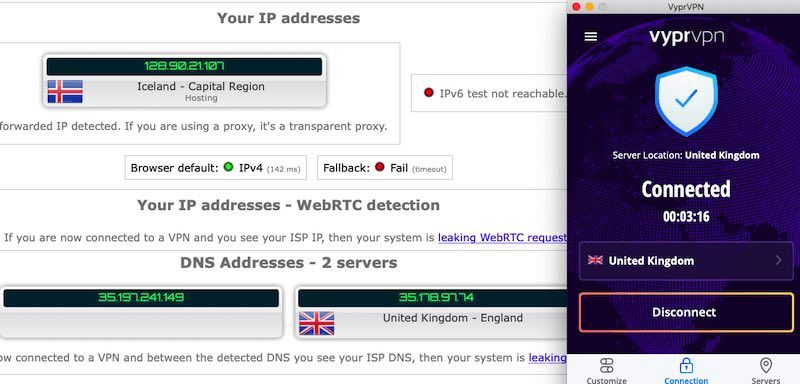 Although VyprVPN did not have any major issues, it is currently not ranked among the best VPNs for Mac. The big issue is not the app itself, but VyprVPN's servers, which we'll explain below.
It looks like VyprVPN also implemented an IPv6 fix since January 2016 version 2.8.5 with the Mac OS client, from the Mac OS changelog:
IPv6 no longer leaks location
As you can see above, the test results were good; I did not identify any leaks or problems.
VyprVPN passed all privacy and security tests:
No IPv4 leaks
No IPv6 leaks
No DNS leaks
Kill switch works well (all non-VPN traffic blocked)
VyprVPN for Netflix, Streaming, and Kodi
Even though Netflix actively blocks many VPNs, VyprVPN continues to work with Netflix.
That being said, you will most likely need to check with VyprVPN support to find the exact server(s) you should use to connect to US Netflix. See my guide on Netflix VPN services for additional information and streaming tips.

Due to VyprVPN's good speeds and premium network, it is also a solid choice for other streaming services as well. With the latest update to this VyprVPN review, it is clear they are making an effort to provide continuous access to all streaming services.
See the VyprVPN streaming page here.
VPN Obfuscation with the Chameleon protocol
VPN blocking is a growing problem in much of the world, especially where governments or institutions do not want people using VPNs to evade restrictions and censorship.
This is especially the case with:
China, Turkey, Russia, Iran and other Middle Eastern countries
Universities and schools
Corporations (work networks)
VyprVPN offers an excellent obfuscation feature to defeat VPN blocking – it's called the Chameleon protocol.
This is a self-developed OpenVPN protocol with 256-bit encryption that will blend in with regular internet traffic to defeat restrictions and blocking. It does this by encapsulating OpenVPN traffic behind regular HTTPS encryption.

VyprVPN with the Chameleon protocol remains one of the best VPNs for China or any other restricted network situation, such as school or work networks.
VyprVPN no-logs policy
VyprVPN is officially a no logs VPN service that has been audited and verified by an independent third party. In November 2018 VyprVPN published a major audit that publicly certified it as a no logs VPN provider.
I carefully examined VyprVPN's no logs audit and discussed the findings in the no logs VPN guide, along with other no logs VPN providers. Here were the basic findings:
In September 2018, VyprVPN began working with Leviathan Security Group for consultation and auditing to become a fully no logs VPN service.
In November 2018, VyprVPN released the audit results, which fully verified and confirmed that it is now a no logs provider.
VyprVPN's privacy policy also outlines and clarifies their position on logs:
VyprVPN is a zero log VPN Service. We do not record or retain any data when you use the VyprVPN Service.

We engaged a respected security firm to audit our zero-log policy so users have third party validation of our logging policies.
We do not log a user's source IP address (typically assigned to the user by their ISP).
We do not log the IP address assigned to the user when using VyprVPN.
We do not log connection start or stop time.
We do not log a user's traffic or the content of any communications.
We are network neutral. We do not discriminate against devices, protocols, or application.
We do not throttle or rate limit your Internet connection.
If you want more information on their logging policies, see the VyprVPN website here.
This is a huge improvement over their old policy of maintaining connection logs for 30 days. The no logs policy, secure apps, self-owned server network, and Switzerland jurisdiction make VyprVPN a solid choice for privacy-focused users.
Torrenting policy and procedures
Torrenting is another area where VyprVPN has updated and changed its official policy.
In the past, VyprVPN discouraged torrenting and any form of copyright infringement through downloading/sharing on their network. They would use the connection logs to forward DMCA notices to the offending user and close accounts for habitual offenders. This has all changed with their updated no logging policy.
VyprVPN no longer acts on any DMCA notices because they do not have any logs to connect copyright infringement to users, therefore they lack the ability to enforce any copyright claims. They also officially allow torrenting now on their network: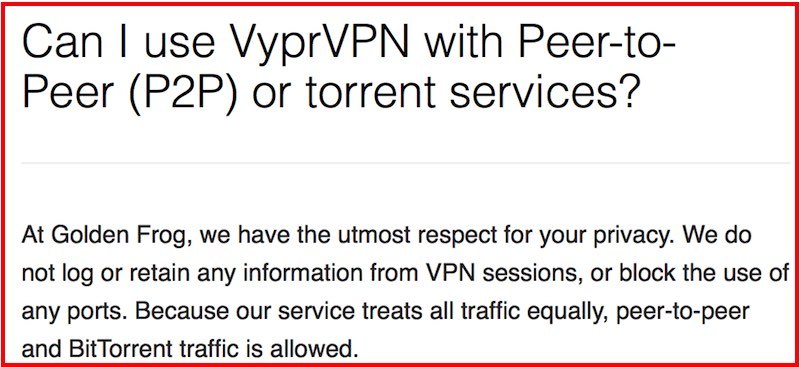 Just to be certain, I clarified VyprVPN's torrenting policies with one of their representatives, who had this to say to me via email:
Non-logging prevents VyprVPN from knowing who downloaded what and when. In order to protect the privacy of our users, we do not log the IP address used by any user. If the copyright holder only provides an IP address as identifying information then it is impossible for us to associate a DMCA notice with any of our users.
The official Terms of Service includes a clause about copyright infringement, but this could not be enforced without logs. Therefore VyprVPN is now a good choice for those who want to torrent with a VPN.
VyprVPN servers
VyprVPN's server network is interesting, with both pros and cons.
To start off with the good, every physical server in VyprVPN's network is physically owned by VyprVPN. This self-owned network generally has advantages (from a security standpoint) over renting servers from third parties. You can see this advertised on their homepage:

This is good, but there's a catch….
VyprVPN uses virtual server locations
In our study of virtual server locations, we found that VyprVPN relies very heavily on virtual locations. What this means is that VyprVPN does not actually have physical servers in all the locations it claims. Instead, a VPN server that is advertised in Brazil, for example, is actually in Miami.
Here were some findings from the virtual server locations report:
VyprVPN vaguely discloses that it uses virtual locations (in a 2017 blog post), but says nothing about their number or identity
VyprVPN specifically discloses no virtual locations, but 59% are apparently virtual.
Most of VyprVPN's undisclosed virtual locations (41% out of 59%) seem to be in or near two cities (Nuland, NL and Singapore, SG).
You read that correctly. Approximately 59% of VyprVPN's network appears to be composed of virtual locations. This is quite shocking and it's on par with HideMyAss VPN.
While virtual locations do not necessarily present a security issue, it may affect people who are trying to avoid server in specific locations. Additionally, it is also noteworthy that VyprVPN does not disclose the number or location of these servers.
There are other VPNs that also utilize virtual locations, but in these cases, it is fully disclosed to the VPN user.
VyprVPN on a router
One trick to using a VPN on many devices, without exceeding your connection limit, is to use a VPN on a router. The router will count as one device, but it will extend the protection and benefits of a VPN to every device that connects to the router.
I tested out VyprVPN on an Asus router and found it to perform well.
VPN router app
VyprVPN also offers a VPN router app that simplifies the installation and setup process. One advantage of their app is that it lets you easily select how each device on your network connects – either through the VPN or your regular (unencrypted) connection.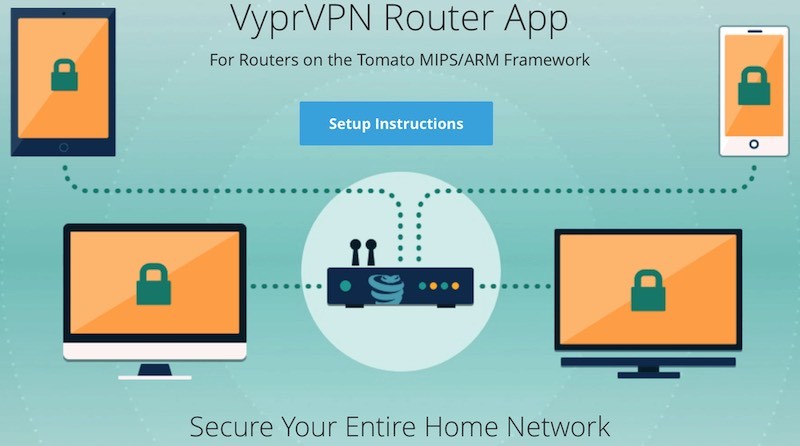 Three other benefits of the VyprVPN router app are:
The ability to switch between different VPN protocols, including PPTP, OpenVPN (160-bit & 256-bit) and Chameleon.
The ability to connect to different servers in the network.
Full protection from VyprDNS for all of your DNS requests.
Note: VyprVPN's router app runs on Tomato firmware, therefore it can't be used with all routers.
For an overview of VPN routers and all the different firmware options, see our main VPN router guide.
VyprVPN review conclusion
Overall VyprVPN is a high-quality, fast, secure VPN that performed well in testing for this review. It offers a great lineup of applications that are user-friendly, secure, and reliable. The live chat support is also helpful if you need assistance getting anything setup.
Now that VyprVPN is officially a no logs VPN service, and has been publicly audited, it is even better for privacy-focused users than before. Both NordVPN and ExpressVPN have also undergone third-party no logs audits and remain the two most popular VPNs.
If you want to give VyprVPN a try, the reduced prices below may not be a bad idea. You also get a 30 day money-back guarantee.
VyprVPN Official 80% Off Coupon
Get 80% off VyprVPN (drops the price down to $2.50 per month)
Get 80% Off VyprVPN Here >>
(Discount is applied automatically through the link above.)
For more information about other VPN services that passed all tests and are currently recommended, see my guide on the best VPNs services.
If you have used VyprVPN, feel free to share your honest review (good or bad) below.
---