NordVPN is one of the most popular VPNs on the market — but does that popularity means it's a secure and reliable service? This in-depth NordVPN review and test report will answer your questions.
NordVPN is great at grabbing attention. It offers lots of eye-catching features, such as double-VPN servers, advanced encryption, and extra privacy features like Threat Protection to block ads, trackers, and malware. With that said, our goal in this NordVPN review is to see how NordVPN compares to other leading VPNs — and see if it's worth your money.
We'll first cover the basics in the table below, and then dive into the nitty-gritty details.
As with all of our VPN reviews here on RestorePrivacy, we really get into the details with test results and analysis. Here's what we looked at for this NordVPN review:
Numerous speed tests conducted with NordVPN servers around the world
Leak tests conducted on the desktop applications (checking for IPv4, IPv6, and DNS leaks)
Testing the kill switch and all features
Streaming compatibility checks with Netflix and other services
Testing the specialty servers, including the Double-VPN and P2P servers
Analyzing all features and pricing options
With cyberattacks and corporate surveillance on the rise, a good VPN is a crucial tool for everyone going online. And with the massive growth in streaming platforms distributing content online, a VPN is your ticket to watching pretty much anything from anywhere in the world. So let's begin this NordVPN review by examining the basic findings.
+ Pros
User-friendly and reliable apps
Double-VPN and Tor-over-VPN servers
No logs (audited twice)
Strong encryption standards with full support for WireGuard
Works with Netflix and many other streaming services
Threat Protection feature to block ads, trackers, and malware domains
24/7 live chat support
Dedicated RAM-servers with 10 Gbps bandwidth channels
– Cons
Big discounts only available with long-term subscriptions
Additional research findings
Is NordVPN good for torrenting?
Does NordVPN work in China?
Can you get a dedicated IP address with NordVPN?
So now let's cut to the chase and start with the Pros of NordVPN.
Pros of NordVPN
Here are the pros (advantages) of NordVPN.
Strong privacy and security features
NordVPN offers some solid features to enhance both the privacy and the security of users – above and beyond most other VPNs. Let's take a look at NordVPN's encryption and some of these enhanced features.
Encryption and VPN protocols
NordVPN's OpenVPN clients use an AES-256-GCM cipher and HMAC SHA256 hash authentication. Additionally, NordVPN utilizes Perfect Forward Secrecy through a DHE-4096 key exchange. The AES-256-GCM cipher is also used to encrypt traffic with the IPSec/IKEv2 protocol.
In addition to OpenVPN and IPSec/IKEv2, NordVPN also supports the WireGuard VPN protocol directly in all VPN apps. NordVPN's privacy-focused implementation of WireGuard is called NordLynx. You can easily switch between protocols under Settings/Preferences.
NordLynx offers serious performance and security advantages, which we will see further below.
Double VPN (multi-hop)
NordVPN is one of a handful of VPN providers that offer multi-hop functionality – or in this case, double-VPN servers. With NordVPN's double-VPN servers, your traffic is encrypted across two VPN servers before exiting onto the regular internet. This also offers some advantages.
Double-VPN gives you an extra layer of encryption between your device and the regular internet.
This could also protect you against a compromised data center. In a double-VPN setup, no single server can see both your machine's IP address and the sites you visit.
Distributes trust across two different servers.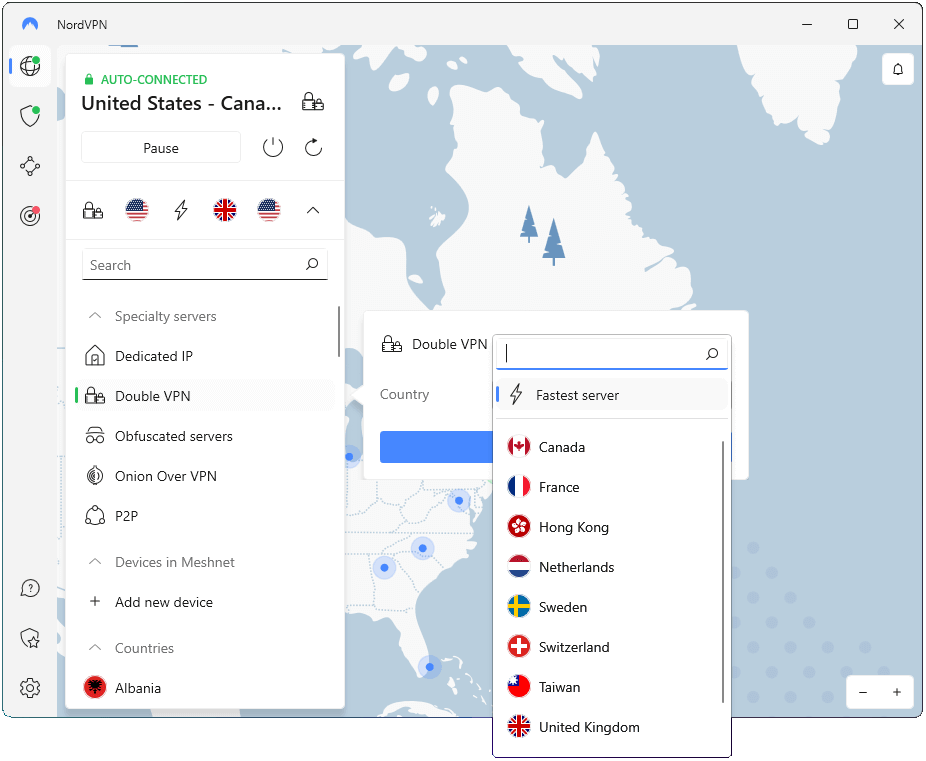 Using a multi-hop VPN is certainly not a bad idea. Surprisingly, performance with the double-VPN servers was excellent, with speeds ranging from 195 Mbps to 214 Mbps (screenshots posted below).
NordVPN currently offers 31 double-hop VPN configurations. These can easily be selected from within the NordVPN client. For those wanting a higher level of privacy protection and security, double-VPN servers are a great option to consider.
Onion-over-VPN servers
If you are looking for additional encryption and anonymity beyond a single-hop VPN server, another option is to use an Onion-over-VPN server. These servers encrypt traffic with the Tor Network, in addition to the regular VPN server. NordVPN currently offers two locations for this: Netherlands and Switzerland.
Threat Protection
The Threat Protection feature from NordVPN is new for 2022, and it goes beyond the normal boundaries of what a VPN does. There are two versions of Threat Protection.
Threat Protection Lite
Threat Protection Lite has the capabilities of NordVPN's "old" CyberSec features. It blocks ads, unsafe connections, and malicious websites for any connections passing through a VPN server. As of November 2022, Threat Protection Lite was the version of Threat Protection available for the Android, iOS, and Linux operating systems. It was also the version of Threat Protection available in the NordVPN Chrome, and Edge browser extensions. This makes NordVPN one of the best VPNs for Chrome available.
Threat Protection
Threat Protection is a revolutionary step beyond even Threat Protection Lite and CyberSec. It does everything that Threat Protection Lite does. Then it adds some additional security features including the ability to, "Scan files downloaded files and delete the harmful ones before they do damage." You can see the current set of Threat Protection features in the following image.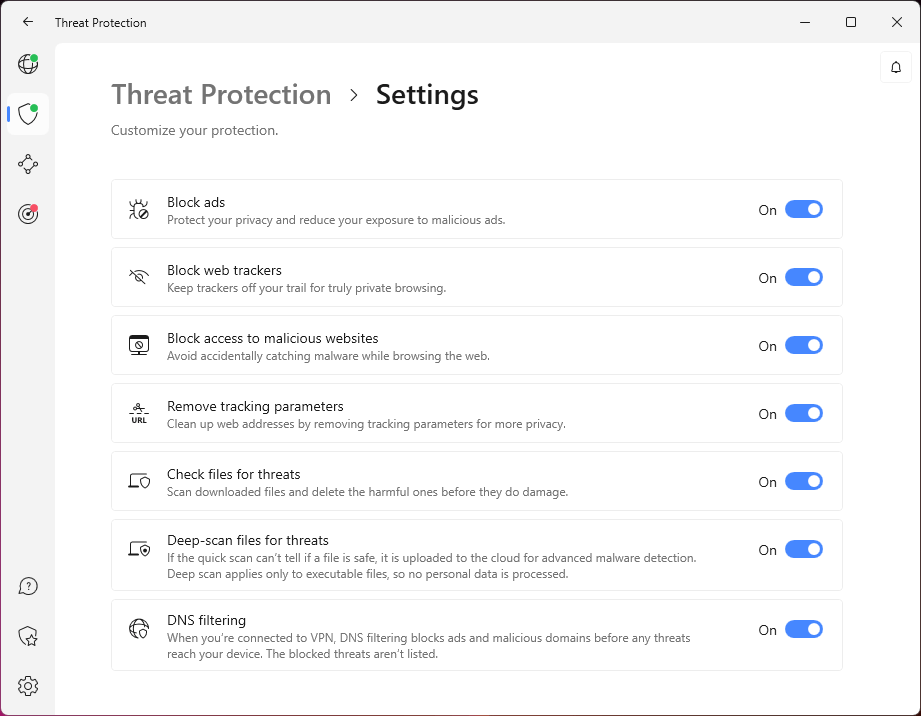 As impressive as those features are, even more, impressive is the fact that Threat Protection works even when you are not connected to a VPN server. Turn on Threat Protection and it protects everything you do online, whether or not your data is going through the VPN server.
Threat Protection gives you more privacy by blocking ads. These days, almost every ad you see online is a sophisticated tracking tool that lets ad agencies and social media record your online activities and use the data to profile you and bombard you with targeted advertising. It works so well that NordVPN with Threat Protection belongs on our list of the best VPN ad blockers.
Besides the ads you see, many websites try to install third-party trackers that allow companies like Google and Facebook to track your activities everywhere you go online. Letting Threat Protection block ads and trackers for your results in a major privacy boost and cuts down on the distractions you see.
Threat Protection gives you more security by blocking malicious websites and nuking corrupted downloads. In addition to trying to track you online, some ads try to sneak malware onto your devices where it can wreak havoc. Some of these malicious advertisements (known as malvertising) can even install malware on your system simply by appearing. Avoiding clicking on ads is no longer enough to protect you.
Then there are the files you download. Open the wrong downloaded file and it can infect your system before you have any idea something is wrong. Threat Protection can scan those documents before you open them, and delete them from your system before they can do any harm.
Threat Protection speeds up your surfing by preventing ads and malware and trackers from being downloaded and displayed by your browser. With Threat Protection active, you should find browsing online to be a faster and safer experience, especially on mobile devices.
As of early April 2023, the full-powered Threat Protection is only available in the NordVPN Windows and Mac OS apps.
Note: Technically these programs that control the VPN are clients. But more and more, people are referring to them as apps. We will be using the words interchangeably throughout this review.
See all NordVPN features here >>
Fast speeds, great reliability, and instant VPN connections
For this NordVPN review, I ran dozens of speed tests using different VPN protocols and also various servers around the world. My baseline speed for testing was about 480 Mbps on a wired ethernet connection (no WiFi). Overall, the NordVPN test results were phenomenal.
To get the best performance, I selected the NordLynx protocol in Settings and then tested connections to servers in different locations.
First, I tested a nearby NordVPN server in Seattle, which gave me 445 Mbps.

This is the fastest VPN download speed test result we've gotten on Restore Privacy. It is much faster than OpenVPN and is not far from my baseline speed.
Next, I tested a server in Los Angeles, which gave me about 304 Mbps:

At over 300 Mbps, it is clear that NordVPN belongs in the "fastest VPNs" category. It even came out on top in the NordVPN vs ExpressVPN comparison.
Next, I tested a server in New York, and it was again very fast at 280 Mbps.

Lastly, I tested a server in the United Kingdom. Here was the NordVPN UK server with speeds of around 295 Mbps:

I've been running NordVPN speed tests for the past five years and these are the best speed test results I've ever gotten with NordVPN. It is clear that NordLynx with its built-in WireGuard VPN protocol and the server network upgrades has really improved performance. We also used NordVPN for our WireGuard vs OpenVPN comparison, where we found WireGuard to be about 58% faster than OpenVPN.
Note: Not all WireGuard VPNs perform on this level. For example, you can see in the CyberGhost vs NordVPN report that NordVPN had a huge performance advantage, despite both VPNs using WireGuard.
NordVPN Double-VPN speeds
I also ran a few tests with NordVPN's double-VPN servers to check for speeds. To access the Double-VPN servers, you'll need to switch to the OpenVPN protocol.
First, I tested the double-VPN server configuration for the USA > Canada option and was able to get about 214 Mbps.

For a double-VPN connection, these speeds are excellent. Not only is traffic getting encrypted and routed over two servers, but this is also with the OpenVPN protocol, which is slower than WireGuard.
Next, I tested the double-VPN servers for Switzerland > Sweden and again got great speeds: 195 Mbps.

NordVPN significantly outperforms other VPNs that offer double-VPN configurations. You can see this in the NordVPN vs ProtonVPN article.
Reliability and connections
On the topic of performance, it's also important to discuss reliability and connections:
Reliability – I found NordVPN to be very reliable. The servers were consistently fast and I did not experience any dropped connections.
Connections – When using the WireGuard VPN protocol, I found that NordVPN was extremely fast at establishing a connection — nearly instantly. While OpenVPN can take a few seconds (or longer), WireGuard offers near-instant connections. This makes switching VPN servers all the more quick and easy.
Conclusion on performance – With the latest round of speed tests for this review, I can conclude that NordVPN offers fast, consistent, and reliable speeds. This is the fastest I've seen NordVPN in all my years of testing it. It also consistently comes out on top in comparison with other VPNs, such as in the NordVPN vs IPVanish comparison.
Secure VPN apps with no leaks
NordVPN also offers a nice lineup of secure apps (clients) for all major operating systems and devices:
Windows
Mac OS
Linux
Android and iOS (mobile)
Android TV
Here were my main takeaways from testing and reviewing the NordVPN clients on Windows and Mac OS:
Fully-featured – The NordVPN apps are loaded with features, including specialty servers, leak protection, and startup/connection settings.
Easy to use – Whether you are new to VPNs or a seasoned pro, you should find NordVPN clients user-friendly and intuitive. Adjusting settings and selecting features is simple.
Secure – Aside from the strong encryption we discussed above, NordVPN also secures data with a kill switch. This blocks traffic (or closes specific apps) if the VPN connection drops for any reason. We'll examine this more below.
NordVPN desktop VPN apps
NordVPN offers great desktop VPN apps for Windows, Mac OS, and Linux.
The NordVPN Windows app utilizes the OpenVPN and WireGuard VPN protocols and supports the full NordVPN feature set. To connect to a server in the NordVPN Windows client, you can use the list on the left or click a location on the map. You can also configure it to find and connect to a server automatically. In the screenshot below, I'm testing the Windows VPN client.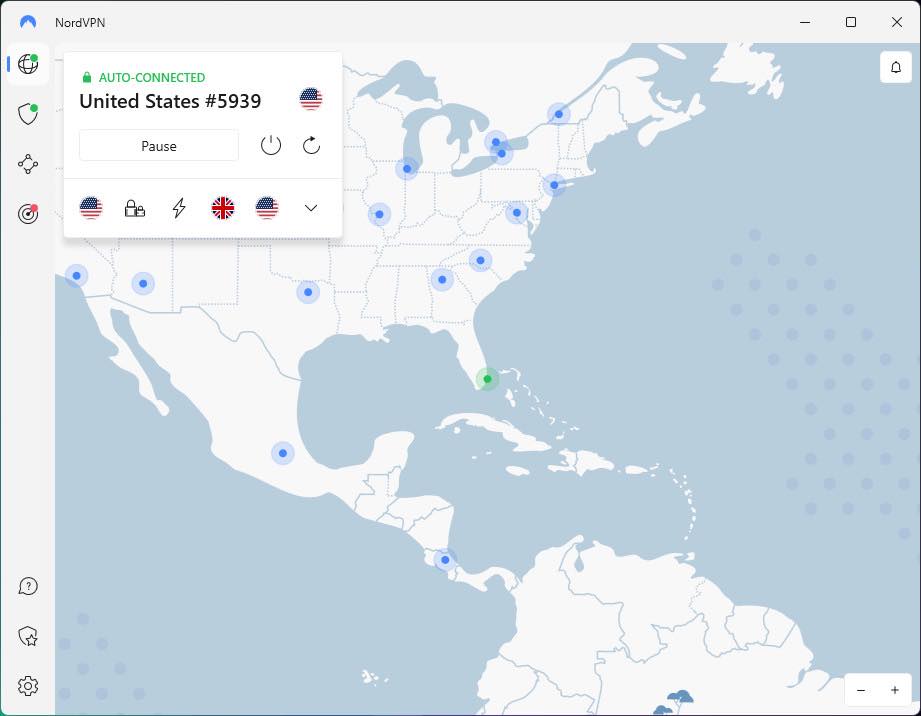 I found connection times to be very good, with NordVPN quickly connecting to servers (no long delays). If you use the NordLynx (WireGuard) protocol, you'll enjoy near-instant connections.
The NordVPN Mac OS app offers all of the same features and a built-in kill switch that automatically blocks traffic if the connection drops. With the Mac OS client, you can select between the following VPN protocols: IKEv2, OpenVPN UDP, OpenVPN TCP, and NordLynx (WireGuard). You can also check out our top-rated VPNs for Mac for additional options.
The NordVPN Linux client is a very different critter. Like most VPNs that do have a Linux VPN app, this one has a command line interface, instead of a nice desktop app. What does such a critter look like? Like this: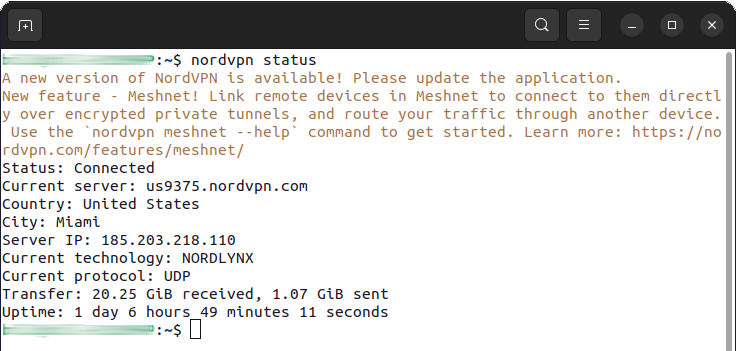 As of now, it doesn't have all the features of the other desktop apps, but it does allow Linux users to get the main benefits of NordVPN.
NordVPN kill switch
NordVPN is one of the few VPNs that offers two different kinds of kill switches. A VPN kill switch is important because it blocks traffic if the VPN connection drops, which protects you from de-anonymization and your regular traffic being exposed.
In the screenshot below you can see the two different kill switches on the NordVPN Windows client:
Internet Kill Switch – This kill switch gives you two options. The first option is to block all traffic if the VPN connection drops unexpectedly. This option would activate if something unusual happens, but not if you disconnect from the VPN manually. The second option is to block all traffic if the connection drops for any reason. This second option would also block traffic if you disconnect from the VPN manually.
App Kill Switch – This kill switch will close specific apps if the VPN connection drops, but will not block traffic. Click the Add apps button shown below to specify which apps should be shut down.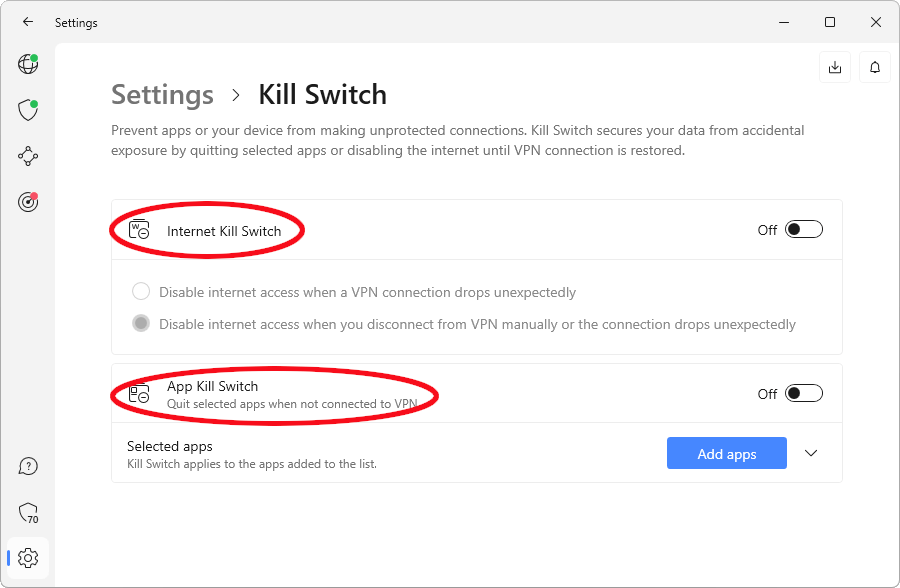 If you are concerned about address leaks, it would be best to use the "Internet Kill Switch" as this will block non-VPN traffic via the firewall. And if you are using the that kill switch, then you probably don't need to use the App kill switch.
NordVPN leak test results (no leaks found)
I ran the NordVPN Windows and Mac OS clients through some basic VPN tests and checks to identify any leaks or problems. Additionally, I also tested out NordVPN's kill switch to see if it was effectively working in both clients.
With the NordVPN Windows client, I did not find any address leaks or DNS leaks. In the screenshot below, you can see:
the IPv4 address matches up with the VPN client (no IPv4 leaks)
IPv6 is effectively being blocked (no IPv6 leaks)
No WebRTC leaks (but this is blocked in your browser)
DNS requests are being handled by NordVPN's server (no leaks)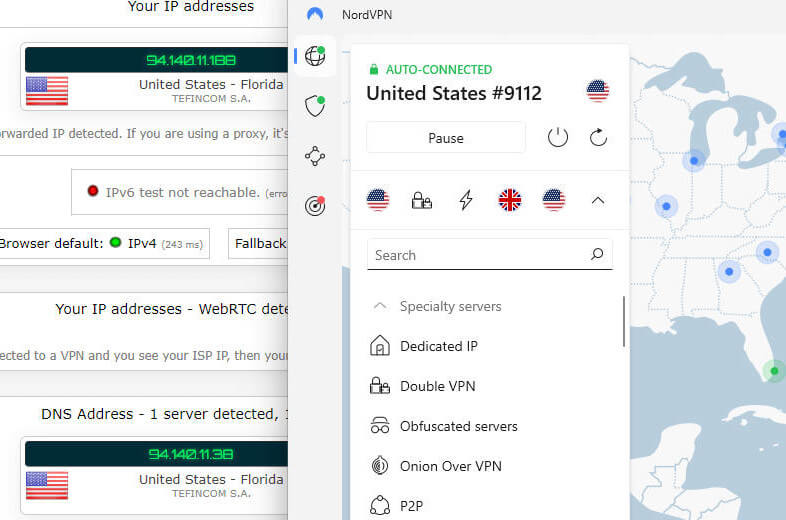 I also found the Internet Kill Switch and App Kill Switch to work well – no issues or problems to report.
Mac OS leak tests – I ran the Mac OS VPN clients through the same tests as above with the Windows client. The results were the same in that I did not find any leaks or problems. Additionally, the Mac OS kill switches worked correctly without any issues.
Android leak tests – Another team member tested the NordVPN Android client when working on the Best VPN for Android roundup. He found it to perform very well without any leaks or issues. If you want more options, both Surfshark and ExpressVPN also offer good Android clients.
NordVPN's server network
NordVPN boasts a huge server network, which currently includes over 5,600 servers in 60 countries. With such a large number of servers in its network, it is easy for NordVPN to unblock websites and other digital content. It also makes finding a fast and reliable server close to your location easy. This helps to minimize latency (ping), which is important if you need the best VPN for gaming.
NordVPN has announced significant network upgrades to further improve performance and also security. We'll cover these more below in the security upgrades section, but first, we will touch on one exciting area…
Colocated servers
Most VPNs rent servers from third parties. While this is standard practice, NordVPN has decided to raise the bar by deploying their own hardware (colocated servers). The first location to receive NordVPN colocated servers was Finland. The rest of the network upgrades should be completed later in the year.
High-speed colocated servers will set NordVPN apart from most other VPN providers.
NordVPN obfuscated servers
We have already covered the Double-VPN and Onion-over-VPN servers above. In addition to these specialty servers, NordVPN also offers Obfuscated servers.
These servers are available directly in the VPN client when you are using the OpenVPN protocol. These servers hide (obfuscate) VPN traffic to appear as regular HTTPS traffic and are useful in the following situations:
When you need to get around VPN blocks at work, school, or restricted networks.
To evade state censorship efforts and VPN blocks in certain countries, such as in China, UAE, and others.
The selection of obfuscated servers makes NordVPN a great option if you need a VPN for the UAE, the best VPN for China, or internet access in any other restricted country. It offers built-in obfuscation features that will conceal VPN traffic and get around difficult obstacles like the Great Firewall of China.
To use NordVPN in one of these restricted areas, simply connect to one of the Obfuscated servers in the VPN client. When you use one of these servers, the NordVPN client will automatically obfuscate your VPN traffic to make it appear as regular HTTPS encryption. Since virtually all internet traffic today uses HTTPS encryption, your VPN traffic becomes effectively invisible to the censors.
Note: Some VPN providers utilize obfuscation through VPN protocol changes rather than specific servers, as we described in the Surfshark vs NordVPN comparison.
No virtual servers
In the past, we have investigated the issue of virtual server locations. This is when a VPN claims to have a server in one country, but it's actually in a different location. While there are justifiable reasons for doing this in some cases, transparency is also important.
In the case of NordVPN, we did not find any virtual servers. Additionally, a NordVPN representative confirmed with me that no virtual locations are in use. In other words, NordVPN truly has servers in all of the advertised locations.
Customer support (live chat and tutorials)
NordVPN offers 24/7 live chat support and the representatives are quite helpful.
Chat support is always available through the NordVPN website in the bottom-right corner. You don't have to log in, simply click on the chat icon and you'll be connected with a representative.
I tested out the NordVPN chat support a few different times for this review and it worked well without any issues.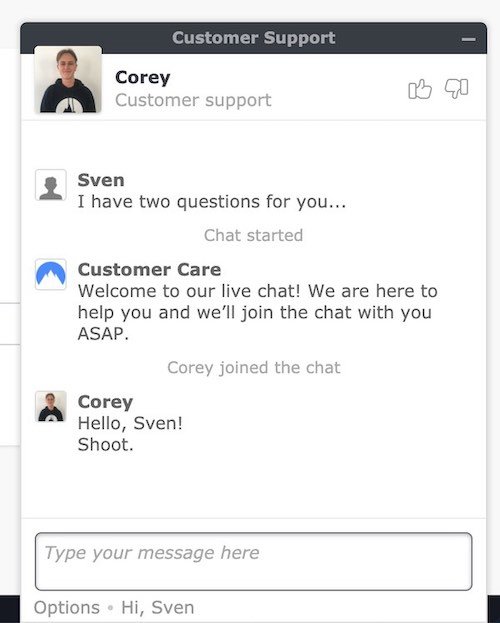 In all my interactions with NordVPN's customer service, it did not take long to connect with a representative (under a minute). The support staff was helpful in answering all my questions.
Support with some of the larger VPN providers can be hit or miss. This is especially the case because support is often outsourced to third parties. NordVPN handles all support in-house with trained technicians (no external third parties).
NordVPN strict no logs policy (audited)
Another important aspect in terms of privacy is NordVPN's logging policy. NordVPN is one of the few VPN services that has had its no-logs claims audited and verified. First, in 2019, NordVPN underwent a full audit to examine all aspects of the service and verify the strict no logs policy. The audit was performed by PricewaterhouseCoopers AG in Zurich, Switzerland.
To further verify privacy claims, NordVPN recently completed a second audit that was published in July 2020. For this second audit, NordVPN expanded the scope with full access to servers, employees, and VPN infrastructure. Here are the key findings:
NordVPN was audited by PricewaterhouseCoopers AG, a reputable auditing firm based in Zurich, Switzerland.
The auditors had full access to examine all servers, interview employees, observe operations, and inspect configurations, databases, and any other relevant areas deemed necessary.
The audit officially verified NordVPN to be a "no-log service" that remains true to its strict no logs policy.
NordVPN does not store connection logs, traffic logs, your IP (Internet Protocol) address, or any internet activity information.
Finally, NordVPN underwent a full infrastructure security audit more recently this year.
Here is a further explanation of NordVPN's logging policy from their privacy policy:
NordVPN strictly keeps no logs of your activity online. That means we do not track the time or duration of any online session, and neither do we keep logs of IP addresses or servers used, websites visited or files downloaded. In other words, none of your private and secure data is logged and gathered at any time. As a result, we are not able to provide any details about your behavior online, even if you request it yourself. NordVPN is based away from the EU and US jurisdiction and is not required to collect your personal data and information– it means nothing is recorded, monitored, stored, logged or passed to third parties.
Most recently, Cure53 completed an audit (penetration testing and source code auditing) of NordVPN's security posture. The audit was wide-ranging, including browser extensions, VPN servers, NordLynx server-side code, the NordVPN account you log in with, and much more. All the detected vulnerabilities have been fixed and verified by Cure53. Learn more about this audit here.
Overall, NordVPN is a solid choice if you are looking for a no-logs VPN provider that has been verified and proven to be true.
NordVPN is based in Panama (a good privacy jurisdiction)
Another advantage of NordVPN is that it is based in Panama. Panama is not a member of any international surveillant alliances (see the Five Eyes) and has no mandatory data retention laws. In other words, it remains an excellent jurisdiction for privacy.
As NordVPN explains this issue further on its website:
We are based and operate under the jurisdiction of Panama. There is no mandatory data retention law in Panama so we do not need to store logs which is perfect for a VPN provider.
Being based in Panama is indeed a good jurisdiction that gives NordVPN advantages over other VPN service providers, as I also explained in my NordVPN vs PIA comparison.
Additional security benefits
Now let's examine the other security benefits NordVPN offers.
RAM-disk VPN servers
NordVPN has already delivered on their promise to convert all servers in their network to run in RAM-disk mode (without hard drives). Today, every server in the NordVPN network runs in volatile RAM memory without hard drives. This is a smart move that we've already seen with other VPN providers, such as ExpressVPN and also Perfect Privacy.
Full WireGuard support with NordLynx
Some people are looking to use the (relatively new) WireGuard VPN protocol. There are many reasons for this:
WireGuard is the fastest VPN protocol available (much faster than OpenVPN)
WireGuard will connect faster and offer better reliability, especially on mobile devices
Updated encryption algorithms are used with WireGuard
NordVPN is one of only a few VPNs that offer full WireGuard support directly in the VPN apps.

As we've already covered above, WireGuard speeds with NordVPN are amazing. The upgraded security and encryption with WireGuard are additional benefits to consider.
In terms of privacy, NordVPN has gone to great lengths to ensure NordLynx ensures user privacy remains protected. To do this, they have implemented a "double NAT (Network Address Translation) system" with NordLynx. NordVPN explains the benefits as follows:
The double NAT system allows us to establish a secure VPN connection without storing any identifiable data on a server. Dynamic local IP addresses remain assigned only while the session is active. Meanwhile, user authentication is done with the help of a secure external database.
To use WireGuard with NordVPN right now, simply go into the settings and select NordLynx from the available VPN protocols.
NordVPN works with Netflix
As is the case in all of my VPN reviews, I ran NordVPN through a number of tests to see how well it does at unblocking Netflix and streaming services like Amazon Prime Video or Disney+.
I used NordVPN servers in the US to access my American Netflix account. Everything worked perfectly without any issues, as you can see here: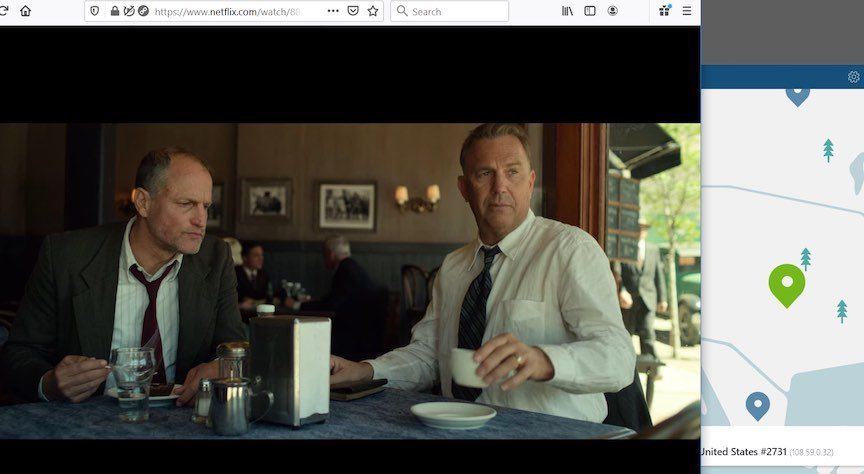 In the screenshot above, you can see the Netflix movie I was streaming with the connected NordVPN app in the background (right). NordVPN did well in all these tests. It unblocked Netflix without any issues and gave me fast speeds for HD streaming without interruption.
With NordVPN you can get full access to the following Netflix regions: US, UK, Canada, France, Germany, Netherlands, Spain, Japan, Australia, India, and Italy. (Other regions may also work, but were not tested for this review.) With full regional support, NordVPN is definitely one of the best VPNs for Netflix.
NordVPN with other streaming services
O
NordVPN works with other streaming services, such as Hulu, Amazon Prime, and others. It is also a great VPN for Disney Plus, which offers lots of content in 10 different regional libraries. With the latest test results, NordVPN is one of only three other VPNs that work with BBC iPlayer.
Note: If you have any trouble getting Netflix to work with NordVPN, simply ask Support. The live chat representatives will tell you exactly what servers to use.
Torrenting with NordVPN
NordVPN is an excellent choice if you need a good VPN for torrenting. Here are three reasons why.
Fast and consistent speeds – This will be useful when downloading torrents of large files.
Leak protection – The NordVPN apps come with built-in leak protection settings. This allows you to torrent for hours without worrying about your real address being exposed.
Safe jurisdiction – NordVPN is based in Panama. Unlike the US and Europe, Panama does not have draconian copyright laws. NordVPN can simply ignore DMCA/copyright requests from other countries.
Additionally, NordVPN also has dedicated P2P servers. These servers are listed under the "Specialty servers" and are fast and ideal for torrenting. I tested out the NordVPN torrenting servers and everything worked well.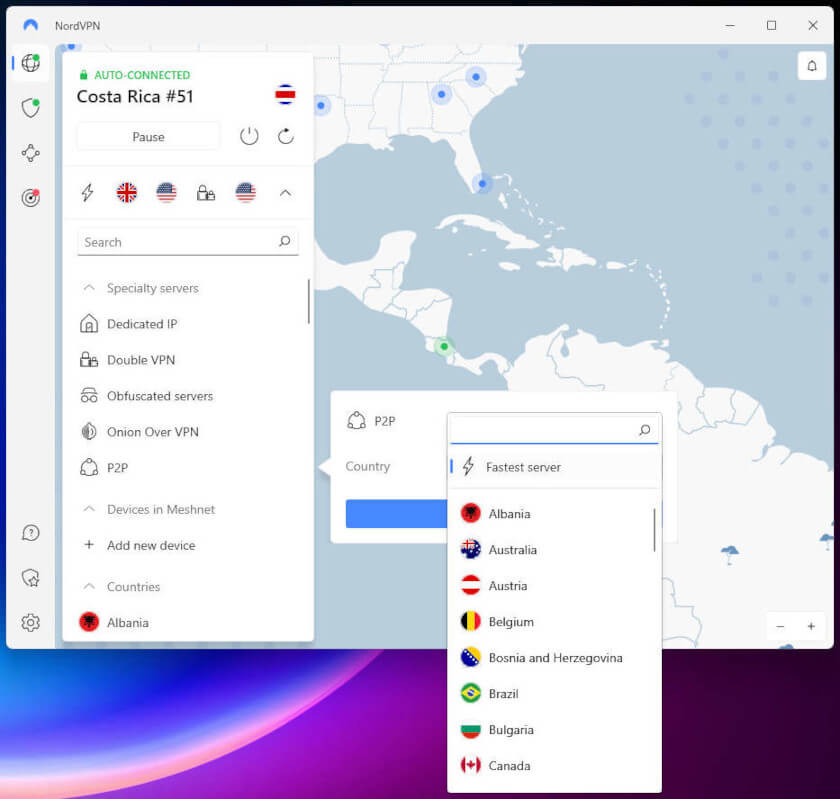 The NordVPN app will automatically connect to the fastest P2P server for a given country you select. Additionally, you can also manually connect to certain torrenting servers through the NordVPN app.
When torrenting with NordVPN, be sure to enable the kill switch to protect your address in case the connection drops. You can also find guides showing you how to set up NordVPN with uTorrent and BitTorrent clients on the NordVPN website.
No virtual server locations
In the past, we have investigated the issue of virtual server locations. This is when a VPN claims to have a server in one country, but it's actually in a different location. While there are justifiable reasons for doing this in some cases, transparency is also important.
In the case of NordVPN, we did not find any virtual server locations. Additionally, a NordVPN representative confirmed with me that no virtual locations are in use. In other words, NordVPN truly has servers in all of the advertised locations.
Dedicated IP addresses
NordVPN users can add one or more dedicated IP address (also referred to as a dedicated IP) to a subscription. A dedicated IP from NordVPN is a static IP address that is dedicated solely to you. At the same time, that address is protected by the VPN and has access to VPN features. VPN users can connect up to two devices to each dedicated IP; one configured to use the OpenVPN (TCP) protocol, and the other configured to see the OpenVPN (UDP) protocol.
As of April 2023, NordVPN offered dedicated IPs for the following locations:
United States (Buffalo, Los Angeles, Dallas, New York)
Germany (Frankfurt)
The United Kingdom (London)
The Netherlands (Amsterdam)
France (Paris)
Canada (Toronto)
Japan (Tokyo)
Italy (Milan)
Sweden (Stockholm)
Australia (Sydney)
There is an additional cost for a dedicated static IP from NordVPN. The last time I checked, the price was $70 per year for each dedicated IP, regardless of the location you choose. NordVPN is probably the best VPN for a static IP. You can purchase a dedicated IP by contacting NordVPN support to arrange the IP location you want.
Fully-featured mobile clients for Android and iOS
Many VPNs skimp on their mobile VPN apps. That is not the case with NordVPN. The NordVPN clients for Android and iOS offer full support for the following features:
OpenVPN and WireGuard protocols
Specialty servers (Double-VPN, Onion-over-VPN, Obfuscated, and P2P servers)
Built-in leak protection settings
Here is a look at the NordVPN Android client: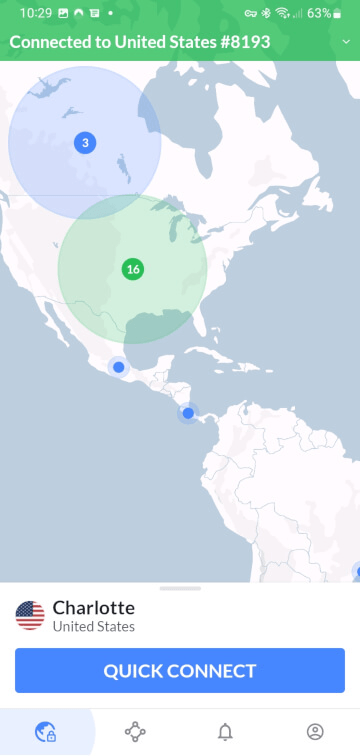 It took the top spot as the best VPN for Android, even beating out ExpressVPN.
Note: There have been many reports recently of dangerous free mobile apps that collect user data. Don't be fooled by free VPN apps that collect your data for profit. Stick with a reputable paid VPN service like NordVPN.
Low prices and a good refund policy
NordVPN is one of the cheapest VPN services you will find that is still good quality.
DEAL: NordVPN is now offering a discounted two-year subscription price. The savings here are indeed significant, dropping the price down to only $3.29 per month with an additional three months free.
Below are the NordVPN prices as of April 2023, including the discount you will get if you use our coupon: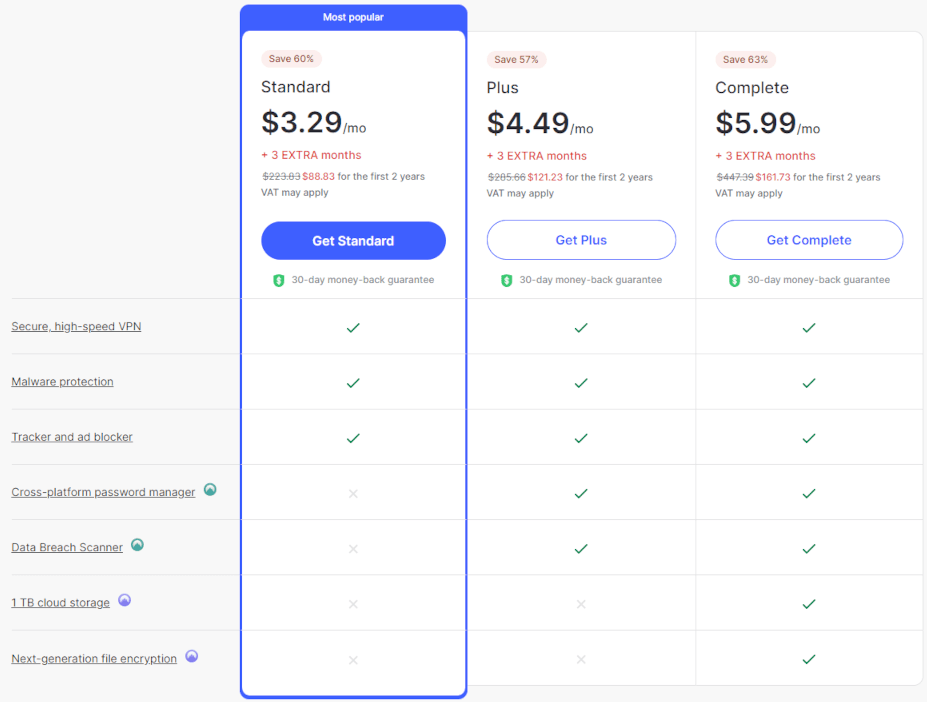 We consider any VPN service that is under $4 per month a cheap VPN. A two-year Standard plan with all the features and capabilities of NordVPN at under $4.00 per month could well be the best cheap VPN on the market today.
NordVPN now offers three types of plans as you can see in the screen capture above. The Standard plan gives you the full NordVPN feature set, along with Meshnet, a system that allows you to make fast, secure, direct connections between multiple devices. You could call it a virtual LAN.
The Plus plan gives you everything in the Standard plan, plus password management and a Data Breach scanner. And the Complete plan gives you everything in the Plus plan and adds 1TB of encrypted cloud storage.
All NordVPN plans allow up to six devices connected at a time. Meshnet allows up to 10 simultaneous connections.
Payment options
Regardless of the plan you choose, you can pay with all major credit cards, Amazon Pay, ACH Transfers, Google Pay, and even a variety of cryptocurrencies. One drawback, however, is that NordVPN is no longer supporting PayPal payments in the US.
Note: NordVPN's payment options may vary depending on your geographic location, so the list of payment options above may not reflect what you see when you sign up.
If you are hesitant about the one or two-year subscription plans, NordVPN also offers shorter-duration subscriptions, but they are more expensive. (I'm also maintaining a NordVPN coupon page to track the latest offers and deals.)
NordVPN refund policy (30 days)
NordVPN provides a 30-day money-back guarantee, which is quite generous for VPN standards. The refund policy does not include any hidden clauses or restrictions.
Cons of NordVPN
Now we'll examine the cons we found in this NordVPN review.
Big discounts only available for longer plans
One gripe I have with NordVPN is that the discounted rates are only available with the two-year subscription. Two years is a long commitment to make to a VPN service, but the 30-day refund window gives you plenty of time to test everything.
Along these same lines, the one-month deal is rather pricey at $11.95 per month. This is more than three times the monthly price of the two-year plan. But steep discounts for long subscriptions are becoming more common in the industry – so it's not surprising.
No VPN router app (but still works on routers)
Some VPN services, such as ExpressVPN and VyprVPN, offer a dedicated router app for certain router models. This makes it easier to get a VPN up and running on your router. It also makes it easier if you need to use a VPN for Apple TV and other devices that don't connect easily to VPNs.
Currently, NordVPN does not offer any VPN router app. Nonetheless, you can still use NordVPN with a router. Here are three ways to do that:
Get a pre-configured router from an outlet such as Sabai Technology or FlashRouters. These will be somewhat expensive, but they will be ready to use with NordVPN right out of the box and pre-configured with the router firmware you need.
Get a VPN-enabled router that can be used with a VPN without any flashing required. The best selection of VPN-enabled routers comes from Asus. Asus offers numerous routers that can be easily loaded with OpenVPN configuration files (from any VPN provider) and be working in just minutes.
Flash your existing router. This can be tricky and somewhat risky (bricking your router), so you will want to proceed with caution if you go down this route. The degree of difficulty will depend on the router you are using.
Tip: When using NordVPN on a router, connect to the nearest suitable server with the lightest load.
Overall, not having a router app is not really a dealbreaker since there are still many ways to use NordVPN on a router. If you go with the Vilfo router, all NordVPN config files are built into the router by default. And as always, NordVPN support can help you get everything set up correctly.
NordVPN FAQ
Here are some additional questions we set out to answer in this NordVPN review.

Does NordVPN work for torrenting?

Yes, NordVPN is an excellent choice if you need a good VPN for torrenting. Here are three reasons why.
1. Fast and consistent speeds – This will be useful when torrenting large files.

2. Leak protection – The NordVPN apps come with built-in leak protection settings. This allows you to torrent for hours without worrying about your IP address being exposed.

3. Safe jurisdiction – NordVPN is based in Panama. Unlike the US and Europe, Panama does not have draconian copyright laws. NordVPN can simply ignore DMCA/copyright requests from other countries.


Does NordVPN work in China?

Thanks to its obfuscated servers, NordVPN is a great choice if you need internet access that can get around the Great Firewall of China. These servers make your VPN traffic look like standard internet traffic, so the Great Firewall and other anti-VPN technologies can't detect it.


Is NordVPN worth the money?

The answer to this question is yes. In test after test, NordVPN ranks as one of the top VPNs for any VPN use case. Yet at the same time, it is one of the least expensive VPNs on the market. NordVPN is a great value and definitely worth the money they charge you.


Does NordVPN use virtual servers?

Many VPNs use virtual servers to give you access to certain countries, rather than physically locating servers in each country. This is not necessarily a bad thing, but it is good to know if the server you are connecting to is actually located where it claims to be located.

A NordVPN representative told us that they do not use virtual servers and we were unable to find any virtual server locations during our research.


Does NordVPN offer static IP addresses?

NordVPN offers dedicated IPs, which are static IPs that are dedicated to a single user. You can get a dedicated IP address by contacting NordVPN support. They cost $70 per year above and beyond your subscription cost.


Is NordVPN good for streaming?

NordVPN is an exceptional VPN for streaming. It is extremely fast, so content streams smoothly without buffering or other delays. And NordVPN does a great job of unblocking geo-blocked content from streaming sites. That means you can use it to view content from all around the world while remaining comfortably ensconced on your sofa at home.

NordVPN review conclusion: It's still the best VPN in 2023
I've been testing NordVPN for about seven years now, as both a personal user and also for VPN reviews. Once again, our test results show that NordVPN continues to improve their service. With this level of performance, NordVPN is a premium VPN at a very reasonable price.
NordVPN has made major improvements over the past year in many areas and continues to get better. Here's what stands out to me with the latest review:
Faster speeds and better reliability throughout the server network
Replaced CyberSec with Threat Protection for even greater security and privacy
Big security upgrades, with all servers, converted to run in RAM-disk mode and colocated (self-owned) server rollout continuing
Integrated WireGuard VPN protocol into their own NordLynx protocol with support in all VPN apps
More support for Netflix and other streaming services
While there are a few minor drawbacks, NordVPN remains a great choice for virtually any user. It remains our top-recommended VPN based on these test results.
Are you ready to test-drive this killer VPN? Give it a shot with the coupon below for the best price on the best VPN!
NordVPN's Cyber Deal is live:

Get 63% Off NordVPN plus an additional 3 months FREE:
(Coupon is applied automatically.)
Alternatives to NordVPN
Click the VPN name below to read our full review – or grab the discount for the best savings. Both of these VPNs have a 30-day money-back guarantee.
Surfshark review (with an 82% Off Coupon)
You can also check out our best VPN services list for other recommendations.
If you have used NordVPN, feel free to share your honest review (good or bad) below.
This NordVPN review was last updated on April 14, 2023.