The VPN industry is booming and misinformation is rampant. Finding the best VPN all boils down to trust and selecting a service that aligns with your needs. Unfortunately, many VPNs are not trustworthy. In this 7,000+ word guide, we'll discuss the top-ranked VPNs, while also revealing honest information about 30 other VPN services (what you're not being told). The information below is regularly updated and based on my own experience in testing, reviewing, and researching 100+ VPNs in the past five years. (Updated May 18, 2019)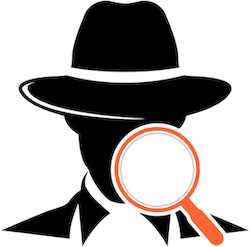 Finding the best VPN service in 2019 is becoming increasingly difficult for the average user, simply because there is so much noise online about VPNs.
With the growing interest in online privacy and security, it has really become a free-for-all with numerous "experts" all clamoring to tell you which VPN is best:
Large corporate-controlled websites, such as CNet, PCMag, and TechRadar, which earn money recommending products to their huge audiences (in addition to ad commissions)
Dozens of "best VPN" websites are appearing on the scene, many of which are fraught with scams and controversy
An army of YouTube stars and overnight "experts" riding the privacy trend and recommending VPNs
Reddit, comment boards, and various forums that are inundated with shills, bad advice, and corporate-sponsored content
Even news websites such as CNN are getting in on the action
The problem here is that the vast majority of people discussing VPNs have no idea what they're talking about. Even worse, there's lots of misinformation, shady backroom deals, and flat-out lies being pushed as fact.
Here's what we'll cover in this 10-part guide:
What is the best VPN?
Best VPN ranking criteria (and examining the top 5 providers)
Analysis of 30 other VPN providers (not necessarily recommended)
What is the best VPN for privacy and security?
What is the best VPN for streaming?
How to get the best VPN speed and performance
Are VPNs safe and legal?
What is the best free VPN service?
Is your internet provider spying on you?
Best VPN comparison table
What is the best VPN?
When looking for the best VPN service, there are two main things to keep in mind:
1. There is no single "best VPN" service for everyone
Finding the best VPN for your unique needs is a subjective process and there is no "one-size-fits-all" – despite what everyone is claiming.
In addition to your threat model (how much privacy and security you need), there are many other factors to keep in mind, including the VPN's features, test results, jurisdiction, logging policies, and more.
2. It all comes down to trust
When choosing the best VPN for your needs, one of the biggest factors to consider is trust. Trust is difficult to quantify or measure, but it's extremely important. After all, a VPN can offer excellent privacy and security, but it could also be a data collection tool for rogue third parties (this is usually the case with free VPN services).
While many websites discuss, speed, features, and other marketing claims, the "trust factor" is often neglected or completely ignored. Choose your VPN carefully.
How does jurisdiction affect trust?
VPN services based in the United States are not recommended for three main reasons:
The United States has extensive (and powerful) surveillance programs allowing the US government to tap internet infrastructure for bulk data collection. These laws give the NSA tremendous power to snoop everything.
The US government has a long history of working with (and forcing) private tech companies to facilitate mass surveillance and bulk data collection efforts – see the PRISM program for details.
US VPN services could be served National Security Letters or other lawful data collection demands, while also being prohibited from disclosing anything to their customers due to gag orders.
These laws and capabilities essentially give the US government the authority to compel a legitimate privacy-focused company to become a data collection tool for state agencies. If a VPN were to be compromised, it would likely happen behind closed doors, without a word (or warning) to the users. This was the case with Lavabit, and rather than comply with the data requests, the founder was basically forced to shut down the business.
These same practices are also unfolding in other countries, particularly the UK and Australia. There are also surveillance alliances between various governments for bulk data collection and sharing (see the 5/9/14 Eyes alliances).
Best VPN ranking criteria
The goal of this best VPN report is to filter through all the noise and identify the most secure VPNs that passed all tests and meet the following criteria:
Located in a good privacy jurisdiction (outside of 5/9/14 Eyes countries) to keep your data safe
Passed all tests with no leaks found whatsoever (no IP address leaks or DNS leaks)
Good performance throughout the server network (speed and reliability)
High-quality VPN apps with all features working correctly
Supports the OpenVPN protocol and strong encryption standards
Offers a money-back guarantee (between 7 and 30 days)
Trustworthy and well-established VPN provider with a good track record
Here are the best VPN services that meet these criteria:
---
1. ExpressVPN – Fast, secure, well-regarded VPN service
ExpressVPN has not always been the top recommendation, but it has made vast improvements over the past two years, steadily climbing the rankings, and now holds the top spot. While many VPNs suffer from bugs and random issues, ExpressVPN consistently works with excellent performance.
Here are a few highlights:
In January 2019, ExpressVPN passed a third-party audit performed by Cure53, a reputable cybersecurity firm based in Berlin.
ExpressVPN is a verified no logs VPN service, with Turkish authorities seizing an ExpressVPN server in Turkey, but they were unable to obtain any data (see the official statement here).
ExpressVPN uses the highest encryption standards: an AES 256-bit cipher with a 4096-bit RSA key and SHA-512 HMAC authentication. ExpressVPN apps also incorporate a "Network Lock" kill switch feature.
Since April 2019, ExpressVPN runs all servers in RAM-disk mode, rather than on hard drives. This makes it impossible to physically store any logs or data on the servers and also improves security (see the TrustedServer feature).
Browser extensions are available for Chrome, Firefox, and Safari that are open source and incorporate HTTPS Everywhere from EFF.
User-friendly apps are available for all major devices and operating systems, including routers, Linux, Windows, Mac OS, Android, iOS, smart TVs and more.
Split tunneling is available with the Windows, Mac OS, and router apps. (This is the ability to route certain apps or website traffic outside of the encrypted VPN tunnel.)
If you want to use a VPN on a router, ExpressVPN offers a dedicated router app. The app makes using a VPN on a router very easy, while also giving you the ability to quickly switch between server locations.
ExpressVPN is the best VPN for Netflix, with 24/7 access to many different regions, as well as a high-performance network for HD streaming.
It is also a great VPN for torrenting, with no restrictions on torrenting traffic or bandwidth.
ExpressVPN is based in the British Virgin Islands, an excellent privacy jurisdiction outside of 5/9/14 eyes countries.
24/7 live chat support
Secure VPN apps (no leaks identified in testing)
In terms of speeds, ExpressVPN is the best I've tested. It consistently gives me around 150 Mbps with nearby servers (on a 160 Mbps connection), as well as great speeds with long-distance connections, such as streaming Netflix from US servers.

See the ExpressVPN review for more test results and analysis.
Main drawbacks:
More expensive than some competitors (but see the 49% discount coupon)
Three simultaneous connections (but if you need more, you can use the VPN on your router for an unlimited number of connections)
Refund policy: All subscription plans come with a full 30 day money-back guarantee, no questions asked.
Exclusive discount: Get a coupon for three months free here >>
---
2. NordVPN – Lower-priced VPN service based in Panama
NordVPN is another VPN that has climbed in the rankings. In the past few years, I've seen NordVPN make major improvements, such as improving their kill switch, patching IPv6 leaks, and greatly expanding their server network to improve performance. NordVPN now holds the #2 spot and it continues to perform well.
Here are some highlights from the NordVPN review:
NordVPN is based in Panama, which is an excellent jurisdiction for privacy.
The server network is very large, with 5,200+ servers in 60 countries
NordVPN offers a large selection of user-friendly apps for all devices and operating systems.
There are specialty servers, including double-VPN servers (traffic is encrypted over two locations), Tor-over-VPN servers, obfuscated servers (stealth VPN) and more.
CyberSec ad blocking feature, which blocks tracking, malware, and advertising domains at the VPN server level.
NordVPN is a verified no logs VPN provider, having passed a third-party audit of their logging policies in November 2018, performed by PricewaterhouseCoopers AG, Zurich, Switzerland (press release).
Works well with Netflix (many regions supported)
Very competitive price at only $2.99 per month (with the three-year plan)
24/7 live chat support
Secure VPN apps with no leaks or privacy issues identified
NordVPN offers good speeds with most servers tested (although there is some variability in the network)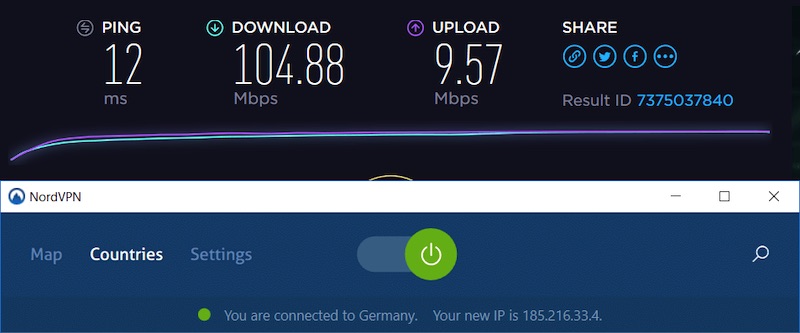 Main drawbacks:
Although NordVPN does pretty good with speeds, there is some variability with performance throughout the server network (not consistently fast)
The 75% discount is only available for three-year plans
Refund policy: All subscription plans come with a full 30 day money-back guarantee.
Exclusive discount: Get a coupon for 75% off NordVPN here >>
---
3. Perfect Privacy – Premium VPN with advanced security features
If you are looking to attain the highest levels of privacy and security, Perfect Privacy may be a good choice. Although it is perhaps overkill for most users, Perfect Privacy offers a number of advanced features, but this also makes it somewhat less user-friendly.
Main highlights from the Perfect Privacy review:
Multi-hop VPN cascades are supported on the Windows and Mac OS apps. (See my multi-hop VPN article for details.)
NeuroRouting feature (supported on all devices) dynamically routes traffic across multiple hops in the VPN network (similar to Tor).
Unlimited number of connections; unlimited bandwidth (no restrictions)
TrackStop feature blocks thousands of advertisement, malware, tracking, and phishing domains at the VPN server level.
Based in Switzerland, a good privacy jurisdiction
The entire server network is composed of dedicated bare-metal servers that are running in RAM-disk mode (no hard drives). (See the real-time server bandwidth.)
Full IPv6 support (you get both an IPv4 and IPv6 address)
Very secure apps with customizable DNS and IP leak protection (no leaks found)
Good speeds throughout the server network
Like our other two top recommendations, Perfect Privacy is also a verified no logs VPN service (servers were seized in Rotterdam, no customer data affected).
Main drawbacks:
Very expensive at $8.95 per month with the two-year plan
Does not work well with Netflix and other streaming services (blocked)
Less user-friendly than other options
Refund policy: 7 day refund window with all subscriptions.
---
4. VPNArea – Good all-around VPN for privacy, security
VPNArea is a low-profile VPN service that doesn't get too much attention, but it does well in the areas of privacy, security, and streaming. With the new discount pricing, it also offers a good value for your money.
Here are some highlights from the VPNArea review:
Dedicated server hubs for streaming Netflix, BBC iPlayer, and SkyGo
Strong security features with good leak protection settings (no leaks identified testing)
Ad-blocking DNS servers
Dedicated IP addresses available in different regions around the world
24/7 live chat support
Account sharing is allowed (up to six simultaneous connections per subscription)
Obfuscated servers (stealth VPN)
No logs policy
Based in a privacy-friendly jurisdiction (Bulgaria)
Competitive pricing (the three-year plan is available for $2.99 per month)
Main drawbacks:
Limited number of Netflix servers available
Desktop apps feel a bit clunky, but still work well
Refund policy: There is a 30 day refund policy with one year and three year plans, and a 14 day refund window for one month plans.
---
5. VPN.ac – Fast VPN with great security, encryption
VPN.ac is a security-focused VPN that offers excellent performance and features, for a very competitive price. It is based in Romania and was started by a team of network security professionals. VPN.ac did very well in testing; here are a few highlights from the VPN.ac review:
Very secure applications and infrastructure, with support for numerous VPN protocols and encryption options
VPN.ac's entire network is composed of dedicated bare-metal servers
Double-VPN servers available (currently with 18 different configurations)
Excellent VPN apps with support for all major operating systems
Active support for the WireGuard VPN protocol (WireGuard servers live)
Secure proxy browser extensions for Firefox, Chrome, and Opera browsers
Great obfuscation features available (a good VPN for China)
Based in Romania (good privacy jurisdiction)
Competitive prices ($3.75 per month with the two-year plan)
You can get a discounted one-week trial (see the FAQ page)
Main drawbacks:
The main drawback with VPN.ac is the logs. Basic connection logs (no activity data) are kept for 24 hours for network security and optimization (but all data is automatically erased every day). This is explained more on the VPN.ac website.
Refund policy: All plans come with a 7 day refund window.
---
---
30 other VPN services (not necessarily recommended)
I regularly receive emails and comments along the lines of, "What about XYZ VPN service?".
There are many VPNs on the market, and unfortunately, there's not enough time in the day to review them all. Once again, however, the main thing to consider is trust: Would you trust the VPN with all of your traffic and online activity?
Some of the VPNs below may be worthy of your trust, but others may not. So now let's examine 30 other VPN providers that range from:
Good, but not good enough; to
Malware-infested VPN – avoid at all costs
---
AirVPN – A secure VPN based in Italy
AirVPN is a well-regarded VPN provider with a good track record. Although it is based in Italy (14 Eyes), AirVPN is a "no logs" service with a strong commitment to privacy. There are a few drawbacks I found when using their service:
Below average speeds
Poor customer support
VPN apps are not very user-friendly (but still work well)
---
AzireVPN – Based in Sweden, rather limited
AzireVPN is another Swedish VPN service with a strong commitment to privacy. Although there are concerns with Sweden and privacy (14 Eyes) AzireVPN does have a no logs policy. It also offers full IPv6 support on dedicated, bare-metal servers.
The main drawback with AzireVPN is that it is very minimal. The server network is limited to only a handful of locations and it's a bit short on features, but it is pretty affordable with the two-year plan.
---
Betternet – A Canada-based free VPN, found to contain malware
Betternet is a free VPN service with a bad reputation – and rightfully so. In an academic research paper, security experts found Betternet to contain a very high malware presence. Additionally, the researchers also identified 13 different tracking libraries in the Betternet Android app.
Betternet is now owned by AnchorFree. AnchorFree is the company that produces HotSpot Shield, another notorious VPN with privacy issues, as we'll explain more below. (Free VPNs = dangerous.)
https://www.betternet.co/
---
CyberGhost VPN – Owned by a company that makes malware
CyberGhost is a VPN with an interesting history. It started out in Romania with a development team from Germany. However, in 2017, CyberGhost's founder, Robert Knapp, sold his business to an Israeli company called Crossrider. Now here's where things get interesting:
Due to the various "past activities" of Crossrider, the management decided to change the business name to "Kape" in 2018, but the same company is still operating CyberGhost VPN.
https://www.cyberghostvpn.com/
---
CryptoStorm – A VPN with an interesting history
On the surface, Cryptostorm looks like a solid VPN service with good privacy and security features. However, when you look into the history a bit, there are some red flags. The person behind Cryptostorm is a guy named Douglas Spink:
Spink was accused of running an illegal "farm" where people engaged in "animal cruelty" acts (sources here, here, and here).
Spink was busted for smuggling millions of dollars worth of cocaine. While others in the ring received 17-year sentences, Spink got off with a "lenient, three-year sentence because of his extensive cooperation with investigators."
There have long been rumors in the industry that this "cooperation" entailed giving authorities back-door access to Cryptostorm VPN. Some websites even claim that Cryptostorm is "most likely an FBI honeypot" – but I have not seen concrete evidence of this, just speculation.
https://cryptostorm.is/
---
Hide My Ass – A UK VPN with a history of providing logs to authorities
The UK VPN service "HideMyAss" – or HMA – also has a troubling history when it comes to logs. According to Invisbler, HideMyAss appears to have logged user data and provided this to authorities, who used this information to arrest and jail a hacker. This case is sometimes called the "LulzSec Fiasco" when the FBI used logs from HMA to identify someone behind a Sony Pictures hack.
The 25 year old HideMyAss user ended up receiving a one year prison term, one year home detention, 1,000 hours of community service, and was also ordered to pay $605,663 to Sony Pictures. I've also found that many HideMyAss servers are not where they claim to be (the use of "virtual server locations"). HideMyAss is now owned by AVG.
https://www.hidemyass.com/
---
Hotspot Shield VPN – Another free VPN with a troubling history
Hotspot Shield was named in a research paper for "actively injecting JavaScript codes using iframes for advertising and tracking purposes" with their Android VPN app. Furthermore, analysis of Hotspot Shield VPN's source code revealed that they "actively use more than 5 different third-party tracking libraries." Hotspot Shield was also found to be redirecting user traffic to e-commerce domains, such as alibaba.com and eBay.com through partner networks.
In 2017, Hotspot Shield was officially named in an FTC complaint for alleged traffic interception. In 2018, Hotspot Shield was again in the news for a security flaw that revealed user locations. The company behind Hotspot Shield is AnchorFree, which runs other free VPN services as well.
https://www.hotspotshield.com/
---
IPVanish – A fast VPN in the US, but with a troubled past
IPVanish is another interesting case of a "no logs" VPN service that provided logs to authorities. As I covered in the IPVanish logs article, IPVanish admitted to providing logs to US authorities who were investigating crimes committed by the user. IPVanish explained to Restore Privacy, however, that this took place under a previous management structure that is no longer in control of the company.
Speaking of ownership, in April 2019, PCMag claimed their parent company, Ziff Davis, which is owned by j2 Global, now owns Encrypt.me, IPVanish, and StrongVPN.
---
Ivacy – A white label version of PureVPN?
Ivacy is a VPN service officially based in Singapore. However, as others have noted, there are many connections between Ivacy and PureVPN, which also ties into Gaditek, a company that appears to be running the show out of Pakistan.
For many years there have been rumors (and lots of evidence) connecting Ivacy to PureVPN. Finally, in March 2019, Ivacy admitted that PureVPN has "minor stakes" in Ivacy. (We'll examine PureVPN more below.)
[https://www.ivacy.com/]
---
IVPN – A secure VPN based in Gibraltar
IVPN is a VPN provider based in Gibraltar, with a pretty good reputation. It offers multi-hop functionality and is also currently supporting WireGuard, although the multi-hop is limited to only two servers. There also may be some connection to the United States, as IVPN's EULA contained references to jurisdiction under US law.
IVPN is also rather expensive, at $8.33 per month, with five connections allowed, and no IPv6 support on their network. Although it is slightly more expensive than IVPN, Perfect Privacy may offer more "bang for your buck" with TrackStop filtering, NeuroRouting, multi-hop functionality (up to four servers), as well an unlimited number of device connections and full IPv6 support.
---
Mullvad – A good VPN in Sweden
Mullvad appears to be a decent VPN service out of Sweden, with a good reputation in the industry. It has good privacy and security features and also claims to be a no logs VPN service, with some minor caveats. There are a few drawbacks with Sweden, however, with the 14 Eyes jurisdiction and troubling data retention policies.
---
Namecheap VPN – A white label version of IPVanish?
Namecheap, the large hosting and domain registrar service, began offering a VPN in 2018. Namecheap VPN appears to be a white label version of IPVanish, as many have noted. This means the software and server infrastructure is basically IPVanish, but it's operated under a different name by Namecheap. There's nothing inherently wrong with white label VPNs, although IPVanish doesn't have the best history.
https://www.namecheap.com/vpn/
---
Onavo Protect – A spyware VPN for data collection, courtesy of Facebook
Onavo Protect was the free VPN that was marketed by Facebook. It was launched as a free VPN for iOS and Android, and predictably, it required extensive permissions to run (access to your private data). Onavo Protect was basically monitoring and logging the activity of anyone who installed the spyware VPN. Fortunately, after much outcry and bad publicity, Facebook decided to end its foray into free VPN services.
Even though Onavo Protect is now dead, it lives on as a warning to everyone: an untrustworthy VPN can be very dangerous and provide the exact opposite of privacy and security. Once again, it's all about trust.
https://www.onavo.com/
---
Opera VPN – A proxy browser extension owned by a Chinese Consortium
Although Opera may have started out as a reputable browser built in Norway, it was sold to a giant Chinese consortium in 2016 for $600 million. For years, Opera has been claiming to have a "free VPN" available through the browser. Problem is, this is technically a lie, and the "free VPN" is actually just a proxy server, which many people consider to be insecure.
As I covered in the free VPN guide, Opera's privacy policy explicitly states how they are collecting and sharing user data through their various products, including the browser and "free VPN". As the saying goes, when something is free, you are the product. (See the secure browser guide for alternatives.)
https://www.opera.com/computer/features/free-vpn
---
Private Internet Access – A verified "no logs" VPN based in the US, good performance
Private Internet Access is a decent VPN provider that I've found to have good speeds and security in recent testing. The big drawback with PIA, however, is that it's based in the United States – a bad privacy jurisdiction. That being said, it is also a verified no logs VPN provider, with two separate legal cases confirming that PIA does not keep logs.
https://www.privateinternetaccess.com/
---
ProtonVPN – A VPN from ProtonMail with slow speeds and an interesting history
ProtonVPN is an interesting project from the people behind ProtonMail. Overall, it's not a bad VPN, although it does have some shortcomings that I found in my review of ProtonVPN: slow speeds, higher price, invasive signup process (with phone verification!), and limited support for cryptocurrency payment. While ProtonVPN regularly touts its Swiss credentials (and attacks US VPN services on its blog), ProtonMail itself has numerous connections to the United States (also discussed in the secure email guide).
---
Proxy.sh – A VPN that admitted to monitoring and tracking users
Proxy.sh was a fairly popular VPN a number of years ago, but it seems to have declined in popularity following a scandal in 2013. As reported by Softpedia and other outlets, Proxy.sh admitted to tracking and monitoring their users due to a complaint they received from someone about harassment. In other words, they voluntarily infringed on their users' privacy, without law enforcement compelling them to do so.
https://proxy.sh/
---
PureVPN – A leaky and slow VPN with a troubling history
In my review of PureVPN, I found lots of troubling issues, including DNS leaks, IP address leaks, connection problems, and slow speeds. PureVPN is also no stranger to controversy. As I explained in the PureVPN logs article, they were found to be logging customer data and providing it to US authorities, all while claiming to a be "zero log" VPN. There are also reports of PureVPN running various VPN "review" websites.
https://www.purevpn.com/
---
SaferVPN – A VPN based in Israel
SaferVPN is a VPN service that is based in Israel, which is not the best jurisdiction for privacy. As explained in the Five Eyes guide, Israel is a close partner with the United States (and NSA) in terms of data collection and sharing, while also having a powerful state surveillance program.
https://www.safervpn.com/
---
StrongVPN – A US-based VPN service, owned by j2 Global
StrongVPN is another VPN provider that is tied to IPVanish and j2 Global, based in the United States. I have not tested StrongVPN in a few years, but it previously offered decent performance and is rumored to work with Netflix.
---
Surfshark – A new VPN based in the British Virgin Islands
Surfshark is a newer VPN service that seems to be getting lots of attention on various "review" sites. It is a very cheap VPN and is based in the British Virgin Islands, which is a good jurisdiction for privacy. There have been so many VPNs flooding onto the market in the past few years, I'd be hesitant to recommend any of these new providers. Nonetheless, I intend to keep a close eye on Surfshark and test it out more for an upcoming review.
---
TorGuard – A US-based VPN with good performance
TorGuard is a decent VPN service with good speeds and no logs, although it is based in the United States. If you need a VPN for torrenting, it might not be a bad option. TorGuard also offers dedicated IP addresses and is supposed to work with Netflix. The main drawback, of course, is the US jurisdiction.
Regarding trust and history, VPN.ac published an interesting article that claimed that TorGuard "copied our extension's design, they use(d) our API servers and implemented their browser proxy service insecurely."
---
Trust.Zone – A basic, Seychelles-based VPN
Trust.Zone is a basic VPN service located in Seychelles, a good jurisdiction for privacy. While it is a basic and somewhat limited VPN, it does offer a pretty good value at only $2.88 per month with the tw0-year plan. I also found Trust.Zone to offer decent speeds.
---
TunnelBear – A limited free VPN, based in Canada, owned by McAfee
TunnelBear is basically a "free trial VPN" that gives you a 500 MB trial to test the service for free. Although TunnelBear is based in Canada (Five Eyes), it is now owned by McAfee, a large cybersecurity firm in the United States. This is yet another example of small VPNs getting purchased by large American companies. When I tested out TunnelBear for a review, I found it to have mediocre performance, and it is also pretty limited on features.
---
VPNHub – Another white label version of IPVanish, run by a porn company
Just like with Namecheap VPN, VPNHub is yet another re-branded (white label) version of IPVanish. It's also easy to see that VPNHub is running on IPVanish's server network when you examine the IP addresses. The company behind VPNHub is PornHub, the adult content website, which is owned by MindGeek. MindGeek is also the company that designed the age verification tool for the UK, to keep minors from accessing adult content.
So now it becomes clear. VPNHub will be marketed to people for getting around adult content blocks, which were designed by … the same company that's selling you the VPN. I guess it's a win-win situation for MindGeek.
[https://www.vpnhub.com/]
---
VPN Unlimited – A US-based VPN with some issues
VPN Unlimited is another US-based VPN service with some issues. While it has improved over the past few years, my latest tests identified IPv6 leaks with VPN Unlimited's Mac OS app. Reading through the privacy policy, I also discovered the VPN Unlimited is collecting quite a bit of data. VPN Unlimited's apps automatically log IP addresses, browser type, device type, time zone, and more. I also found the speeds to be fairly slow.
https://www.vpnunlimitedapp.com/
---
VyprVPN – A no-logs VPN based in Switzerland
VyprVPN is an interesting VPN service that has certainly evolved over the years. Although it previously maintained connection logs, VyprVPN went through a full third-party audit in 2018 to transition to a no logs VPN service. It is also one of the few VPNs that own all the servers in their network.
Although VyprVPN is technically a Switzerland-based VPN service (where the business is incorporated), it does have operations in Austin, Texas, which may be noteworthy for those wanting to completely avoid the US.
---
Windscribe VPN – Based in Canada, mediocre performance
Windscribe is a VPN Service based in Canada. It did not perform too well in the review, although it also wasn't horrible. Windscribe recently rolled out a server-side ad blocker called ROBERT, which is just like the one used by Perfect Privacy called TrackStop.
One dubious aspect of Windscribe is that it offers "lifetime" VPN subscriptions, which is not a sustainable business model. As we noted in the VPN scams guide, the "lifetime" subscription is not the lifetime of the customer, but rather, the lifetime of the VPN service (however long it stays in business). You can see the founder of Windscribe, Yegor Sak, in this advertisement that attempts to look like a news report.
---
ZenMate VPN – A VPN owned by a company that makes malware
Just like with CyberGhost, ZenMate VPN was also purchased by Kape Technologies (formerly Crossrider). ZenMate began as a German VPN, but in October 2018, Kape took 100% ownership of the company. To understand why this development may not be in the best interests of ZenMate users, see the CyberGhost section above and the history of Crossrider/Kape.
https://zenmate.com/
---
ZorroVPN – A privacy-focused VPN service with great features
ZorroVPN is a smaller, privacy-focused VPN service that doesn't get too much attention, but it did well in testing for the ZorroVPN review. For features, ZorroVPN offers multi-hop VPN connections (up to four servers) and the ability to create custom VPN chains incorporating Tor and proxy servers. Although ZorroVPN suggests using open-source VPN clients, they are currently developing a custom client for Windows and Linux (currently in Beta). ZorroVPN is a no logs service, based in Seychelles.
---
What is the best VPN for privacy and security?
Any of the five VPNs recommended would be good choices for privacy and security because they have all been thoroughly tested and found to be secure (no leaks), while also offering strong encryption. Furthermore, the recommended VPNs in this guide are all located in safe privacy jurisdictions.
With that being said, there is one VPN service that stands out in terms of advanced privacy and security features, and that is Perfect Privacy.

Here are a few ways Perfect Privacy stands out from the crowd:
Multi-hop cascades + NeuroRouting – Perfect Privacy gives you the ability to create multi-hop VPN cascades across up to four different servers in the network. This protects you against the possibility of a rogue data center logging traffic, targeted monitoring, and other threat scenarios. Additionally, the server-side NeuroRouting feature dynamically routes all traffic through multiple hops in the server network, and can be used with any device.
TrackStop – TrackStop is another server-side feature that works with any device (no apps needed). It blocks 30,000+ tracking and advertisement domains, 45,000+ malware domains, 20,000+ phishing domains, and it can also be activated to filter out social media and Google domains, which also abuse your privacy.
Powerful leak protection – Perfect Privacy's Windows and Mac OS apps offer three different levels for the kill switch, which I tested for the Perfect Privacy review.
While perfect privacy does very well with security and advanced privacy features, it's not the best all-around VPN because it is rather expensive, somewhat complex, and does not work well with streaming sites, such as Netflix.
On the topic of privacy and security, you may also want to consider using a secure browser and other privacy tools to keep your data safe.
What is the best VPN for streaming?
Many people are turning to VPNs to access streaming content that is blocked or geo-restricted to certain areas. With a VPN, you can "tunnel" in to certain locations to access content, such as American Netflix or BBC iPlayer in the UK. VPNs are also useful for Kodi streamers looking to access blocked Kodi add-ons with complete privacy.
The best VPN for streaming is ExpressVPN. (See also the ExpressVPN Netflix page for details.)
ExpressVPN works with a wide range of streaming services, has excellent performance, and offers the best lineup of apps for all types of devices – from Android TV boxes to tablets, computers, routers, and phones. With ExpressVPN's 24/7 live chat support, they can help you get everything setup correctly.
Below I'm streaming American Netflix from my location in Europe while connected to an ExpressVPN server in the United States: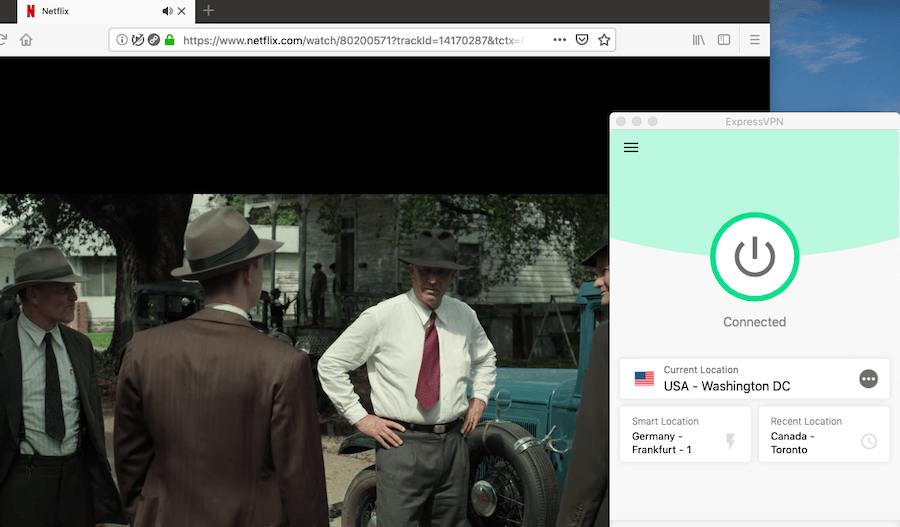 In addition to Netflix, ExpressVPN is also an excellent VPN for Kodi streaming, wherever you are located.
Aside from unblocking content around the world, VPNs are also crucial for protecting yourself against ISP snooping and potential copyright issues when streaming from third party sites or when torrenting. (See also the best VPN for torrenting guide.)
How to get the best VPN speed & performance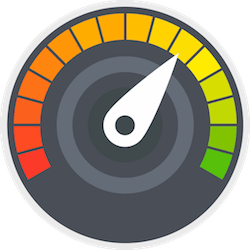 How can you achieve the best VPN speed and performance?
If you are using a good VPN service, you shouldn't notice a huge reduction in speed. Of course, the extra work that goes into encrypting your traffic across VPN servers will affect speed, but usually it's not noticeable for regular browsing, especially if you're using a nearby server.
Here are some tips for getting the best VPN performance:
Use the closest server possible to your physical location. This generally reduces latency and improves performance.
Choose the least crowded server or "recommended" server. Some VPNs help you select the best VPN server by showing server bandwidth loads or having "recommended" servers based on distance and loading, such as with ExpressVPN.
Experiment with different VPN protocols. OpenVPN UDP offers the best mix of security and speed. Trying different VPN protocols and encryption options may help to find the best fit for your network.
Consider antivirus and WiFi interference. Sometimes antivirus software or other WiFi networks may interfere with VPN speeds.
Use a wired (ethernet) connection. Wired connections (with high-quality ethernet cables) generally provide faster and more consistent speeds than WiFi, and are also more secure than WiFi.
Consider processing power. Processing power on your device may also be limiting speeds, especially if you are using a VPN router.
Consider your operating system. I've found VPN speeds on Linux and Mac OS to generally be better than Windows. When using a VPN on Windows, sometimes the TAP adapter will interfere with speeds, as well as background processes/updates that take up bandwidth and processing power.
Upgrade your internet connection. Your VPN will not be able to exceed the connection speed of your internet provider.
As you can see, there are many different factors affecting speed. Experimenting with these different variables will help you achieve the best VPN speeds possible.
Are VPNs safe and legal?
First we will address the issue of safety.
If you are using a good, reputable VPN service that effectively secures your traffic (no leaks), then yes, a VPN is safe to use. But therein lies the catch because there are many unsafe VPNs on the market, especially when it comes to free VPN services, which we will explain further below.
The next question: Are VPNs legal?
In general, the answer is yes, it is perfectly legal (and normal!) to use VPNs, even if you are in places like China where VPNs are restricted. VPNs are used every day by businesses and individuals throughout the world for basic privacy and security purposes. Businesses rely on VPN technology and encryption for security reasons and it would not make sense for this to ever become illegal.
That being said, China currently has a "ban" on non-approved VPN services that do not go along with state censorship requirements, as explained in the China VPN guide. The United Arab Emirates also has laws against people using VPNs to evade state censorship, but again, VPNs themselves are not illegal. (But of course, none of this is legal advice!)
What is the best FREE VPN service?
"When something is free, you are the product."
This famous quote certainly holds true for "free" VPNs because you are likely paying for the service with your private data, which is sold to third parties.
Just like with Google and Facebook, free VPN services will offer a free product that collects your data for profit. Here are five well-documented reasons showing why free VPN services are dangerous:
As a safer alternative to free VPNs, there are also a few free trial VPN services that may be worth considering.
Is your internet provider spying on you?
Most likely, the answer is yes. Your internet service provider is probably snooping every website you visit, and also handing this information over to third parties and government agencies. This is perfectly legal in the United States, and in many countries, such as the UK and Australia, it is obligatory.
How is this being done?
It's incredibly simple: through DNS requests. Whenever you visit a website, there is always a request to translate the URL into a specific IP address, which allows you to connect to the website. These translations are called DNS requests and they are normally sent unencrypted to your internet provider and can easily be logged, recorded, and passed off to anyone. (See DNS: Broken by Design.)
Solution: With a VPN, all of your DNS requests will be handled by the VPN server (not your internet provider) and they will be sent fully encrypted (rather than in clear text).
Even in countries where ISP spying is not "officially" being carried out, you can be sure that internet providers are snooping your activity to monitor for anything "suspicious" or potential violations of their Terms of Service.
Trends in privacy propel VPN usage worldwide
In just the last few years we've seen many unprecedented developments in the areas of corporate and government surveillance, which has fueled the use of VPNs throughout the world:
USA – With legislation passed in March 2017, internet service providers in the United States can now legally record online browsing history and sell this data to third parties and advertisers. Government mass surveillance also continues unabated, regardless of which political party is in office. And with the abolishment of net neutrality, internet providers can now charge premiums based on what you're up to online (unless a VPN is encrypting and anonymizing all your traffic).
UK – Residents of the United Kingdom are having their online browsing history, calls, and text messages recorded for up to two years thanks to the Investigatory Powers Act. This private information is freely available to various government agencies and their global surveillance partners without a warrant.
Australia – Australia has also recently implemented mandatory data retention laws, which require the collection of text messages, calls, and internet connection data. Australia is also working hard to force companies to provide backdoors to encryption, thereby giving government agencies the ability to hack devices and spy on their own residents. Online censorship is also a problem in Australia, just like in the UK.
Public-Private surveillance cooperation – Many large tech companies, such as Google, Microsoft, and Facebook, collect vast amounts of data through their products and services. While the data is often used for advertising, it can also be provided to government agencies (see the PRISM surveillance program).
The good news is that there are very effective solutions to these problems. You can protect yourself right now with a good VPN service and the other privacy tools, which will put you back in control of your data.
Best VPN 2019 comparison table
As a brief recap, the table below highlights the best VPN services for 2019 that meet the following criteria:
Located in a good privacy jurisdiction (outside of 5/9/14 Eyes countries) to keep your data safe
Passed all tests with no leaks found whatsoever (no IP address leaks or DNS leaks)
Good performance throughout the server network (speed and reliability)
High-quality VPN apps with all features working correctly
Supports the OpenVPN protocol and strong encryption standards
Offers a money-back guarantee (between 7 and 30 days)
Trustworthy and well-established VPN provider with a good track record
Stay safe and secure online!
---
---
---
---
---
---
---
Comments on this article are shut down due to shills and spammers
This article has always been the target of shills who spam the comments promoting various VPNs. I'm sick of dealing with stuff like this: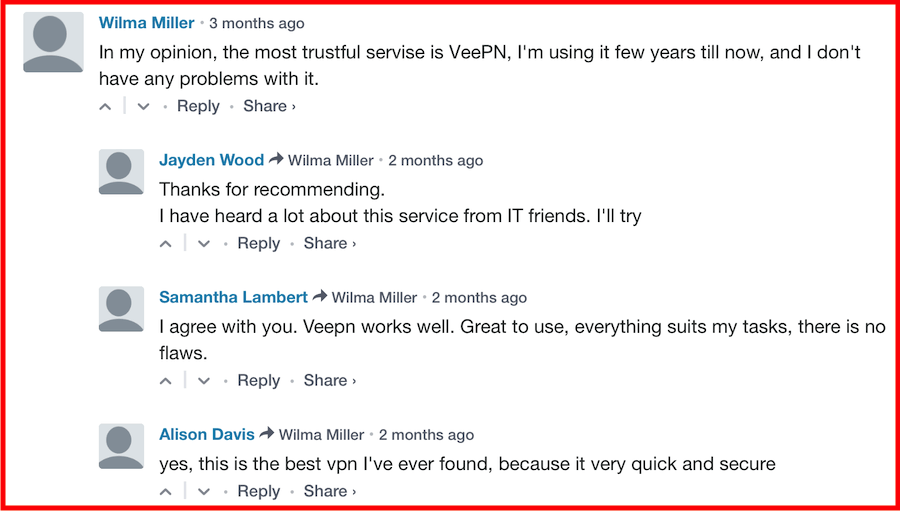 If you have feedback or a tip about any VPN service, you can use the secure communication center which hosts our anonymous, end-to-end encrypted contact form (that also facilitates anonymous two-way communication).