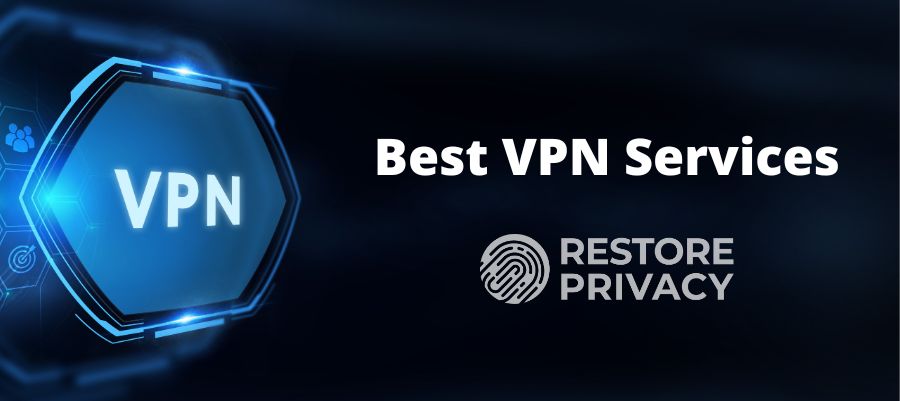 In today's world, online privacy and security have never been more important. With hackers, advertisers, and even governments constantly snooping on our digital lives, it's essential to have a tool that protects our online activities. That's where a Virtual Private Network (VPN) comes in. But with so many options on the market, how do you choose the best one?
In this comprehensive guide, we'll dive into the best VPN services of 2023, explore different VPN protocols, and discuss the benefits of using the best VPN for various purposes – all while keeping in mind the importance of maintaining your privacy and security online.
Top VPNs for 2023: Our Recommendations
As we venture further into 2023, numerous VPN services claim to offer the best security and performance. However, not all are created equal. After extensive research and testing, we've narrowed down the top 10 VPNs for 2023, focusing on security, performance, and features.
Ranking VPNs is a challenging process because different users have different needs. Some people may just want a reliable VPN for streaming. Others may want the maximum amount of privacy and security. From our standpoint, a good VPN needs to at least meet all of the following ranking criteria to be recommended:
Passed all tests with no leaks that would expose your data online (no IP address leaks or DNS leaks)
Good performance throughout the server network (speed and reliability)
High-quality VPN apps with all features working correctly
Supports secure VPN protocols with strong encryption standards
Offers a money-back guarantee
Trustworthy and well-established VPN provider with a good track record
Located in a safe privacy jurisdiction (outside of Five Eyes countries, such as the US and UK) to keep your data secure
If a VPN does not fulfill all the criteria listed above, it's not featured in this report. And when you apply this standard to all the VPNs on the market, very few make the cut.
Here are the best VPN services for 2023:
NordVPN – Best all-around VPN service in 2023
| | |
| --- | --- |
| VPN | NordVPN |
| Based in | Panama |
| Logs | No logs (audited) |
| Price | $3.19/mo. |
| Support | 24/7 live chat |
| Refund | 30 days |
| Website | NordVPN.com |
NordVPN stands out as a comprehensive security suite, offering top-notch security features and a vast server network. With over 5,700 servers in its arsenal, NordVPN ensures a fast and secure virtual private network experience. Utilizing AES-256 encryption and supporting both OpenVPN and WireGuard protocols, NordVPN safeguards your internet traffic from prying eyes.
NordVPN continues to stand out as an industry leader with new VPN innovations. It developed the NordLynx protocol, based on WireGuard, to give you the fastest speeds possible, without compromising on privacy. Based on our tests with both NordLynx and WireGuard, performance exceeded expectations with download speeds over 750 Mbps in the latest tests for the NordVPN review.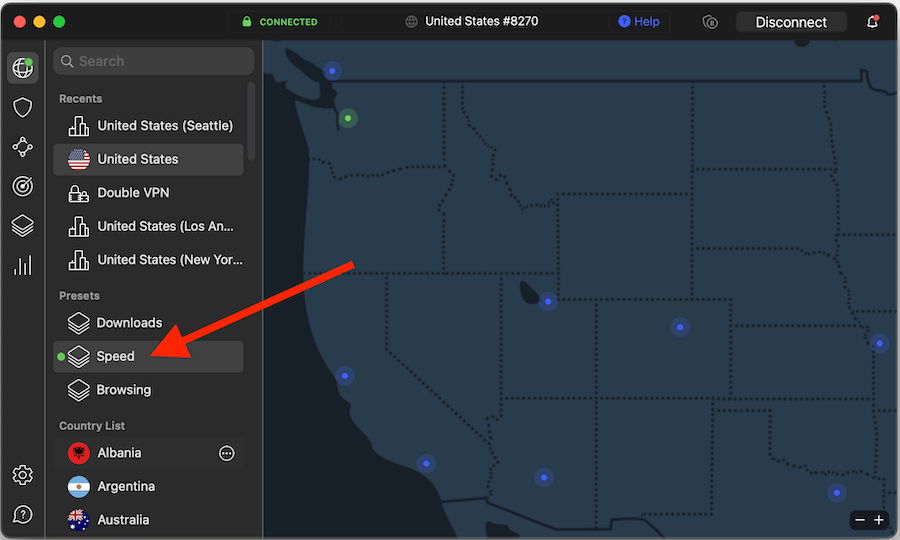 If you need the best VPN with the fastest speeds, then NordVPN should be a the top of your list. It outperforms other market leaders, as you can see in the ExpressVPN vs NordVPN comparison report. And while Surfshark is cheaper than NordVPN, Nord still came out on top in the Surfshark vs NordVPN comparison. Based on the latest results, NordVPN is one of the fastest VPN we've tested to date.
In the opening paragraph, we referred to NordVPN as a comprehensive security suite. That is because it is far more than just a basic VPN service. Here is a rundown of the top security and privacy features offered by NordVPN:
Threat Protection feature to block ads, trackers, malware, and phishing domains on your entire operating system. There is also a "Threat Protection Lite" for mobile devices.
Double VPN servers that encrypt traffic over two different server locations (while still delivering excellent speeds). This adds an extra layer of protection and also distributes trust over two VPN servers.
Tor-over-VPN servers that provide the added protection and anonymity of the Tor network, on top of the existing VPN connection
Obfuscated servers that will conceal your VPN connection and also evade VPN blocks and censorship
A large and secure network with all servers running in RAM-disk mode, rather than with hard drives
Kill switches built into all VPN apps to ensure your traffic remains encrypted and protected at all times
Split tunneling that allows you to selectively route apps outside of the VPN server network
See all NordVPN features here >>
NordVPN has also passed independent audits for both security and compliance with no-logs policies. It introduced a public bug bounty program and has an ongoing partnership with Versprite for security audits and penetration testing. NordVPN uses very strong encryption with an AES-256-GCM cipher and DHE-4096 key exchange in implementing Perfect Forward Secrecy. The upgraded WireGuard protocol with NordLynx uses a ChaCha20 cipher and runs on a clean, lean codebase.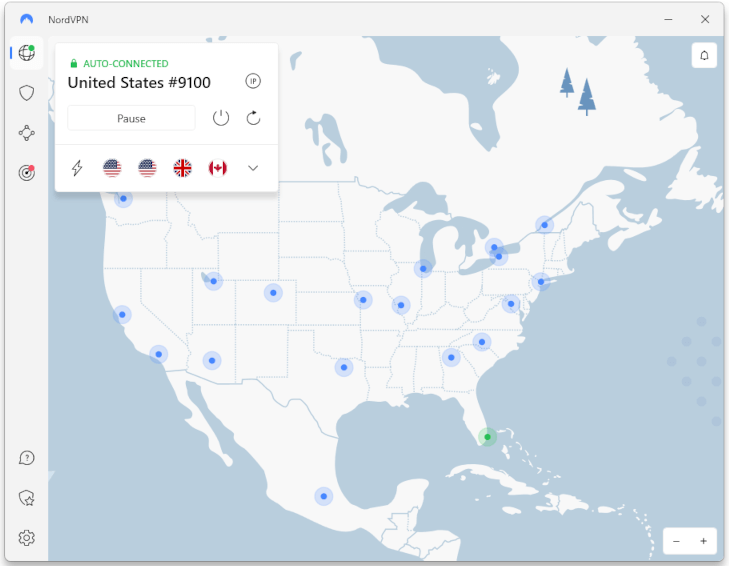 Excellent streaming and torrenting performance
With premium speeds and strong security, NordVPN is our top-rated VPN for torrenting. It also offers P2P servers with large bandwidth channels for fast and consistent speeds, as noted in the NordVPN vs TorGuard comparison.
It also works well for all major streaming services, including Netflix, Hulu, BBC iPlayer, Disney Plus, Amazon Prime, and more. While most VPNs struggle to ensure access to streaming sites, NordVPN consistently works. You can also use the NordVPN app if you need a VPN for Firestick, TV boxes, Smart TVs, or even gaming systems.
Large number of servers, including specialty servers
NordVPN currently has 5,700+ servers in 60 countries. It does not use any virtual server locations and all servers run on dedicated hardware in RAM-disk mode without hard drives. This improves security and also makes storing logs on the VPN server impossible. Another huge development is that NordVPN has begun rolling out high-speed colocated servers (self-owned hardware) with 10 Gbps bandwidth channels. These servers will provide NordVPN users with even faster speeds and replace all rented servers from third parties.
In addition to the specialty servers discussed above, NordVPN also offers obfuscated servers that conceal VPN traffic as regular HTTPS encryption. This is a useful feature to get around VPN blocks, such as when using a VPN for China. It is also a great feature to break through work or school networks that block VPNs.
NordVPN continues to evolve and improve while remaining one of the top leaders in the VPN industry. Check out the two-year plan with the coupon below for maximum savings.
+ Pros
User-friendly and reliable apps
Double-VPN and Tor-over-VPN servers
Passed numerous 3rd-party audits
Strong encryption standards with full support for WireGuard
Works with Netflix and many streaming sites
Threat Protection feature to block ads, trackers, and malware
Professional 24/7 live chat support
Consistently fast speeds
Dedicated RAM-servers with 10 Gbps bandwidth channels
– Cons
Big discounts only available with 2-year plans
Refunds and support: All NordVPN subscription plans come with a full 30 day money-back guarantee. They offer 24/7 live chat support through their website along with numerous guides and videos.
NordVPN's Cyber Deal is live:

Get 68% Off NordVPN with the coupon below plus 3 months FREE, no activation code needed:
(Coupon is applied automatically; 30 day money-back guarantee.)
See our NordVPN review for more test results and analysis.
---
Surfshark – Best VPN for many devices (unlimited)
| | |
| --- | --- |
| VPN | Surfshark |
| Based in | The Netherlands |
| Logs | No logs |
| Price | $2.30/mo. |
| Support | 24/7 live chat |
| Refund | 30 days |
| Website | Surfshark.com |
Surfshark is a perfect pick for those seeking an affordable yet feature-rich and secure VPN solution. With a starting price of just $2.30 per month, Surfshark comes loaded with features, great leak protection settings, access to numerous streaming services, and excellent performance.
Plus, there's one big benefit with Surfshark that you don't find with most other VPNs: Surfshark gives you an unlimited number of simultaneous connections.
Surfshark maintains strong privacy protection policies and is a no-logs VPN based in The Netherlands. The Surfshark apps incorporate good leak protection features (kill switch) to ensure data remains encrypted and secure without any leaks. There is also a CleanWeb feature to block ads, trackers, and malware domains through the VPN. This is similar to the VPN ad blockers we tested with NordVPN and CyberGhost.
Surfshark offers great security features and user-friendly VPN apps
Surfshark utilizes strong encryption with an AES 256 cipher. It supports both the OpenVPN and IKEv2 VPN protocols, as well as WireGuard. Similar to our other top VPN services, Surfshark runs all servers in RAM-disk mode for added security. It offers 14 double-VPN server configurations, allowing you to encrypt traffic over two servers at the same time.
Similar to NordVPN, Surfshark offers a privacy-focused version of the WireGuard VPN protocol, which you can select right in the app settings. In our tests for the Surfshark review, the WireGuard VPN protocol, it outperformed most other services, as you can see in the Surfshark vs CyberGhost report.
See all Surfshark VPN features here >>
The new and updated Surfshark apps (Version 5) are user-friendly and also loaded with features, without be overwhelming. You can easily select VPN server locations, adjust tunneling protocol options, connection settings, split tunneling, and more.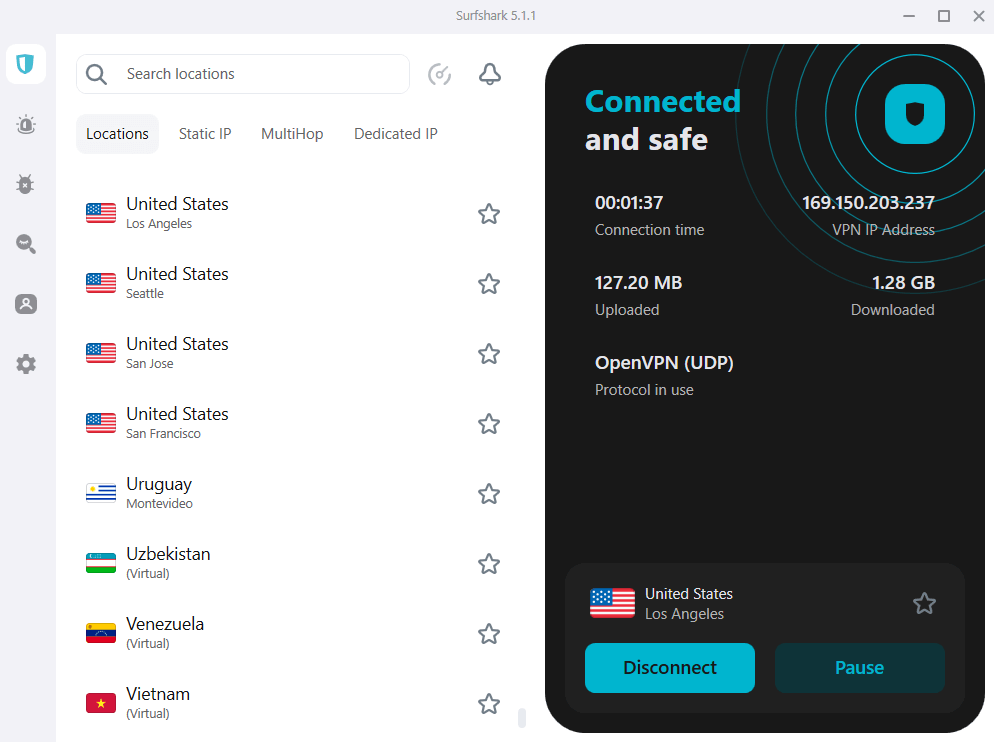 If you want to stream media and unblock websites, Surfshark is a great choice with 3,200+ servers in 100 countries around the world. It currently supports 16+ global Netflix regions, as well as most other streaming services, including BBC iPlayer, Hulu, and Disney Plus. It is a great VPN for Android and iOS with dedicated mobile apps.
Surfshark continues to gain traction in the VPN market. It remains a strong contender while also being one of the best cheap VPNs at only $2.30 per month with the coupon below. That said, monthly prices with Surfshark (paying on a month-to-month basis) are significantly more expensive than long-term subscriptions. Overall, Surfshark strikes the perfect balance between affordability and performance.
+ Pros
Unlimited connections
User-friendly apps for all devices and operating systems
CleanWeb feature to block ads, trackers, and malware
Works great with Netflix and many other streaming services
24/7 live chat support
Strong encryption and security features (audited)
– Cons
Limited support for VPN routers
Above average monthly prices
Refunds and support: All Surfshark subscription plans come with a full 30 day money-back guarantee. They have 24/7 live chat support and many user setup guides.
Surfshark VPN Coupon:

Get 82% off Surfshark VPN (drops the price down to $2.30 per month) plus 2 months FREE:
(Coupon is applied automatically.)
See the Surfshark review for more test results and analysis.
---
ExpressVPN – Secure and reliable VPN service
| | |
| --- | --- |
| VPN | ExpressVPN |
| Based in | British Virgin Islands |
| Logs | No logs (audited) |
| Price | $6.67/mo. |
| Support | 24/7 live chat |
| Refund | 30 days |
| Website | ExpressVPN.com |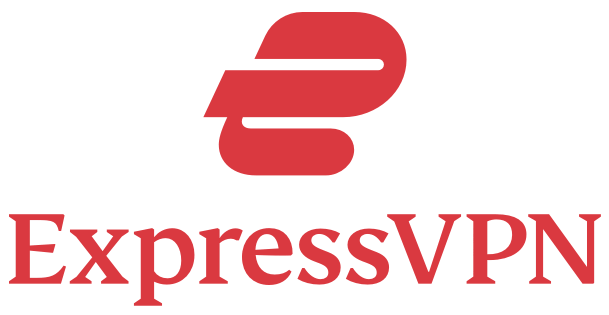 ExpressVPN has long been one of the top VPN services on the market and little has changed over the years. It is a premium VPN that simply works without bugs, problems, or interruptions. And it also checks all the important boxes for privacy, security, and performance.
In terms of VPN apps, ExpressVPN offers everything you would expect from a top VPN. They have custom apps for Windows, Mac OS, Linux, Android, iOS, and even routers. It is one of the few VPNs with port forwarding, but this feature is only available on routers.
All of the VPN apps come with good leak protection settings and also utilize secure VPN protocols. ExpressVPN also has a MediaStreamer app, allowing you to use the service on a wide array of other devices, from Smart TVs to gaming systems. It's also a good option if you need a VPN for Apple TV.
ExpressVPN has passed numerous audits for security and also privacy (no logs VPN audits). Unlike some of the other top VPNs, ExpressVPN does not support the WireGuard VPN protocol. Instead, they offer the Lightway protocol, which is a self-developed protocol that is very similar to WireGuard, but also better for privacy (by default). Lightway has now been audited and is fully open source.
ExpressVPN is also a powerhouse when it comes to unblocking content and streaming. It is a great VPN for HBO Max and Netflix, unblocking numerous regions around the world. ExpressVPN has a dedicated Firestick VPN app and also works with BBC iPlayer, Amazon Prime, Disney Plus, Hulu, and more. Additionally, the MediaStreamer app will allow you to use ExpressVPN on many types of streaming devices.
And if you want to use a VPN browser extension, ExpressVPN also has you covered. They offer VPN extensions Chrome and Firefox browsers (see the best VPNs for Firefox). We found the ExpressVPN apps to all be reliable, user-friendly, and secure in our test results. Below is the ExpressVPN Windows app that we tested.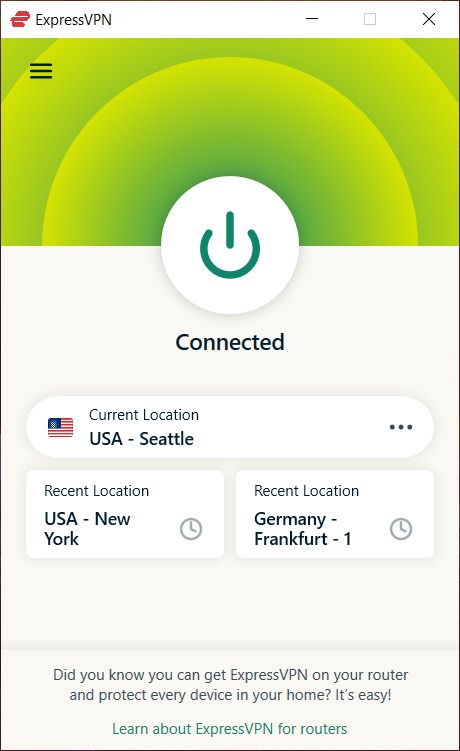 The ExpressVPN server network is also quite extensive. They currently offer 160 VPN server locations spread across 94 different countries. While ExpressVPN does not have any specialty servers, as we see with Surfshark and NordVPN, the network is nonetheless extensive and covers a large variety of countries. That being said, we find that both ExpressVPN and Surfshark utilize virtual server locations for some remote regions.
Note: As we reported back in 2021, ExpressVPN was acquired by Kape Technologies. While this puts ExpressVPN under an umbrella of other providers, we have seen that ExpressVPN continues to operate independently. Additionally, we also researched the background of Kape Technologies and learned more about the company's history. Overall, this merger will help to ensure ExpressVPN continues to operate and grow, with a large company standing behind its development.
+ Pros
User-friendly and secure apps
Split tunneling feature (for macOS, Windows, and routers)
Works with Netflix and most streaming services
24/7 live chat support
Passed independent third-party audits for security and no-logs
Very large server network
– Cons
Above-average prices
Fewer features
Average OpenVPN speeds (use Lightway)
Refunds and support: All ExpressVPN subscriptions come with a 30 day money-back guarantee. They offer 24/7 live chat support as well as a large knowledge base with tutorials and videos.
ExpressVPN Coupon:

Sign up for the 12-month plan and get 3 months added to your subscription for free.
(Coupon is applied automatically.)
Check out our ExpressVPN review for more info and test results.
---
Proton VPN – Simple, private VPN in Switzerland
| | |
| --- | --- |
| VPN | Proton VPN |
| Based in | Switzerland |
| Logs | No logs |
| Price | $4.99/mo. |
| Support | Email |
| Refund | 30 days |
| Website | ProtonVPN.com |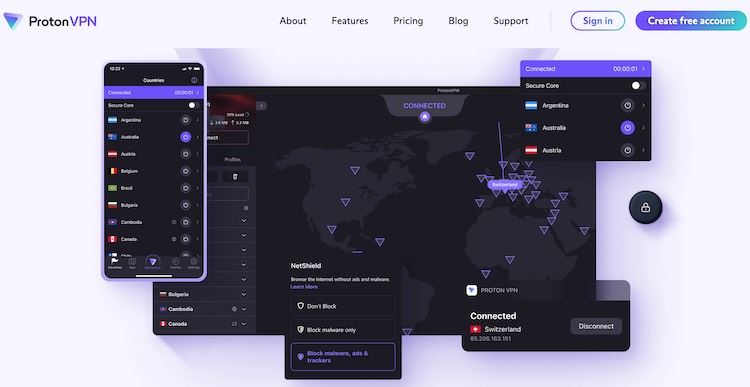 ProtonVPN is a privacy-focused VPN that was created by the team behind Proton Mail in Switzerland. Offering superior versatility and advanced security features, Proton VPN emerges as a fantastic choice for those looking for a comprehensive VPN solution. With a strong focus on privacy, Proton VPN boasts a strict no-logs policy and robust encryption, ensuring your online activities remain secure and anonymous.
If you want to combine your VPN and ad-blocker together, Proton VPN offers the NetShield feature to block ads and trackers. You can see how this compares to NordVPN's Threat Protection feature in the NordVPN vs ProtonVPN comparison. Also similar to NordVPN, ProtonVPN offers Double-VPN servers, which they refer to as Secure Core.
While ProtonVPN is largely a privacy-focused service, it also supports some streaming services. It currently works with American Netflix, Amazon Prime, and is also a good VPN for Disney Plus. But that's not all. ProtonVPN works if you need a VPN for Hulu and a few other services. Torrenting is allowed on most servers, although speeds were not as good as our top recommendations above.
One thing to note, however, is that ProtonVPN does not offer any kind of obfuscated serves like we find with Surfshark and NordVPN. Therefore it is not a good solution if you need a VPN for China or any other restricted network that blocks VPNs.
If you want to combine a VPN service with a secure email, you can pick up the plan that includes both ProtonVPN and ProtonMail – but it's not cheap. ProtonVPN also offers cheaper subscriptions, including a "Basic" plan at around $4.99 per month.
+ Proton VPN Pros
Useful privacy features (no leaks)
Secure server network (secure core)
Good privacy jurisdiction and data protection policies
WireGuard VPN support (but not on Linux)
Transparent company with a good track record
– Proton VPN Cons
Average speeds
Above-average prices
Limited support for streaming
Refunds and support: ProtonVPN has a 30 day refund policy and provides email support (no live chat).
See the ProtonVPN review for more test results and info.
---
VPN.ac – A user-friendly and secure VPN from Romania
VPN.ac is a security-focused VPN that offers good performance and features at a competitive price. It is based in Romania and was started by a team of network security professionals. VPN.ac did well in testing for the review with fast speeds, strong encryption, and good privacy features.
VPN.ac currently supports the WireGuard VPN protocol. However, unlike with NordVPN and Surfshark, it takes some work to set up and use correctly because it is not supported directly in the apps. VPN.ac's apps incorporate built-in leak protection, port selection, and offer a variety of VPN protocols and ciphers to choose from. They also have specialty servers, including double-VPN servers, P2P servers, and Obfuscated servers.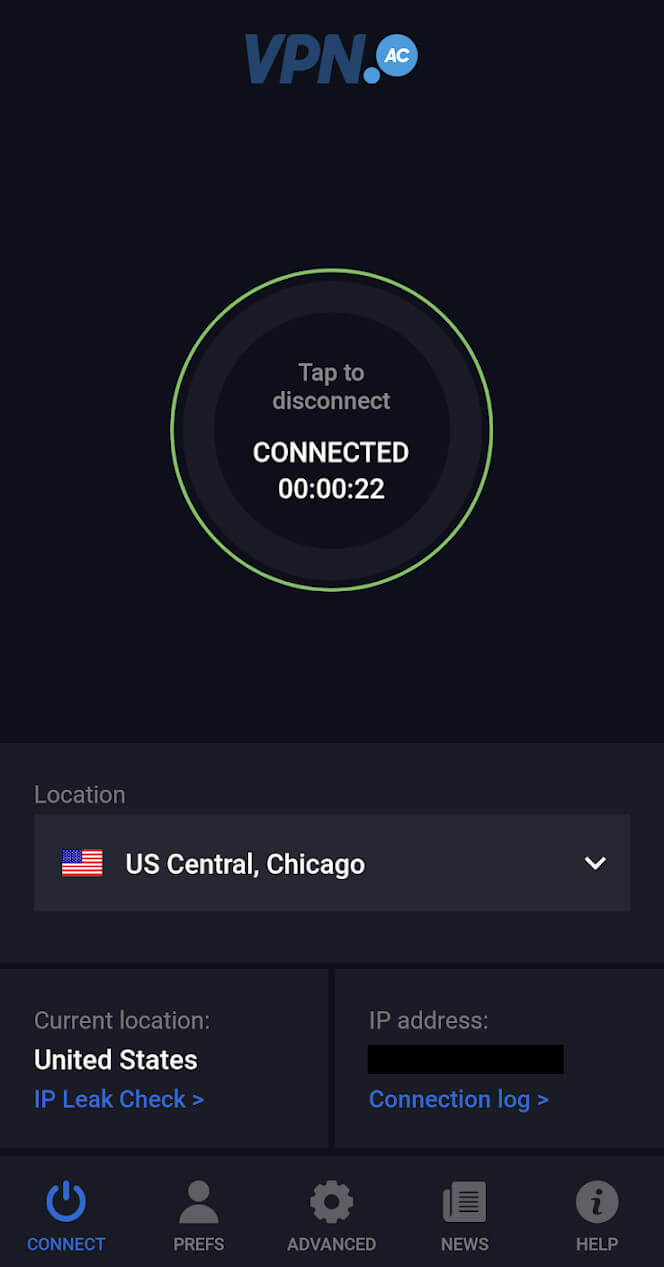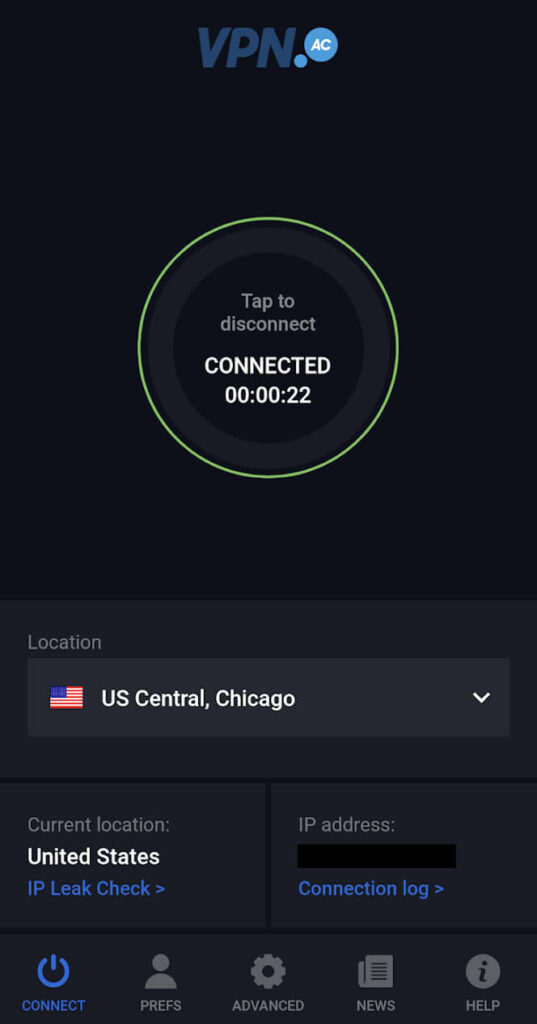 In addition to the desktop VPN app, you can also use VPN.ac's secure proxy browser extensions, available for Chrome, Firefox, and Opera. This makes VPN.ac a good VPN for Chrome and other browsers.
+ Pros
Dedicated bare-metal servers with self-hosted encrypted DNS
Excellent speeds with plenty of available bandwidth
Multi-hop (double VPN) server configurations
Obfuscation features with many different encryption options
Secure proxy browser extensions
WireGuard VPN support
– Cons
Does not work well for streaming

Fewer features than other leading VPNs

Limited refund window (7 days)
Refunds and support: All plans come with a 7 day refund window. Support is available via email and they also have a knowledge base with many tutorial guides.
Discounted trial: You can get a discounted one-week trial for only $2 (see the FAQ section in the menu).
The VPN.ac review has more test results and analysis.
---
Perfect Privacy – Secure VPN with advanced privacy features
| | |
| --- | --- |
| VPN | Perfect Privacy |
| Based in | Germany |
| Logs | No logs |
| Price | $8.95/mo. |
| Support | Email |
| Refund | 7 days |
| Website | Perfect-Privacy.com |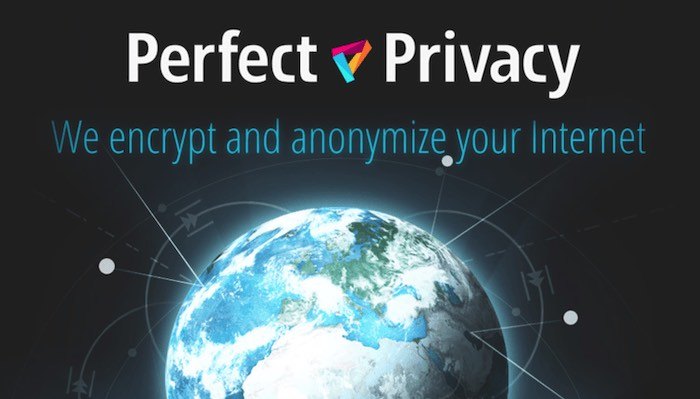 If you are looking to attain the highest levels of privacy and security, Perfect Privacy may be a good choice. It is based in Germany with a strict no-logs policy and is run by a dedicated team of privacy enthusiasts. Although it might be overkill for some users, Perfect Privacy offers numerous advanced features to choose from:
Multi-hop VPN servers: With Perfect Privacy, you can route your traffic across multiple VPN server hops (up to four). This offers a higher level of protection for those who want it. Additionally, the NeuroRouting feature (supported on all devices) dynamically routes traffic across multiple hops in the VPN network.
Ad/tracking blocker: The TrackStop feature blocks thousands of ads and trackers, as well as malware and phishing domains at the VPN server level. You can also activate a filter to block social media trackers, like some of our other recommended VPNs with ad blocking.
IPv6 support: Perfect Privacy is one of the few VPNs offering full IPv6 support (you get both an IPv4 and IPv6 address).
Port forwarding: Perfect Privacy allows you to customize your port forwarding settings, which is ideal if you need a good VPN for torrenting.
Strong encryption: This VPN secures data using an AES-256 cipher with a 4096-bit key exchange. Users can choose between OpenVPN and IPSec/IKEv2 protocols.
Similar to Surfshark, Perfect Privacy gives users an unlimited number of connections, but at a much higher price. The server network is also smaller than other VPNs, with only 25 locations around the world. However, all of these servers are running on dedicated hardware with high-bandwidth channels to still offer good speeds.
You can use Perfect Privacy with custom apps for Windows, Mac OS, Linux, and Android, along with support for other devices (including iOS). While the apps do not feel quite as polished as some other VPNs, it does offer a lot of features if you need a VPN for Windows or other desktop operating systems.
+ Pros
Multi-hop VPN chains, up to 4 servers (self-configurable)
Zero logs with an unlimited number of connections
Dedicated bare-metal servers with full IPv6 support
Obfuscation support (Stealth VPN)
Customizable firewall and port-forwarding options
TrackStop filter to block ads, trackers, malware, and more
– Cons
Expensive

Does not work well with streaming sites, such as Netflix and Disney Plus

No iOS VPN app
Refunds and support: 7 day refund window with all subscriptions. Email support is available 24/7 and they also have a user forum.
See the Perfect Privacy review for more test results and analysis.
---
OVPN – Secure, fast, privacy-focused VPN in Sweden
Next up on our list is OVPN, one of the best VPNs from Sweden. It was started in 2014 with a simple goal to be the "most reliable and trustworthy VPN provider." They go to great lengths to safeguard the data of their users with a multi-layered approach to security. OVPN's entire network runs on self-owned dedicated bare-metal servers with ample bandwidth and strong security. All servers operate in RAM-disk without hard drives, multi-hop configurations are supported, and no logs are stored.
OVPN did well in our tests, competing among the top VPN providers. It offers secure apps that include built-in leak protection settings, and even has a full GUI Linux client with all features available. While OVPN does offer an Android app, the iOS app remains in development. The WireGuard protocol is also supported, but not directly in the apps, like with NordVPN and Surfshark.
From the very beginning, OVPN has offered a transparent and privacy-focused service. Here are some noteworthy details:
Transparent and public-facing leadership (can be verified on the website).
Monthly transparency reports are published going all the way back to 2014.
OVPN even has insurance that will cover any legal fees necessary to fight against demands for user data by third parties.
A 2020 court case proved OVPN is true to its no logs VPN policy
Completely anonymous payments and signup methods
Even though OVPN is a privacy and security-focused service, they still offer some support for streaming services. This includes Netflix and Hulu, although they currently do not support as many streaming channels as NordVPN or Surfshark.
+ Pros
Designed for maximum user privacy and security
Dedicated apps for Windows, macOS, Linux, Android, iOS, and support for other devices
No IP address or DNS leaks detected
Support for streaming and torrenting
Lots of configuration options
Monthly transparency reports
Multiple payment methods including anonymous payments
– Cons
Small server network with few locations
Above average prices
Refunds and support: 7 day refund window with all subscriptions along with email support (no live chat).
See the OVPN review for more info.
---
Mullvad VPN – Swedish VPN focused on privacy
Emphasizing privacy and security, Mullvad VPN offers a user-friendly option to VPN seekers. With a straightforward account setup process and anonymous payment options with cryptocurrency, Mullvad is a solid choice for privacy-minded people.
Mullvad offers many of the same privacy features we see with other top VPNs on this list. This includes content filtering to block ads, trackers, malware, and adult websites, as well as multi-hop VPN support.
While Mullvad does not have the largest server network, the servers it does have are reliable and secure. But we did identify a few drawbacks when testing out the network for the Mullvad review:
Captcha authentication challenges are a recurring struggle when using Mullvad, affecting the everday usability of the service
Streaming services, such as Netflix and BBC iPlayer were consistently blocked in our tests
While Mullvad certainly excels in the privacy and security categories, streaming is not one of its strongest areas. Additionally, with a smaller network of servers, it may not be the best VPN for gaming if you are looking to minimize latency and have the fastest speeds.
+ Pros
Strong privacy and security features
Dedicated apps for Windows, macOS, Linux, Android, and iOS
No IP address or DNS leaks detected
Audited
Accepts private payments
– Cons
Smaller server network
Above average prices
Captcha issues affect usability
Does not work well for streaming
Refunds and support: 30 day refund window with all subscriptions along with email support (no live chat).
See the Mullvad VPN review for more info.
---
Trust.Zone – Basic VPN with above average performance
Trust.Zone is a smaller, privacy-focused VPN service based in Seychelles, which is another good offshore privacy jurisdiction. It offers basic, user-friendly VPN apps for Windows, iOS, and Android with built-in leak protection. Additionally, Trust.Zone supports other operating systems through third-party apps, such as Tunnelblick and OpenVPN Connect.
Trust.Zone boasts a good selection of servers around the world, despite being a smaller VPN. Prices are quite reasonable at only $2.25/month with the two-year plan. When you pay with cryptocurrencies, you'll get an additional 10% discount. They are also offering a coupon code for RestorePrivacy readers (see below).
10% OFF Coupon Code for RestorePrivacy Readers:
Enter the coupon code RESTOREPRIVACY10 and get 10% off any subscription plan.
See the website for subscription plans.
TrustZone now supports the WireGuard protocol, but it requires custom setup and configuration. You will need to download config files from TrustZone and then import these into the WireGuard client. Therefore you cannot simply choose the WireGuard VPN protocol directly in the VPN client, like we see with NordVPN and Surfshark.
Speed tests for the Trust.Zone review were good, with most servers around my full baseline speed. Trust.Zone supports streaming US Netflix and Hulu, and also does not restrict torrenting on their network. It is one of the best VPNs with a free trial, allowing you to test the service without entering any payment info.
+ Pros
Competitive prices
Great speeds and reliability
Good leak protection settings
Can try the VPN for free
P2P torrents allowed
Dedicated IP addresses are available
– Cons
Fewer features than competitors
No custom VPN clients for Mac OS (but still supported)
Clunky apps
If you want to give Trust.Zone a test run, you can do so completely free for 3 GB of bandwidth or 3 days, whichever comes first.
Refunds and support: TrustZone has a 10 day refund window as long as you don't exceed 1 GB of data. Support is available through email (no live chat).
See also the Trust.Zone review for more details.
---
PrivadoVPN – Best VPN in the freemium category
| | |
| --- | --- |
| VPN | PrivadoVPN |
| Based in | Switzerland |
| Logs | No logs |
| Price | $2.50/mo. |
| Support | Live chat; Email |
| Refund | 30 days |
| Website | PrivadoVPN.com |
Much of the world right now is dealing with rising prices (inflation) and this leaves little money left over for things like a VPN service. PrivadoVPN offers a unique solution to anyone who wants a budget-friendly VPN that still delivers a premium service.
PrivadoVPN stands out from the other best VPNs in that it is a freemium service. It offers two different types of subscriptions that you can choose:
It's great to have different affordable VPN subscription options, but let's talk security. PrivadoVPN utilizes the WireGuard VPN protocol with Windows, Android, and iOS operating systems. Additionally, the PrivadoVPN apps include a kill switch to keep your traffic secure against any VPN leaks. PrivadoVPN put up great speed test results with download speeds over 200 Mbps on all US servers tested.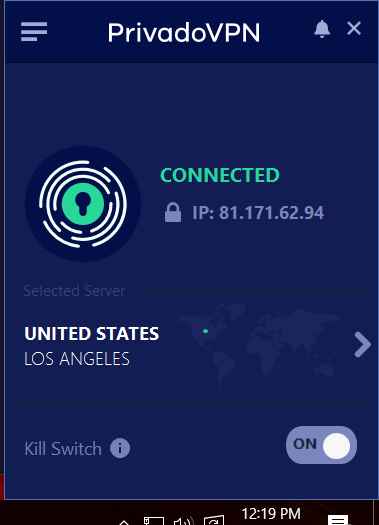 In terms of privacy, PrivadoVPN also does well. This VPN is based in Switzerland, which is one of the best privacy-friendly jurisdictions in the world. Additionally, PrivadoVPN is a no-logs VPN service, so your data is not being kept by anyone and your activities are not traceable back to your VPN account (based on logs).
The PrivadoVPN apps all performed well in tests for the review. The Windows app is clean and minimal. It did not have any bugs, delays, or problems in our tests. However, it is also clear that PrivadoVPN does not offer quite as many features as we find with NordVPN and Surfshark, for example. The macOS app is also a little behind the others, as it still only supports the OpenVPN and IKEv2 protocols (but WireGuard will be supported in the coming months). There is also no obfuscation (stealth VPN) feature, so PrivadoVPN probably won't work in China.
Overall, PrivadoVPN is a great value. This VPN works well for streaming and torrenting, has user-friendly and secure apps, and deliver fast and consistent speeds. When you consider all this in relation to the low cost, it makes this VPN easy to recommend to our readers. Check out the free plan or use the coupon link below for 50% off paid plans.
+ Pros
User-friendly and secure VPN apps
Fast and consistent speeds
Works with Netflix and other streaming sites
Affordable prices (with a free plan)
Strong encryption and security (with WireGuard)
No logs and based in Switzerland
– Cons
macOS app needs some work
Smaller server network
No obfuscation (stealth VPN)
Refunds and support: All ExpressVPN subscriptions come with a 30 day money-back guarantee. They offer 24/7 live chat support as well as a large knowledge base with tutorials and videos.
Check out our PrivadoVPN review for more details.
---
How to choose the best VPN
Given the plethora of VPN services on the market, selecting the one that best suits your needs can be challenging. Several factors should be considered when selecting a VPN, including:
Security

Privacy (no logs)

Speed

Server coverage

Device compatibility

Support for streaming, torrenting, and any other activity you want to do with your VPN
First and foremost, consider the security features offered by the VPN provider. Strong encryption, secure VPN tunneling protocols, and additional security features such as a kill switch and DNS leak protection are essential. VPNs that have ad blocking capabilities are also an efficient solution to block ads, trackers, and more.
Another vital factor is speed and performance. A slow VPN connection can hinder your online activities, making it difficult to stream, game, or simply browse the web. When evaluating VPNs, consider their server coverage, speed tests, and number of simultaneous connections allowed. A larger server network can help distribute the load and reduce congestion, resulting in faster connection speeds.
Note: You can verify the speed tests of every VPN recommended here by clicking on the respective VPN review.
Device compatibility is also crucial when choosing a VPN. Ensure that the VPN provider supports the devices and operating systems you use regularly. Additionally, check if the provider allows multiple simultaneous connections, as this will enable you to secure all your devices with a single VPN subscription.
Lastly, consider how well your VPN supports the specific activities you want to be doing with the VPN. Some VPNs block torrenting on certain servers, others are horrible when it comes to streaming or gaming. This is one reason why well-rounded VPNs that perform well in nearly all areas dominate the top of our lists on this website. VPNs like NordVPN, Surfshark, and ExpressVPN simply work for the majority of people under most use cases, all backed up by excellent customer support.
Choosing the best VPN for privacy
Choosing the right VPN is essential for preserving your online privacy and anonymity. The best VPNs for online privacy should possess a strict no-logs policy, robust encryption, and additional security features, such as a kill switch and DNS leak protection.
By choosing a VPN that prioritizes user privacy, you can be confident that your online activities will remain private, even if the VPN provider is compelled to answer to law enforcement, there will be no customer data available. This is why we place such a big emphasis on no logs VPN services, with added points for third-party audits.
These VPNs have passed third-party audits verifying their no-logs policies:
NordVPN has passed three separate no-logs audits performed by outside auditing firms. It has also completed different infrastructure security audits and has an ongoing partnership with Versprite to conduct infrastructure checks and carry out penetration testing to identify and fix any vulnerabilities.
ExpressVPN has also passed two different no-logs audits performed by PWC.
Proton VPN passed a no-logs audit conducted by Securitum.
Surfshark passed a no-logs audit earlier this year, as well as numerous security audits.
Another factor to consider with privacy and security is support for multi-hop connections. This adds an additional layer of security and also distributes trust across two or more servers. Simply put, this offers a higher level of privacy and security beyond single-hop VPN servers:
NordVPN: Double-VPN servers as well Tor-over-VPN servers
Surfshark: Double-VPN servers with 13 different configurations around the world.
VPN.ac: Offers 22 double-VPN servers
Proton VPN: The Secure Core feature consists of double-VPN server configurations.
Mullvad: Mullvad allows a simple on/off multi-hop feature with the WireGuard protocol.
Perfect Privacy: You can create multi-hop servers with every server in their network, with up to four servers. The NeuroRouting feature also routes traffic across multiple servers in the network.
Additional privacy features like ad blockers and malware filters are also beneficial and worth considering.
Choosing the best VPN for streaming
Unblocking and streaming geo-blocked content is among the most popular uses of VPNs. By connecting to a VPN server in another country, you can effectively bypass regional restrictions and access content that is otherwise unavailable in your location. This includes popular streaming services like Netflix, Hulu, and Amazon Prime Video, as well as websites and online games.
When choosing a VPN for streaming, it's important to select a provider that offers fast speeds, a large server network, and dedicated streaming servers. Additionally, the VPN should be compatible with the devices you use for streaming, such as smartphones, tablets, and smart TVs.
Our top recommendation for streaming right now is NordVPN or Surfshark. Here's why both of these VPNs stand out in the streaming category:
Full access to all streaming services. NordVPN, for instance, provides the best access to all major streaming services: Netflix, Hulu, Amazon Prime, Disney Plus, BBC iPlayer, ESPN, HBO Max, SkyGo, and many more.
Fastest VPN speeds to stream media without any pauses, interruptions, or buffering.
Apps for all streaming devices, including computers, mobile devices, TV boxes, tablets, as well as support for gaming systems, Smart TVs, and more.
24/7 live chat support to show you exactly how to stream the service you need on the platform you are using.
Below I'm using NordVPN to stream American Netflix. NordVPN currently supports the following Netflix regions: US, UK, Canada, France, Germany, Netherlands, Spain, Japan, Australia, Italy, India, and more. (You can check with NordVPN support about whether a given region or service is supported.)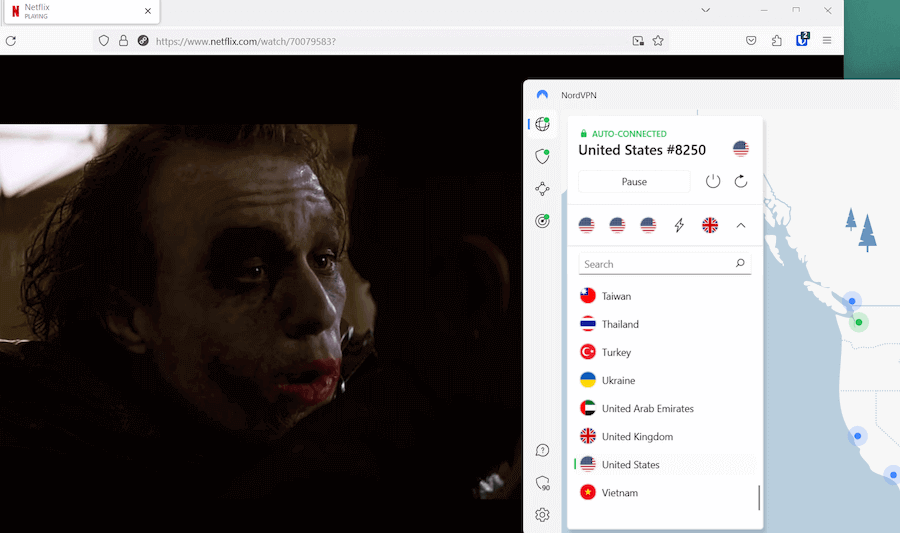 Aside from unblocking content around the world, VPNs are also crucial for protecting yourself against ISP snooping and potential copyright issues when streaming from third party sites or when torrenting. (This is discussed more in our VPN for Kodi guide.)
Another important consideration when streaming is consistently fast speeds and also large server networks around the world to give you access to various regional streaming sites. Once again, in both of these areas NordVPN and Surfshark deliver.
VPNs for Android and iOS mobile devices
These days people spend a lot of time on mobile devices. Whether it is streaming Netflix on your iPhone or browsing the news on an Android, you will want to stay secure. Additionally, you will want unrestricted access to the content you need on your mobile devices.
Here are a few factors to consider when selecting a good VPN for your Android or iOS device:
WireGuard VPN protocol – This protocol performs the best on mobile devices that may go in and out of connectivity. Connections are quick to establish, very stable, and fast.
Fast speeds – With the WireGuard VPN protocol and an upgraded network of dedicated servers, NordVPN is faster than ever before. It outperforms other VPNs and will give mobile users excellent performance.
Great mobile apps – I really like NordVPN's mobile apps (both Android and iOS) for two reasons. First, they are very secure with reliable leak protection features and strong encryption. Second, they include all of the main features of the desktop client, including Threat Protection, WireGuard support, and all specialty servers.
Better battery life – With NordVPN's WireGuard implementation, you will find your mobile battery life is better than with the OpenVPN protocol used by most other VPNs.
Ad blocking – Blocking ads and trackers on your mobile device is crucial not only from a privacy and security standpoint, but it will also greatly improve performance. Additionally, ad blocking VPNs will also help to save your data without all the ads running in the background.
With extremely fast performance, secure apps that support WireGuard, and added features to block ads and trackers, NordVPN and Surfshark also top the list of the best VPNs for Android and iOS mobile devices. Mullvad VPN also had great mobile apps in our recent tests for the review. Finally, we also have a guide on the best VPNs for iPhone and iOS devices.
How to get the best VPN performance and speeds
Maximizing the benefits of your VPN service extends beyond merely selecting a trustworthy provider. There are several tips and tricks you can use to optimize your VPN performance.
Here are some tips for getting the best VPN speeds and reliability:
Use the closest server possible to your physical location. This generally reduces latency and improves performance.
Choose the least crowded server or the "recommended" server. Some VPNs help you select the best VPN server by showing server bandwidth loads or having "recommended" servers based on distance and loading.
Experiment with different VPN protocols. OpenVPN UDP offers a good mix of security and speed. WireGuard is the fastest VPN protocol we've tested. Trying different VPN protocols and encryption options may help to find the best fit for your network.
Consider antivirus and WiFi interference. Sometimes antivirus software or other WiFi networks may interfere with VPN speeds.
Use a wired (ethernet) connection rather than WiFi. Wired connections (with high-quality ethernet cables) generally provide faster and more consistent speeds than WiFi.

Disable unnecessary features and settings in your VPN client to reduce resource usage

Close any unnecessary applications and processes running in the background to free up system resources

Update your VPN client and operating system to the latest versions

Upgrade your internet connection. Your VPN will not be able to exceed the baseline connection speed of your internet provider.
The top recommendations in this guide were thoroughly tested and offer excellent speeds. Here is a recent speed test with NordVPN exceeding 750 Mbps download speeds with a US server: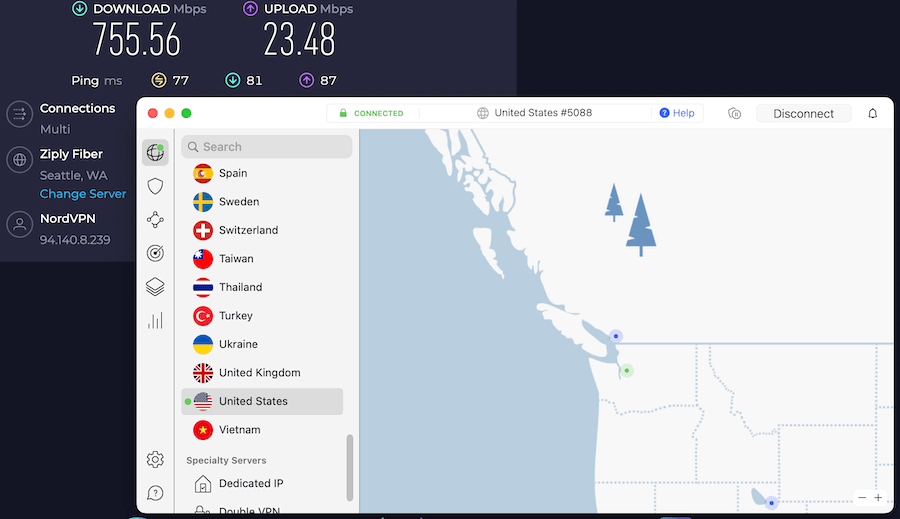 In the NordVPN apps, you can select the fastest server by simply clicking the "Speed" option under Presets and the VPN will automatically select the fastest server for your location.
Are VPNs safe?
If you are using a good, reputable VPN service that effectively secures your traffic (no leaks), then yes, a VPN is safe to use. But therein lies the catch because there are many unsafe VPNs on the market, especially when it comes to free VPN services. So you need to choose your VPN very carefully. We will explain further below.
Are VPNs legal?
In general, the answer is yes, it is perfectly legal (and normal!) to use VPNs, even if you are in places like China where VPNs are restricted. VPNs are used every day by businesses and individuals throughout the world for basic privacy and security purposes. Businesses rely on VPN technology and encryption for security reasons and it would not make sense for this to ever become illegal.
That being said, China currently has a "ban" on non-approved VPN services that do not go along with state censorship requirements. The United Arab Emirates and a few other Gulf State countries have laws against people using VPNs to evade state censorship, which we covered in our guide on the best VPNs for UAE. Fortunately, this is not an issue in Western countries, where VPNs remain a safe, legal, and popular tool. (But of course, none of this is legal advice!)
VPN jurisdiction, privacy, and trust
If you are serious about privacy and data security, you need to consider where the VPN is based (jurisdiction). We have seen many examples of privacy-focused services being compromised by governments in the countries where they operate. This is often the case with the United States and United Kingdom, which are both members of the Five Eyes surveillance alliance.
Let's examine the United States, for example, and how VPNs based in the US could be affected.
The United States has extensive (and powerful) surveillance programs allowing authorities to tap internet infrastructure for bulk data collection. These laws give the different agencies tremendous power to snoop on and record your digital activities.
The US government has a long history of working with (and forcing) private tech companies to facilitate mass surveillance and bulk data collection efforts – see the PRISM program.
US VPN services could be served National Security Letters or other lawful data collection demands, while also being prohibited from disclosing anything to their customers through gag orders.
These laws and capabilities essentially give some governments the authority to compel a legitimate privacy-focused company to become a data collection tool for state agencies. If a VPN were to be compromised, it would likely happen behind closed doors, without a word (or warning) to the users.
Risks of free VPN services
Despite their apparent appeal, free VPN services can often harbor hidden risks and threats. For example, many free VPNs have been found to leak user data, exposing your online activities to hackers, advertisers, and other malicious actors.
In addition to data leaks, free VPN services may engage in other malicious activities, such as injecting ads into your web traffic or even referring affiliate traffic to potentially harmful websites. Therefore, it's crucial to be cautious when using a free VPN and to carefully research the provider's reputation and security practices before using their service.
Here a few well-documented reasons showing why free VPN services are often risky:
With that being said, there are some decent freemium VPN services, such as with ProtonVPN and PrivadoVPN. These offer a basic and limited free version, as well as premium (paid) plans.
Even if you are just a casual streaming user, such as using a VPN for Amazon Prime, you will still want to avoid risky free VPN apps.
VPN Protocols Explained
The level of security, speed, and performance varies across different VPN protocols. Here's an overview of some of the most common VPN protocols and their benefits and drawbacks:
OpenVPN: This open-source protocol offers a strong balance between security and speed. It is highly secure and widely utilized, making it a popular choice among VPN users.

WireGuard: This is a relatively new VPN protocol that offers upgraded security and consistently fast speeds. It also performs well on mobile devices.

PPTP: Although largely obsolete, PPTP is known for its fast connection speeds. However, it has numerous known security vulnerabilities, making it an unsuitable choice for most users.

L2TP/IPsec: L2TP is not inherently secure, so it is typically used in conjunction with the IPsec secure-networking standard. While this combination offers decent security, it can be slower than other protocols.

IKEv2: A relatively new standard, IKEv2 provides strong security when implemented correctly. It is particularly suited for mobile devices, as it can quickly switch between networks without losing the VPN connection.
Most VPNs apps allow for easy protocol selection right in the VPN settings, as you can see below with Surfshark VPN.
To choose the right VPN protocol, it's important to take into account your individual needs and preferences and the security and performance levels each protocol can deliver. See our guide on OpenVPN vs WireGuard to determine how these popular protocols perform.
How does a VPN work?
VPN functions by:
Establishing a secure, encrypted link between your device and the internet

Routing your internet traffic through a remote server

Changing your IP address

Encrypting your data
This ensures that your personal information, browsing history, and any sensitive data you transmit over the internet remain private and secure.
What devices can you use with a VPN?
A VPN can work with nearly any device that connects to the internet:
Computers – Whether you're running Windows, Mac OS, Linux, or even a Chromebook, you will be able to use a VPN on your computer. Installation and setup options will depend on the VPN service you go with.
Phones and tablets – VPNs are also very popular on phones and tablets. Whether you are running Android or iOS, you will be able to use your VPN on any smart phone or tablet. Ubuntu Touch should also work with a VPN.
Routers – When you install the VPN on your router, all the devices that connect to your router will be using the encrypted VPN tunnel – without the need to install VPN software on each device. The router will only count as one VPN connection under your subscription, even if there are numerous devices using the router's encrypted VPN connection. There are some important considerations before you do this – see my VPN router guide for setup tips.
TV boxes – Most TV boxes are built on the Android operating system. This means that you can install a VPN on your TV box using your VPN service's Android app. Check with your VPN provider for instructions.
Smart TVs – Whether or not you can use a VPN on your smart TV will depend on the type of smart TV you have and whether your VPN supports it. Android-based smart TVs can use an Android VPN app.
Fire Stick and Fire TV – VPNs can also be used on Fire Stick and Fire TV. For more information, see the best VPN for Firestick and Fire TV guide.
When choosing a VPN that supports multiple devices, be sure to check the provider's simultaneous connection limit, as well as the compatibility of the VPN with the devices and operating systems you use regularly. This will help ensure that you can secure all your devices with ease and maintain your online privacy across multiple platforms. See also our guide on using a VPN for multiple devices.
VPN for Torrenting
Torrenting or Peer-to-Peer (P2P) file sharing can jeopardize your privacy and security by exposing your IP address and online activities to other users on the same network.
By using virtual private networks specifically designed for torrenting, you can ensure your online activities remain private and anonymous, even when engaging in P2P file sharing.
The best VPNs for torrenting should offer:
Robust encryption

A strict no-logs policy

Support for P2P traffic on their servers

Features such as a kill switch and DNS leak protection
Additionally, these features can help ensure your privacy remains intact even if your VPN connection drops unexpectedly.
VPN for Gaming
Gaming with a VPN can yield several benefits, including enhanced security, quicker connection speeds, and the ability to access geo-blocked gaming content. By connecting to a VPN server that is geographically close to the gaming server you're trying to access, you can potentially reduce latency and improve your overall gaming experience.
When choosing a VPN for gaming, look for a provider that offers fast speeds, dedicated gaming servers, and compatibility with your gaming platforms. Additionally, consider the VPN's simultaneous connection limit, as this will allow you to secure all your gaming devices with a single subscription.
VPN for Travel
While traveling, a VPN enables you to access content that's only available in your home country, including streaming services, websites, and online games. Additionally, using a VPN for traveling can ensure your security on public Wi-Fi networks, protecting your devices from hackers and other potential threats.
To use a VPN for travel, simply follow these steps:
Create an account with a VPN provider.

Download their VPN app onto your device.

Sign in with your account.

Select a server location.

Connect to the server.

Once connected, you can use your device as usual while the VPN is enabled, ensuring your online activities remain private and secure even when you're far from home.
Using a VPN on a router
Configuring a VPN on your router offers comprehensive network protection, securing all devices connected to your home network with a single VPN subscription. This is particularly beneficial for devices that don't natively support VPN client software, such as gaming consoles and smart TVs.
To set up a VPN on your router, you'll need to follow the specific instructions provided by your VPN provider and router manufacturer. This process may vary depending on your router model and the VPN service you choose, so it's essential to consult the relevant documentation and customer support to ensure a successful setup.
Using a VPN in Restricted Countries
In regions with stringent internet censorship, a VPN emerges as a handy tool to circumvent restrictions and access blocked content. By connecting to a VPN server in another country, you can effectively "tunnel" through the censorship and access websites and services that would otherwise be unavailable.
However, using a VPN in a restricted country can also come with risks, as some countries have laws prohibiting the use of VPNs. Additionally, not all VPNs are secure enough to protect your data from government surveillance or other malicious actors. We have VPN guides for some of these locations:
It's crucial to thoroughly research the laws in the country you're in and choose a reliable and secure VPN service to ensure your online activities remain private and secure.
Conclusion on the best VPNs
In a world with eroding digital privacy, it's crucial to use a VPN to not only restore privacy, but also to unblock content for streaming. Many services, including Netflix, are now restricting access using various parameters. A VPN remains the best tool to access the content you want from anywhere in the world.
A VPN is also a great choice for adding an extra layer of security to your connection. We're constantly bombarded with news about security risks and data breaches in the news. And these risks continue to grow over time.
Some VPNs can effectively bolster security through also integrating anti-malware features into the service, such as the Threat Protection feature with NordVPN. This is one reason why our top recommendation remains NordVPN, especially with the 68% off coupon.
In this guide, we examined the top-rated VPNs that met all of our criteria. These services passed all tests with no data leaks. They also offer good speeds, reliable VPN apps, and strong encryption standards. Additionally, they are located in safe privacy jurisdictions and have an established track record and good reputation.
And for those who are on a budget, you may want to check out our guide on the best VPN coupons that are currently working now.
That's all for now. Stay safe, secure, and private online in 2023 and beyond!
Frequently Asked Questions
What is the #1 best VPN?
NordVPN is the #1 best VPN, having outperformed other services with speed tests, overall features, streaming and torrenting support, and having passed numerous third-party audits. It offers strong speeds, dedication to privacy and has been recognized among other virtual private network services. Surfshark is a close second.
Which is the best VPN for free?
Based on our in-depth tests, Proton VPN is the best free VPN, albeit with lots of restrictions. Nonetheless, Proton VPN stands out for its strong commitment to security and privacy, while also offering fully-featured apps. The free plan does come with lots of restrictions and limitations, however, but at least it's safe and secure.
What are the main benefits of using a VPN?
Using a VPN offers numerous benefits, such as improved privacy, access to geo-restricted content, increased security on public Wi-Fi networks, and prevention of ISP throttling.
How do I choose the best VPN for my needs?
When choosing a VPN, take into account the security features, server coverage, speed, device compatibility, and provider reputation to ensure you get the best service for your needs.
This best VPN guide was last updated on October 1, 2023 with new info and test results.